This email was sent to my email list on November 12, 2022.
*Disclaimer: This email contains affiliate links. If you make a purchase using one of my affiliate links, I will make a commission at no additional cost to you. Thank you for your support!
This is an email that was originally sent to my email list. Content may be modified. If you want to join my email list and be one of the first to receive updated and value-packed Pinterest and business advice, join here for free! You can read some of my other previous on my email archive.
Hey!
I hope all is well! The holiday season is just around the corner, and I know that it can be a crazy time of year both personally and for our businesses. Hopefully you're not feeling the seasonal overwhelm and are taking it one day at a time! 🙂
So much has going on around here! In this email, I want to highlight some important Pinterest updates, a look at what I'm doing in my business, and more.
I hope you enjoy!
Pinterest Updates
Here are some recent Pinterest updates:
Expanded Pinterest music library
Pinterest recently signed some deals that greatly expanded the music choice for Idea Pin creation. Creators can now use popular songs by creators like Ed Sheeran in their content! I think this is exciting!
Want to go live?
Over the past few months, you may have seen the option to go live on Pinterest. While that feature still seems to be pretty new and not too much is known about it, Pinterest is now giving its users the opportunity to apply go to live!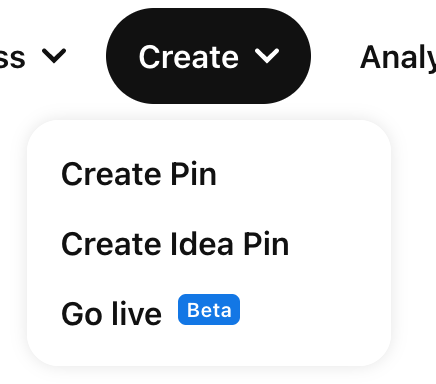 This feature is still in beta (meaning it's not yet available to everyone), but if this is something you're interested in, it may be something to look forward to!
I found this option on Pinterest on desktop by clicking on the Create dropdown at the top of the screen.
Changes to Pinterest Search on Desktop
Over the past few days, I've noticed some pretty significant (but awesome) changes to Pinterest search on desktop.
When I go to search, you can now see suggested content related to your own content and even see what is popular on Pinterest. I think this is a neat new feature, and it's nice to see Pinterest going above and beyond to improve the user experience (and it really gives me hope for the future of the platform)!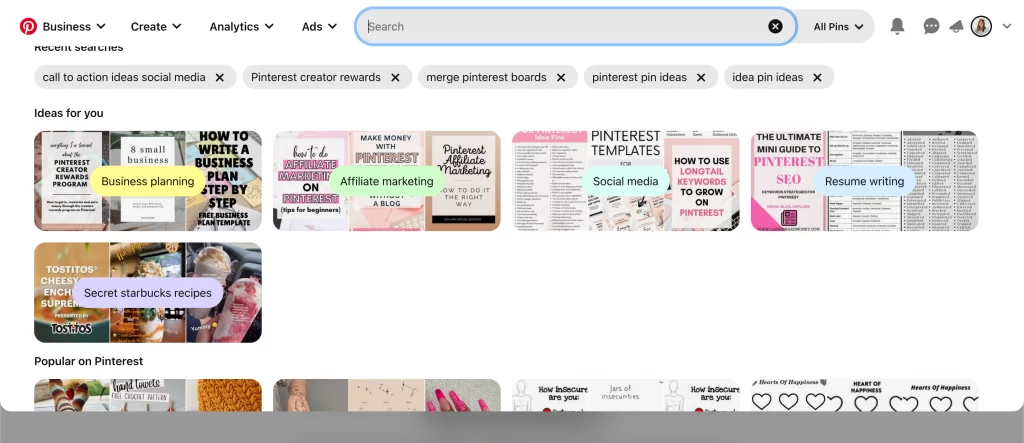 Idea Pin Stats Down, Static Pin Stats Up
I've been hearing a lot of rumblings in Facebook groups that have quite honestly have me shocked!
First of all, a lot of people are reporting that their Idea Pins are not performing anywhere near as well as they used to. This surprised me because Pinterest has put a LOT of emphasis on Idea Pins and Creators because that type of content is what is popular on other platforms (ex. TikTok/Instagram).
If you create Idea Pins, is this happening to you? Hit reply and let me know!
Secondly, Pinterest has clearly changed in the past few years. You no longer get "instant" traffic or results the way you used to be able to, and for a while, a lot of bloggers struggled with Pinterest. This has led a lot of people to wonder if Pinterest is still worth it/alive in 2022.
But Pinterest expert Carly Campbell, creator of my favorite Pinterest course, recently said that her Pinterest traffic is only going UP each week. (And she only focuses on Standard Pins.)
And for reference, Carly already used Pinterest to get around 100,000 pageviews to her blog each month — enough to get into premium ad networks. (She also revealed that her ad RPMs from Pinterest were higher that RPMs from Google!)
This goes to show PINTEREST IS NOT DEAD and it can still be used to drive mass traffic to websites and other things.
If you want to know how Carly uses Pinterest to see such insane results, I highly recommend checking out her Pinteresting Strategies course. It is updated with her best strategies that still work in 2022, and it goes in-depth on how she works with the algorithm to see results. It is my favorite Pinterest course and I can't recommend it enough. 
Carly has also said that she will be updating the course, and I am SO excited for that!
Survey
In my last email, I briefly asked if you could fill out a short survey to help me learn more about your business, what you are struggling with on Pinterest, and what you'd like to learn more about so I can send out emails and create content that better helps you!
The responses that I've already gotten have been so helpful!
If you haven't filled it out, I'd love for you to fill out the super quick survey here!
What I've Been Working On In My Business
Lately, I've been pouring as much time as I can into my business! My main focuses have been (1) rebuilding my Pinterest account (which got caught in the Pinterest spam filter over the summer due to traveling abroad — a lesson learned to use a VPN when abroad!) and (2) CONTENT and expanding.
I have posted so many new blog posts lately, as I am hoping to reach the threshold to join Mediavine, an amazing ad network, as soon as possible!
I have also been working on preparing to expand my business. I love Pinterest and I love sharing about it, but I would also love to talk about some other aspects of digital marketing. I am beginning to prep my website and content for this expansion. I'm excited to see what the future holds!
Let me know if you'd like to see more emails of me documenting this journey of expanding my business into other areas!
Talk to you soon,
Leah Marie