*Disclaimer: This post contains affiliate links. If you choose to make a purchase using one of my affiliate links, I will make a commission at no additional cost to you. Thank you for your support!
Creating and promoting opt-in freebies can be a great way to grow your email list.
There are many different types of opt-in freebies that you can create to provide irresistible value to your audience, and luckily, some are pretty easy to create as well!
This post will share a variety of freebie ideas that you can use to help you grow your email list. Hopefully you will leave with a variety of opt-in ideas that will expand your list!
Let's dive in.
What are opt-in freebies?
First of all, what even are opt-in freebies?
Opt-in freebies are free products that you give people in exchange for their email. Basically, people sign up to join your email list, and in return, you send them the free product they opted-in for when they signed up for your list.
This is a fantastic way to incentivize people to join your email list!
Email lists are very important, too – they are one of the only things in business that you have complete ownership of, and they can be a great income stream if you promote your digital products or affiliate links.
How to find opt-in freebie ideas for your business
Oftentimes, successful opt-in freebies start with some sort of market research or analysis. Don't worry – this isn't as complicated as it seems!
Basically, what you are searching for is products or resources that are in demand for your audience. Thankfully, there are a variety of ways you can do this.
1. Determine problems that your audience has
What problems or struggles does your audience have? And how can you provide a solution?
Most times, people will only sign up for your opt-in if it provides them some sort of value. One of the best ways to determine what may be valuable to people is to consider what problems or struggles your audience has.
Once you determine this, you can design a solution in the form of a simple opt-in freebie!
2. Analyze your popular blog posts
If you're a blogger, data from your blog posts can be a great place to determine what your audience is looking for.
What are your most popular blog posts, and what value do they provide to the readers? Now, how can you create an opt-in that provides even more value?
For example, on my blog I have a Pinterest SEO checklist post that teaches people how to do Pinterest SEO because a lot of people struggle with that.
From that post, I created my Pinterest SEO checklist opt-in. The additional value that this adds is that it condenses the information and can be printed out, downloaded, and accessed from anywhere!
3. Research what others in your niche do
Check out some of your top competitors and see what types of freebies they offer their audience. This may just spark some ideas that you can turn into your own unique freebies!
4. Use Google, Pinterest, and Etsy
Google, Pinterest, and Etsy can all be great places to find what your audience is searching for.
For example, you can search fitness printables into the search bar of each search engine, and a ton of great ideas come straight to the screen!
Example of a Google search for printable ideas: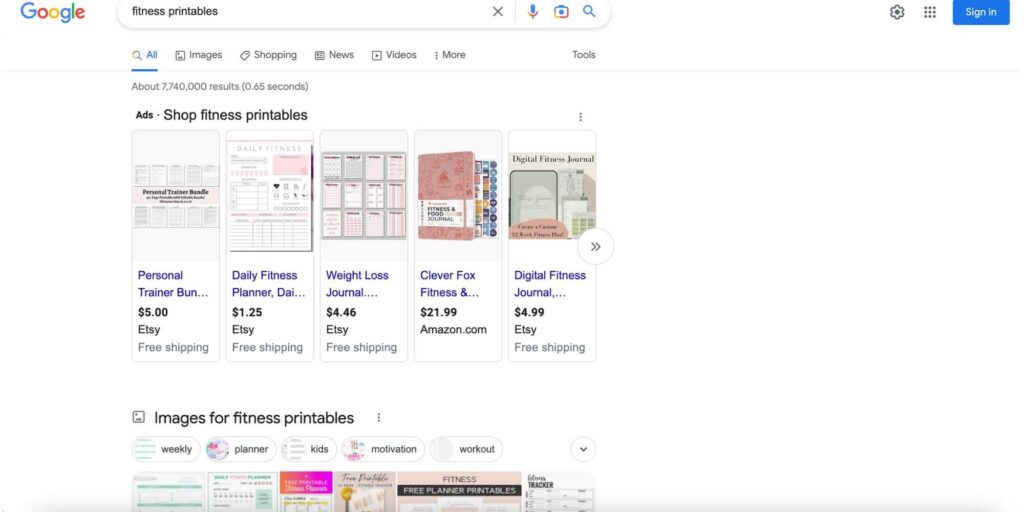 Example of a Pinterest search for pinterest ideas: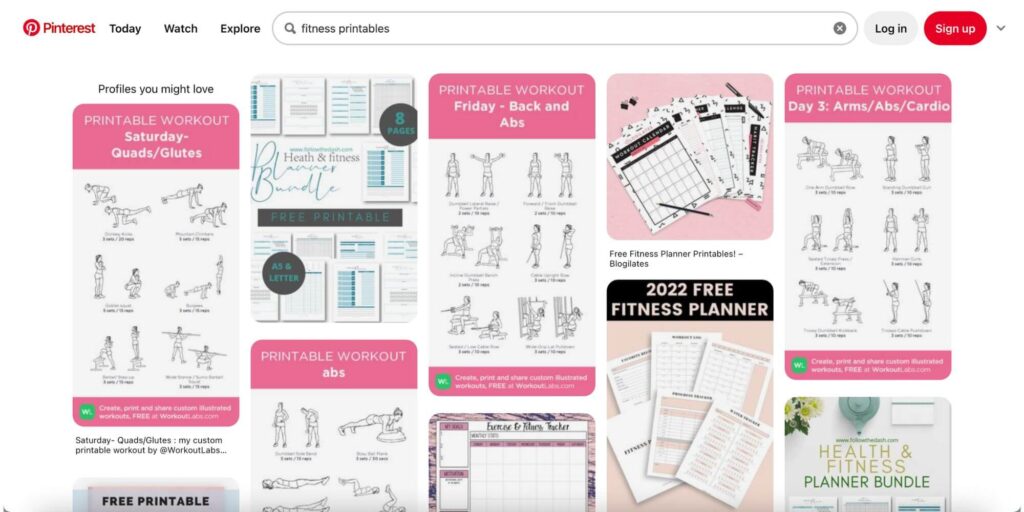 Example of an Etsy search for printable ideas: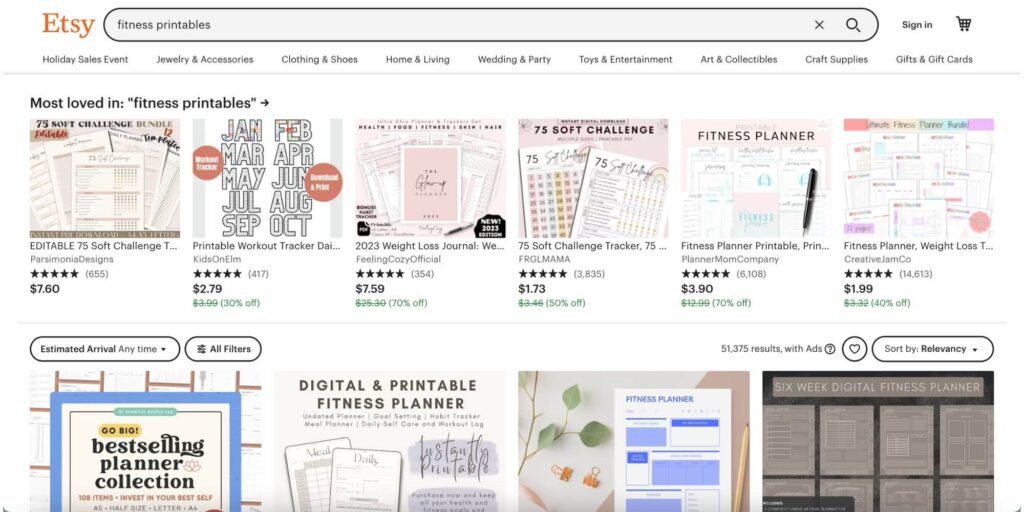 The insanely popular course Printables By Number has an amazing module on market research for digital products using platforms like Google and Etsy. If you are struggling to find some product ideas for your audience, this course may be great for you! This course also shows you how you can skyrocket your email list by creating a few simple digital products or printables! Students have seen jaw-dropping results.
5. Ask your audience
There is no better way to know what your audience is looking for than directly asking them!
If you have an existing email list, you could send them an email asking them to reply, or you could even include a link to a short Google Form that you created. Either way, the data you can get is invaluable.
6. Try out multiple ideas
The great thing about email list freebies is that you can create a variety of them and see what works well and what doesn't.
I highly suggest this, because I have been very surprised to see what converts the best on my own website! You'll never know if you never try.
Opt-in freebie ideas to grow your email list
There are many different types of opt-in freebies you can create to grow your email list. Here are some ideas that some bloggers and online business owners have seen great results with!
1. Ebooks and guides
Ebooks and guides can be great opt-in freebie ideas when your audience wants to learn more about a certain topic.
Take one concept and go more in-depth on it in a short ebook or guide. If your audience is interested, this can make one effective email freebie!
Examples:
5 Keto Recipe Ideas Mini Ebook
How To Start A Vegetable Garden Guide
Pinterest Strategy Guide For Beginners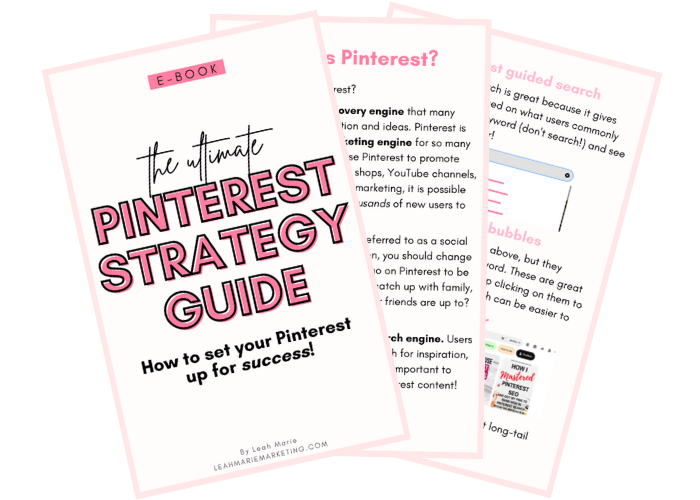 2. Planners and calendars
Planners and calendars tend to be a popular product for those looking to organize their lives. If you think this will somehow fit into your niche, try creating a planner or calendar to help your audience better manage their time, goals, productivity, shopping, and more! There are countless types of planners and calendars you can create.
Examples:
Daily Planner For Busy Moms
Weekly Meal Prep Planner
Chore Calendar For Children
3. Free challenge
Everyone loves a challenge, right?
Challenges can be great because they are usually organized steps that help someone to reach a desired goal. If people feel like they need help or guidance, they may sign up for a challenge to have someone walk with them and help them feel unstuck so they can reach a goal.
Examples:
Launch Your Email List In A Week Challenge
Journey To Gourmet Chef: 7-Day Cooking Challenge To Freshen Your Skills
14-Day Workout Challenge For Beginners
4. Access to a Facebook group
Facebook groups can be really great resources for people, so offering them a spot in a Facebook group in exchange for their email may be an effective way to grow your email list.
Plus, when you require people to be on your email list to join a Facebook group, it also creates a sense of exclusivity, so people may be more apt to join.
5. Spreadsheet
Did you know that you can create and sell spreadsheets (like on Google Sheets) as digital products? It's true, and I've done it!
Monica Froese's quick win course on packaging and selling digital spreadsheets is absolutely genius and walks you through this process step-by-step.   
But, you can also turn a spreadsheet into a pretty epic freebie for your audience. If there's any sort of thing your audience could organize on a spreadsheet, this might be a great freebie idea to try.
Examples:
Daily Planner Digital Spreadsheet
Easy Budgeting Spreadsheet
Daily To-Do List Spreadsheet
6. Worksheets and workbooks
Another great email freebie idea are worksheets or workbooks.
When someone is trying to learn or start something new, worksheets and workbooks can be great for organizing and can make the process easier. (Hello, value!)
Examples:
Instagram Set-Up Workbook
Diet Prep Worksheets
Email Automation Creation Workbook
7. Checklists
Checklists of any sort can also be really valuable to people. They condense everything a person needs or needs to know, making it a helpful resource!
Examples:
Ultimate Travel Packing Checklist
Website Set-Up Checklist
Daily Gardening Checklist
8. Templates
Templates can be a really amazing resource for people, especially if you're in a digital marketing niche!
Templates just make things easier. Instead of spending time creating a design, it's done-for-you and you just have to plug in your information. This can be a major time-saver!
Examples:
Pinterest Pin Templates
Neutral Instagram Templates
Ebook Templates For Bloggers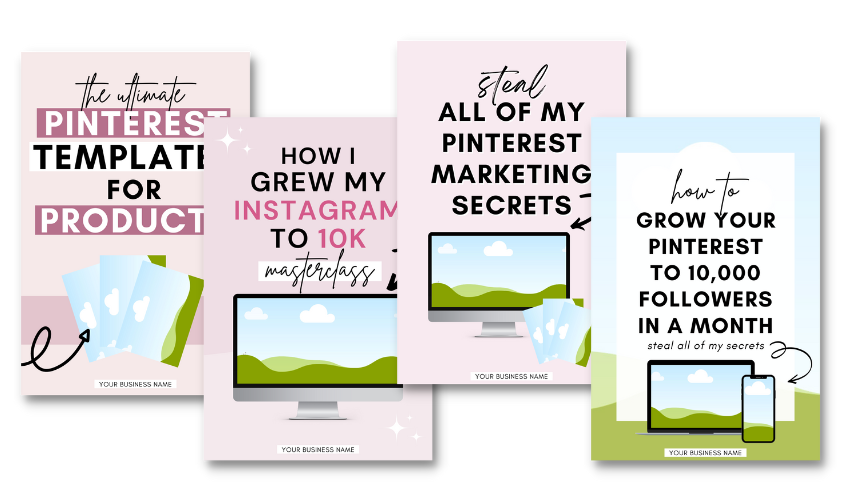 9. Cheat sheets
I personally love cheat sheets because it's like a one-stop-shop for information! It basically tells you what you need to know all in one place, which can be very convenient to people.
Examples:
Effective Skincare Ingredients To Look For In Acne-Fighting Products
10 Things To Do In Yellowstone National Park
Vegetables With The Best Vitamins
10. Quizzes
Quizzes can be a super fun and interactive way to get people on your email list. Once they start doing it, they'll want to know the answer! If you set up your quiz to send the answers to peoples' inboxes once they put their email in, you'll likely walk away with quite a few email sign-ups.
Examples:
Which Diet Is Best For You? Quiz
Where To Focus Your Marketing Efforts Quiz
What Country Would You Like Best? Quiz
11. Webinars, workshops, and masterclasses
These types of email opt-ins are especially great if you're trying to sell a larger digital product, like a course.
With these, you can really strengthen your connection with your audience by directly speaking to them, and you can give them a ton of value and show them why purchasing your product would give them even more value!
Examples:
How To Create A Digital Product Masterclass
How To Become A Published Author Workshop
10 Email Marketing Mistakes You're Making Webinar
12. Printables
Printables are a fantastic way to get more people onto your email list! Seriously, people love printables.
Printables can come in all shapes and sizes – planners, guides, journal pages, coloring pages, games, origami instructions, and much more. That's one of the fun things about them – you can design them uniquely for your audience!
Again, Suzi Whitford's Printables By Number course is an incredible resource for learning what type of printables your audience wants and how to use them to make money or grow your email list. (There's a reason it's an insanely popular course – people see results!)
Examples:
Farm Animal Printable Coloring Page Printable
Simple Daily Organizer Printable
Meal Prep Organizer Printable
13. Discount
People love discounts!
You can always encourage people to join your email list by offering a discount in your shop. Of course, this may be more difficult if your shop isn't too well-known, but if you're a large merchant, this is an idea you can always consider!
14. Mini course or email course
I don't know about you, but when I hear the word "course," I automatically think there is more value in it.
You can grow your email list by creating a mini course or even an email course! For instance, with an email course, you could create a 5-day course where each day you send out a new email to new subscribers to help them with whatever problem they have.
This is also another great opt-in idea if you plan to sell a larger product after it.
Examples:
How To Set Up A Pinterest Account 5-Day Email Course
Flower Gardening For Beginners Mini Course
How To Create A Skincare Routine 7-Day Email Course
15. Resource list
A resource list is another comprehensive yet condensed resource. It essentially provides people with a list of great resources that may help them achieve a broader goal.
If you have lots of great resources related to your niche, this may be a good idea to try out!
Examples:
50+ Affiliate Programs For Beginners
20+ Clean Beauty Brands
15 5-Star Hotels In Spain
How to get people to sign up for your freebie
Two important elements that will make your freebie enticing are:
Attractive graphics and design
Irresistible value
If you combine the two of these, you are nearly guaranteed to get sign ups for your freebie!
If you're not a designer, this may sound scary. Luckily, there are tons of great freebie templates out there like on Etsy that you can use to speed up creation and skip out on having to create your own designs! You can also hire graphic designers if you prefer that.
How to create opt-in freebies
There are two main ways that you can create email list freebies.
You can create and design them yourself
You can use templates
Of course, there are other ways too, such as hiring designers or purchasing PLR freebies.
As previously mentioned, you can find lots of great freebie templates online for affordable costs. This can be a great option if you're not great at graphic design or simply don't have the time to design an entire freebie by yourself.
However, if you are interested in designing your own opt-ins, Canva is an incredible design platform that you can create endless things with. I love and use this platform all of the time.
For many of my freebies, I use Canva to create templates or PDFs. It's incredibly easy to use after a bit of practice, and downloading your freebies as PDFs is very simple.
Overall, there are a variety of ways you can create freebies for your email list!
How to grow your email list with opt-in freebies
Here are some of the basic steps to growing your email list with freebies.
Create your opt-in freebie.
First things first, you actually have to create your opt-in freebie. I usually create mine in Canva and download it as a PDF or copy the link to the templates, but you can do it however you like. 
Similar: How To Easily Create Pinterest Templates In Canva (For Free)
Decide on an email marketing platform.
The next step is to decide on an email marketing platform if you haven't already.
I chose MailerLite because it is free for up to 1,000 subscribers, it has lots of great features and the ability to add groups and segments, and the pricing is affordable compared to many other platforms.
Design a sign-up form for your opt-in.
MailerLite has many great customization options for embedded opt-in forms. Design an opt-in form that you think catches the eye and makes your freebie stand out!
Here is an example of one of mine:
Create an email sequence to deliver freebie
Once you have your opt-in form set up, create and connect it to an automated campaign to send out your freebie.
For MailerLite, since you can not upload a PDF to the emails, I created a special page on my website on each freebie where they can download it there. In my delivery emails, I included a link to the respective page for each freebie.
Note: The set up for each email marketing platform will be different. On MailerLite, I also made sure to create a separate group for each of my freebies. That way, when someone signed up for a freebie and was added to a new group, it automatically connected to my email campaign to send the freebie.
Embed the forms into blog posts and sites
The next step is to embed your opt-in forms into your blog posts. Try to include them where they appear relevant or valuable.
If you use WordPress, you can do this by adding an HTML block to your post and copy and pasting the code from your embed form into it.
I usually include 2 to 3 opt-in forms in each post (some more, some less). It's also okay to use the same opt-in form more than once in a post!
Tip: If you use WordPress, I recommend turning each embed form into a reusable block. That way, if you want to make any changes to your opt-in forms across your website, you just have to edit the reusable block and all of the other forms will update accordingly.
Create separate landing pages for your opt-ins
Another thing you can do is create a separate landing page on your website for each of your opt-ins so you can promote them individually.
I created each of my landing pages using Elementor, and added an HTML block with the code for my opt-in form at the bottom of each landing page. I recommend only creating one landing page per freebie.
Promote your freebies
You've already embedded your freebie opt-ins into your blog posts so readers can sign up right while they're reading your post, but there are tons of other ways to promote your freebies to grow your email list!
Some places you can promote your freebies are Pinterest, Facebook, Instagram, and more!
You can also try running ads to your landing pages to see if those perform well.
Conclusion
I hope that this post has given you some inspiration for your next email freebies and opt-ins, which will hopefully help you to grow your email list!
If you have any more ideas or questions, please be sure to leave them in the comments below!
If you want more valuable Pinterest information so you can skyrocket your success, read more on my blog or join my email list (I provide some of my MOST VALUABLE INFORMATION to my email list!)
I hope to see you around again soon. Thanks for reading!
Leah Marie
SAVE FOR LATER!