*Disclaimer: This post contains affiliate links. If you choose to make a purchase using one of my affiliate links, I will make a commission at no additional cost to you. Thank you for your support!
Pinterest can be a powerful platform to drive traffic to blog posts, drive leads to products, acquire new clients, and grow an audience. But, did you know you can also promote your email freebies on Pinterest and grow your email list?
If you're struggling to grow your email list or even just want a little more exposure, Pinterest may be a great place to help with that.
This post will uncover some of the key strategies in growing your email list with Pinterest!
Let's dive in.
Please note: Pinterest is always changing, and while I try my best to update my posts, not all information may be up to date. If you're looking too see the most updated tips, strategies, and information, check out this resource page.
Can you grow your email list with Pinterest?
Yes, you can grow your email list using Pinterest! Pinterest's powerful visual discovery engine can help share your email opt-in freebies with thousands of users and encourage them to sign up.
With the right strategy, you can use Pinterest to really grow your email list. This can be great for helping your business overall because email lists are amazing for cultivating an audience, promoting your products, making affiliate sales, and more. Plus, it's one of the only parts of your business that you actually have complete ownership of!
Steps to grow your email list with Pinterest
Here are some helpful steps if you want to grow your email list subscribers using Pinterest.
Step 1: Create your freebie
Before you actually promote your freebie, you have to first create your freebie!
You can either promote an existing freebie, create a new freebie specifically to promote on Pinterest, or both!
With both of these your approach will be a little different:
If you're promoting an existing freebie, you'll want to do in-depth Pinterest keyword research to find keywords that you can both target and potentially rank for with this freebie.
If you're creating a new freebie to promote on Pinterest, you'll want to do keyword research before actually creating your freebie.
Let's go more in-depth on this.
Finding freebie ideas on Pinterest
Doing keyword research on Pinterest will help you see what pinners are actually searching for and problems they may need help with, which you solve with your freebie.
When doing keyword research, you can either search for more popular keywords or more specific keywords. There are pros and cons to both.
Targeting for more popular keywords can be helpful because you know there's a larger demand for it, meaning that more pinners are searching for those keywords. However, broader and popular keywords are often more difficult to rank for because there is usually more competition from other Pinterest creators. (Everyone wants to rank for the big keywords!)
Targeting more specific keywords (also called long-tail keywords) can be great because they are often much easier to rank for. Because long-tail keywords are more specific, freebies that are created for these keywords are also curated towards more specific problems that pinners may be facing. Both of these can help increase conversions. However, long-tail keywords are usually less searched for, so you may get less searches or eyes on your pin.
Related: How To Find Long-Tail Keywords On Pinterest (Tutorial)
However, don't let that stop you from targeting long-tail keywords on Pinterest! It's not about the quantity of the traffic, it's about the quality!
Yes – you may get less searches. You may even get less sign-ups. But the subscribers that you do get from ranking for long-tail keywords may be way more engaged with your content and more apt to continue reading your emails and even make a purchase.
Plus, some long-tail keywords can have amazing conversions! Here's an example of a pin for a blog post that ranked for a long-tail keyword.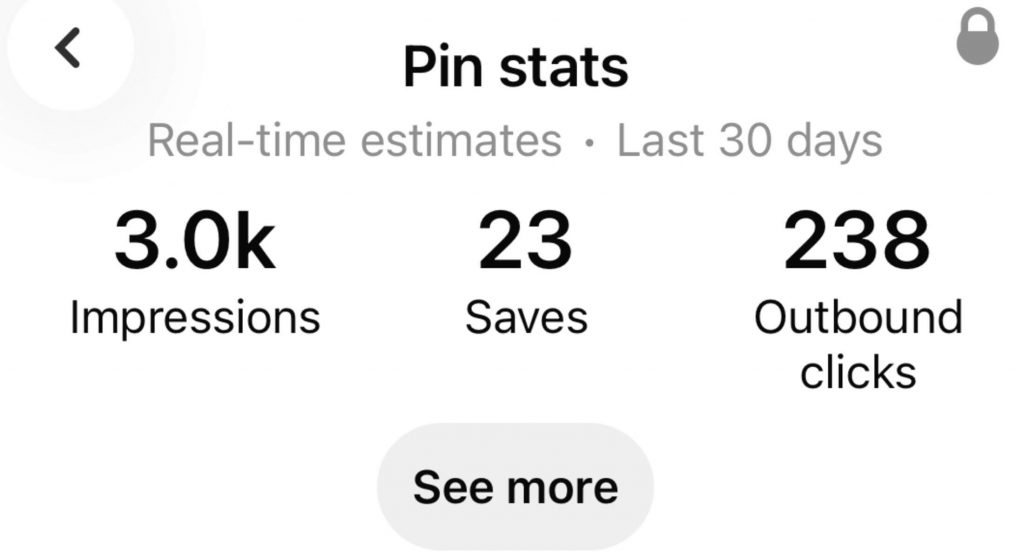 The perfect Pinterest freebie
Once you've done keyword research, it's time to think about what value you can add or what problem you can solve.
Good freebies provide value. It's all about helping your target audience. If they won't benefit from it, why would they sign up to receive it?
There are so many types of freebies that you can create and so many ways that you can convey value. Check out the post below to find a variety of freebie ideas you can create for your audience!
Suggested: 14+ Amazing Opt-In Freebie Ideas To Grow Your Email List
How to create a freebie
There are so many different ways that you can create your freebies.
One of my favorite ways to create my opt-in products is with Canva. Canva is an incredible and easy-to-use design platform where you can create nearly anything!
Since most of my freebies are PDFs (like ebooks, lists, or checklists) or Canva templates, Canva is the perfect platform for me to design my product!
If you don't love designing, there are plenty of great templates you can find and purchase online, such as on Etsy, to help make the process seamless.
Similar: How To Easily Create Pinterest Templates In Canva (For Free)
Step 2: Set up your freebie delivery
The way you set up your freebie delivery will vary depending on your email marketing platform and how you set up your email list.
I started with MailerLite for my email list because it is free for up to 1,000 subscribers and it is one of the more affordable email marketing platforms out there once you have to start paying. Plus, MailerLite does everything I need it too. 
Here is a brief overview of how I set up a new freebie delivery in MailerLite:
I create a new group for my freebie (ex. Pinterest SEO checklist).
I create a new automation specifically for this group. This is the series of emails, including the delivery email, that will be sent when someone signs up for my freebie via the embedded form.
I write a delivery email so the new subscriber can access their freebie. If it's a Canva template, I'll include the link to the template. If it's a PDF, I create a separate page on my website with the PDF and include that link in the email. (This list of freebie ideas has lots of different types of freebies you can make, which can be delivered in different ways!)
I then make an embedded form for my freebie, which I connect to my new freebie group and my main mailing group. Users that sign up through my new embedded form are added to the new freebie group. This then triggers the delivery email automation to send.
Step 3: Create a landing page for your freebie
I highly suggest creating a landing page for your freebie on your website with your domain.
This will be important later on when we get to the Pinterest part and claiming your website on Pinterest.
Landing pages are super important and effective because you're able to explain what value your freebie will provide and even testimonials of how your freebie has helped others. It's basically a sales page for a freebie, and it usually helps to boost conversions!
To create landing pages this, I use Elementor to build a landing page right on my WordPress website, and the free version even works.
Designing an attractive landing page can involve some design and tech skills. However, there are some great templates online that can help with this, like this funnel page template by Monica Froese.
Once you've created your landing page, you should be able to easily copy and paste some HTML code to add your embedded form so people can subscribe!
Step 4: Prepare your Pinterest account
Now, it's time to get on to Pinterest!
First, it's important to prepare your Pinterest account and make sure it's optimized so you can achieve optimal results.
Related: How To Use Pinterest: A Complete Guide For Beginners
Here are some important steps to take:
Create a business account
Having a Pinterest business account is really important because you get access to helpful tools and analytics that you wouldn't get with a personal account. These tools and analytics can be used to really help you improve your Pinterest strategy and see growth.
You can create a free Pinterest business account here!
Claim your website
Some Pinterest marketers say that accounts with pins linking to a claimed domain tend to perform better than others.
If you can claim your website on Pinterest, you should! This tutorial will show you how to do this if you have a self-hosted WordPress website.
Note: Not all websites can be claimed on Pinterest. You can check with your website platform to see if you are able to.
Create boards
Before you start pinning your freebies, make sure you have boards to pin them too.
Your boards should be broad enough where you can pin to them consistently, but specific enough where they are different from one another.
For example, I have Pinterest Tips and Pinterest SEO as two separate boards even though there is some slight overlap.
You should also optimize your boards. Beyond the title, the pins you save to the board and the board description can help Pinterest to understand what the board and the pins on it are about.
Be sure to save the most relevant pins and write a keyword-rich board description.
Suggested: Pinterest Board SEO: Complete Board Optimization Guide
Optimize
Optimizing your Pinterest content for Pinterest SEO is so important for helping your content to get seen, distributed, and ranked.
My 20+ step Pinterest SEO checklist shows you how to fully optimize your Pinterest pins, boards, and profile step by step so you can hopefully see better results on Pinterest!
Step 5: Create pins that link to your freebie landing pages
Next, it's finally time to create pins that link to your freebies!
There are multiple different pin types that you can choose from – Standard Pins, Video Pins, and Idea Pins.
I personally think Standard Pins are the best pin type to promote your freebie because it is easy for pinners to click onto the landing page. However, I have also experimented with Idea Pins and leaving a link to the freebie in the comments or directing people to my profile, where they can click the link in my bio to find my freebies.
To create pins for your freebie, you can:
Create the pins. I create nearly all of my Pinterest pins in Canva. Sometimes I like to show off my freebie on the pin (example below), and sometimes I don't! I like to experiment!
Here's an example: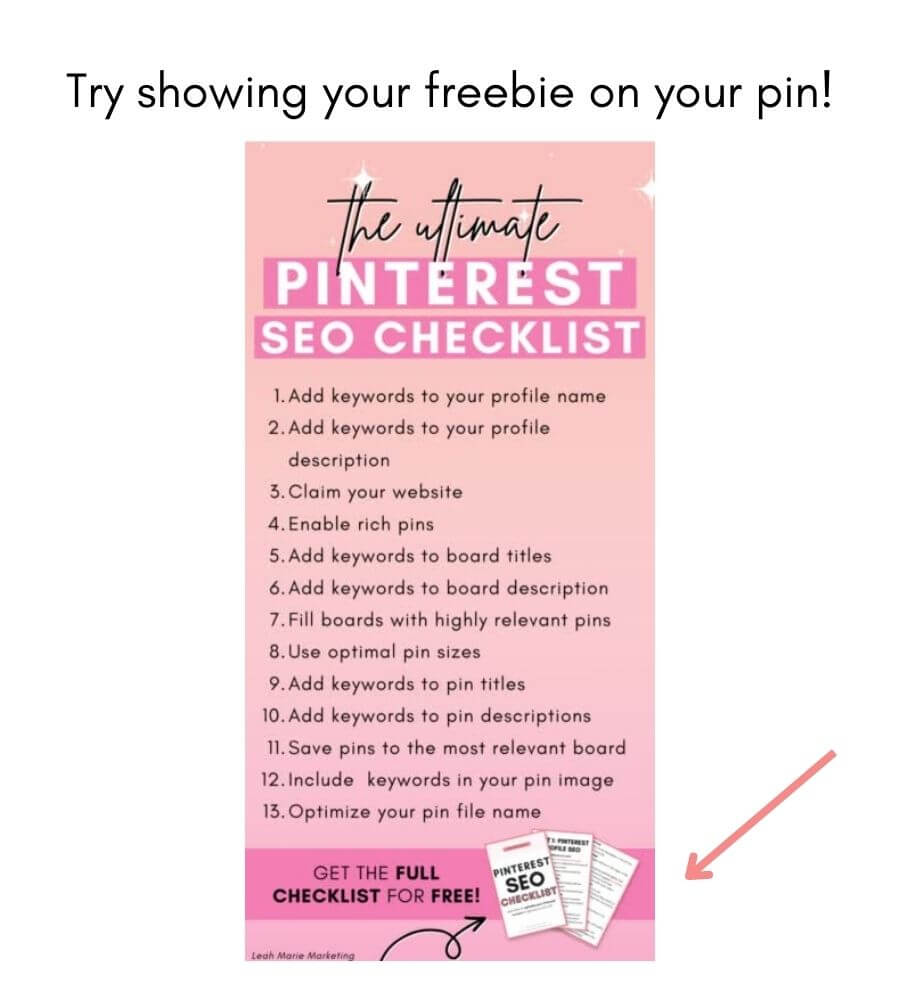 Pro tip: I highly recommend that you focus on your text overlay and writing click-worthy pin titles! This brilliant ebook by Carly Campbell, a Pinterest expert who uses Pinterest to drive about 100,000 pageviews to her blog each month, explains how she uses scroll-stopping pin titles to increase conversions and the genius strategies she uses – which is so important!
Would you want to click on a pin that said How To Get More Pinterest Followers or this?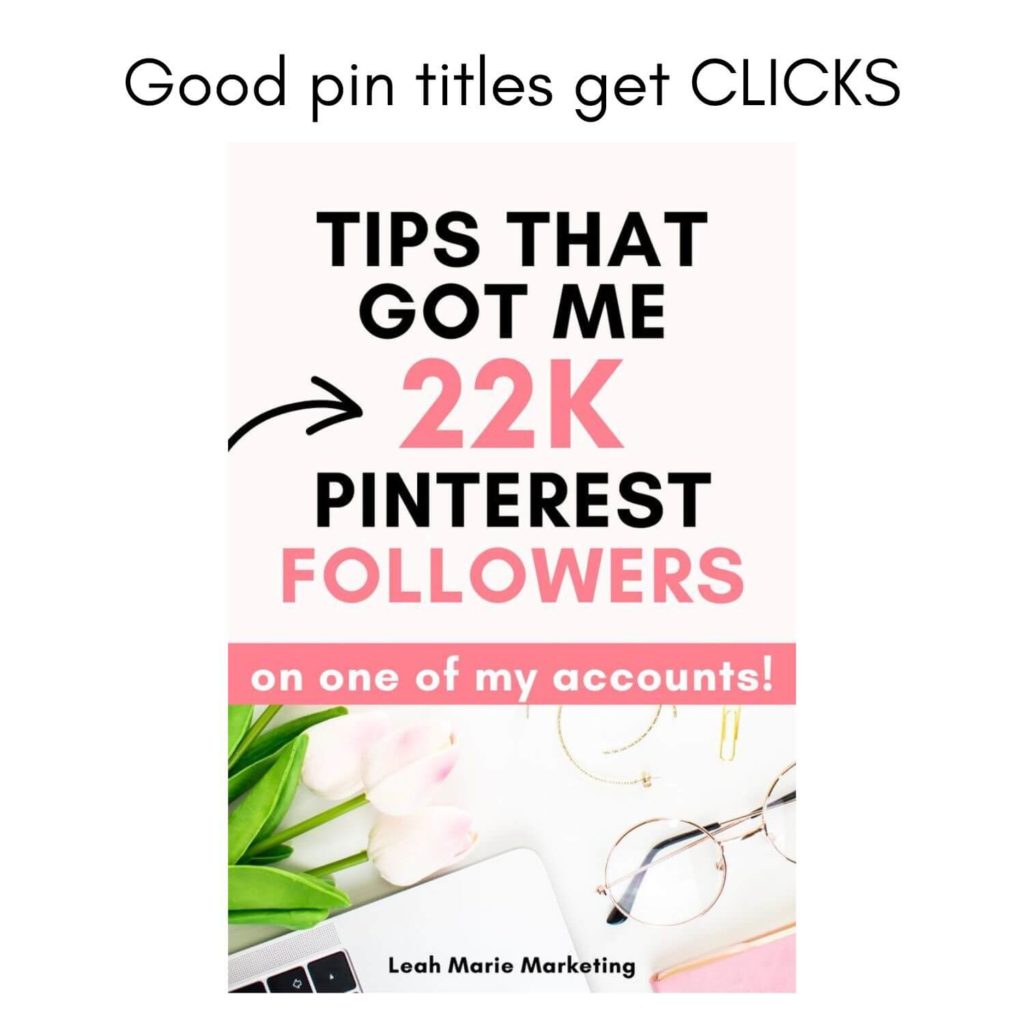 Optimize your pins with keywords. Remember the keywords you found earlier? It's time to include them on your pin! There are multiple places you should try to naturally squeeze in Pinterest keywords and keyword variations, such as the title and description. This Pinterest SEO checklist will show you even more places to include Pinterest keywords to optimize your pins!
Again, there are benefits and downsides to popular keywords and long-tail keywords. I recommend at least trying targeting long-tail keywords because they provide more targeted solutions to pinners, and if your freebie satisfies what a pinner is looking for, they may be more apt to sign up to receive it. If you only target popular keywords, they may bounce over to other websites where they can get the solution without having to subscribe to an email list.
Add a link to your landing page. At the bottom of your pin, where it says Add a destination link, add a link to your landing page! It is important to NOT use URL shorteners, as Pinterest does not like these.

Publish your pin to the most relevant board. This is actually a part of Pinterest SEO because Pinterest uses boards and the pins on it to establish a relationship between them and to help understand what a pin is about!
Step 6: Embed your freebies in blog posts
If you're a blogger and your freebies relate to your blog posts, you'll definitely want to add the embed forms into your posts so readers can sign up!
You can easily add the embedded forms into your blog posts by adding HTML blocks and pasting the code of the embedded form.
Tip: If you use WordPress, I recommend turning your freebie HTML blocks into reusable blocks so you can easily add them into different posts without copying and pasting the code over and over! This also makes the embed forms easy to update if you wish to do so.
Then, promote these blog posts on Pinterest and you may get more email subscribers as pinners read your blog posts! If you want to learn more about how to use Pinterest to drive traffic to your blog or website, check out this amazing course.
Similar: Pinterest For Bloggers: How To Get Pinterest Traffic
Step 7: Create multiple landing pages
Now, this is completely optional, but it's a tactic I've seen being talked about in Facebook groups.
The reason that some Pinterest marketers suggest that you create multiple landing pages for the same product is because you should not pin the same URL on Pinterest too often, as this can get you caught in the Pinterest spam filter.
This is the exact reason I created the Pinterest Pin Tracker – so you can effortlessly keep track of what URL you pin, when you last pinned it, and to what board you last pinned it. This helps to eliminate the stress of pinning the same URL too often, and I use it daily!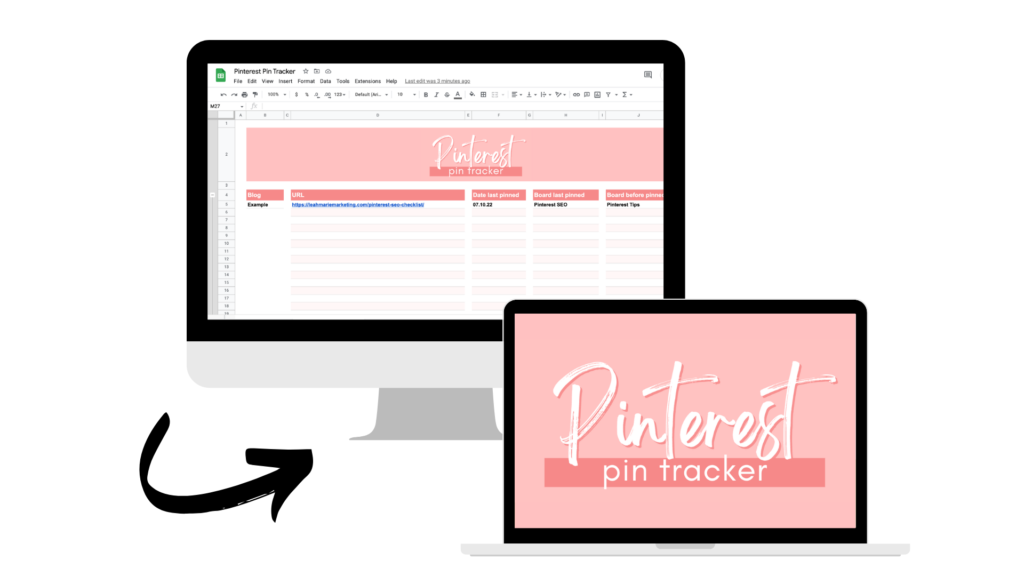 CLICK HERE TO LEARN MORE ABOUT THE PINTEREST PIN TRACKER
When you create different landing pages with different URLs, you have more URLs to pin more frequently to promote your opt-in freebie on Pinterest. Plus, you can do some A/B testing if you try out different designs to see what converts better so you can make more of it!
Important: If you create multiple landing pages for the same freebie, I would de-index all or all but one of these landing pages from Google so it does not impact your Google SEO. Learn how to do this here.
Step 8: Promote your freebie in your bio
Another way to potentially get more email subscribers from Pinterest is to promote your freebie in your Pinterest bio (or even your profile cover too)!
Here is how I promote my freebies in my Pinterest bio: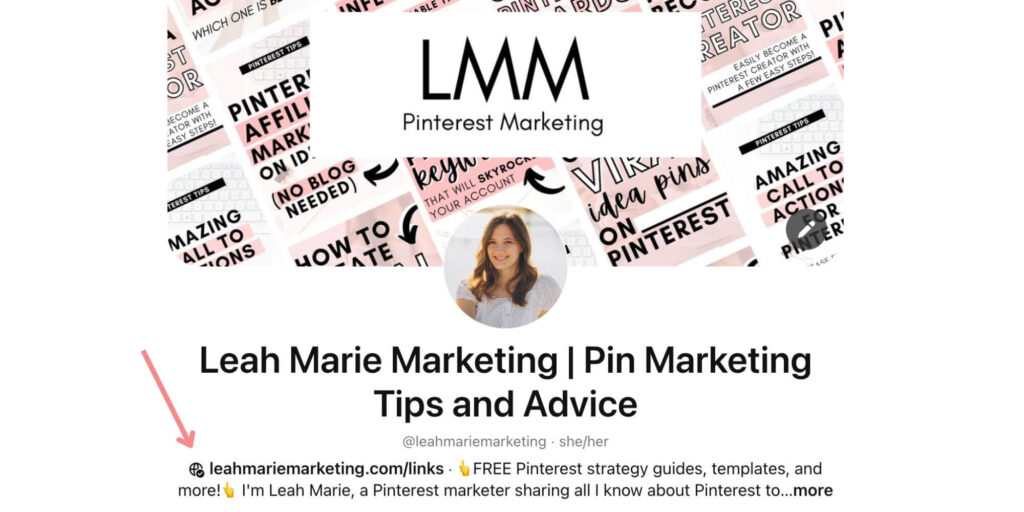 You can also include a link that pinners can copy and paste in Google! (Again, be careful with URL shorteners, as Pinterest does not like these.)
For example, Ana from The She Approach does this: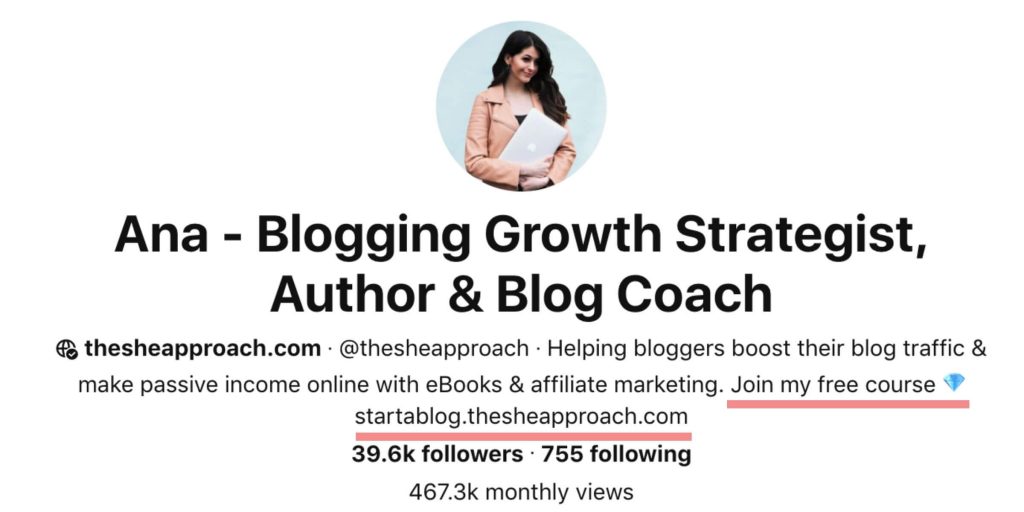 Step 9: Consider Pinterest ads
Pinterest ads are another option if you want to quickly get your content in front of more pinners.
Pinterest ads can have great conversions if you do them right, and if your new subscribers go into a sales funnel that leads to sales, Pinterest ads may be well worth the cost!
Conclusion
Evidently, there are many ways that you can promote your freebie products on Pinterest to grow your email list! I hope that this post helped you to learn a few different ways that you can do this with your own freebies.
If you don't know where to start, check out this epic list of opt-in freebie ideas!
If you want more valuable Pinterest information so you can skyrocket your success, read more on my blog or join my email list (I provide some of my MOST VALUABLE INFORMATION to my email list!)
I hope to see you around again soon. Thanks for reading!
Leah Marie
SAVE FOR LATER!