*Disclaimer: This post uses affiliate links. If you choose to make a purchase using one of my affiliate links, I will make a commission at no additional cost to you. Thank you for your support!
Pinterest is an incredibly powerful platform that has the ability to transform businesses.
However, if you're just getting started with Pinterest, you may feel overwhelmed with all there is to learn and do.
This post is going to break down how to use Pinterest for beginners in a very simple but in-depth way. Hopefully, after reading, you'll be able to confidently use Pinterest marketing to reach your business goals.
Let's dive in.
Please note: Pinterest is always changing, and while I try my best to update my posts, not all information may be up to date. If you're looking too see the most updated tips, strategies, and information, check out this resource page.
What is Pinterest?
First of all, what even is Pinterest?
Pinterest is a visual discovery engine that provides inspiration and ideas to its users, which are called pinners.
Pinterest is the app for inspiration. It helps people find useful, relevant ideas—and then bring them to life. People don't always have the words to describe what they're looking for. But, they'll know it when they see it. As they browse Pinterest content (called "Pins"), they fine-tune their tastes and find the perfect idea.
On Pinterest, pinners can browse various feeds. When they find a pin – an image or video on Pinterest – that they like, pinners can save this content to boards, which organize and store saved pins.
How is Pinterest different from other platforms?
Pinterest is not like other social media platforms. In fact, some people don't even consider Pinterest a social media – they consider it a search engine instead. (Read why!)
How is Pinterest different from other platforms: Unlike many other platforms…
Content is evergreen.
On Pinterest, content lasts forever. It doesn't disappear after 24 hours or get buried under new posts. Once a pin is published on Pinterest, it has the potential to be shown to users for months or even years down the road. You never know when a pin is going to take off and get great results!
Pins are recommended based on users' interests.
On Pinterest, content is shown to users based on their interests. Pinterest's complex algorithm determines what types of content pinners are interested in based on what they engage with, as well as some other factors.
Unlike some other platforms, Pinterest content is not shown chronologically, but this can be a good thing! When pinners are shown content they're interested in, they're more likely to engage with it (which is great for Pinterest marketers!) and stay on the platform longer.
The audience is different than on other platforms.
Pinners are different from users on other platforms. On Pinterest, people come to the app looking for the ideas, solutions, products, and more, which is why it can be a great place for marketers!
People are here to find new ideas and take action, rather than simply liking other people's posts or scrolling through the latest news. That means they're actively seeking content from brands, merchants and creators.
Pinterest's search feature is one of its main features.
Pinterest's search feature is one of the platform's main features, and it helps users to find content they're interested in. When you can get pins to rank for some popular keywords, you can see great results!
Pinterest is one of the best platforms to drive traffic.
On Pinterest, you can add links directly to your pins. In most cases, this makes it easy for pinners to click from the pin to your URL. This is one of the many reasons bloggers love Pinterest – it can help you get you tons of traffic (like this blogger teaches)!
Related: Pinterest For Bloggers: How To Get Pinterest Traffic
Who is Pinterest good for?
Pinterest marketing can be great for a lot of people targeting a lot of different audiences. However, to analyze if Pinterest will be good for you, you have to consider a few things:
What is your niche?
What is your niche? Gardening? Motherhood? Beauty? Travel?
There are so many niches that you can have, but it's important to know that not all niches have a serious demand on Pinterest. Some niches are more popular than others, meaning some niches generally see better results than others.
Before you get started marketing on Pinterest, you should first do research to see if your niche is relevant on Pinterest and to the Pinterest audience!
Related: 35+ Best And Most Popular Pinterest Niches
Who is your target audience?
Who are you trying to reach on Pinterest, and are they even on Pinterest? The Pinterest audience is very different, and arguably more specific, than on other platforms.
For instance, the Pinterest audience is highly women, which definitely impacts on what niches are popular.
If your target audience is dirt bike racers, unfortunately, Pinterest may not be the best platform to reach and grow that audience.

What are your goals?
In my opinion, outlining and understanding your goals is an essential part in creating a Pinterest marketing strategy and deciding if using Pinterest is a good idea for Pinterest.
You can use Pinterest to enhance multiple areas of your business. However, it's not great for everything.
For instance, Pinterest can be really great for helping bloggers grow traffic to their website.
But, Pinterest may not be the best platform for promoting a local, in-person event and trying to increase sign-ups. That's just not what the Pinterest audience is usually looking for.
First, understand what your business goals are. Then, determine if Pinterest can help you reach those goals.
Some things Pinterest can help with include:
Growing blog traffic
Gaining clients
Growing an email list
Selling products
Growing an audience
Making affiliate sales
Growing on other social media platforms
Driving traffic to YouTube and other places
And more
How Pinterest works
Pinterest at its core is a very simple platform. Here's how it works:
Pinterest creators create and publish pins onto the Pinterest platform. Pins can be in different forms – Standard Pins (an image), Video Pins (a video), Idea Pins (a multi-page format that can include images and videos that can also be customized), and Product Pins (link to products).
Most pins can be linked to external websites like a blog post, YouTube video, products, and more.
Pinners can find pins in different places such as the home feed, search results, related pins, the watch tab, the today tab, and more.
Pinners can save pins to boards. Boards organize saved pins into specific categories. Pinners can also engage with pins in other ways such as clicking to the external URL.
How the Pinterest algorithm works
The goal of the Pinterest algorithm is to provide pinners the high quality and relevant content to their interests to keep them on the platform.
Pinterest can use data such as previous engagements to determine what a pinner is interested in. There are other factors as well.
When a pinner engages with a pin, such as saving it, this sends a positive signal to Pinterest that this pin has value. Pinterest uses signals like this, as well as data on what the pin is about, to distribute pins to users, rank them in search results, and relate them to other pins.
To understand what a pin is about, Pinterest looks at a variety of factors. One of these factors is the keywords on that pin.
For example, if a pin's title and description contains the words "drugstore makeup products," Pinterest will understand that the pin is about makeup products.
There are more factors that can help Pinterest to understand what pins are about. As content creators, making sure that Pinterest understands our pins is crucial to helping them get ranked and distributed.
Optimizing pins for the Pinterest algorithm is called Pinterest SEO.
What is Pinterest SEO? (And why you need it)
Pinterest SEO is the process of optimizing your pins, boards, and profile, especially with keywords, to help the Pinterest algorithm understand what your content is about so it can be better ranked and distributed where it is most relevant.
This is a very important step of Pinterest marketing because it helps your content to get seen by pinners.
Although it may seem complex, Pinterest SEO can actually be very simple when you understand what you're doing. That's why I created a free Pinterest SEO checklist to walk you through everything you should do to optimize pins, boards, and profiles step-by-step.
The foundation of good Pinterest SEO is good keyword research.
On Pinterest, targeting popular, trending, or searched-for keywords will usually help your content to be seen more because there is a demand for it.
This Pinterest keyword research guide will show you over 5 simple yet effective ways to find loads of valuable keywords right on Pinterest!
Related: How To Do Pinterest SEO (25+ Step Checklist)
Setting up a Pinterest account
Here are important steps in setting up your Pinterest account:
1. Decide which type of account to create
Before you actually set up your Pinterest account, you need to decide what type of Pinterest account is best for you.
Pinterest has two types of accounts:
Personal accounts
Business accounts
The main difference between these types of accounts is the features. A Pinterest business account has more tailored features to help businesses grow on Pinterest, such as in-depth analytics, which are really important for developing a Pinterest strategy.
If you are using Pinterest for marketing purposes, you will want to use a Pinterest business account (create one for free here).
This type of account is beneficial for:
Bloggers
Influencers
Merchants
Service providers
And more
A personal account is best for personal use. Pinterest is a fun platform to scroll around on and save content with! But, if you want to do that, you should do that on a personal account. Be sure to keep your personal use with a personal account, and business use with your business account.
If you still need help deciding which type of Pinterest account is best for you, check out this post.
2. Claim your website
If you're able to, claiming your website on Pinterest is a great idea.
There are a few benefits that come with this.
First of all, when you claim your website on Pinterest, a symbol will appear next to it on your profile. This symbol essentially confirms to Pinterest users that you are the owner of the site, therefore making you seem more legitimate and trustable.

Secondly, any pins that link to your website will be attributed to your Pinterest account.
Third, some Pinterest marketers believe that accounts that have a claimed website perform better than accounts without a claimed website.
Not all websites can get claimed on Pinterest. I highly suggest having a self-hosted WordPress website, which you can easily claim on Pinterest.
However, you can also claim your website on some other platforms like Wix and WordPress.com.
Note: A self-hosted WordPress website is different from WordPress.com. If you would like to create a self-hosted WordPress website, visit WordPress.org.
Platforms like Instagram, Etsy, and YouTube used to have the ability to be claimed on Pinterest. Unfortunately, that option is no longer available.
However, that doesn't mean you can't use these platforms as the link on your profile. It just means you can't claim them. Users will still know that a website like Instagram is legit. If your goal is to use Pinterest to grow on Instagram, then having your Instagram URL as your website link may be more beneficial.
Similar: 5+ Easy Ways To Grow Your Instagram Using Pinterest
Claiming your website on Pinterest is not too difficult. This tutorial will show you exactly how to claim your website on Pinterest step-by-step if you have a self-hosted WordPress site!
3. Rich pins
If you've claimed your website on Pinterest, another great thing you can do is validate rich pins.
Rich Pins show metadata right on the Pin itself, giving Pinners a richer experience and increasing engagement. Information in a Rich Pin is independent of the Pin description, ensuring that important information is always tied to the Pin.
There are 4 types of Rich Pins: app, article, product and recipe Pins. Rich Pins work by displaying metadata from marked up pages on your website. Once you've applied for Rich Pins, any content on your site with metadata will turn into a Rich Pin when a user saves it.
To learn how to apply rich pins to your Pinterest, here is a great and simple tutorial!
4. Profile cover
Having an attractive Pinterest profile cover may help to convert pinners into followers and to attract your audience!
This tutorial will show you exactly how to create and change your Pinterest profile cover using Canva.
Creating boards
Once your account is set up, it's time to create some boards!
Pinterest boards have three main parts:
Board title
Board description
Pins on the board
Each of these parts plays a key role in Pinterest board SEO – a part of Pinterest SEO.
This post will show you how to fully optimize your Pinterest boards in 3 easy steps. It goes in depth on selecting board titles, writing keyword rich board descriptions, and saving relevant pins to your board. This is a major part of Pinterest SEO that you do not want to skip!
To create a board on Pinterest, navigate to the Saved tab of your Pinterest profile.
On this page, click the + sign to the far right and select Board.
A screen will pop up asking you to name your board. Add in the name of the board you are creating and click Create.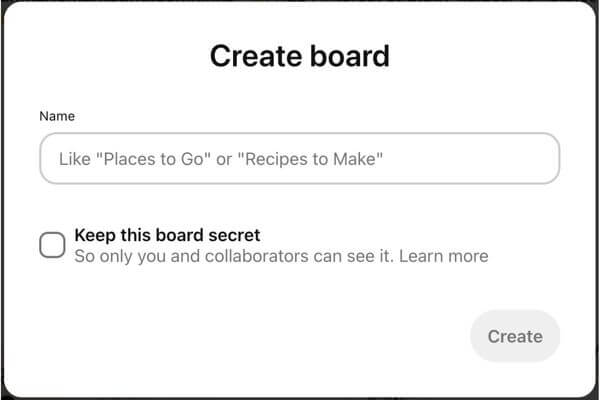 After you click Create, save pins to your board! Remember, to help with Pinterest SEO, it is important to save the most high quality and relevant pins to your board.
How many boards should you have?
For business use, I suggest having as many boards as you can consistently pin your content to. This will help you build strong boards, which is important for Pinterest marketing.
If you create too many boards, it can be easy to neglect some and not pin to them. But if you create too few boards, they may be too general, which might be tough for Pinterest SEO. It's all about finding a balance.
I usually start with 3 to 5 relevant yet different boards and add more as needed.
Creating pins
Pins are the center of Pinterest. Here is how to create pins on Pinterest.
Different types of pins
Before you actually create your pins, you first have to decide what type of pin to create. On Pinterest there are multiple different types of pins, which each serve a different purpose.
Standard Pins
Standard Pins are the "original pins" of Pinterest. They are an image pin and are widely used by bloggers because they have the ability to include an external link. Pinterest also makes it easy for pinners to visit. If you're looking to drive any sort of traffic, you'll want to try standard pins.
Video Pins
Video Pins are pins that are a video. Although they include the option to add a link, it is more difficult for pinners to visit that link. Video Pins are also different from Standard Pins in that they have the ability to tag topics on them, which is useful for SEO.
Idea Pins
Idea Pins, Pinterest's newest pin format, are a multi-page pin format that can include both images and videos. On Idea Pins, you can include up to 20 separate pages of content. Idea Pins do not have the ability to link to external websites other than affiliate links and products, although Pinterest does seem to be testing that feature.
While that means that Idea Pins may not be great for driving traffic, they can be great for growing an engaged audience and reaching new people. There are many ways that pinners can engage with Idea Pins, and Pinterest makes it easy for pinners to follow you!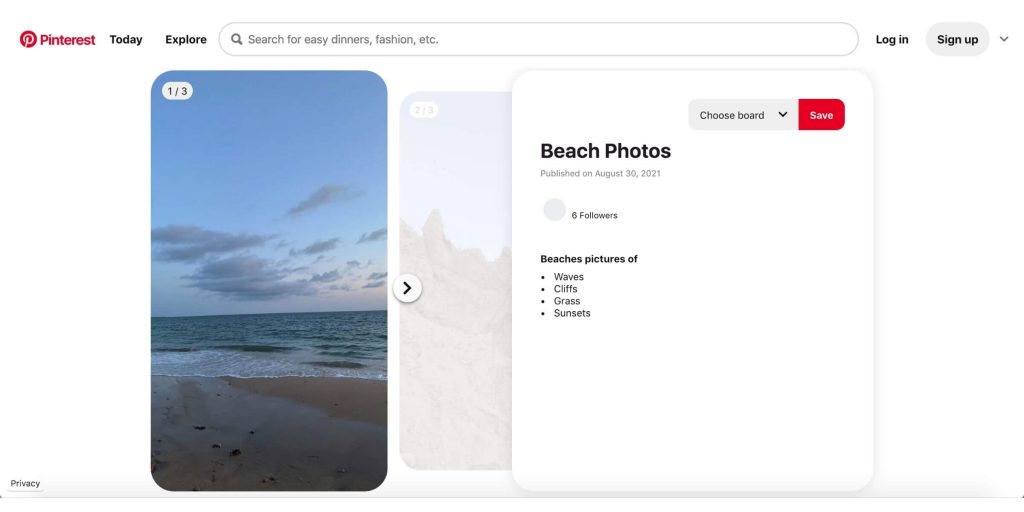 Product Pins
Product Pins are pins that link to a product! While you can link to products with Standard Pins, Product Pins are different because they include data such as the price and number of items left. One way that merchants can get product pins onto Pinterest is by uploading their product catalog.
Designing pins
Now, it's time to actually create a pin! One of my favorite ways to make pins is on Canva. Canva is a powerful and easy-to-use design platform used by thousands of bloggers and online business owners. I personally use Canva to design all of my Pinterest pins and business graphics.
If you struggle to design pins or simply don't have the time, Pinterest templates may be a huge time saver for you. You can check out this free Pinterest template starter set, and there's also tons of affordable pin template bundles out there, such as on Etsy.
If you are creating an Idea Pin, you can also film those directly on Pinterest or upload existing photos or videos from your Camera roll!
Tip: If you want to customize your Idea Pin and add things such as music, stickers, tag products, tag creators, and more, use the mobile Pinterest app to create and publish Idea Pins. There are far more customization options on mobile than desktop!
Pin design tips
Here are some important design tips for designing Pinterest pins:
Always use correct sizing (size guide below) – Pins should always be vertical and at least 1000×1500 pixels. Idea Pins have a slightly different size. You can also experiment with longer sizes!
Add a text overlay – Make sure your text overlay is large, bold, and stands out from the background. Remember that a majority of pinners are on the mobile Pinterest app, so they should be able to read your text overlay even when scrolling on a small screen!
Be careful with script fonts – Script fonts can look great, but be careful with them because some are hard to read. If a pinner can't read something on your pin because of a script font, they will just keep scrolling by.
Try to keep backgrounds light – Generally (not in all cases), pinners engage with brighter pins. Maybe they just give off a more positive vibe? You can always do some Pinterest searches to see what is working well for others in your niche and incorporate that into your own pin design.
Utilize warm colors – Again, this isn't something you have to do, and in some niches, definitely isn't necessary (hello, gardening niche!) However, statistically, pinners tend to engage with pins with warmer colors like pink, orange, and yellow. Some creators still see fantastic results with cool colors, so you can experiment and see what works for you!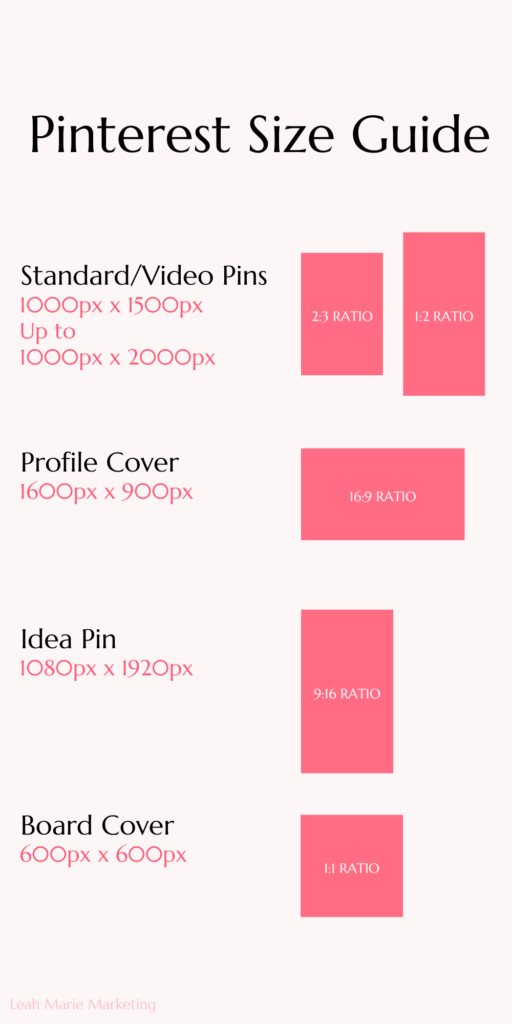 Publishing pins on Pinterest
Now that you have your pins created, it's time to publish them to Pinterest!
Different ways to publish on Pinterest
The first thing to consider is how you want to publish your pins on Pinterest. There are a variety of ways you can do this.
Manual pinning
Manual pinning involves simply uploading your pin into Pinterest, filling out the details, and publishing it. This is the strategy Carly Campbell teaches in her insanely popular (and my favorite) Pinterest course – Pinteresting Strategies.
Schedulers
Some people prefer to schedule their pins in advance so they don't have to worry about coming on the platform to publish them. One of the most popular third-party Pinterest schedulers is Tailwind.
Pinterest also has its own native scheduler. To access it, create a pin like normal (instructions below) and click Publish at a later date near the bottom. You can schedule Pinterest pins with the native scheduler up to 2 weeks in advance.
Note: Idea Pins can not currently be scheduled using Pinterest's native scheduler. Read more here.
Hire a virtual assistant
You can also take away all the work of creating and publishing pins by hiring a Pinterest virtual assistant. Pinterest VA's will take on all of that work for you!
If you want to find a Pinterest VA, looking in Facebook groups is a great place to start.
Uploading pins on Pinterest
To upload pins to Pinterest, click on the Create dropdown at the top of the screen.
On mobile, click the + sign at the bottom of the page.
To create a Standard Pin or Video Pin, select Create Pin. From there, upload your files. (Desktop example shown below.)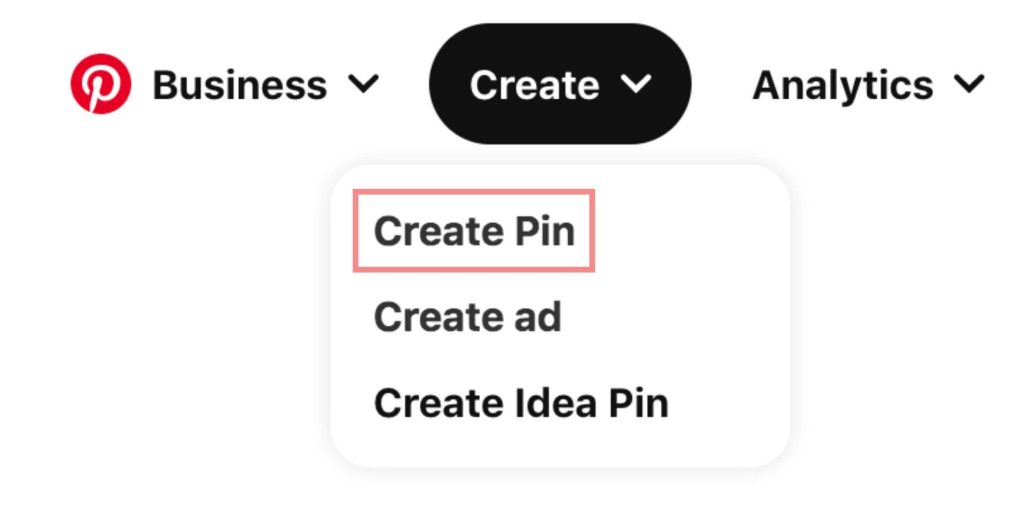 To create an Idea Pin, select Create Idea Pin. Add your content and your customizations. (Mobile example shown below.)
Related: How To Create Idea Pins On Pinterest (Full Tutorial)
Once you've uploaded your content and filled out the details to optimize for Pinterest SEO, you can publish or schedule your pin! Then, it's ready to be out into the world on Pinterest!
When should you publish pins?
When you publish pins can have an impact on your performance.
For instance, you want to publish seasonal and holiday content months in advance to give the Pinterest algorithm time to understand, rank, and index the content.
This is why I created the Seasonal Pinterest Content Calendar and Planner!
The Seasonal Pinterest Content Calendar and Planner helps you determine when to post your seasonal content on Pinterest to see results, and it also helps you to track content ideas! If you create any type of seasonal or holiday content, this product is for you!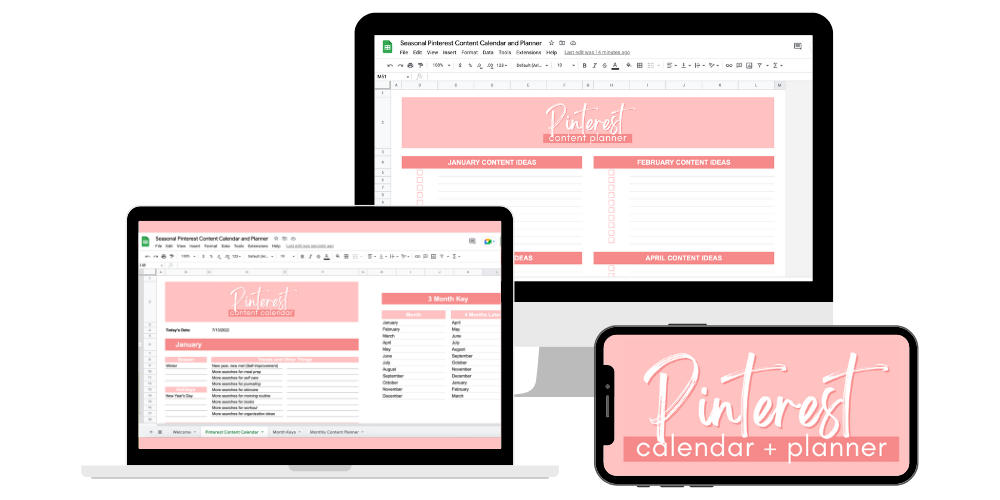 CLICK HERE TO LEARN MORE ABOUT THE PINTEREST CALENDAR AND PLANNER!
How often should you pin on Pinterest?
There is no exact amount that you should pin on Pinterest. Different Pinterest marketers will say different things.
It all comes down to this: consistently.
Personally, I try to pin 2 to 3 pins per day. Some days it's more. But it's not a set number at set times. I do what I can, and I try to stay consistent.
Suggested: When And How Often Should You Pin On Pinterest?
How often should you pin the same URL?
Pinning the same URL too often can trigger the Pinterest spam filter, which can absolutely devastate your Pinterest account (I can say that from personal experience!).
It's important that you space out the same URL. I try to wait at least 3 to 4 days before pinning the same URL, but often more.
It can get exhausting trying to keep track of when you last saved a URL. So, I created the Pinterest Pin Tracker to help you easily keep track of all this information!
The Pinterest Pin Tracker takes less than 30 seconds to update, but gives you the ease of mind knowing exactly when you last pinned a URL and where you pinned it.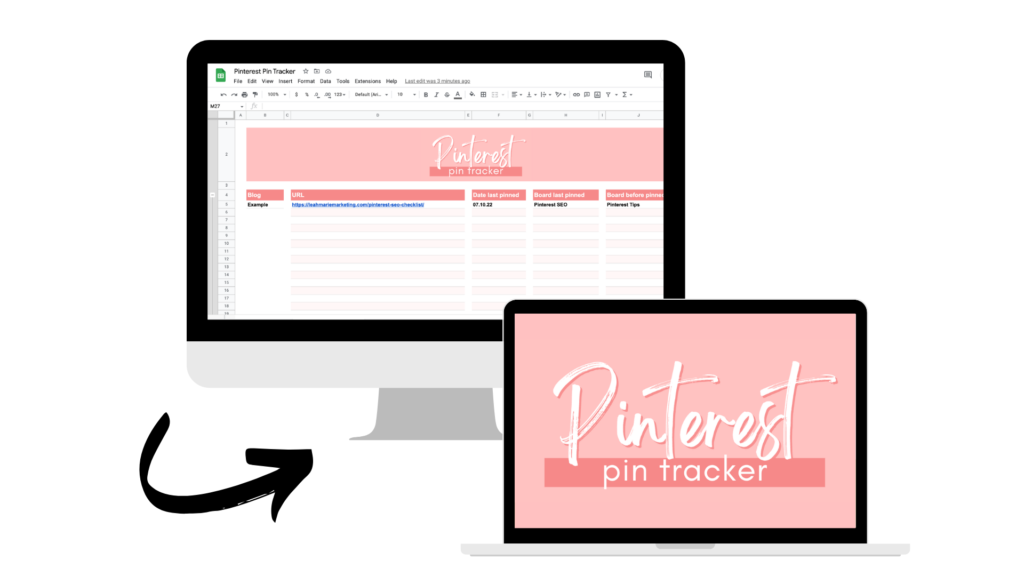 CHECK OUT THE PINTEREST PIN TRACKER HERE!
Pinterest analytics
Pinterest analytics is an incredible source of data that can help you develop your Pinterest strategy.
There is so much different data that you can find within Pinterest analytics. I highly recommend that you play around with it to see what you can find – especially regarding the data that directly relates to your Pinterest marketing goals.
How do you use Pinterest analytics to develop your Pinterest strategy and grow more on Pinterest? Create more of what's working!
Note: I strongly recommend using Pinterest analytics on desktop as you get much more in-depth analytics and more types of data.
To get to Pinterest analytics, click the Analytics dropdown at the top of the screen and select Overview.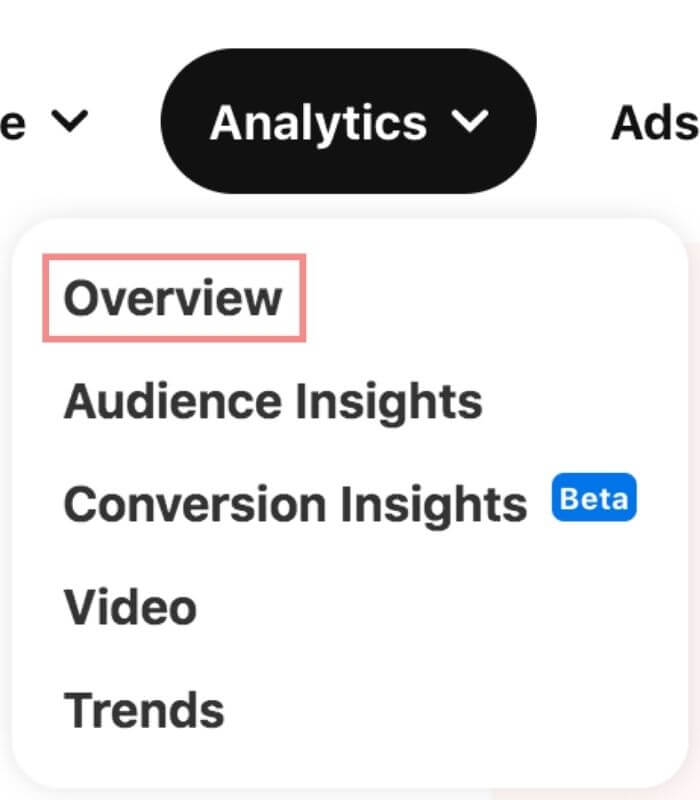 That's it! You are now in the analytics dashboard, and as you can see, there is a library of valuable information just waiting for you!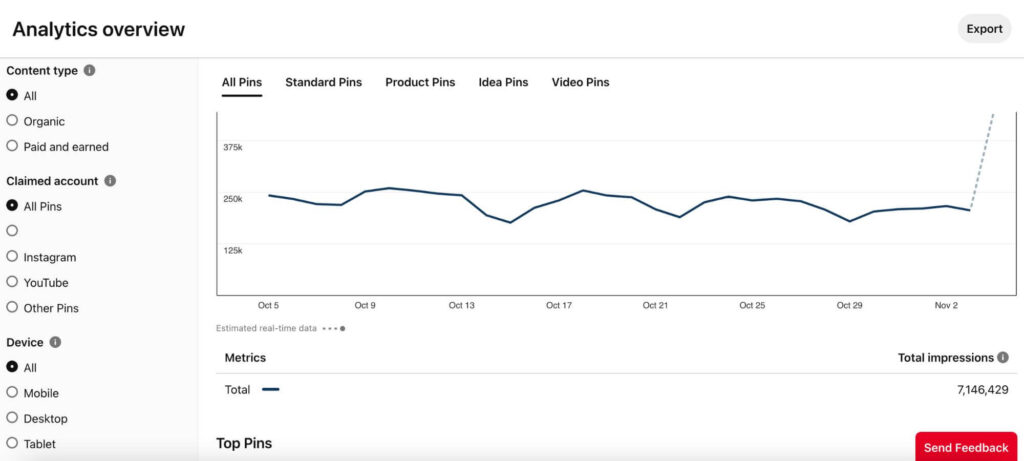 Tips to see results on Pinterest
Here are some of my top tips for seeing results on Pinterest:
Do Pinterest SEO and keyword research.
Save your pin to the most relevant board. Each pin should only be saved to one board (it should not be repinned), and you should save it to the most relevant board to help with Pinterest SEO.
Use Pinterest analytics to see what is working best. And create more of it! Is it a specific pin type, design, call to action, color? Try to see what is common among your top performing content and incorporate it into more pins.
Experiment. You'll never know what works best if you don't try different things! Try different designs, pin types, call to actions, and more!
Publish new pins consistently.
Create multiple pins per piece of content. For example, you should always be creating new pins for old blog posts! Just remember to space out when you pin the URLs (use this tracker to help)!
Be patient. Seeing results on Pinterest takes time. It can often take months to start seeing significant results on Pinterest!
If you want to read more Pinterest tips, read some more of my best Pinterest advice in this post!
Conclusion
I hope that this post helps you break down exactly how to use Pinterest in a very simple way!
If you have any questions, be sure to leave them in the comments below!
If you want more valuable Pinterest information so you can skyrocket your success, read more on my blog or join my email list (I provide some of my MOST VALUABLE INFORMATION to my email list!)
I hope to see you around again soon. Thanks for reading!
Leah Marie
SAVE FOR LATER!