*Disclaimer: This post contains affiliate links. If you choose to make a purchase through one of my affiliate links, I will receive a commission at no additional cost to you. Thank you for your support!
Finding good keywords is a large part of Pinterest marketing.
Since Pinterest is a visual search engine, using optimal keywords is very important to get your pins seen in Pinterest's home feed, search results, and related pins.
Thankfully, there are many keyword tools and places that you can find great Pinterest keywords, even on Pinterest itself! The Pinterest keyword tools will help you to find a long list of GREAT keywords for your business!
This comprehensive guide will teach you many unique Pinterest keyword research techniques In fact, I'm going to show you 9 simple and FREE ways to find the best Pinterest keywords for your blog or business!
By the end of this post, you'll be able to create a long list of keywords that will help to skyrocket your Pinterest account.
How can you find keywords on Pinterest?
Here are 9 different methods you can use to find keywords directly on the Pinterest platform:
Pinterest keyword bubbles
Pinterest search
Pinterest topics sitemap
Pinterest categories
Popular pins
"More like this" feed
Pinterest ads keyword research tool
New boards
Pinterest trends
Pinterest predicts
Don't worry — I'll show you exactly how to use these methods to find dozens of keywords with potential!
But, before we dive into the keyword research methods, it's important to understand what keyword research is.
What is keyword research?
Keyword research is the process of finding relevant words or terms that can later be used for marketing purposes.
Generally, keyword research aims to find keywords that are:
Searched for
Relevant to a specific audience or niche
Popular
For instance, some examples of keywords in a "recipe" niche could include "easy breakfast recipes," "pasta recipes," or "low-calorie dessert recipes." These keywords are searched for, are relevant to its niche, and can be popular to people interested in different recipes.
Why are keywords important on Pinterest?
Keywords are essential for Pinterest SEO, or Pinterest Search Engine Optimization. Optimizing your Pinterest with keywords for Pinterest SEO helps you increase your reach on Pinterest.
Using keywords on your pins, boards, or profile helps to tell Pinterest exactly what your content is about.
Since Pinterest's main goal is to provide a positive user experience, information from keywords helps Pinterest to distribute the most relevant and high-quality content to users who may be interested in it, whether that be in their home feed, search results, or related pins.
Keywords can also help Pinterest to recommend your Pinterest account to others.
(My in-depth Pinterest SEO checklist breaks down ALL the places you should put your Pinterest keywords in order to scale your Pinterest reach!)
One thing is clear…
Using Pinterest keywords is essential to grow your account!
Pinterest is a search engine
You may have heard Pinterest being called a "social media," but that's not completely accurate! In fact, Pinterest is more of a search engine than a social media.
How is Pinterest a search engine? Pinterest's search feature is one of its most used features — a feature where users search for specific things such as recipes, playlists, or skincare tips.
When a search is completed, dozens of pins are shown to that user that are most likely to satisfy what that user is looking for.
For example, if someone searches "travel packing list," a pin about "tasty salads" won't show up in the results. Instead, pins with packing lists will appear.
Pinterest provides relevant pins based on the search, and Pinterest knows what pins are the most relevant based on the keywords.
Pinterest search is a great way for ideas and content to be discovered by other Pinterest users. So as Pinterest creators, we want our pins to show up in searches!
Keywords are what can help us to get there.
Understanding the algorithm
Although trying to rank your pins is important, Pinterest pins can also be found in other ways. Besides the search feature, the other main way that pins can be discovered is through the Pinterest home feed.
Pinterest's home feed (also known as the "smart feed") is a collection of pins that are put together to satisfy the interests of each individual user.
In fact, Pinterest engineer Chris Pinchak says in this post that "The home feed should be a reflection of what each user cares about" and "Incoming Pins are currently obtained from three separate sources: repins made by followed users, related Pins, and Pins from followed interests."
Simply put, if a user is interested in arts and crafts, more arts and crafts pins are going to be shown in their home feed.
This means that it's important that Pinterest understands what our pins are about so that they can be shown to users who have an interest in those areas.
So, you have to find and use relevant keywords.
What type of Pinterest keywords should you search for?
Whether you're a blogger, a small business, or an influencer, most content creators on Pinterest share the same goal: getting their content found (and then getting users to engage or take action on it).
So, when considering keywords, what type of keywords should you try to find?
The truth is, this is unique to every user. What I mean by this is that bloggers, businesses, and influencers are all going to target different keywords based on the audience they are targeting AND their goals.
Before you search for keywords, it's important to understand your target audience and niche.
Are you targeting:
A certain age group?
A certain gender?
A specific interest or niche?
Also, you need to fully know your business goals.
Are you:
Looking to drive people to your website?
Trying to get clients?
Selling products?
Growing a larger social following on multiple platforms?
Your answers to these questions will change the way that you do keyword research and the type of keywords you search for.
You want to try to find keywords that cater to all of your business and target audience needs, while also making sure your keywords are searched and relevant on the Pinterest platform.
(Also note, not all keywords will work well or help you to reach your goals. To help you, I have a FREE e-book that will help you determine the BEST Pinterest keywords for your business so that you can scale your results! Click here to learn more.)
Remember, people aren't going to click on your pins to read a story about your life. They are looking to find inspiration and answers for their own necessities. You have to create your content with that in mind. Your content has to provide value for the viewer, or else no one will click on it no matter how good it is or how good your keyword research is.
A good way to determine this is to ask yourself this question:
If I was someone in my ideal audience, would I want to view this content?
Pinterest keyword research methods
Here are some of my favorite (and unique) methods to uncover popular keywords right on Pinterest:
1. Pinterest keyword bubbles
Please note: Pinterest keyword bubbles were one of the best ways to find Pinterest keywords, but in 2021, these colorful keyword bubbles disappeared for many accounts. However, these bubbles recently reappeared for one of my accounts on desktop, so I wanted to include this just in case they show up on your account too! It is completely possible that you may not see these bubbles. If not, I have multiple other methods to find Pinterest keywords for you in this post!
If you are able to see keyword bubbles, you'll see them when you search a term in the Pinterest search bar like this: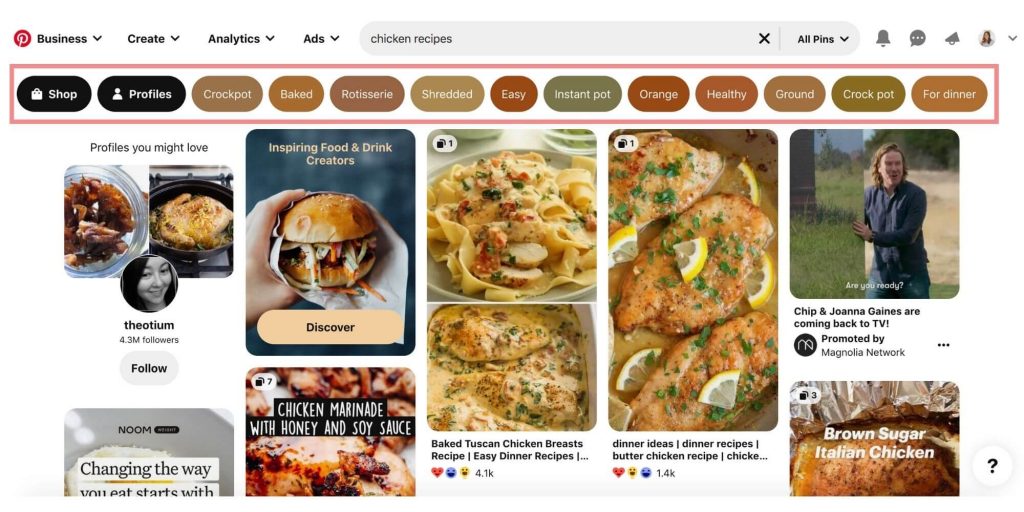 These bubbles show you other popular keywords that are related to your term! These are what users are searching for and what they want to see!
Tip: If you are not seeing these keyword bubbles, try clicking "Videos" option. Some users (including myself) have noticed that keyword bubbles appear when toggling to this setting. Currently, you can only do this on desktop.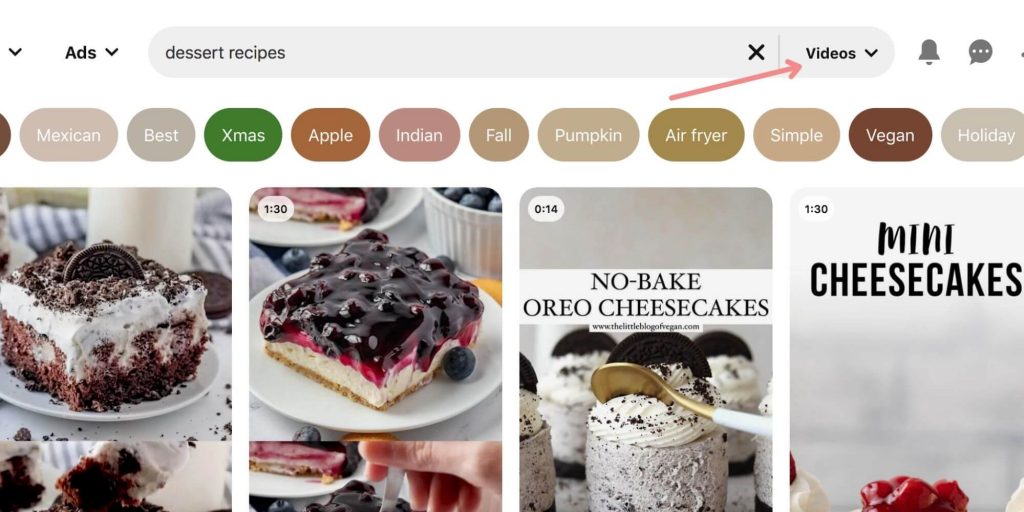 2. Pinterest search
Even after many updates, this Pinterest keyword research method remains a reliable source of keywords.
Here is how you can find keywords with Pinterest's search feature:
1. Go to the search bar and type in a keyword (do NOT click search!)
2. Look at the autofill words that are provided in grey text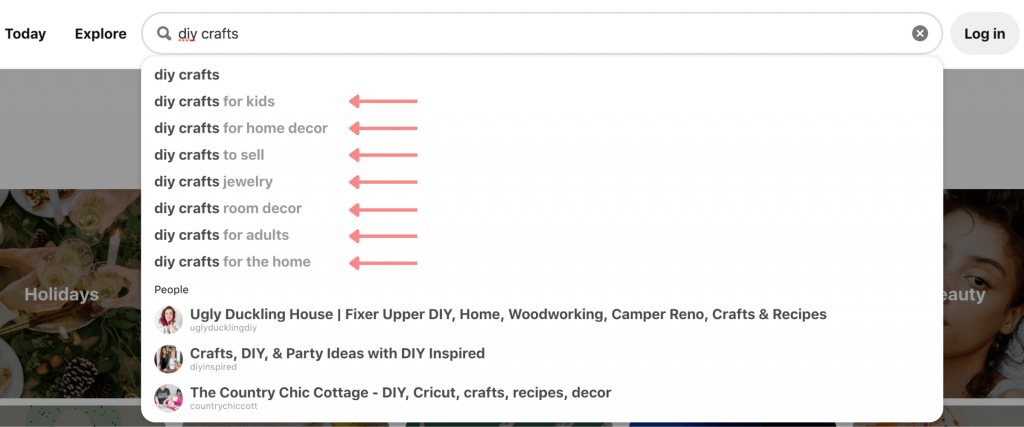 And just like that, you've got some keywords!
The autofilled words are based on common searches by other Pinterest users.
This means that users are actually interested and looking for these keywords, which gives you a great opportunity to create content that is popular and that you know users want to see.
So, when in doubt, this is always a safe way to do some keyword research!
3. Pinterest topics sitemap
I recommend using this method on a laptop or computer.)
When I was doing some digging on Pinterest, I came across the Pinterest topics sitemap.
The Pinterest topics sitemap is a directory of all of the hot topics on Pinterest. The directory has 26 pages of topics, each with hundreds of keywords per page!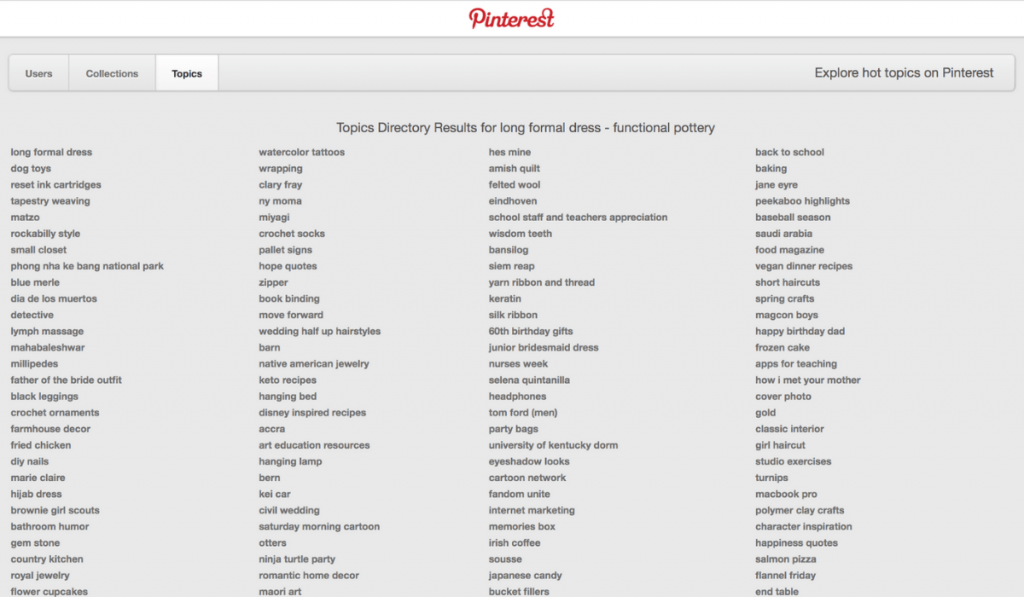 At first glance, it can seem intimidating and difficult to navigate. The topics are not in alphabetical order or grouped by category. Plus, there are 26 pages and hundreds of words on each!
Here is my advice for finding keywords in the sitemap:
1. Select one keyword (at a time) you want to look for. (For example, "recipe" or "decor.")
2. Using your computer or laptop, on your keyboard click control + F (on Macs command + F) and type in your keyword.
3. See if any topics become highlighted. Click throughout the different sitemap pages to see if there are any keyword opportunities on other pages. (You can navigate from pages 1 to 26 if you scroll to the bottom of the screen!)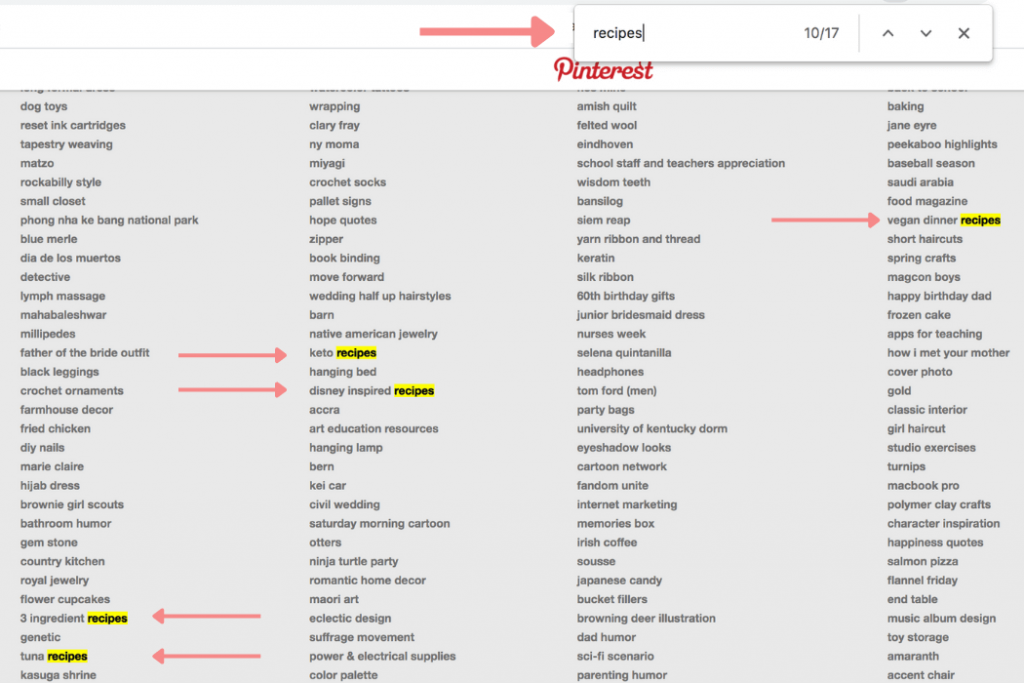 Anything that becomes highlighted is a keyword idea!
(You may not find keywords for all niches, such as the very tiny ones, but I still think this is interesting to look at!)
Now, that's not it…
You can also click on the topics to get even more keyword ideas.
Look what happens when I click on the topic "Country Kitchen."
I'm taken to an idea page that looks like this: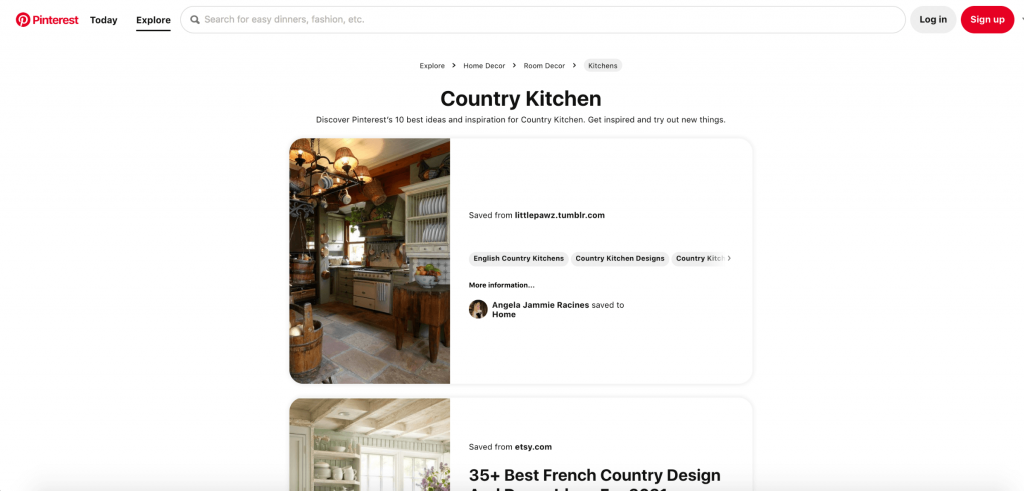 This idea page gives me 10 examples of great "Country Kitchen" pins. And as seen above, you can see key components of the pin (the image, title, description, board it's pinned to, pinner, the website, and sometimes even the number of saves).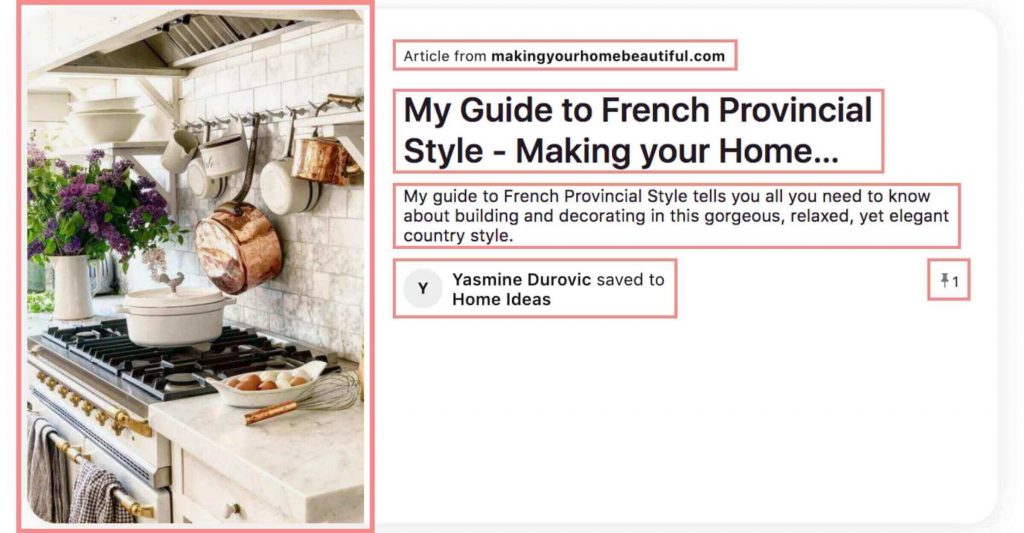 That's not even the best part…
When I scrolled down, Pinterest provided the top searches for that keyword! And beneath that, Pinterest showed some related topics. Take a look: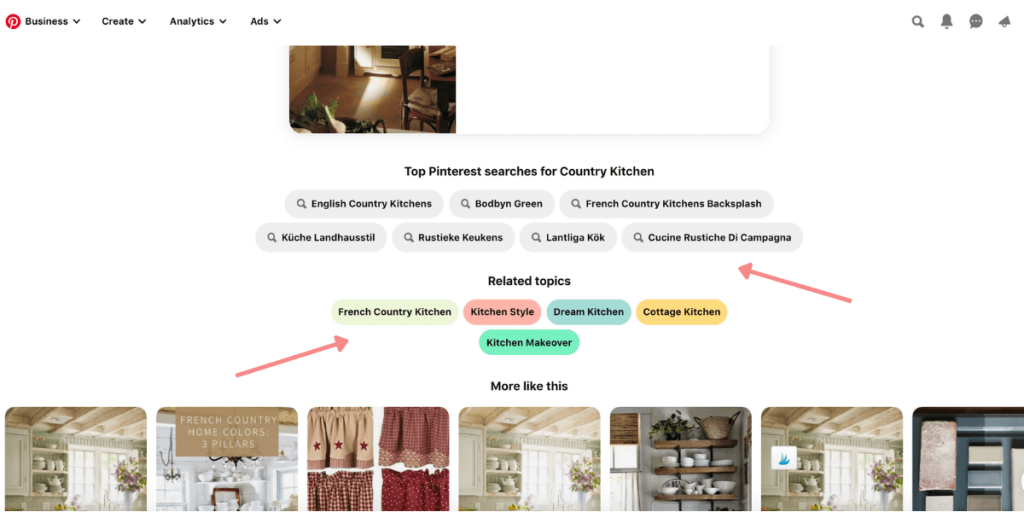 Plus, you can click on any of the related topics and find an entirely new idea page with a whole library of new possible keywords!
(Pinterest may not show you top searches and related topics for all of the keyword idea pages.)
I was ecstatic when I saw this one day while exploring Pinterest. It's truly a keyword goldmine!
But, If you have a hard time finding your keywords in the sitemap, later on in this post I'll teach you an even easier way to find keywords and explore the top searches and related topics on idea pages.
4. Pinterest categories
This next keyword research method may not work for everyone because it primarily targets the most popular niches on Pinterest.
However, if you fall under one of these popular niches, this technique may just be your best friend!
To use this method, visit Pinterest's category explorer.
When you click on the page, you'll be greeted with a library of the most popular categories on Pinterest. It should look like this: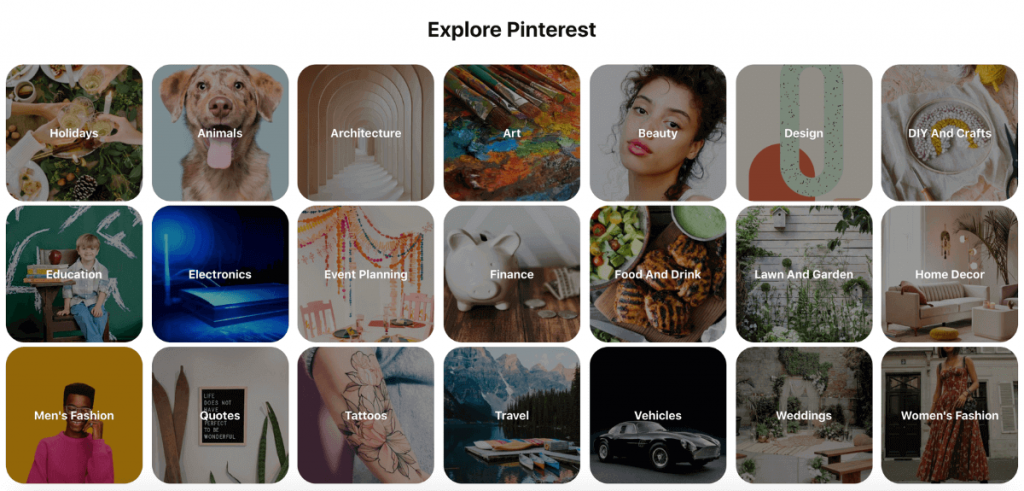 Next, click on one of the categories.
When you click on a category, you'll be taken to a page that has nearly endless keywords! Look at what happens when I click on the category "Lawn and garden."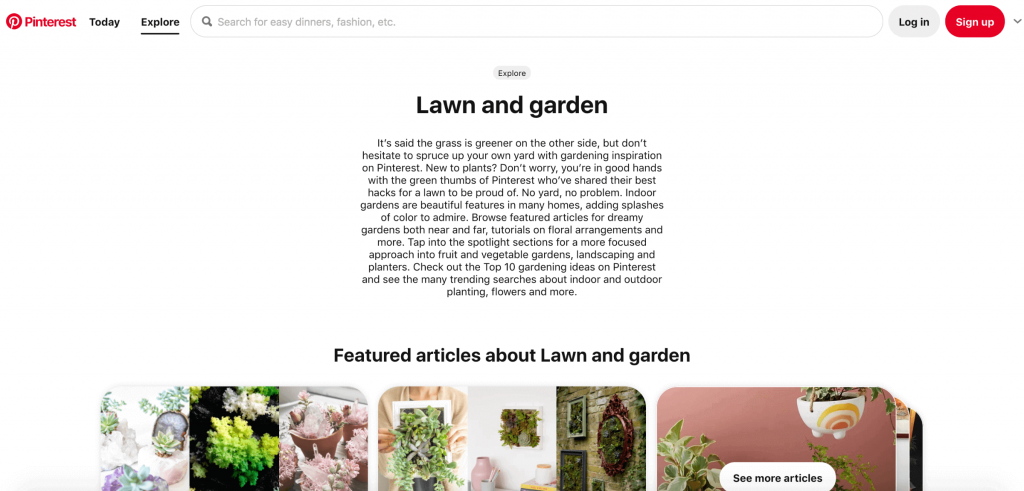 If you scroll on this page, the page shows you so much useful information and potential keywords, including:
Popular and top ideas
Featured articles
Top Pinterest searches
Want even more keywords?
If you click on one of the idea boxes, you'll be taken to an idea page, exactly like the ones previously mentioned. (And just like the idea pages mentioned above, if you scroll down, you'll find more top searches or related topics or BOTH!)

Seriously, if you belong to one of these niches, you do NOT want to forget about this keyword research method!
Note: The categories on this page may occasionally change depending on the season. (For example, Lawn and garden may not appear in the middle of winter.)
5. Popular pin keywords
To use this keyword method, make sure you are on a laptop or computer and open an incognito or private window. (This part is very important, or else it won't work!)
Next, open up Pinterest's category explorer again. Instead of clicking on categories, this time we are going to utilize the search feature.
In the search bar, type in any keyword and search. For example, I searched "European travel."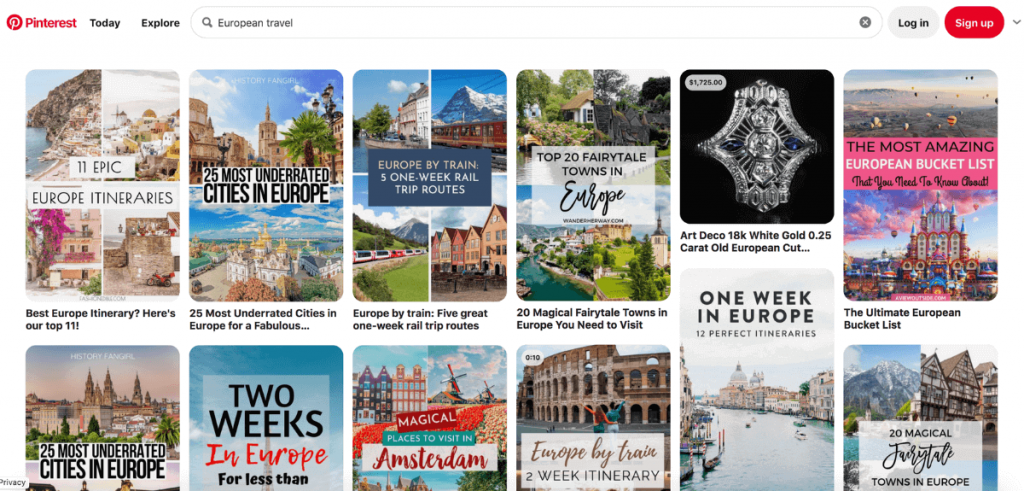 After that, click on any of the top pins.
Beneath the profile of the pin creator, there is a row of related keywords in grey bubbles.
(Pin by Fashion Edible.)
You can scroll horizontally to see even more keyword bubbles.
Here are all the keywords I found with this single pin!

The reason that I love this keyword research method is because you can find keywords for (literally) any topic, no matter how big or small!
This is a great technique to find related keywords, alternatives to popular keywords, and keyword ideas. And, they're keywords that users clearly search for.
And again, similar to the Pinterest topics sitemap and Pinterest categories, if you click one of the topics above the pin title it will lead you to an idea page that shows you even more valuable keyword information!

PLUS, if you click on one of the grey bubbles, you'll be taken to another page like this with some other bubbles:
And if you click on one of THOSE bubbles, you'll be taken to ANOTHER idea page!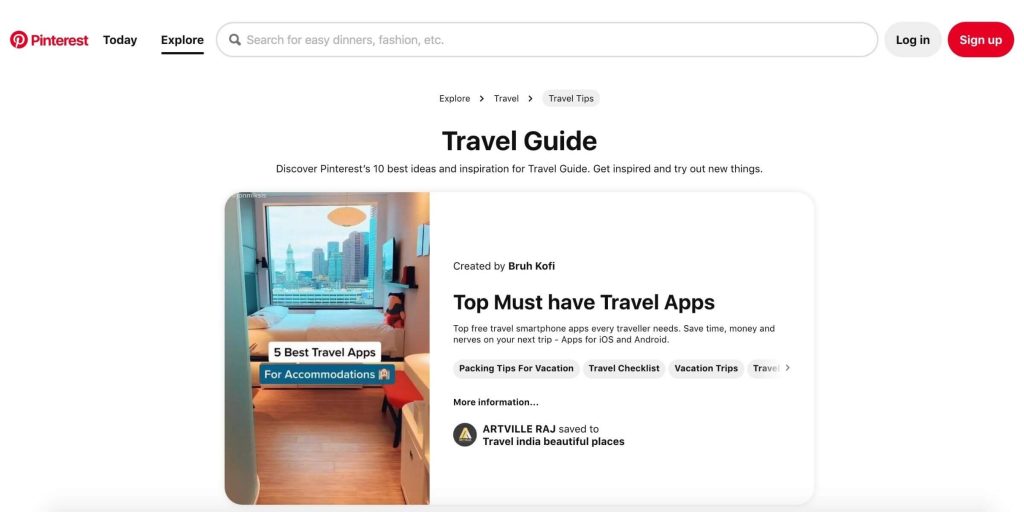 6. "More like this" feed
The "More like this feed" is another place you can find Pinterest keywords.
Once again, I'd recommend using this method in an incognito desktop window because you will get more possible keyword results.
This technique is super easy!
All you have to do is find a pin (of any type — Standard, Idea, Video) and scroll down.
When you scroll down, you'll enter the "More like this" feed, which looks like this: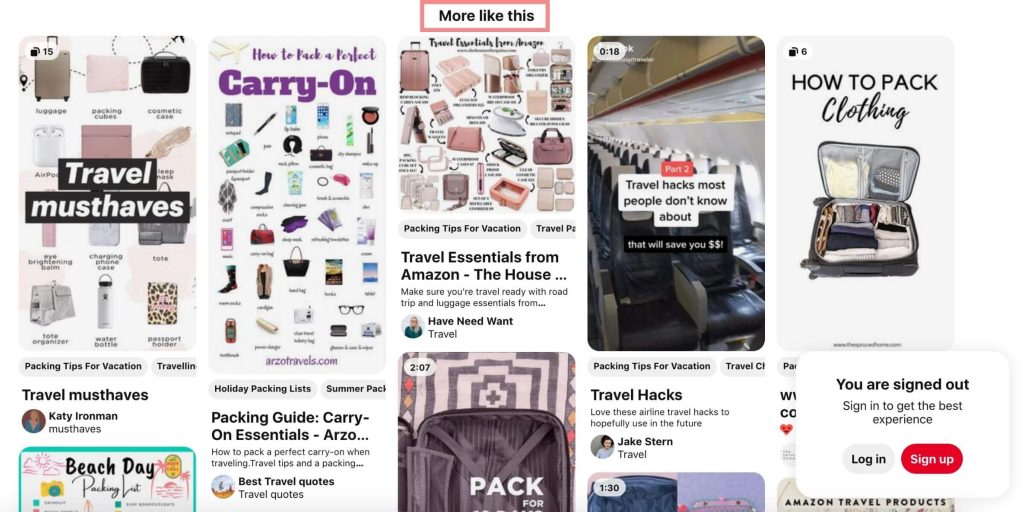 The "More like this" feed is a pin of related pins to the pin you clicked on.
If you keep scrolling, you'll likely see two groups pop up that have keyword ideas:
Similar ideas popular now
Ideas you might love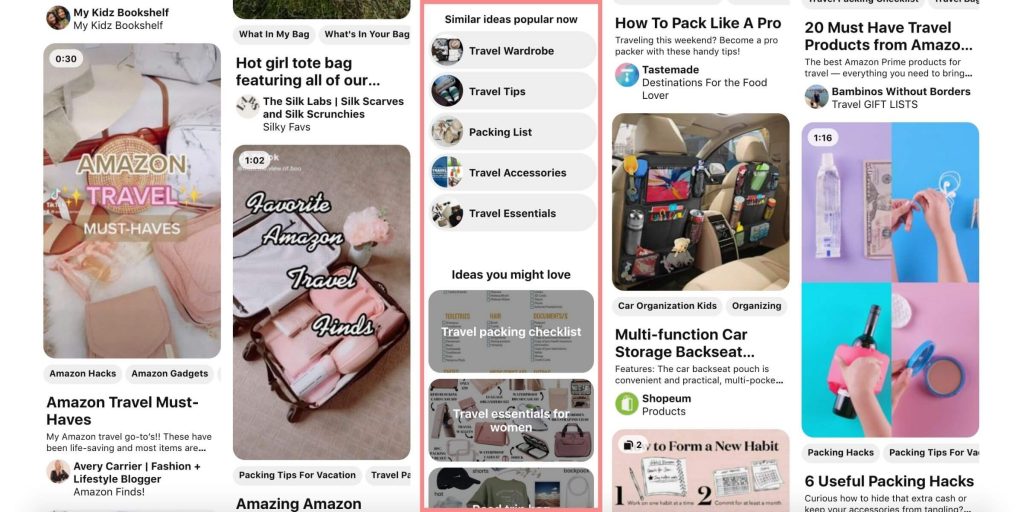 Both of them give you some keyword ideas!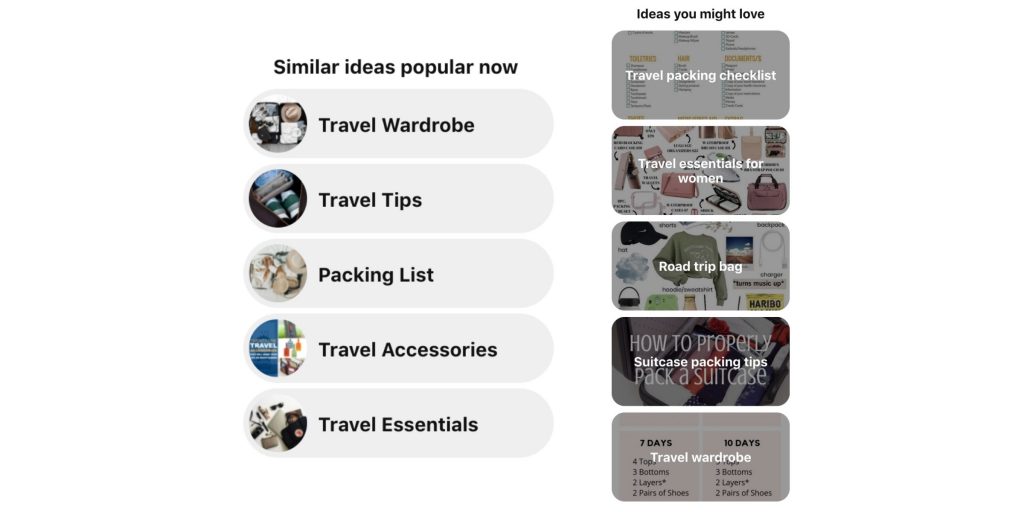 Also note that you can see some other keyword ideas in grey bubbles, similar to the method above.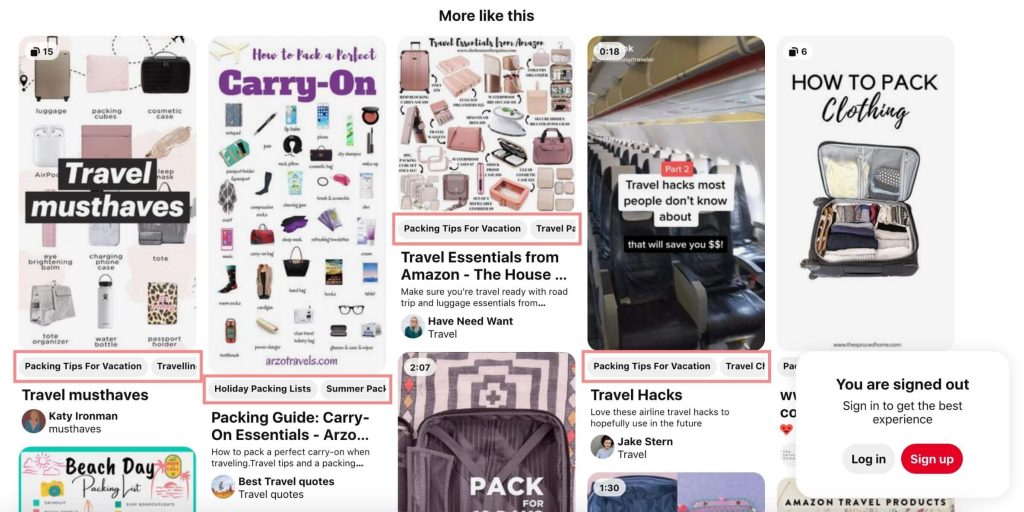 This method is great because you can find trending or popular keywords based on other keywords that you use or that are popular.
7. Pinterest ads keyword research tool
This method is a popular one that many people recommend. (Don't worry, you won't actually create an ad and you won't have to spend a penny!)
Here are the steps to uncover keywords with Pinterest ads:
1. On your Pinterest account, click on the ad drop-down at the top of the page. Then click "Create ad."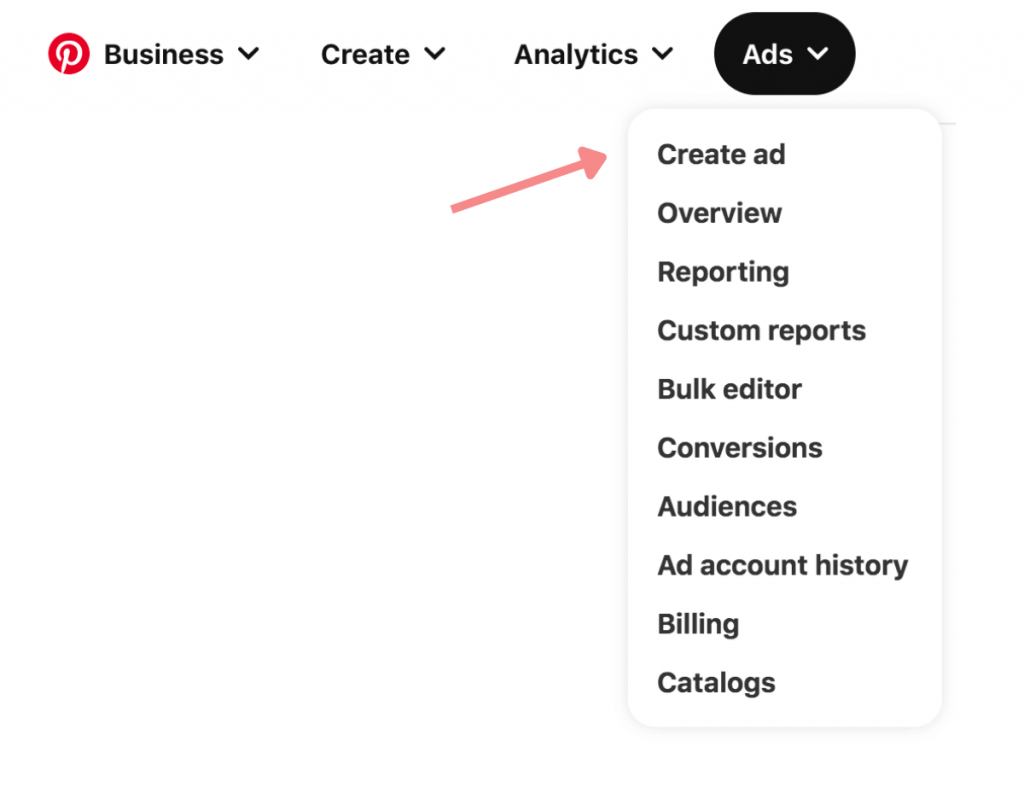 2. Make sure your drive consideration for building traffic is selected. (This should be selected by default.) Then, scroll to the bottom of the page and click "Continue."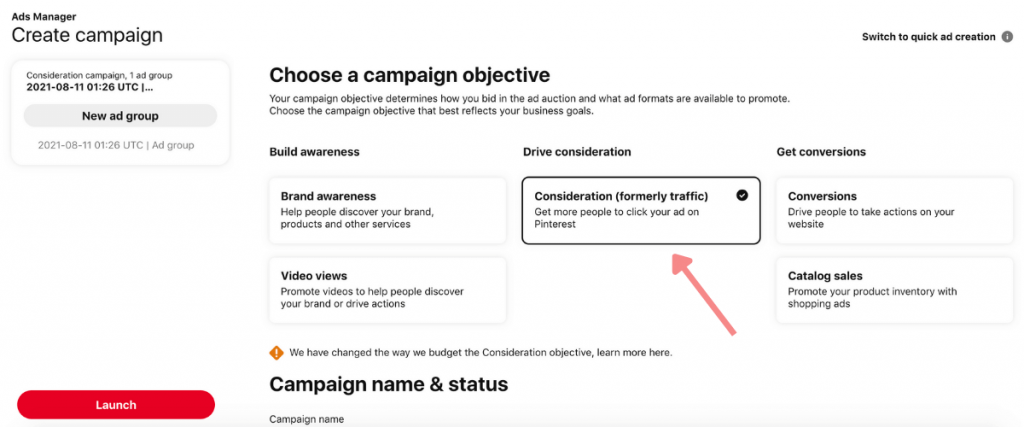 3. Under targeting details, select "Choose your own."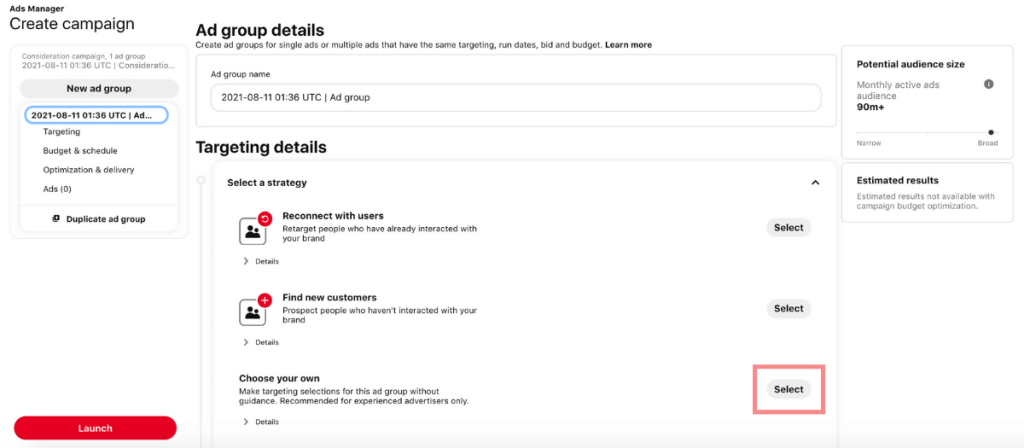 4. Scroll down to "Keywords & interests" and select it. Beneath that select "Add keywords."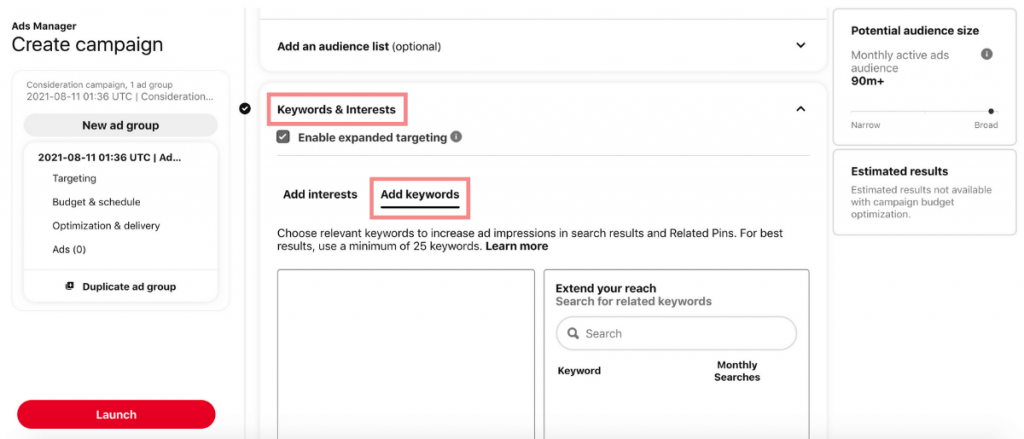 5. Add some keywords and see what other suggestions are given!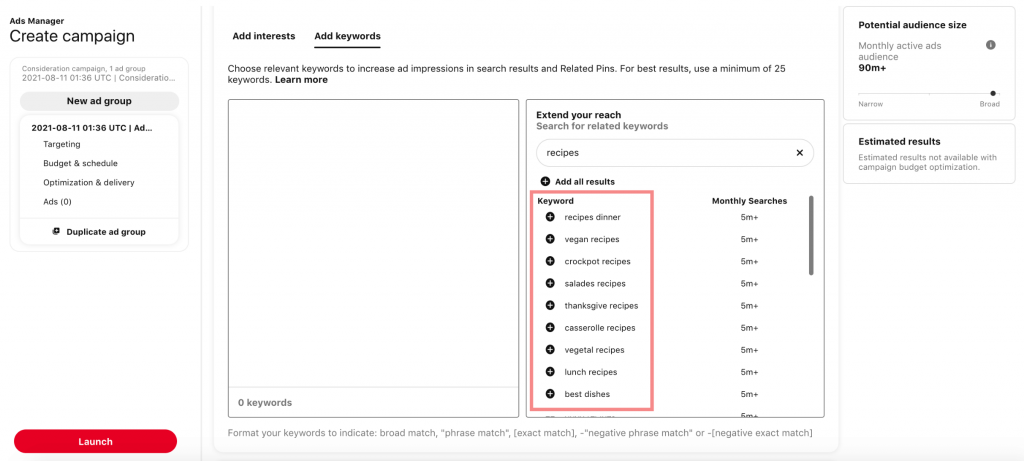 (You can also scroll to the bottom and click "See more" to get even more keyword ideas generated.)
One of the great things about this method is that you are able to see the number of monthly searches for a keyword, so you can therefore see how popular a keyword or topic is.
For instance, look at what happens when I type in the keyword "dessert recipes."
At first, all of the search results showed a monthly search of OVER 5 MILLION! (Meaning that users usually search that keyword over 5 million times per month!)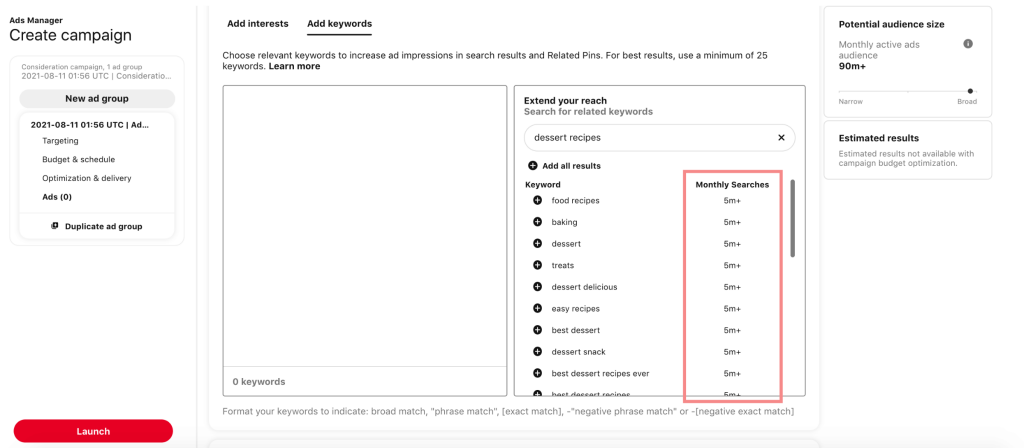 However, as I continued to click "See more," I found keywords with lower monthly searches, meaning that they are likely less competitive (but they're still searched).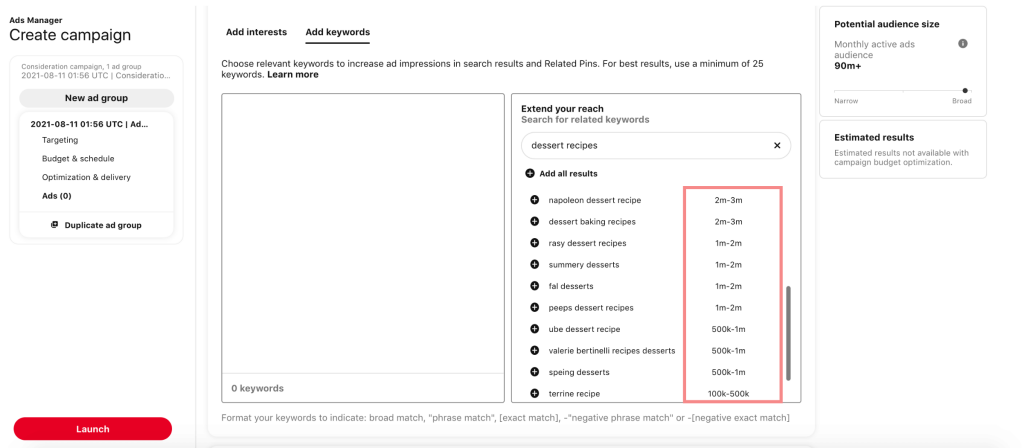 To remember the keywords, you can click the "+" sign next to them, and they will be added to a list. You can compile a list of great keywords directly on Pinterest!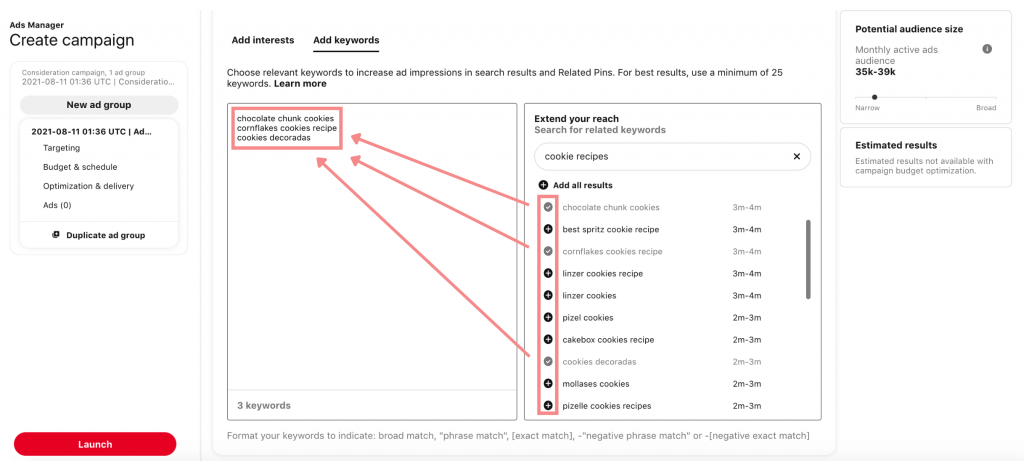 Another really great thing you can see is the potential audience size of one or multiple keywords when you add them to the keyword list. (This is found in the upper right-hand corner of the screen, as you can see in the image above.)
Take a look at how the potential audience size changed when I added some keywords to a list: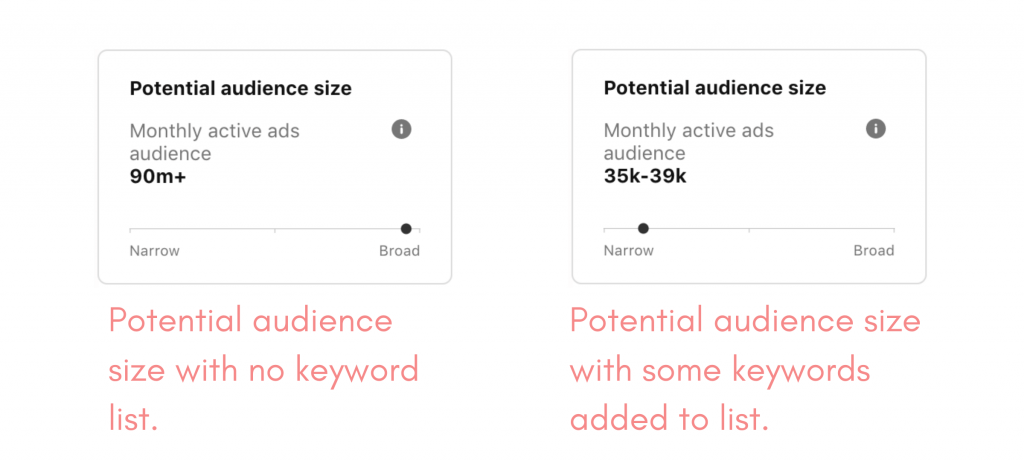 The more narrow you go with the keywords, the less potential audience you'll likely have. (BUT, this isn't a bad thing! Later on, I'll explain how more specific keywords can actually have many benefits.)
8. New boards
This is a unique method that I randomly discovered when saving some Pinterest pins!
For this technique, you need to be on the mobile Pinterest app.
To do this, find a pin that fits your niche (or one of your niches).
Then, act as if you were going to pin the image (you don't have to actually pin it), but do not choose one of your boards. Instead, click "Create board." (You don't have to actually create a new board either.)
After that, Pinterest will take you to a page to create a new board. On that page, beneath where it says "Or pick one of these," Pinterest has a row of suggestions of board names, which are some good keyword options!
Once you are done, you can click the back arrow in the left-hand corner if you don't wish to create a new board.
9. Pinterest trends
Pinterest trends is a great (and free) tool that shows you what topics are trending on Pinterest and when certain topics trend on Pinterest, especially seasonal ones.
The great thing about Pinterest trends is that you can compare topics to see which is the most popular and gets the most searches. You can compare up to four keywords on Pinterest trends.
For example, take a look at the graph when I searched the terms "coffee recipes" and "tea recipes":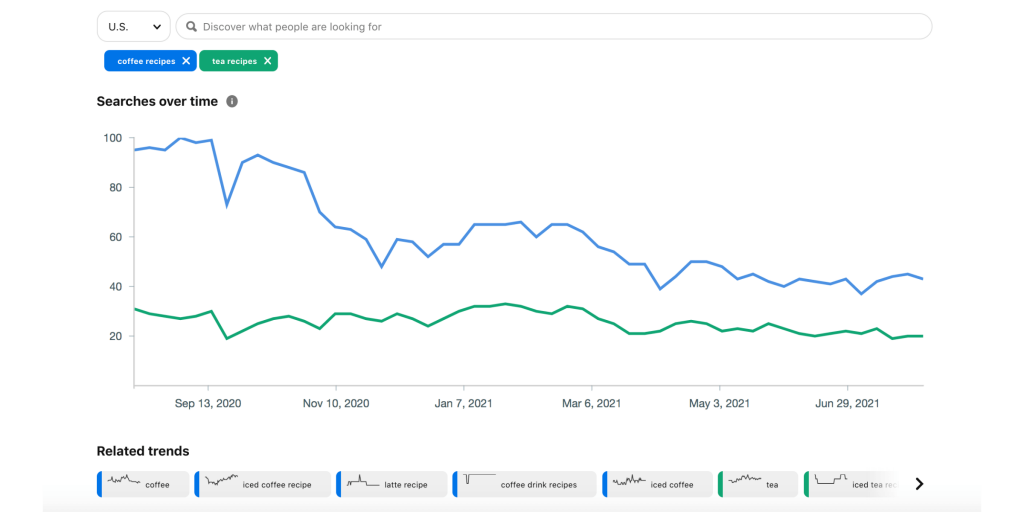 From this graph, I can tell that coffee recipes are being searched for more than tea recipes. As a creator, I would use this knowledge in my Pinterest marketing strategy and likely post more coffee recipe pins because Pinterest users have a greater interest in this currently.
At the bottom, you can also see some related trends.

On the other hand, look at the graph for the term "Christmas cookies":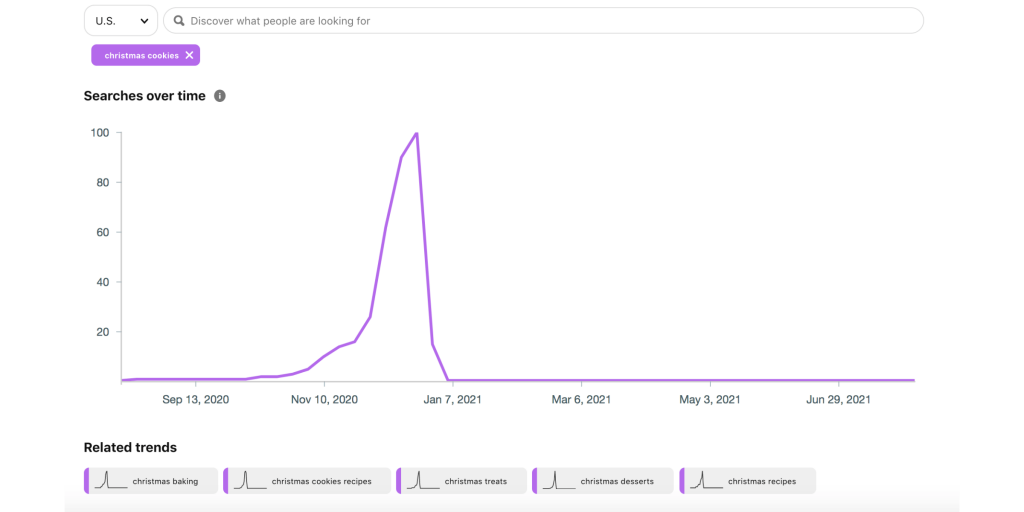 This graph shows me when this keyword is trending, which would help me when planning my seasonal content.
One disadvantage, however, is that you often can't compare specific or super niche keywords on Pinterest Trends. I find that it is meant for more popular and general terms.
Although Pinterest trends may not be as great for finding keywords, it can help very much with creating a keyword strategy!
10. Pinterest predicts
Pinterest predicts is Pinterest's reports of what they think will be popular and trending in the upcoming months or year, and it's a great way to get a head start on some possible keywords.
I recommend reading Pinterest predicts as a downloaded PDF because it is much easier to read. (You can download it as a PDF at the bottom of the Pinterest predicts page.)
Although these keywords are not definite, it at least provides an insight into which categories, topics, or niches will likely perform well down the road.
What are long-tail keywords and why you need them on Pinterest
A lot of times, super popular keywords (or niches) on Pinterest can be extremely competitive and difficult to rank for. But what happens when you're in one of those popular niches?
The best solution to this problem is to target long-tail keywords. (In fact, I'd recommend this for businesses of all sizes.)
Long-tail keywords are narrowed down or niched down phrases that usually stem from a large or popular term.
For example, long-tail keywords for the highly searched term "recipes" could include:
Easy overnight oats recipes
On-the-go lunch ideas
Low-calorie cake recipes
Healthy breakfast recipes
Although long-tail keywords may not be searched for as often as the "popular" keywords, there are many benefits to using them.
They help a more targeted audience to find you. This can be great for building an engaged following, makes sales, building an email list, and more.
They can be much less difficult to rank for because likely, fewer people are targeting those long-tail phrases in their content.
If you rank for them, they often provide consistent engagement, such as follows, outbound link clicks, or saves.
If you successfully target many long-tail keyword phrases, you can definitely scale your business growth.
I talk about long-tail keywords in my FREE e-book Pinterest Keyword Goldmine, which teaches you easy ways to find the BEST keywords to grow your blog or business and reach your Pinterest marketing goals!
How do you find long-tail keywords on Pinterest?
Finding these long-tail keywords on Pinterest is simpler than it seems.
Actually, many of the keyword research methods I mentioned above provided some long-tail keyword ideas, such as the Pinterest search method, the popular pin keyword method, using idea pages, and the new boards method.
Pro tip: One of the best ways to find long-tail keywords is to start off with a slightly narrow keyword (or to start broad and get more and more specific). Here's what I mean:
If you were in the beauty niche, instead of using the popular term keyword "makeup," you could start off with terms "drugstore makeup," "makeup tutorials," or "makeup dupes" instead to narrow the search.
As just mentioned, there are many methods you can find use to find long-tail keywords.
However, one of the best ways to find long-tail keywords is by using the Pinterest search autofill words.
For example, look at the long-tail keywords I can find when looking at the autofill words with the term "drugstore makeup."
You can even continue to narrow it down, and I'd recommend trying this! (Remember, oftentimes, the more specific you go, the more likely you are to rank for the term!)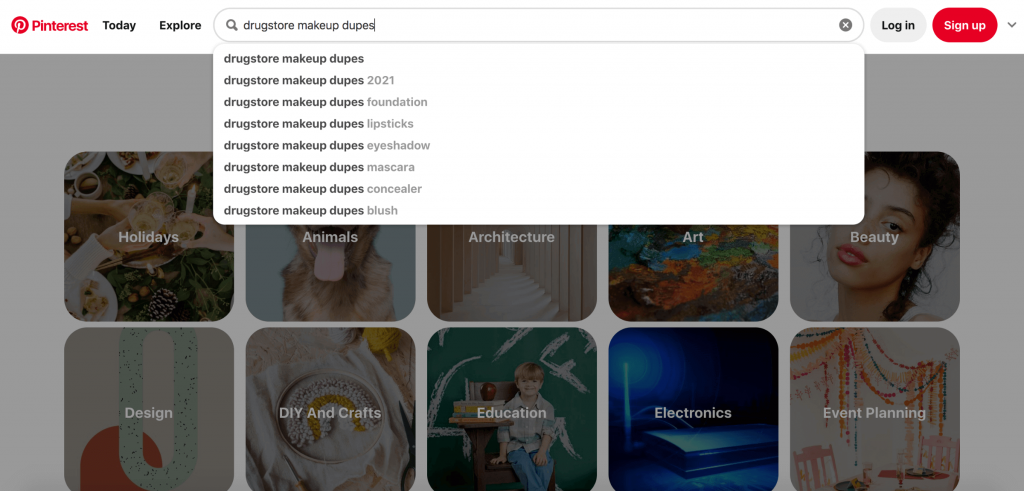 How to track Pinterest keywords
So, you've tried some of the keyword strategies above and found a great list of keywords with lots of potential! Now what?
You need to keep track and hold on to these keywords! You should always have a list of good keywords ready to go so you can use them on the fly. (I know keyword research can sometimes be time-consuming, and you definitely don't want to look for new keywords every time you go to make new content!)
So, how can you track keywords?
There are many ways that you do this. However, I'm going to share with you one of my favorites (it's not very time-consuming and it's super simple).
Using Google Sheets is a great place to store and keep track of your keywords. You can keep track of them any way you like, but here's a really effective method that I suggest: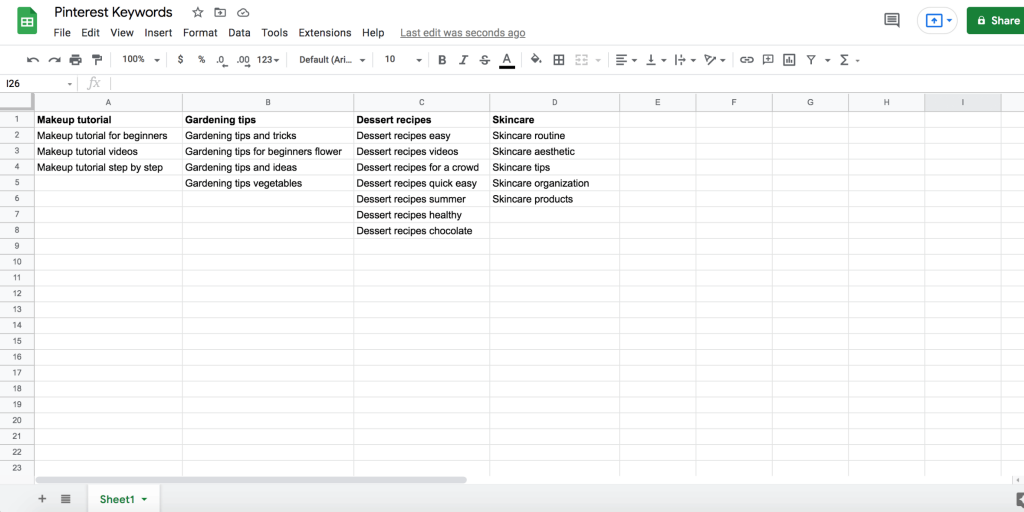 Of course, you don't have to use Google Sheets. In fact, there are many other programs that will do the job just as well.
Find the way that works for you and keep to it!
Where should you put keywords on Pinterest?
As mentioned at the beginning of this post, keywords are essential for Pinterest SEO. They tell Pinterest everything it needs to know about your content, which helps it do be distributed to the right audience.
So, you want to use your keywords everywhere and anywhere you can.
My Pinterest SEO checklist goes in-depth on every single place you should put keywords, how many, and how to format them!
But, here is a brief list of key places you should aim to put your keywords:
Board titles
Board descriptions
Pin descriptions
Pin title
Pin alt text
Profile bio
Profile name
Blog posts (if you have a blog)
Pin image file names
The words on your pin images (Pinterest can actually read the words on your pin!)
Pin URL (if possible, but definitely not necessary)
What Pinterest keywords should you use?
Did you know you have to be strategical about what keywords you actually use and target on Pinterest?
Not all of the keywords you find are going to be good to use. Some you just won't see great results with.
So, how do you know what Pinterest keywords to use?
I have an entire FREE e-book that will help you to figure out EXACTLY what Pinterest keywords you should use to scale your business.
My e-book, Pinterest Keyword Goldmine, will show you how to determine whether or not you can likely rank for a keyword, what type of pins to create to rank in Pinterest searches, and how to use certain keywords to scale your Pinterest. (Learn more about it here!)
Pinterest keywords FAQs
Here are the answers to some commonly asked questions regarding keywords and keyword research on Pinterest:
Should you use Pinterest keywords as hashtags?
I recommend not doing this. Pinterest themselves has said that hashtags are optional, and they even said they can be seen as spammy, so I wouldn't waste time on this. (Plus, it's better to be safe than sorry.) In general, hashtags don't do much on Pinterest because users don't usually search hashtags. You can absolutely get "viral" pins without them.
What are some Pinterest keyword research tools?
Although I think finding keywords on Pinterest is one of the best ways to find keywords (because Pinterest basically tells you the best keywords to use), there are some other great tools you can use. Here are some:
Pin Inspector – Is this the ultimate, all-in-one Pinterest keyword research tool? Some say it is! Pin Inspector is a software that provides you with all the data you need to find the best keywords for your business (seriously, ALL the data you could possibly need). And, it takes the information directly from Pinterest!
KeySearch's Free Pinterest Keyword Tool – This tool shows you the approximate monthly search volume of Pinterest keywords and even gives you some other related keyword ideas! These metrics may help you to discover low-competition keywords and some long-tail keywords that you can rank for but still get some eyes on.
Do Pinterest keywords need a niche?
It's definitely helpful for your Pinterest account (and therefore keywords) to have a niche because Pinterest will better understand the topic of your account and content and see you more as an authority, which can help your reach. However, it isn't completely necessary and multi-niche or lifestyle accounts still see success. As long as you use lots of keywords that are relevant to your pins and boards, your content should be seen by others.
Are Pinterest keywords still important in 2021?
Yes! Pinterest is focused on giving users a positive experience, and a major part of that is making sure they are seeing content that they are interested in. Keywords tell Pinterest exactly what a pin, a board, or a profile is about so they can be shown to the best audience and be distributed on the platform.
Conclusion
Researching keywords on Pinterest can seem intimidating at first, but when you know exactly how to do it, it's actually very easy!
I hope that these Pinterest keyword research techniques help you to discover endless keywords and make the keyword research processes much, much simpler.
I'd love to hear what your favorite keyword research method was in the comments!
If you want more valuable Pinterest information so you can skyrocket your success, read more on my blog or join my email list (I provide some of my MOST VALUABLE INFORMATION to my email list!)
I hope to see you around again soon. Thanks for reading!
Leah Marie
PIN FOR LATER!