*Disclaimer: This post contains affiliate links. If you choose to make a purchase using one of my affiliate links, I will make a commission at no additional cost to you. Thank you for your support!
It's no secret that Pinterest can bring mass success to blogs and businesses.
There are multiple ways in which pins can be found on Pinterest, and one of the main ways is through Pinterest search.
Ranking in the Pinterest search gives you the opportunity to get hundreds or thousands of eyes upon your pins, which can help you to skyrocket your blog or business!
So, how do you rank in Pinterest search? What's the secret recipe?
This post will dive deep into 8 easy tips that will help you to rank higher in the Pinterest search.
Let's dive in.
Please note: Pinterest is always changing, and while I try my best to update my posts, not all information may be up to date. If you're looking too see the most updated tips, strategies, and information, check out this resource page.
*Please note: Much of the advice I am sharing is based on what has worked for me and ranking my own pins.
Why ranking on Pinterest search is good
With over 400 million monthly active users on Pinterest, there is huge potential to see success on Pinterest.
Oberlo.com reports that in 2018, Pinterest said over "More than two billion text-based and guided searches are carried out on Pinterest every month."
(Pinterest has also grown drastically since then, so just think of how many monthly searches there must be now!)
On top of that, Oberlo.com reports that 97% of Pinterest searches are unbranded. This means that there are incredible opportunities for nearly anyone to see success on Pinterest, regardless of your brand or account size.
Great, right?
Long story short, ranking in Pinterest search can put your content in front of thousands of users and rapidly grow both your Pinterest and your business.
How does Pinterest search work?
Although Pinterest is often referred to as a "social media," it is actually a visual search engine.
And that's exactly what Pinterest search is — a search engine!
Pinners input a search query (such as "long white flowy dress"), and the Pinterest search algorithm tries to display a set of relevant and high-quality pins using various ranking factors.
Ranking pins in Pinterest search is like a science. There are certain factors that help pins to rank more than others.
So, how can you rank your pins on Pinterest? Here's some tips!
How to rank your pins on Pinterest
Here are 8 tips on how to rank your pins on Pinterest:
1. Target relevant long-tail keywords
Targeting long-tail keywords makes ranking on Pinterest much easier.
Long-tail keywords are more specific keywords that stem from a broader term.
Generally, less people create pins about these keywords, meaning that there is less ranking competition.
For example, you are more likely to rank for the term "easy dinner recipes for children" than "dinner recipes" or "recipes" because, likely, less users are targeting the long-tail keyword ("easy dinner recipes for children") than the broader keywords.
Another great thing about long-tail keywords is that you often get more targeted traffic and better conversions.
In fact, this post by profitworks.ca shares that for Google traffic "Long tail keywords convert 2.5x higher than head keywords," and the same premise can apply to Pinterest.
Here's an example of one of my pin's stats that ranked for a long-tail keyword: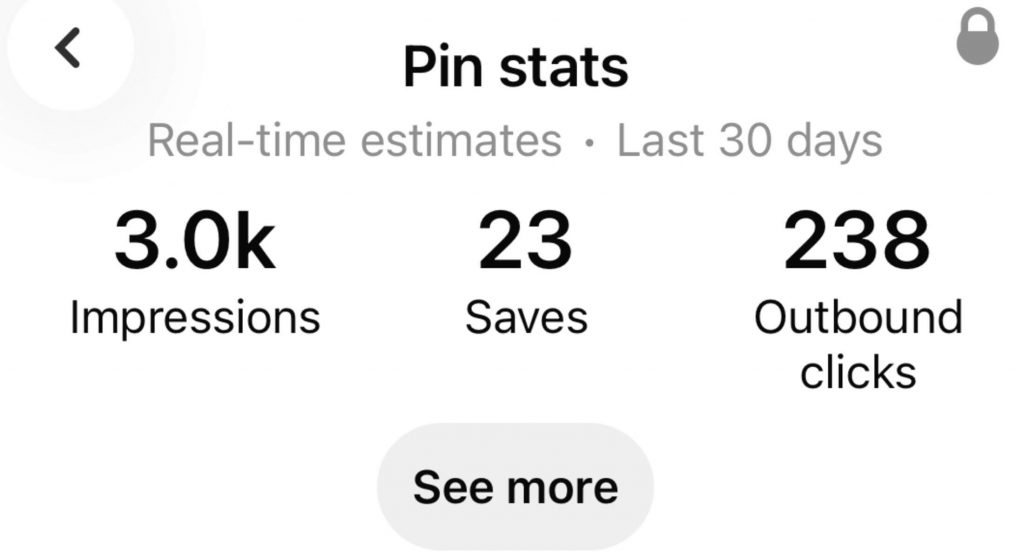 Now, imagine ranking for multiple long-tail keywords (and possibly some large keywords in there)! The results are absolutely possible.
You can even find long-tail keywords directly on Pinterest.
My in-depth post on long-tail keywords will show you one of the best ways to find long-tail keywords on Pinterest.
Plus, my FREE e-book, Pinterest Keyword Goldmine, will give you even more advice on how to find the best keywords to utilize on Pinterest (plus some of my best Pinterest tips!)
Tip: I recommend keeping a list of the keywords you want to target somewhere. I talk a bit more about tracking your keywords in this post.
Related: Complete Pinterest Keyword Research Guide (7+ Methods)
2. Create multiple pins for each piece of content
Not only can you create multiple pins for each piece of content, but I highly recommend it!
For instance, if you have a blog post about skincare tips, you can create multiple pins just for that one blog post about skincare tips.
(For my Pinterest account, I'm always making new pins for my old blog posts!)
Here are some examples of some of my different pins for this post: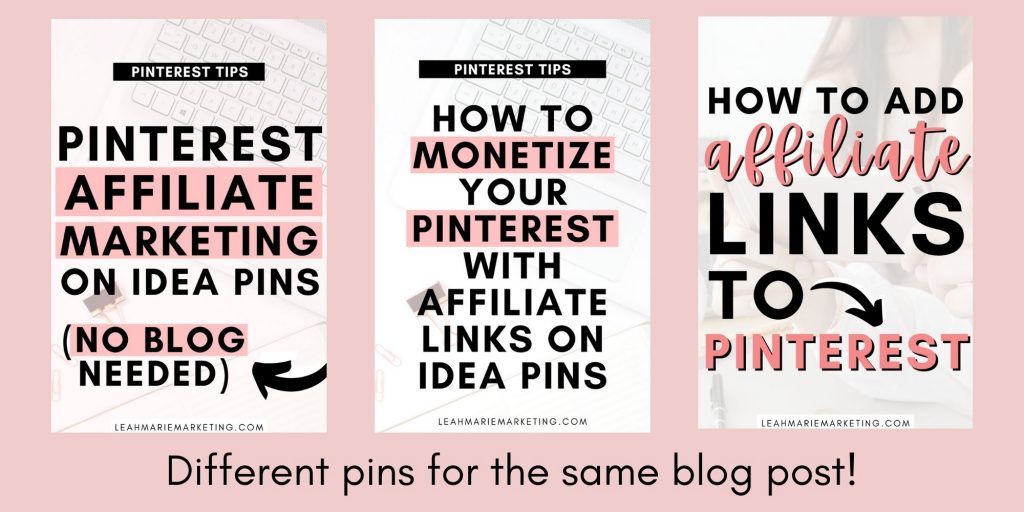 And you don't just have to do this for blog posts. It can be for:
YouTube videos
Products
Salespages
And more!
So yes, it's okay to target the same keywords in different pins and link pins to the same URL.
Note: Many Pinterest experts suggest waiting at least 24 hours before linking a pin to the same URL.
3. Optimize your pins and boards for Pinterest SEO
This is one of the most important steps in ranking!
If you've ever learned about ranking articles on Google, you may have heard of Google SEO, the process of optimizing articles to be found in search results.
The Pinterest algorithm acts in a very similar way, and we call this Pinterest SEO (search engine optimization).
As mentioned, the Pinterest search aims to provide users quality and relevant pins.
So, Pinterest needs to know what your pins are about. The way that you do this is with Pinterest SEO.
Pinterest SEO is a way of optimizing your pins, boards, and profile with keywords to help Pinterest understand what your content is about. This helps Pinterest to distribute your content to users that may be interested in it.
There are 3 main places to optimize on your Pinterest:
Pins
Boards
Profile
And while I believe that optimizing your profile is important, I would say that it is more important to focus on Pinterest pin SEO and Pinterest board SEO.
Here's why:
Pinterest pin SEO
Pinterest pin SEO is important because your pins are what will be seen the most. Pinterest needs to know exactly what your pins are about so that it can better distribute and rank your pins.
The main places that are essential to optimize on your pins are the title and board description.
To optimize these, be sure to include the relevant keywords that you are targeting.
(And yes, you should directly include the keyword you hope to rank for!)
My Pinterest SEO checklist will show you 29 places on Pinterest that you can optimize for great Pinterest SEO! In my opinion, properly optimizing your content is essential to seeing good results on Pinterest.
Pinterest board SEO
Pinterest board SEO is important because it tells Pinterest what all of your pins on a board are about and establishes a relationship between them.
This relationship between the pins is really important because it helps Pinterest to link related pins together.
This can also help you to appear in the Pinterest home feed (which is populated based on users' interests) and the related pin feed.
My Pinterest board SEO guide will show you how to optimize your Pinterest boards in 3 easy steps!
4. Analyze search results
This tip can be an absolute game-changer and can be easily forgotten!
In fact, I have an entire section about this in my free ebook, Pinterest Keyword Goldmine.
When analyzing the search results, you should look for a few things:
What type of pins are ranking?
For example, are the search results dominated by product pins? Idea Pins? If they are, the likelihood of you ranking a standard pin for that keyword is very small!
For instance, take a look at this search for "room decor." Almost all of the top pins are Idea Pins!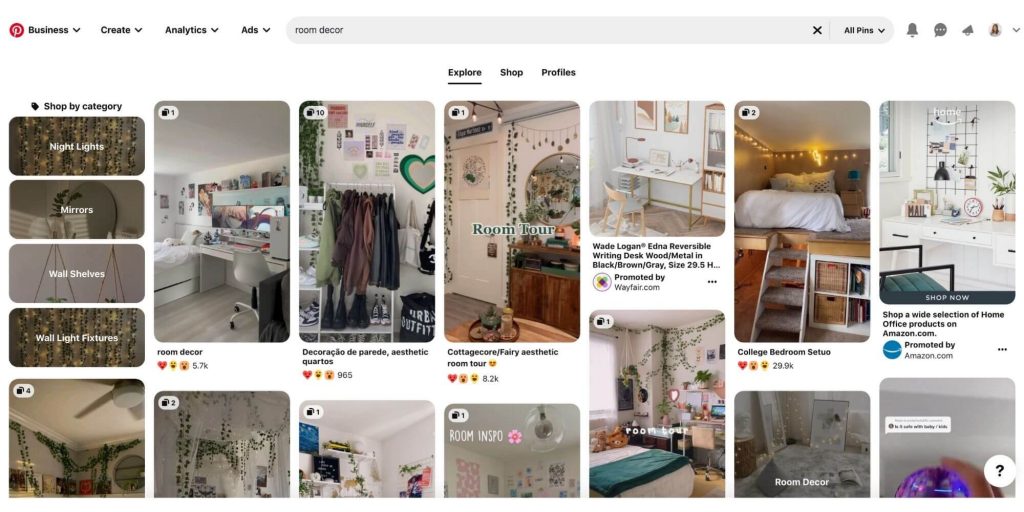 What type of content is ranking?
Are there lots of infographics? Plain photography images? Blog post pins?
For example, in the search results for "clear skin mask," you can see that many of the top results give a recipe for a face mask!
Do you have to create these types of pins to rank? Not necessarily. You can see somer other pins ranking that lead to blog posts.
However, pins like the recipe ones ranking may gain a bit more traction and engagement, which may help with ranking.
Is there anything consistent with pin design?
Are there more long pins than short pins? Is a certain color frequently appearing? Are the backgrounds light?
For instance, in this search for "blogging tips for beginners," I see lots of warm colors, especially pink and orange.
I also notice a mix of longer and shorter pins, brighter backgrounds, and I notice some similarities among fonts used!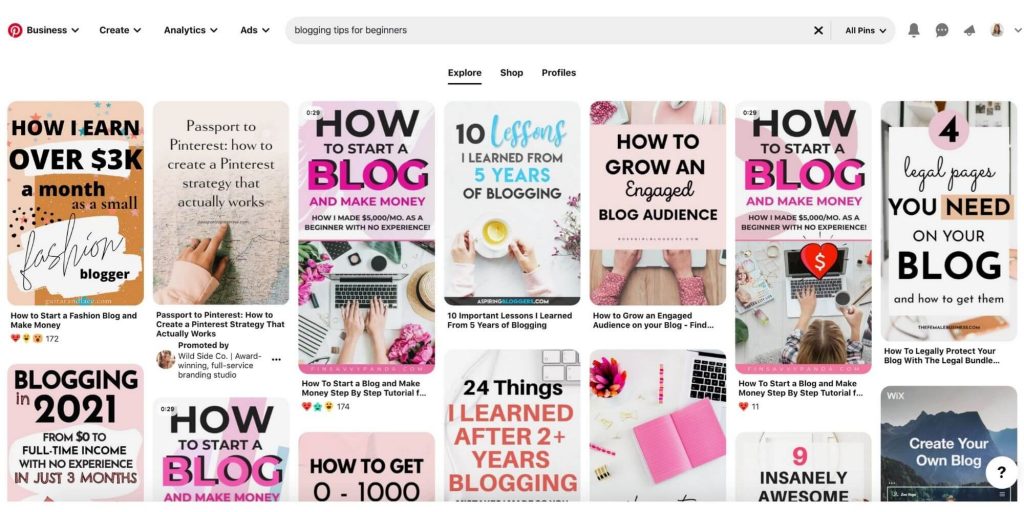 Here's what to do next:
Figure out how you can incorporate this information and these elements into your pin designs but make it even better!
In other words, make your pins unique and stand out but also experiment with elements that you see is working.
The Pinterest search results are often going to show you the most relevant and high-quality pins that other users like (and have engaged with).
Simply analyzing the search results can straight-up show you what works well on Pinterest for that keyword!
5. Create scroll-stopping pins
Here's the truth:
You can fully optimize all your pins, target long-tail keywords, and create dozens and dozens of pins, but if your pins don't attract pinners, no one will engage with it and you will barely see results.
Creating scroll-stopping pins is essential to seeing success on Pinterest.
You want pinners to stop scrolling in search results and take action on your pin.
There are 2 main ways in which you can better create scroll-stopping pins:
Focus on pin design
Focus on titles
Related: 20+ Call To Actions That Will Grow Your Business On Pinterest
Focus on pin design
Having well-designed pins is really important for engagement and conversions.
(And as you'll read later on, Pinterest has directly said that positive engagements are a ranking factor in the Pinterest algorithm!)
On Pinterest, there are some important pin design tips that you should consider to increase the engagement among your pins:
Make your fonts bold and stand out
You don't want your words to blend into the background! Plus, keep in mind that a majority of Pinterest users are on mobile, so the screen is tiny. Make sure your words are large enough for mobile pinners to read when scrolling!
Keep backgrounds light
Users are more likely to click on pins with a light and inviting background. Backgrounds that are too dark may just give off the wrong vibe!
Right now, I enjoy using stock photos for my pin backgrounds.
I love using Ivory Mix! Ivory Mix has beautiful stock photos, and for an affordable price! Plus, for you can access Ivory Mix's library for FREE, which has over 400 high-quality stock photos.
Don't use hard-to-read script fonts
Script fonts can either work…or they don't.
It's super important that pinners can read your content or they just won't engage with it!
In my list of 20+ Best Stand-Out Canva Fonts For Pinterest Pins, I share some script fonts that can work great and are very legible for readers!
Focus on titles
When I first started Pinterest, I didn't understand how insanely important pin titles are.
Good pin titles can be a game-changer.
How?
They can increase engagement, conversions, and more! (Which in turn may help with ranking.)
This course (one of my favorite Pinterest courses) changed my entire view on Pinterest titles.
Pinterest Title Traffic Hacks, which is taught my Carly Campell from Mommy On Purpose, (Carly uses Pinterest to consistently drive 150,000+ pageviews to her blog EACH MONTH!), shows you exactly how to write pin titles that CONVERT.
The affordable price for all of the value in the course just can't be beat.
Carly will show you how to make users stop their scrolling and click on YOUR pin (by only changing your PIN TITLES!)
I couldn't recommend the course enough.
6. Focus on engagement
Engagement is believed to be a ranking factor on Pinterest.
This is one of the ways to ensure that Pinterest is showing pinners pins that other pinners have had positive experiences with.
In an article on the Pinterest Engineering blog where Pinterest talked about one of their new search retrieval and ranking systems, Pinterest engineers said this:
"We limit ourselves to Pin saves and long (35 sec+) click-throughs under the assumption that they carry more signal than weaker forms of engagement such as closeups (when a Pin is clicked but the user does not click through the webpage behind the Pin), or shorter clicks."
And when talking about ranking, they said:
"These N results are ranked by a combination of factors, including their predicted relevance, engagement, and conversion likelihood"
To simplify it, here is what it seems to indicate:
The main forms of engagement that Pinterest seems to focus on are long clicks (30 seconds or more) and saves. These forms of engagement seem to be the best indication that the pinners find value in the pins.
Engagement can play a factor in the ranking of pins. So, you should work on increasing engagement on pins.
How to increase engagement on pins
Luckily, there are a number of ways that you can increase engagement on pins.
Here are some ways:
Add call-to-actions to encourage engagement (find my list of 20+ call to actions here!)
Focus on pin design and titles (as previously mentioned)
Create valuable content that users want to see (keyword research can help with this)
Publish pins when your audience is most active (learn how to find when your audience is most active in this post)
Experiment with longer pin dimensions (such as 1000×2000 pixels), because the longer the pin, the longer it will be on users' screens
Make your pin titles stand out. Use bold fonts that users can read
Use your Pinterest Analytics to see what content your audience likes, and use this to create a Pinterest content strategy
Suggested: How To Get Viral Idea Pins On Pinterest In 2021 (23 Tips)
7. Pin to the most relevant board
Pinning each pin to its most relevant board is so important, and it's a pretty big step of Pinterest SEO (I mention it in my comprehensive Pinterest SEO checklist).
As previously mentioned, Pinterest establishes a relationship between the pins on each board.
So, if you pin a pin "chocolate cake recipe" pin to a "dessert recipes" board helps Pinterest to understand that the chocolate cake recipe is a dessert recipe, and Pinterest will also connect it to all of the other dessert recipes on the board.
This is essential in helping Pinterest to understand what your pin is about, which can in turn help Pinterest to rank it for relevant search queries.
8. Be patient
This is the tip that no one wants to hear.
But really, patience can be necessary while waiting for your pins to rank on Pinterest.
How long does it take to rank on Pinterest?
It can take a long time for Pinterest to rank your pins, especially if your account is new and Pinterest is still learning to trust you and understand what your content is about.
It can take months, years, or even just weeks.
Many Pinterest experts say it takes about 2-3 months for Pinterest to index new pins.
With my Pinterest account for this blog, I had pins ranking after only a month or two for some good keywords. (And, I only had about 20 followers, which is just one reason that I believe Pinterest followers don't matter too much!)
Related: Do Pinterest Followers Matter?
That being said, it can also take way longer for pins to rank.
And, not all of your pins will rank. Sometimes the ones that you least expect will!
It's important to stay patient and continue to optimize your Pinterest account and create new content.
When to pin seasonal content
As mentioned above, it takes time for Pinterest to index and rank new pins, and many Pinterest experts say it takes about 2-3 months.
Due to this, it is very important to pin your seasonal content in advance.
You want to give these pins time for Pinterest to index them so that, hopefully by the season they target, they are ready to be ranked, distributed, and shown to other pinners!
For example, many pinners will begin to pin Christmas content around September!
Since seasonal content and trends can skyrocket your account, I designed my Seasonal Pinterest Content Calendar and Planner to help you plan and post Pinterest content far enough in advance to help it take off during season and trend peaks! This calendar and planner will help you identify and keep track of trends, organize and plan amazing content ideas, and know when post your content to give Pinterest time to index it!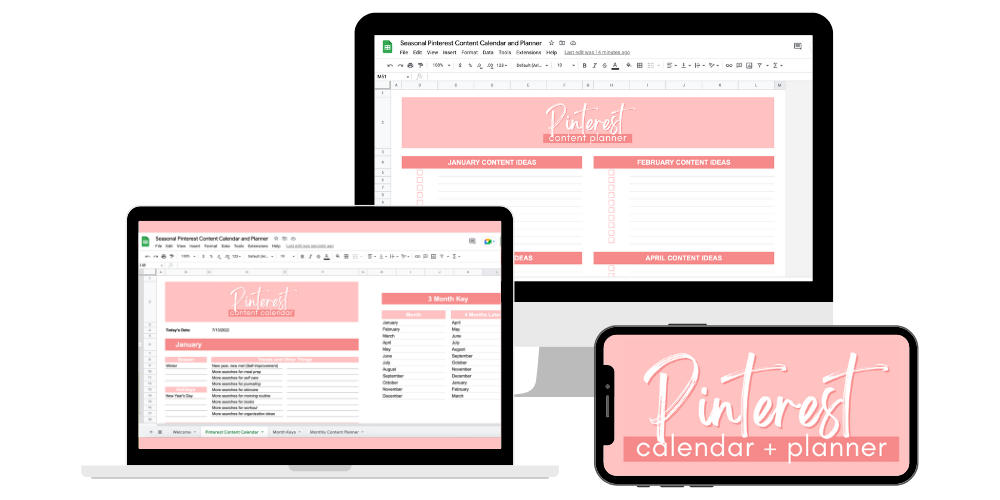 CLICK HERE TO GET THE SEASONAL PINTEREST CONTENT CALENDAR AND PLANNER!
Why do pins lose rankings?
It's important to note that Pinterest rankings usually naturally change over time. It's just part of the algorithm.
This can be both a blessing and a curse to us creators.
While Pinterest may replace our ranking content over time, this also always gives us the opportunity to rank! (Which is one of the reasons I love Pinterest — anyone can see success!)
But, are there other reasons that your pin may stop ranking?
I have a hunch.
Of course, Pinterest has not directly said this, so it's just my guess.
However, my theory is that Pinterest will remove ranking pins that aren't getting enough engagement or don't have a high engagement rate.
This would make sense. If Pinterest thinks that the pin is not bringing value to others, they aren't going to show it to others.
This is my guess because it recently happened to me. I had a ranking pin for a decently popular keyword that did NOT get much engagement (sadly). I recently checked, and it was no longer ranking.
That's one of the reasons that I believe creating engaging pins is so important!
But, again, this is just a hunch!
Conclusion
At the end of the way, there is no "guaranteed way" to make your pins rank up on Pinterest. However, there are lots of tips and things you can do to increase your chances.
Pinterest, in my opinion, is all about adapting, being consistent, and experimenting. The algorithm is always changing, and there's always new things to try!
I hope that this post has helped you and your Pinterest strategy, and I hope that you can see better results!
Which tip helped you out the most? Do you have any more tips on ranking on Pinterest? Let me know in the comments below!
If you want more valuable Pinterest information so you can skyrocket your success, read more on my blog or join my email list (I provide some of my MOST VALUABLE INFORMATION to my email list!)
I hope to see you around again soon. Thanks for reading!
Leah Marie
SAVE FOR LATER!