Idea Pins (formerly called Story Pins) are one of Pinterest's newest features, and there's a huge hype around them.
If you're a Pinterest user, I'm sure you've seen them around — they are appearing all over the Pinterest platform.
With this huge "push" of Idea Pins by the Pinterest algorithm, you'd think that everyone would benefit from using them, right?
But, is that actually the case?
This question has especially been a popular one in the blogging community. Should bloggers use Idea Pins?
This post is going to break down exactly what Idea Pins are and whether or not bloggers should use them. By the end, you'll be able to have a crystal-clear understanding of where Idea Pins should be in your Pinterest marketing strategy!
Let's dive in!
What are Idea Pins?
Idea Pins are a multi-page pin format that allows up to 20 pages of content per Idea Pin.
They are one of Pinterest's newest features and are aimed at helping users to grow an engaged audience, inspire others, and make money.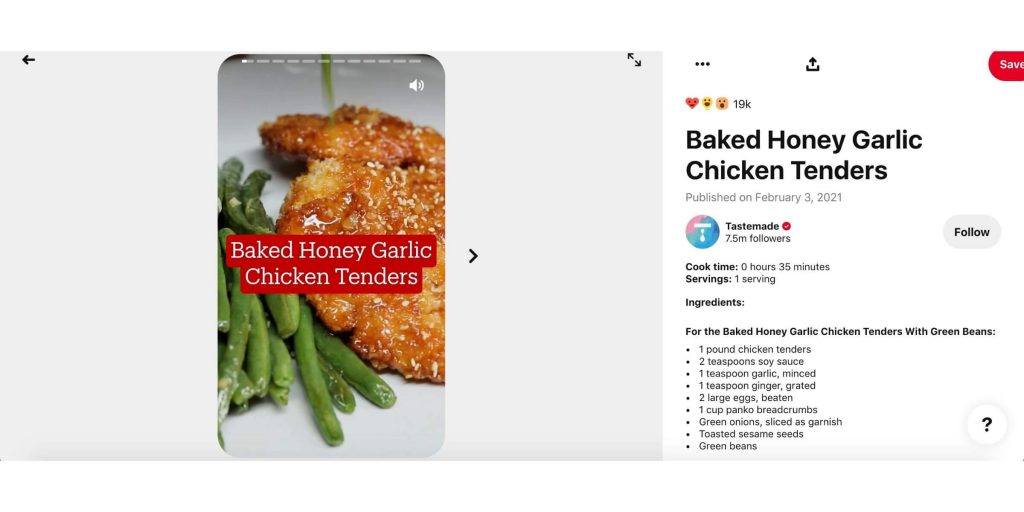 Idea Pins are very prioritized by the Pinterest algorithm. They commonly appear in multiple places, such as the home feed, search results, related pins, and the Today tab.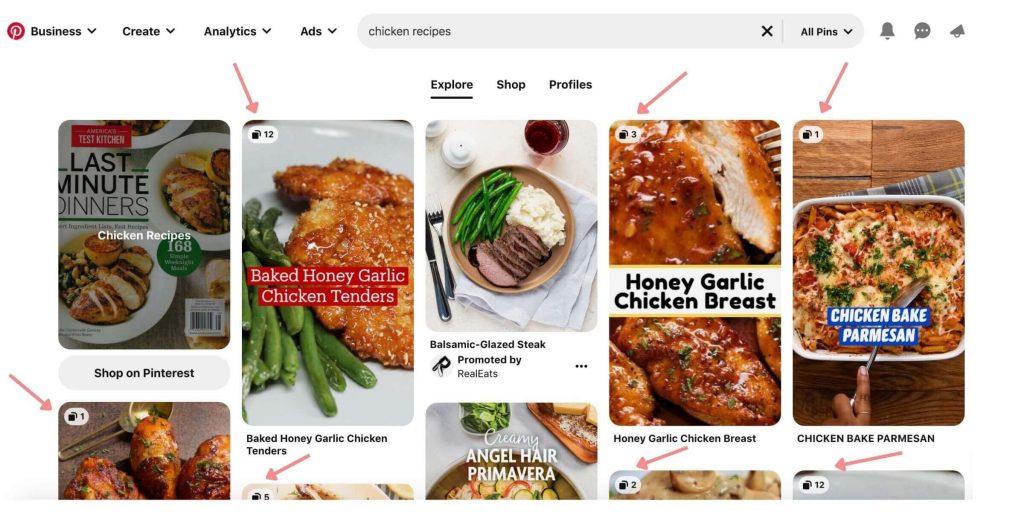 Who can create Idea Pins?
Users with either a business Pinterest account or a personal Pinterest account can create Idea Pins.
Idea Pins are currently available in many (if not all) countries. If you do not have access to Idea Pins yet, request access by filling out this form.
What is different about Idea Pins?
Besides having a different format than other pins, there are some key differences that really set Idea Pins out from the rest.
You can not link to URLS.
Unlike Standard Pins and Video Pins, Idea Pins can not be linked to a URL, and therefore can not bring direct traffic to a website.
Idea Pins have 2 different metrics that other pins don't have.
On Idea Pins, you can see the number of Profile visits and Followers you get.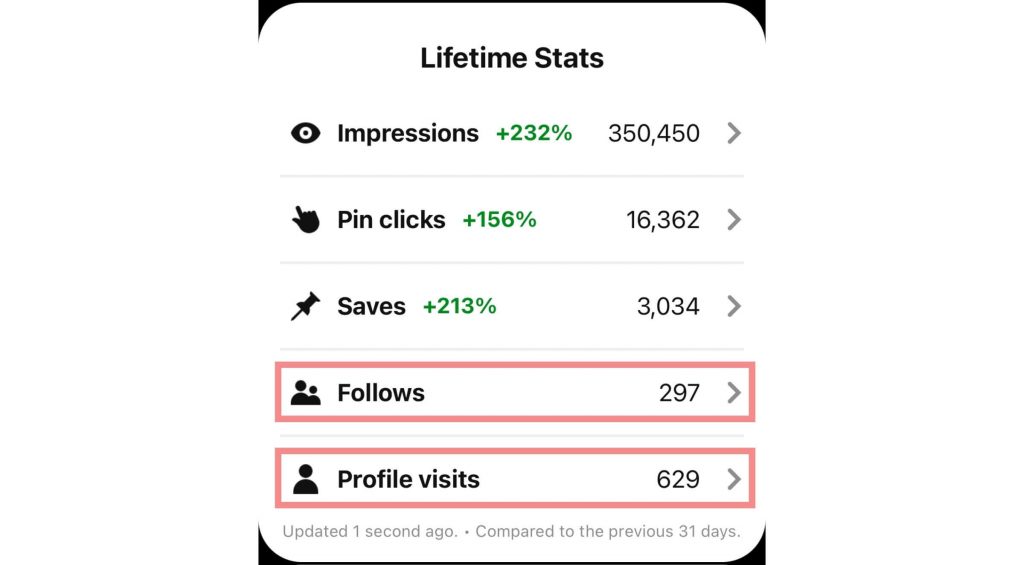 They don't have a place for a description.
On Idea Pins, there is no pin description area. Pin descriptions are usually where you would include Pinterest keywords to help your Pinterest SEO.
This means that the pin title, the tagged topics, and the board you pin it to are all important factors in helping Pinterest to understand your Idea Pin.
You can create Idea Pins right on the Pinterest app.
(This is especially easy on mobile devices)
Unlike other pin types such as Standard Pins and Video Pins, which often need to be created on other platforms like Canva (my favorite!), Idea Pins can be created right on Pinterest.
Pinterest has a library of unique editing tools, stickers, fonts, music, and more so you can design your Idea Pin exactly how you want it directly on Pinterest.
In fact, in this post, Pinterest says:
"Idea Pin creation now includes:
Video recording and editing for up to 20 pages of content
Voice over recording so creators can add their own personal voice
Music selection by Epidemic Sound
Ghost mode transition tools (perfect for those before-and-afters!)
Detail pages for instructions or ingredients
Interactive elements like people tagging and stickers
Multi-draft save so Creators can publish more ideas
Export options to share content beyond Pinterest
Topic tagging, a publishing feature that helps connect content to relevant interests
The Creator Code – our content policy designed to keep Pinterest a positive and inspiring place"
Who are Idea Pins meant for?
Anyone can use Idea Pins.
However, Pinterest had a certain audience in mind who they hoped to use Idea Pins: Pinterest Creators (who are like the influencers of Pinterest.)
Evan Sharp, the Co-Founder, Chief Design and Creative Officer of Pinterest, says in this post:
"With Idea Pins, creators are empowered to share their passions and inspire and grow their audiences. By helping people on Pinterest spark creativity, try new things, build confidence, and be themselves, we believe creators are truly helping with our mission of bringing inspiration to create a life you love."
Pinterest wants Creators to create Idea Pins to bring more inspiration to the Pinterest app while also helping Creators to grow.
Pros and cons of Idea Pins
Idea Pins sound pretty cool, right?
But there's way more to them.
Here are some of the pros and cons of Idea Pins:
Pros
You can monetize Idea Pins! (Yes — you can make money by adding affiliate links and making Idea Pins shoppable! You can also do paid brand partnerships too. Learn more in my post on becoming a Pinterest influencer!)
You can signficantly grow your audience, brand, and reach on Pinterest.
Cons
Since they can't be linked to a URL, Idea Pins bring in hardly any website traffic.
Users have reported that Idea Pins suppress your other pins. (Some Pinterest users say that when they posted Idea Pins, the stats on their Standard Pins and Video Pins declined.)
Should bloggers use Idea Pins?
This has been a debated question in the blogging community ever since the new feature rolled out.
It's important to remember that the goal of blogging is to get website traffic by getting users OFF the Pinterest app and to your website.
But, Idea Pins were created to keep Pinterest users ON the app (which we can tell because you can't link to a URL). Pinterest even says this in their creative best practices:
"Idea Pins are for your original content – no need to add links or content from other sites. Plan your content like a real story, with a true beginning, middle and end. And make sure that you include everything that people need to act."
Sure, Idea Pins could be used to get users to your profile and from your profile to your website.
BUT, that likely won't bring in significant traffic the way that Standard Pins and Video Pins can. And, is it worth the risk of your other pins being suppressed — the ones that can potentially bring in hundreds or thousands of link clicks each?
Personally, I think not.
Take a look at this screenshot from one of my faith-based Pinterest accounts and the outbound clicks I got from Idea Pins versus Standard Pins:
(Also, I'm slightly confused on what the outbound clicks for the Idea Pins stands for since you can't add URLs to Idea Pins. I THINK it's the number of times a user visited my profile and clicked on the link on my profile to my website, but I'm not completely sure. Regardless, look at the stats.)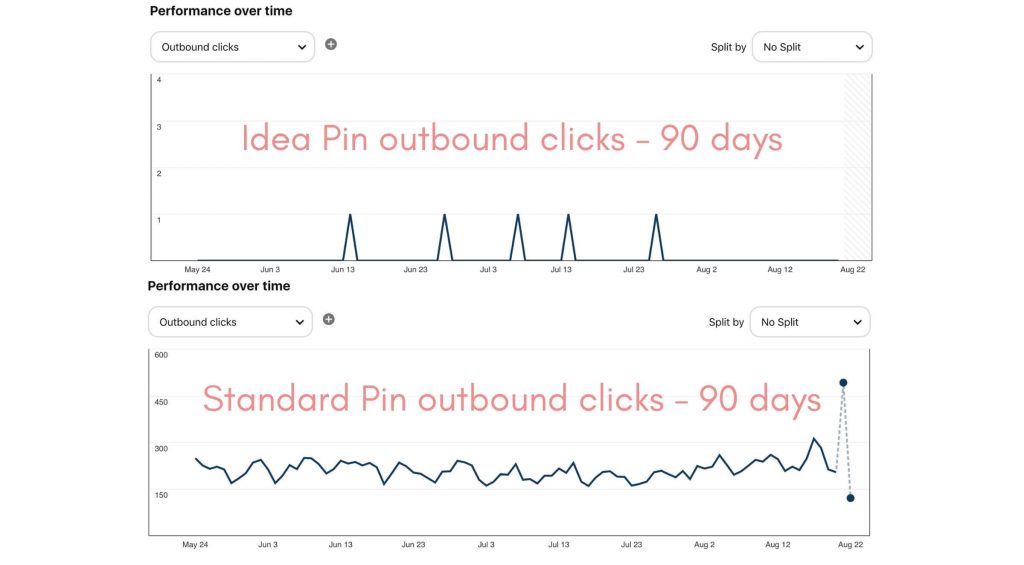 When it comes to using Idea Pins for bloggers, I think the negatives outweigh the positives.
And that is why I suggest that bloggers do NOT use Idea Pins as part of their Pinterest marketing strategy.
Of course, you can choose whatever you feel to be best for your blog or business!
What about the good results you hear of?
You may have heard lots of bloggers say that their Idea Pins perform great on Pinterest.
But, define "great"?
They may get a lot of shares, comments, impressions, or saves. And sure, that's always great. BUT, are they bringing in significant traffic?
Keep in mind that the goal of blogging is to drive traffic to a website. Most bloggers need those page views to make money, whether it be through display ads, affiliate marketing, products, or other ways.
Are Idea Pins really having a "return on investment" for bloggers? Are they actually helping their blogs?
Impressions, saves, follows, profile visits, etc. mean almost nothing to bloggers if outbound clicks don't come along with it.
Idea Pins, while they might perform well on Pinterest, most times do not impact your blog traffic whatsoever.
So the great results for Idea Pins may not always equal better results for bloggers.
My experience with Idea Pins
I've done my fair share of testing with Idea Pins.
Some of them performed great!
Initially, I found them to be useful and helpful in creating an engaging audience. One of my Idea Pins ALONE got me over 300 followers!
I can absolutely see how Idea Pins can help Pinterest Creators to grow a large and engaged audience. but with blogging,
But, after I started posting Idea Pins, I noticed another thing: my analytics were starting to decrease.
I mentioned previously that some users have reported that Idea Pins had suppressed their other pins.
At first, I was skeptical of this.
However, I heard it more and more and couldn't help wondering, what if that is the reason my stats are going down?
So I deleted all of my Idea Pins.
And shortly after, my stats began to go up again.
(I went from 5.2 million monthly views to 5.9 million monthly views in a short amount!)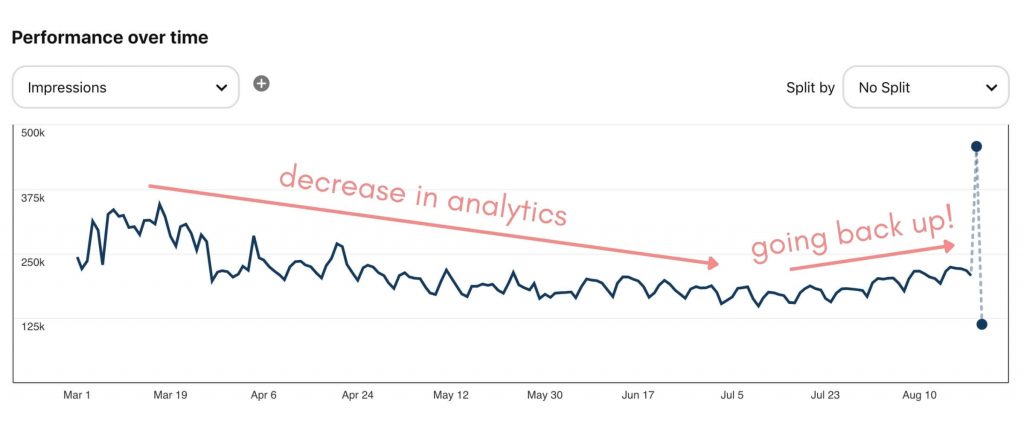 Now, I can't say with 100% certainty that this is what caused the sudden increase in my analytics.
The dip in my analytics occurred during summer, which is usually when lots of Pinterest users see a decrease in their stats.
And my stats started to increase nearing the end of summer and entering the back-to-school season and the early holiday season, which are when Pinterest tends to pick up.
However, while I was seeing these increases, other users were still reporting decreases.
So, though I can't be completely sure, I have reason to believe that my Idea Pins were suppressing my other pins (as many other users have reported).
My opinion on Idea Pins for bloggers: Don't use them. They're a waste of time, often don't actually help your blog, and they may hurt you more than harm you.
Conclusion
Should bloggers use Idea Pins as part of their Pinterest marketing strategy?
I suggest not.
While some users may benefit from Idea Pins (Pinterest influencers and Creators), they often don't benefit bloggers in the slightest.
I recommend that bloggers keep creating and publishing Standard Pins and Video Pins while focusing on good keyword research and Pinterest SEO — that's how you'll likely see the most success marketing your blog on Pinterest!
I'd love to hear what your opinion on Idea Pins in the comments! Have you seen good results with them?
If you want more valuable Pinterest information so you can skyrocket your success, read more on my blog or join my email list (I provide some of my MOST VALUABLE INFORMATION to my email list!)
I hope to see you around again soon. Thanks for reading!
Leah Marie