*Disclaimer: This post contains affiliate links. If you choose to make a purchase using one of my affiliate links, I will receive a commission at no additional cost to you. Thank you for your support!
You may have heard of Instagram influencers, Tiktok influencers, and YouTube influencers, but did you know there are now Pinterest influencers?
Yes — you can become an influencer on Pinterest and work with brands to promote products!
Many people dream of becoming an influencer. And now, it's completely possible directly on Pinterest.
So, how do you become a Pinterest influencer?
This post will share with you the exact tips and steps to take to reach that goal!
What is a Pinterest influencer?
A Pinterest influencer (or should we call it "Pinfluencer") is a Pinterest user that promotes products and works with brands on the Pinterest platform.
But, Pinterest doesn't exactly call these users "influencers"…
They're called Pinterest Creators.
However, Pinterest intends Creators essentially to do the same thing as influencers that you see on other platforms. Pinterest helps Creators:
Grow an engaged audience
Find brand partnerships and collaborations
Link their products on pins so other users can shop
Be featured and grow their following
How to become a Pinterest Creator
It's important to note that there are some specific criteria you have to meet in order to become a Pinterest Creator.
To become a Pinterest Creator, you must create at least one Idea pin per month to be a part of the Creator Community program.
This is the only way to become a Pinterest Creator.
Benefits of becoming a Pinterest influencer
Each platform has its own benefits. But, there are a few distinct benefits of being an influencer on Pinterest:
A positive community and audience
Social media can be well-known for often being a negative space filled with many online trolls.
However, users don't have to worry about this as much on Pinterest.
Pinterest has its own Creator Code.
In regards to the Creator Code, Pinterest says, "It's hard to be creative when you're surrounded by negativity and comparison. On Pinterest, it's different. We lead with kindness and put your well-being as a creator first. See what happens when you create with a kinder community."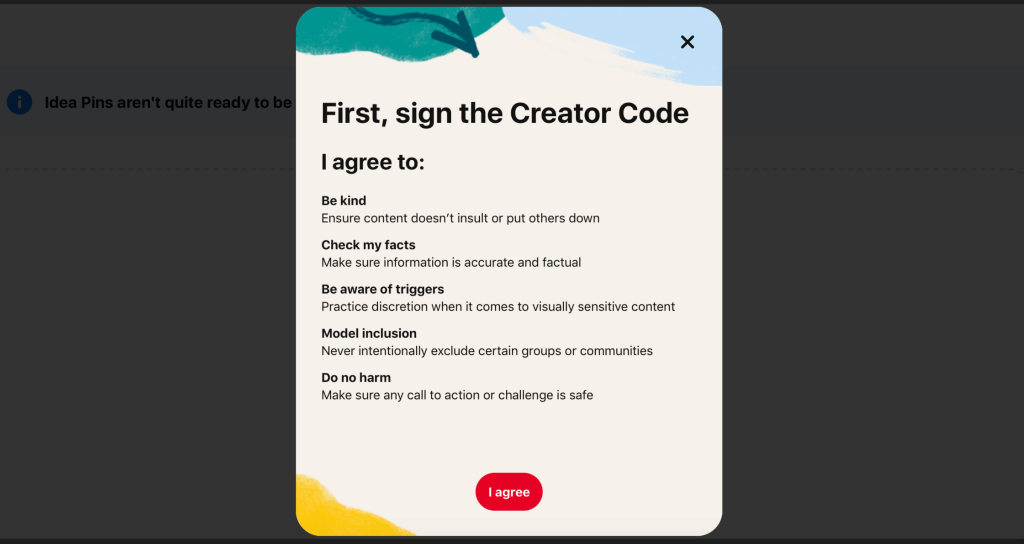 Additionally, in the Pinterest Newsroom, Pinterest writes that they have new comment moderation tools that:
"Positivity Reminders for Pinners to adhere to our guidelines and reconsider potentially offensive comments before posting
Moderation Tools for Creators including comment removal and keyword filtering
Creators can feature up to three comments within the comment feed to highlight positive feedback
New Spam Prevention Signals using machine learning to detect and remove bad comments"
Content lasts forever
Compared to social media accounts such as Instagram where users generally only see new content, Pinterest pins last forever.
This means that old pins (even years old) can resurface and gain traction or go "viral." This is one of the many great things about using Pinterest!
For example, take a look at this pin of mine that took off MONTHS after I published it: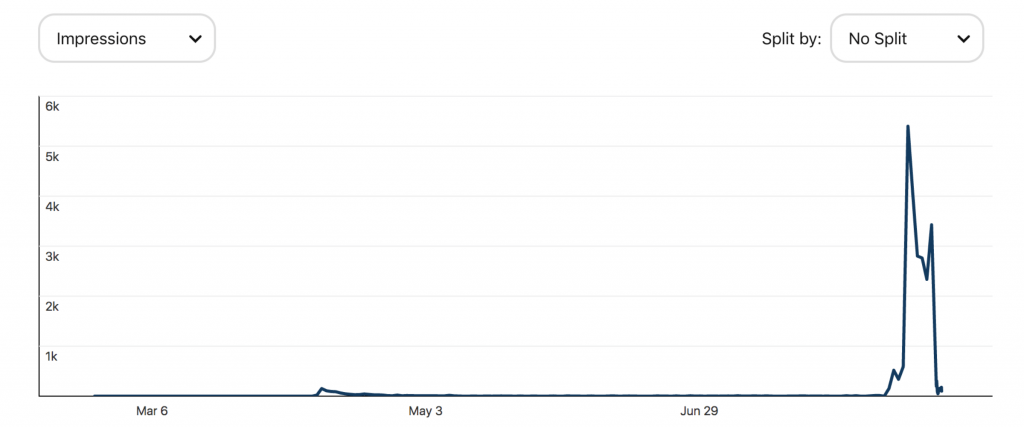 (PS – Seasonal content can be a goldmine for results on Pinterest! But here's a secret: it should be published months in advance to give Pinterest time to understand and index it! I designed this Pinterest calendar and planner to help you plan and post your Pinterest content far enough in advance to take off when seasons and trends peak!)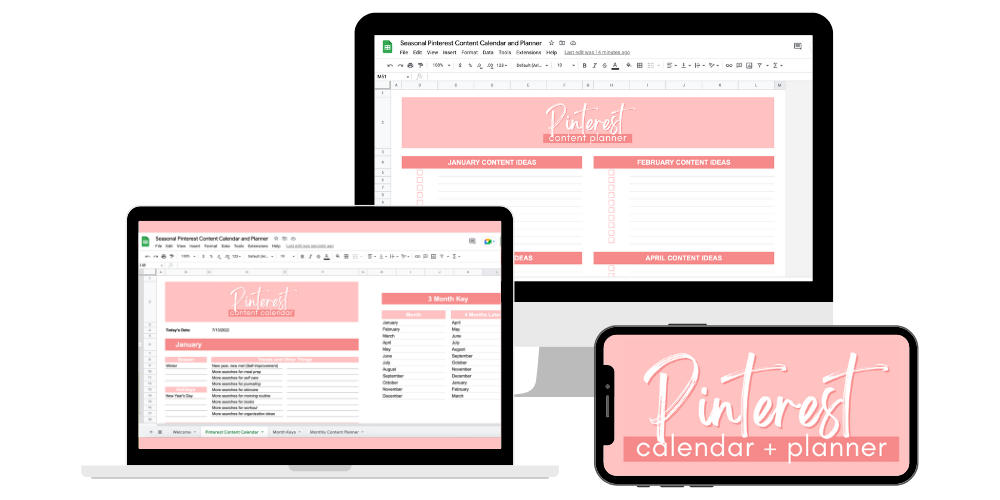 CLICK HERE TO GET THE SEASONAL PINTEREST CONTENT CALENDAR AND PLANNER!
Many resources and opportunities
There are so many resources and opportunities for Pinterest Creators and influencers — both from Pinterest and from other Pinterest marketers.
(Later in this post, I'll list some of the best resources to help you skyrocket your Pinterest account!)
How can Pinterest influencers make money?
Pinterest is releasing more and more ways for Pinterest Creators and influencers to monetize their accounts.
In fact, in this post, Aya Kanai, the Head of Content & Creator Partnerships, says:
"Pinterest is the place where creators with inspiring and actionable ideas get discovered. With this latest update, we're empowering Creators to reach millions of shoppers on the platform and monetize their work. Creators deserve to be rewarded for the inspiration they deliver to their followers, and the sales they drive for brands. Creators are central to our mission to bring everyone the inspiration to create a life they love, and we'll continue working with them to build their businesses and find success on Pinterest."
In addition, Pinterest says:
"With these latest updates, Creators can make their content more actionable and shoppable, make a living and easily partner with brands."
Currently, there are 2 major ways that influencers can make money on the platform:
Brand partnerships
Shoppable Idea pins
Brand partnerships
Pinterest Creators (influencers) can now partner with brands and create sponsored content! (Yes — paid sponsorships!)
Pinterest has released a new opportunity for Creators called Creator Campaigns, which you can gain access to as part of the Creator Newsletter.
Pinterest is working to match brands and creators together to find the best partnerships, and all you have to do is submit a form!
Examples of Pinterest brand partnerships
You can see some brand partnerships here:
Shoppable Idea pins
Pinterest has also released another monetization feature: shoppable Idea Pins.
Creators can now tag affiliate products on Idea Pins.
For example, if you posted a pin with your outfit, you could product tag your clothing with affiliate links.
If someone makes a purchase with one of your affiliate links, you will receive a commission of the sale!
Reportedly, users can include affiliate links from shopping platforms such as Rakuten (become an affiliate here) and Shopstyle Collective (become an affiliate here). You can also add affiliate links from some other places, and Pinterest is working to add even more.
Pinterest Creators can add up to 5 product tags per page and up to 20 product tags per Idea pin.
Careful – once you publish the Idea pin you can NOT go back and edit the links!
Examples of shoppable Idea Pins
Here are some examples of shoppable Idea Pins:
The Creator Fund
While it's not a main or common way to make money on Pinterest, it's worth a mention.
Pinterest's Creator Fund is a way for Pinterest to fund Creators on the platform.
Pinterest says:
"[The Creator Fund is] a new initiative focused on the growth and success of underrepresented creators: people of color, people with disabilities and members of the LGBTQ+ community. The Fund launched in April with the goal of fostering creator talent through financial and educational support. It also aims to make Pinterest an increasingly inclusive and diverse platform."
Want to apply for the Creator Fund?
To apply for the Pinterest Creator Fund, you must be subscribed to the Creator Newsletter. Pinterest will inform you when applications are open and will provide a link.
Note: Only a (very) small group of users are selected to receive aid from the Creator Fund. However, it is still worth applying.
How do you become a Pinterest influencer?
This post previously mentions that you need to post at least one Idea pin per month to become an official Creator and receive Creator resources (such as access to Creator Campaigns, and more that I will mention later on.)
But…to actually make money, grow an audience, and get brand partnerships, you need to do more than just that.
Here's how to actually become a Pinterest influencer:
1. Have a free business account
Perhaps the most important step of all is to have a free Pinterest business account, NOT a personal account.
There are so many reasons you need to have a business account. Not only does it help you gain credibility, but you can do other things such as:
Publish Idea pins (essential to become a Pinterest influencer)
Claim your website and social medias
Get access to analytics
Before you do anything else, make sure you have a business account! If you don't, make one for free here.
2. Create Idea pins
Oh, Idea pins.
There's been a huge debate over whether you should use Idea pins for your business or not.
Idea pins are a pin format that allows pinners to add up to 20 pages of videos, images, and text (similar to Instagram stories).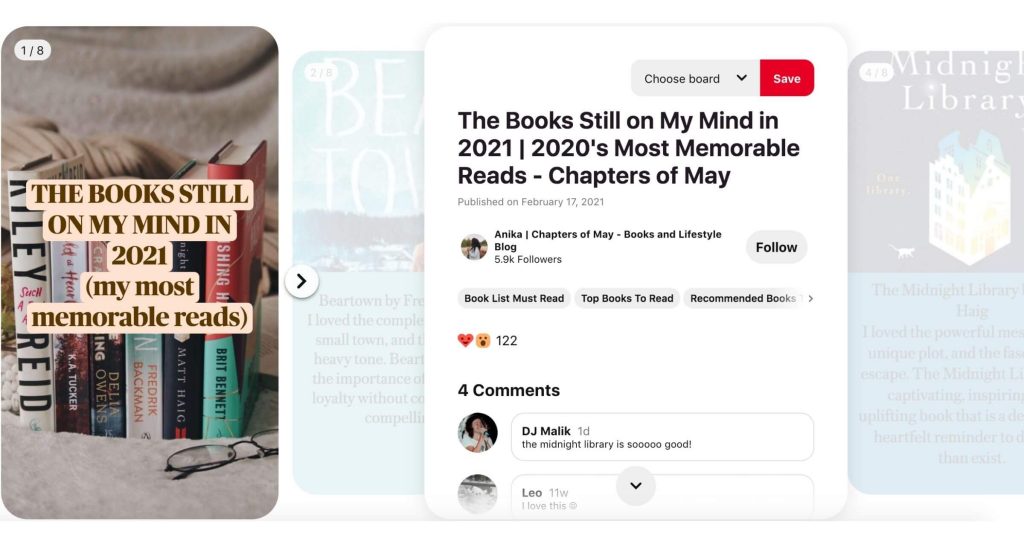 (Pin by Anika from Chapters Of May.)
While at first glance, they may seem similar to other pin types (Standard, Video, etc.), there are actually some distinct differences:
You can not link Idea pins to URLS (except some affiliate links).
Idea pins are very favored by the Pinterest algorithm — they appear in all home feeds, MANY search results, related pins, and the Todays Tab
They have additional analytics that other pins don't: Followers and profile visits (to help Creators grow their audience)
While I suggest that bloggers DON'T use Idea pins (due to the fact that you can't link them to a URL so they bring no website traffic), it is essential for Pinterest influencers to use them.
In fact, Idea pins are catered towards helping Creators to grow their audience on Pinterest.
Pinterest says in this post:
"This new access and capability will empower anyone with a business account to create inspiring content and better interact with their audiences, building more engaged communities directly on Pinterest."
And…
"We're still exploring where creators can monetize their work in meaningful and scalable ways, while reaching the audiences that are most significant for them. We'll have more to share about how this program continues to evolve in the coming months."
While Idea pins can be irritating to some users and many bloggers , they likely aren't going away. (Which pains me to say to my fellow bloggers because they have definitely negative impacts from them.)
However, if they're used as Pinterest intended them to be used, they can be efficient in helping users to grow audiences and make money on the platform…and become a Pinterest influencer!
3. Sign up for the Creator Newsletter
If you want to be a Pinterest influencer, you need to sign up for the Pinterest Creator Newsletter.
There are so many benefits of being part of the newsletter:
Exclusive resources and opportunities for Pinterest Creators
Offer to join the Pinterest Creators Idea Pins board
A form to submit your pins to be featured on the Todays Tab
A Creator Campaign form to apply for brand partnerships
Access to bootcamps and workshops to help grow your account
You don't want to skip this!
4. Join the Pinterest Business Community
The Pinterest Business Community is one of the best places to be to learn about new Pinterest features, talk to other pinners, ask questions, and stay up to date!
Here are some things to visit:
5. Define your ideal audience
Know who you're trying to reach.
Defining your audience is so important because you want your content to be tailored to them.
Is your ideal audience…
A certain age?
A certain gender?
Interested in specific topics?
Interested in certain aesthetics or designs?
Answering these questions will help you to create content that will attract this audience!
6. Have a business email
Using a business-based email instead of your personal email is essential when brands reach out to you.
Most of the time, brands will reach out to you via email, and you want to seem as professional and legit as you can if you're serious about securing brand partnerships.
If you need help setting up your business email, check out this tutorial.
Bonus tip: Make your email easily accessible! Show it on your Pinterest profile, have a website with a contact form, or display it in your Pinterest profile description!
7. Do keyword research
Keyword research is so important on Pinterest.
Keyword research helps you find keywords that users are searching for and that users are interested in.
Then, you can create your content around these keywords.
I have an entire post on 8 easy keyword research methods to find great keywords on Pinterest.
I also have a FREE e-book called Pinterest Keyword Goldmine that will help you to find the best Pinterest keywords to skyrocket your blog or business! Want the free e-book? Click here!
8. Optimize your account
After you've done keyword research, you should optimize your account with these keywords.
There are 3 main areas of your Pinterest account that you should optimize:
Your profile
Your boards
Your pins
My in-depth Pinterest SEO checklist outlines exactly how to optimize your entire Pinterest account (with 29 actionable steps!)
Optimizing your profile, boards, and pins is so important because it tells Pinterest exactly what your content is about.
When Pinterest understands what your content is about, it can then distribute it to the right audience and places (home feed, related pins, Pinterest searches).
So, to get found on Pinterest, Pinterest needs to understand what your content is about. Optimizing your content with keywords is exactly how to do this.
9. Create engaging content that provides value
Creating engaging content is the best way to grow on Pinterest.
As I'll talk about later on, engagements are one of the key factors that determine how well your Pinterest account and pins will perform.
In simple terms, the higher the engagement rate on your pins, the more they will be distributed to other users.
To get that engagement rate up, you need to create content that users will engage with.
Seems simple, right? But you actually have to earn those engagements!
Here are some tips to create Pinterest content that users will engage with:
Create appealing titles (This course was game-changing for my Pinterest strategy. It teaches you exactly how to write pin titles that users can't resist clicking on! Check it out here!)
Include call-to-actions, such as "Follow for more" or "Check out my profile to see more on this topic." (Anything that convinces users to take action.
As yourself: What value am I providing? Would I click on my own pin?
Make your pins easy-to-read and make the main words on your pin large and bold so users can easily read it while scrolling on small screens. (Did you know that 85% of Pinterest users use the mobile app?)
Focus on pin design. Pin design is SO important in securing engagements. Light image backgrounds and warmer colors *generally* perform best!
10. Apply for Pinterest Creator Campaigns
Want to do brand partnerships and sponsorships on Pinterest?
Applying for Creator Campaigns is the way to go!
You will receive the Creator Campaign form to work with brands once you are signed up for the Pinterest Newsletter for Creators. The link to the form is in the email, and the email is delivered weekly.
11. Enable comments
Comments are a great way to boost your engagements and connect with your audience!
Be sure that comments are enabled on all your pins when you publish pins. (A lot of times, they are enabled by default, but sometimes Pinterest may accidentally disable them.)
To double check that your comments are enabled, click on the pin, click on the 3 dots above it, and make sure the "Allow comments" option is enabled.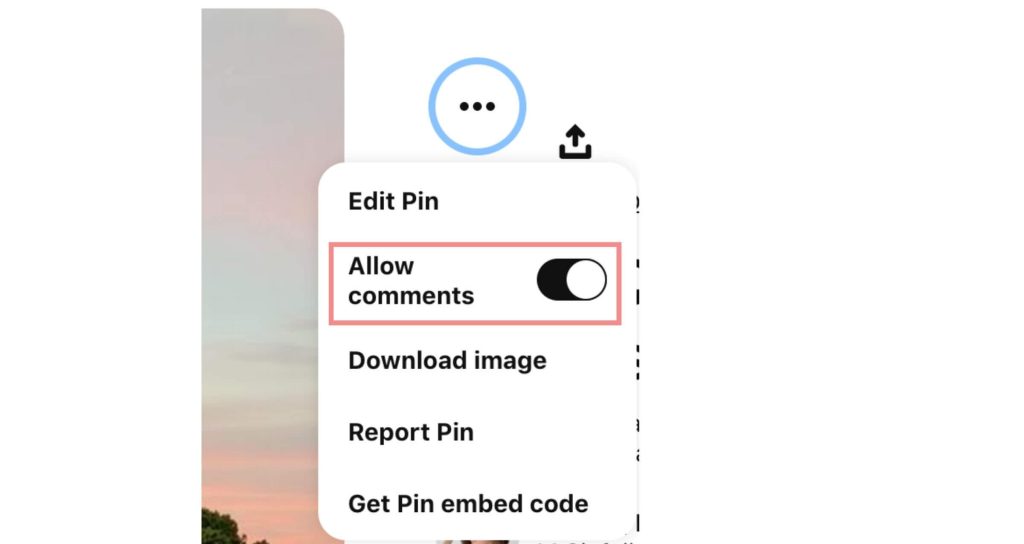 12. Engage with your audience and other users
It's a good idea to be active on Pinterest and engage with your audience and other users.
Whether it's interacting and engaging with others' pins, commenting, sharing, or more, getting yourself out there and building relationships with other users will really help you to grow.
13. Be consistent
Consistency on Pinterest is absolutely key.
If you want to see serious results, creating and posting new pins consistently is a really big help.
Tip: Pick a number of pins you'd like to pin each day and stick to it. (For example, I used to suggest pinning at least 2 times per day.)
Being consistent on Pinterest isn't always easy — it takes a lot of work.
Here are some tips to be consistent on Pinterest:
Plan your content. Plan what content you're going to create or have a list of content ideas so you're not scrambling when it's time to post!
Batch your content. Spend a day or a few hours creating and scheduling all of your pins for the week or the a few days. This makes it much easier and not a daily task you need to do.
Use templates. Pin templates can be a HUGE time saver. Carly from Mommy On Purpose has a great pin template subscription and she uses Pinterest to get over 150,000+ page views per MONTH!
14. Grow your account organically
This tip is likely self-explanatory, but I still think it's important to throw it in here!
In other words…do not buy followers.
Your Pinterest account will naturally grow over time, and it's better to have a group of active, targeted followers than followers who have no interest in your content.
Follower count can definitely be important when you are trying to become a Pinterest influencer. However, engaged followers are even more important, and buying followers will NOT give you an engaged audience.
If your account has 10,000 followers but little engagement, you likely won't make money from affiliate links on Idea pins and brands may not want to work with you.
There are more important numbers to pay attention to, and I'll mention those later on!
15. Submit pins to be featured on the Today tab
I'm sure at one point you've wandered across the Today tab on Pinterest.
The Pinterest Today tab is a page on Pinterest that features select Creators, stories, and Idea pins.
As Pinterest says, "The Today tab is a curated set of relevant and trending ideas."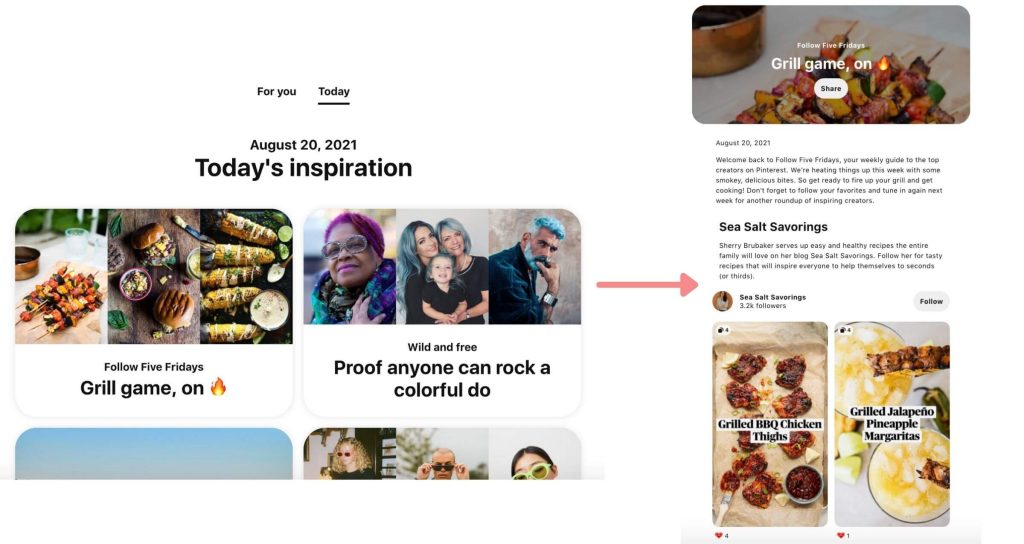 There are over 450 million Pinterest users, and since many people visit the Todays Tab, it's an excellent opportunity to scale your reach, growth, and engagements!
(I have seen pins get THOUSANDS of "loves," saves, etc. just from being featured on this page!)
But, how do you get featured on the Todays Tab?
Here's how:
Post Idea Pins.
Be a subscriber of the Pinterest Creator Newsletter.
The newsletter shares a link that lists all of the upcoming Idea Pin prompts that will be featured on the Today Tab in the future. Create and post Idea Pins surrounding the prompts.
Use the submission link in the newsletter to submit your content to potentially be featured! (There is a form you will fill out on the submissions page.)
16. Focus on pin design
Here's a harsh reality: you could be doing everything "right" (optimizing your boards, posting consistently, etc.) but still see no good results if your pin design isn't great.
If you want your pins to be seen or go "viral," you need to have a good engagement rate. And to have a good engagement rate, you need to create engage-worthy pins.
That's why good pin design is absolutely essential!
A good pin design should:
Provide value
Be easy to read
Appeal your audience
Be attractive and not too busy
To do that I suggest focusing on:
Creating titles that provide value and that users can't resist clicking. (Carly's GENIUS course about Pinterest pin titles may absolutely revolutionize your Pinterest game. In the course, Carly teaches you how to create incredible pin titles that will make users stop in their tracks and engage with your pins! Oh, and did I mention it's SUPER affordable too? Check it out here!)
Test different pin designs. You'll never know what works best if you never try different designs! Testing out different pin designs will help you figure out what works and what doesn't. You can do this or…
Use pin designs that are proven to work. Again, using pin templates that users have seen results with can really help you to create well-designed pins without spending much time learning what works and what doesn't. (Again, these pin templates have worked for many users!)
17. Follow Pinterest's creative best practices
Pinterest's creative best practices provide simple yet important information about creating pins in order to help you see success.
This page gives advice on Standard Pins, Video Pins, and Idea Pins — the most common pins used by average Creators.
18. Use video content (especially in Idea Pins)
Pinterest (and many experts) suggest using video content, specifically in Idea Pins (and early on in them too). It's even mentioned in Pinterest's creative best practices!
Pinterest says:
"Video is great for telling a story and helps you connect with your audience. Start with a video on your first page to stand out in people's feeds. Just make sure to add text overlay, since some people watch with sound off."
Video content is a great way to capture the attention of your audience.
This is especially good if you want to be a Pinterest influencer because it helps your audience to get to know you.
Is it necessary? No. But it can definitely have benefits.
19. Be unique
What sets you apart from other Pinterest Creators and Pinterest influencers?
If you're the exact same as everyone else, why would people follow you? Or engage with your content?
Uniqueness will carry you a long way. It helps you to stand out from others!
What makes you different? What do you offer that others don't? Why will users like your content?
It can be as simple as:
Your aesthetic
Your expertise in something
Your humor or personality
20. Show your face
This isn't completely necessary but it's a really good idea and it will carry you a long way.
Showing your face on any platform helps you to gain credibility and trust with your audience (which are super both important)!
Especially if you want to be a Pinterest influencer and build your brand around yourself, I highly, highly suggest showing your face.
21. Focus on engagements, engagement rate, and impressions
Pinterest gives you lots of metrics to understand how your account is performing.
However, not all of them are incredibly necessary to focus on if you want to be a Pinterest influencer. Some are definitely more important than others, such as engagements, engagement rate, and impressions/monthly views.
Engagements and engagement rate
On Pinterest, engagement rate is the total engagement with your pins divided by the total number of times your pins were seen on screen.
Engagements include clicks and saves.
Of all of the analytics, engagements and engagement rate are arguably the most important ones to focus on for Pinterest influencers.
There are a couple of reasons for this:
The higher the engagement rate you have, the more Pinterest will distribute your pins and the more you will likely grow.
Brands want to work with pinfluencers that have an audience of users that like and engage with their content (because they are more likely to profit from engaged audiences).
This is why it's important to create engaging content with your users in mind.
Your Pinterest account's engagements and engagement rate can be found in Pinterest Analytics. To view this, go to your Pinterest profile and click on the "Analytics" dropdown at the top of the screen. Then click "Overview."
Under "Performance over time," click on the dropdown that says "Impressions." Select either "Engagement rate" or "Engagements."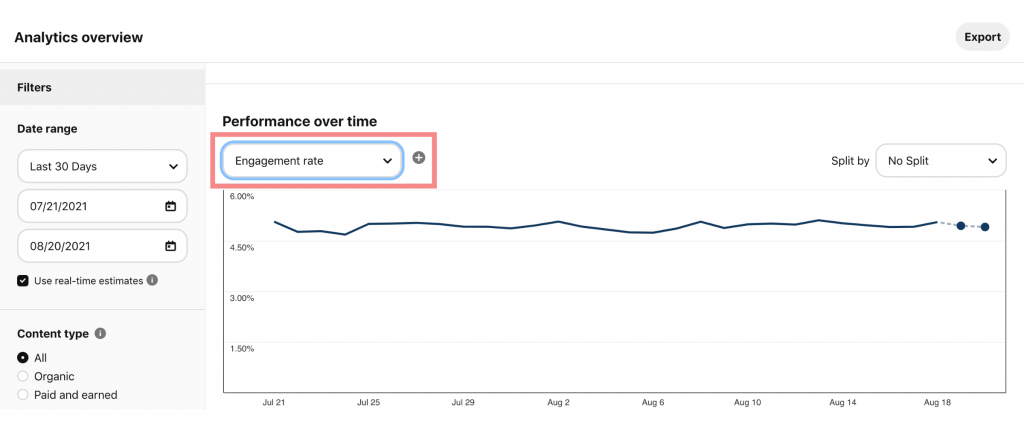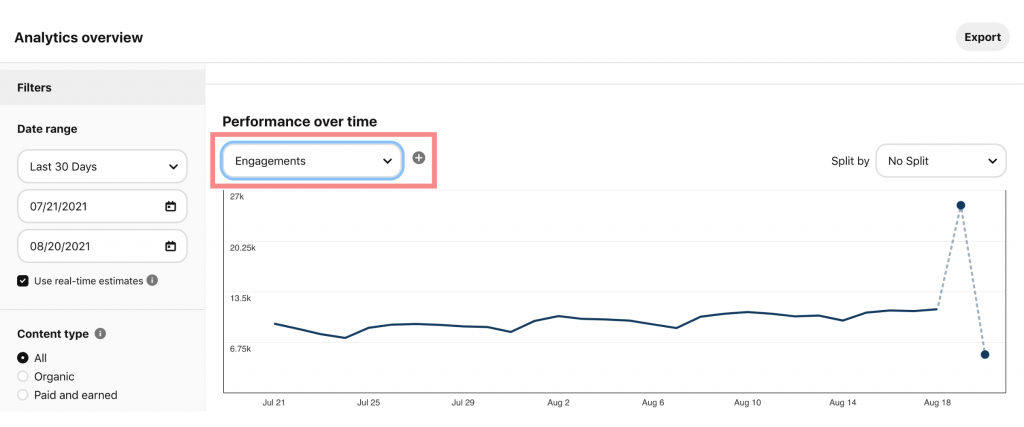 If you're on a laptop or computer, hover your cursor over the graph. It will give you specific data per day.
Your aim should be for both of these graphs to show an increase over time.
You can also see the number of engagements on your top pins and top boards by scrolling down and changing the dropdown settings to "Engagements" as well.
This will help you to see what boards and pins are being engaged with most, and can help you with your content strategy by showing you what your audience likes and what you should create more of.
Impressions/monthly views
On Pinterest, impressions are the number of times your pins have been viewed on screen.
Monthly views (as defined by Tailwind) are total number of times your Pins appeared in search, home feeds, and other locations in the past month.
So, they are very similar (but the numbers may appear slightly different).
You can see your impressions statistics in your Pinterest Analytics. On the other hand, your monthly views are displayed publically on your Pinterest profile under your "Followers" and "Following" counts.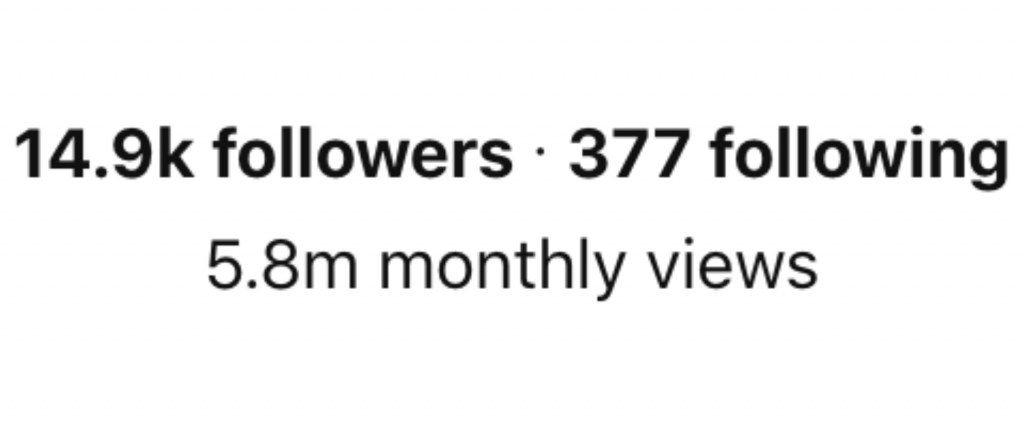 Your monthly views and impressions are important for Pinterest influencers for a few reasons:
Your monthly impressions is visible on your profile so all users and brands can see it. Monthly impressions can indicate a decent audience size and engagement rate.
High monthly views and impressions often signals a growing, healthy Pinterest account. For example, one of my Pinterest accounts has about 15,000 followers, 5.8 MILLION monthly views/impressions, and gains approximately 300 followers per week! (So I would say that account is pretty healthy.)
Want evidence that impressions are important?
Check out what Brittany from bebrightdaily.com posted on Twitter!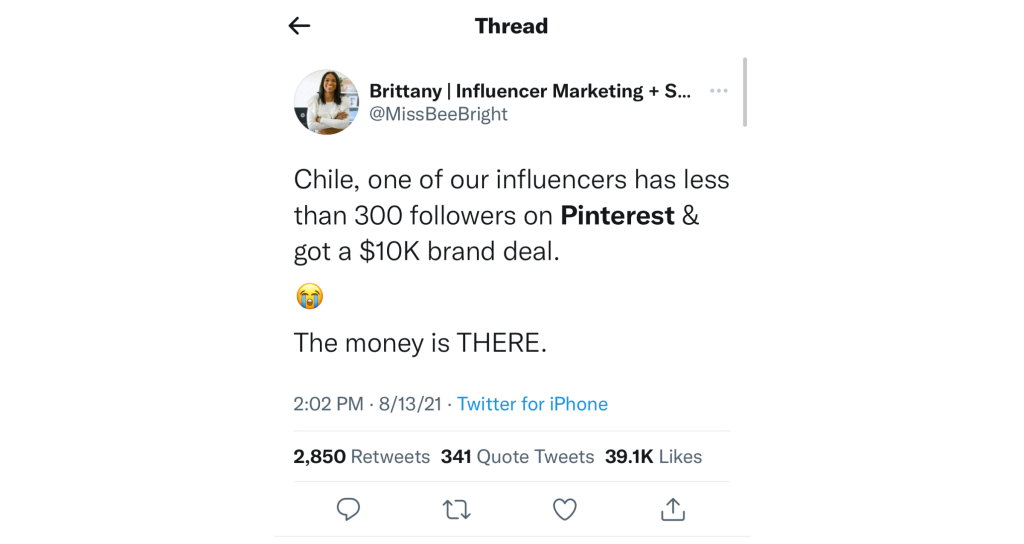 And later on in the thread, she says she believes that impressions played a huge role in this!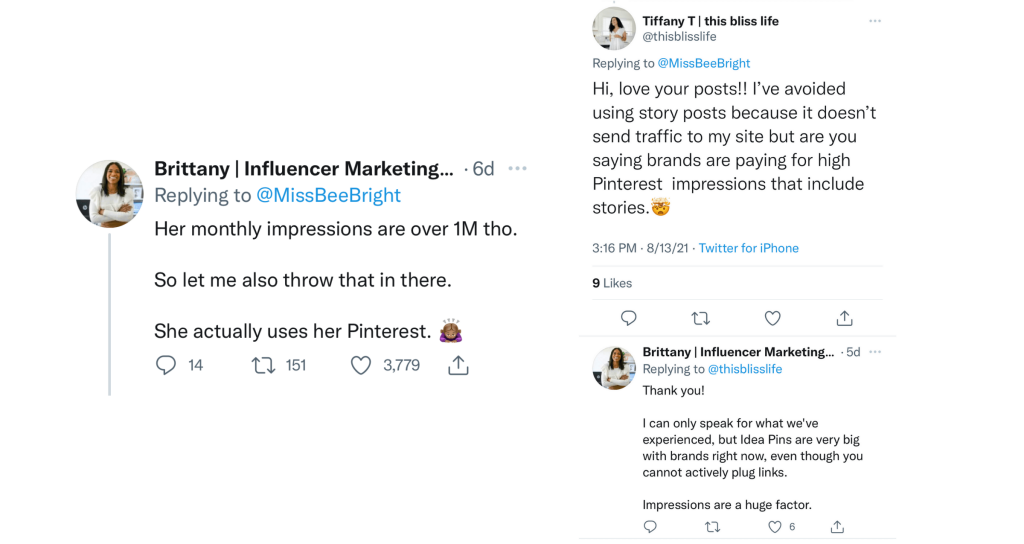 It's safe to say that impressions and monthly viewers may be more important than we think.
In fact, they may be a crucial part of being a Pinterest influencer!
22. Use analytics to help you grow
As just mentioned, you can use your analytics to help your account grow.
Your analytics can show you what your audience likes and what your audience doesn't like, as well as what's working and what's not working.
By incorporating what you learn into your content creation and Pinterest marketing strategy, you can definitely scale your growth.
Above I mentioned that engagements and engagement rate are 2 very important metrics.
However, looking at other metrics can give you some useful information as well.
Tip: Explore Pinterest Analytics! See what useful information you can find on it and how you can incorporate it into your Pinterest strategy.
23. Stay up to date and never stop learning
Pinterest is constantly changing.
Whether it's algorithm updates or new features, Pinterest is ever-evolving and you need to know how to use new features, adapt to updates, and learn what is working on the platform.
The Pinterest Newsletter, Creator Hubs, and Pinterest Chats are all great places to stay up to date on the Pinterest platform.
Another way I personally like to stay up to date is by watching YouTube videos, joining Facebook groups, reading blog posts, and following Pinterest-niched accounts on social media!
24. Don't be afraid to invest in courses
Courses are one of the best ways to learn about Pinterest and what others have seen huge success with.
The great thing about courses is that they are usually created by people who have seen GREAT success with Pinterest, and in them, they share their best tips and strategies to help you see the same results!
Courses can have a large pricing range — some super affordable while some on the more pricey side.
Carly from Mommy On Purpose created my two favorite Pinterest courses. Carly uses Pinterest to consistently drive 150,000+ PAGE VIEWS to her blog each month, so she clearly knows how to use Pinterest to see massive success! My favorite courses are:
Pinteresting Strategies – This course is what got me into Pinterest in the first place. Carly is SO knowledgeable about Pinterest, and she teaches you exactly how to see significant results in this course! Not only does she explain the most important parts of successful pinning, but she outlines a clear Pinterest strategy for BOTH new accounts and established accounts. Check out the course here!
Pinterest Traffic Title Hacks For Bloggers – Let me tell you…ANYONE can see significant results with this course, not just bloggers! This mini-course is incredible, and did I mention super affordable? This course teaches you exactly how to write high-converting Pinterest titles for your pins. This can help you to significantly increase your engagement! Check out the course here!
25. Have a secret inspiration board
This is a tip I found in one of the Pinterest chats, and I absolutely LOVED it!
Create a secret inspiration board to save pins that you like to help you with your content creation.
You can pin literally whatever you want to this board, and since it's secret, no one else will be able to see it! As Pinterest says, "Secret Pins and boards will not appear in your home feed, in search, or anywhere else around Pinterest."
You can pin whatever you want to your secret inspiration, but here are some suggestions:
Content ideas
Designs and layouts you like
Pins with high engagement
Truly, I think this tip is so great because it will help you to create content that you and other users love.
How to make a secret board
Creating a secret board on Pinterest is super easy.
To make a secret board, create a new board and click "Keep this board secret."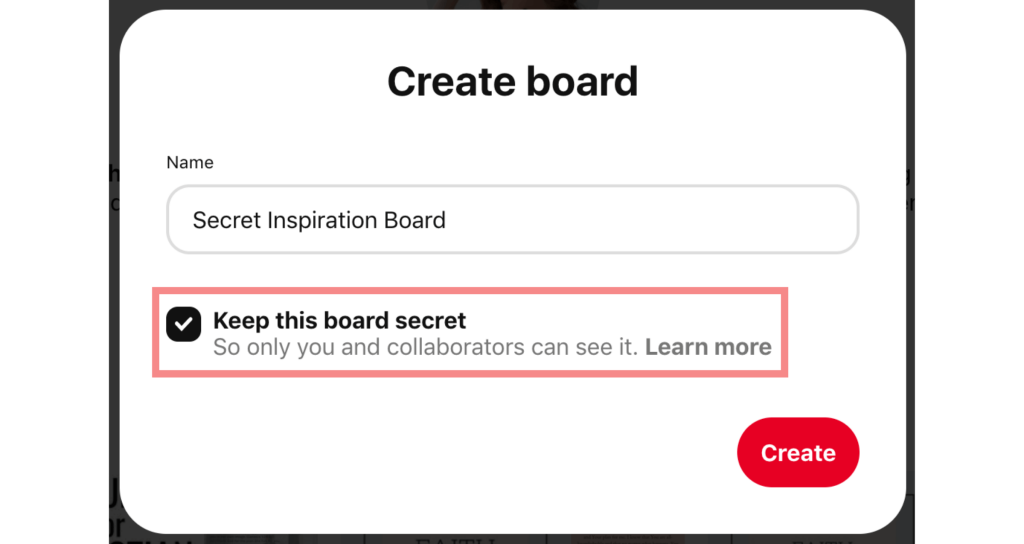 26. Experiment and mix it up
On Pinterest, it's super important to try new things.
Experiment around and test things out!
And although Idea Pins are essential for Pinterest influencers, make sure to also use different pin formats like Standard Pins and Video Pins.
Resources for Pinterest influencers
Here are some great resources to help you along your road to becoming a Pinterest influencer!
Pinterest Keyword Goldmine – FREE e-book to help you find the best keywords for your Pinterest account to skyrocket your growth!
FREE Pin Template Starter Kit – Get a set of free pin templates that users love!
Pinteresting Pins Template Subscription – Get 10 new Pinterest templates straight to your inbox each month! (PLUS, gain access to the extremely valuable Pinterest Mastermind Facebook group where users share their best Pinterest advice and research!)
Pinteresting Strategies – A great, in-depth Pinterest course to help you skyrocket your growth on Pinterest, learn strategies that work, and understand the Pinterest algorithm.
Pinterest Title Traffic Hacks – An incredible (and affordable) mini-course on how to write pin titles that CONVERT!
Complete Pinterest Keyword Research Guide – This post outlines 8 easy ways to find GREAT keywords on Pinterest!
Complete Pinterest SEO Checklist (29 Steps) – Learn how to completely optimize your Pinterest profile, boards, and pins to get your content seen!
Join my email list – I share some of my BEST Pinterest tips, advice, resources with my email subscribers! I want to help you grow!
Read my blog – Find more posts on how to scale your Pinterest growth!
Conclusion
Being an influencer on Pinterest is completely possible.
I hope that these tips help you on your journey to becoming a Pinterest influencer.
Are you trying to become a Pinterest influencer? Drop your username in the comments below!
If you want more valuable Pinterest information so you can skyrocket your success, read more on my blog or join my email list (I provide some of my MOST VALUABLE INFORMATION to my email list!)
I hope to see you around again soon. Thanks for reading!
Leah Marie
SAVE FOR LATER!