*Disclaimer: This post includes affiliate links. If you choose to make a purchase using one of my affiliate links, I will receive a commission at no additional cost to you. Thank you for your support!
Pinterest marketing is a great way to scale the growth of your blog or business.
You may have heard of some things that help your pins to be found, such as Pinterest SEO, good pin design, or others.
BUT… there are also other factors, such as when and how often you pin, that can help to explode your reach.
Don't overlook these things! Knowing when and how often to pin may help to put your pins in front of an audience of thousands.
This post is going to break down when and how often you should pin on Pinterest so that you can make your pinning strategy stronger than ever!
Let's dive in.
Does it matter when and how often you pin on Pinterest?
Yes, when you pin and how often you pin can play a role in the performance of your Pinterest account.
This is something a lot of users don't know when they're starting a Pinterest account. (I know I didn't!)
When you're intentional about your pinning techniques, your growth can truly skyrocket.
Why? There are optimal times of day when Pinterest users and your followers are generally active, which can help your pin to be seen by more users right when it's published!
(And as I always say, immediate engagements on a pin are pure gold when it comes to helping Pinterest to distribute your pins in the algorithm.)
Plus, the more pins you put out, the more chances you have to get users to engage and to get "viral" pins!
By focusing on when you pin and how often you pin, you are taking actionable steps that will help to put your pins in front of a much larger group of Pinterest users. (And thus, bring more success!)
When you pin is also really important for seasonal content and trends. Generally, you want to pin these months in advance to give Pinterest time to understand and distribute them. I designed this content calendar and planner to help Pinterest content creators plan and post seasonal content far enough in advance to help it take off when seasons and trends peak!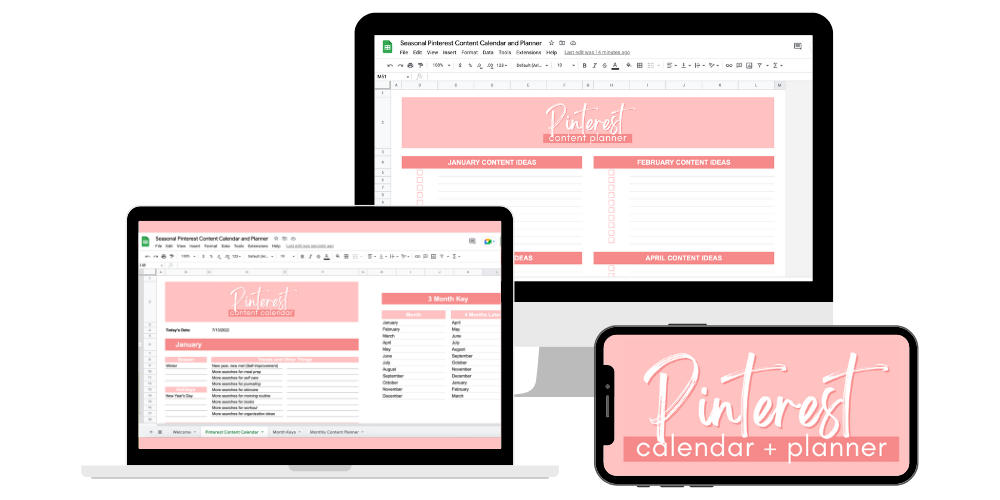 CLICK HERE TO GET THE SEASONAL PINTEREST CONTENT CALENDAR AND PLANNER!
How often should you pin on Pinterest?
Pinterest recommends that you create at least one new pin per week.
However, to see maximum results, the best strategy is that you should aim to publish new pins on Pinterest daily.
Overall, you should aim to consistently publish new pins.
Note: By "new pins," that means creating and publishing completely new pin designs — NOT repins of your other pins. (Pinterest calls these "Fresh Pins," and they are currently highly suggested by Pinterest.)
Publishing new pins daily can be a lot of work — you have to design new pins and write keyword-rich descriptions for each new pin. (Later on in this post I'll share my top tips to drastically speed up the process!)
But, if you find it too tedious to constantly pump out new content, don't be afraid to create a less demanding pinning schedule.
As previously mentioned, pinning consistently is absolutely key on Pinterest.
Having a consistent pinning schedule helps Pinterest to gain trust for your account, which is essential to performing well in the algorithm.
So, if this means publishing pins every other day, once a week, or on Tuesdays and Thursdays, do that!
Whatever schedule you can consistently stick too is going to be the schedule that will help you see the best results.
But, with most platforms, more is often better.
How many pins should you post daily?
I recommend publishing new pins 1 to 4 times per day, mostly because this seems to be the most reasonable. (But, if you decide to publish more, that's also fine!)
Remember that consistency is extremely important on Pinterest. So, choose a number and stick to it.
Pinterest marketing can be exciting — there's so much potential success and it's so easy to want to dive in and do as much as you can to reach it!
BUT, don't overwork yourself. Don't set unrealistic standards that will be overly time-consuming and difficult to stick to.
Don't try to publish 7 or more new pins per day. (I did this once and let me tell you, the burnout is real and it can become verrryyy easy for you to suddenly become completely inconsistent.)
Also, I'm sure you've heard the phrase "quality over quantity" before, and it applies perfectly here.
It's better to put out consistent GOOD pins that users will engage with rather than a bunch of unattractive and unoptimized pins that users will just scroll past!
It's important to focus on your Pinterest SEO and pin design if you want to see any real results.
Is there a daily pin limit?
There is no limit on how many pins you can publish per day, but that doesn't mean you should go about posting 100 pins per day. As a general rule of thumb, you should probably publish no more than 10 new pins per day.
Keep in mind, Pinterest has (very active) spam filters that commonly catch random users, even if they aren't actually spamming. (And trust me, you don't want to get caught in this — it's a pain!)
Suddenly pumping out LOADS of content could definitely be something that triggers the spam filter.
Be realistic and consistent. If you are, you shouldn't (hopefully) run into any issues!
Is the time of day that you pin on Pinterest important?
Pinning at optimal times can be very helpful! (But also, it's not a make-or-break type of thing, so don't stress out too much.)
Pinning at optimal times can help to put your pins in front of your ideal audience and your existing audience.
In many cases, your new pins are shown to your followers first, so pinning when your followers are most active can help you to get immediate engagements.
Immediate engagements (engagements that happen early on) can be super helpful for Pinterest pins because it tells Pinterest that your pin is "good" and provides value, so Pinterest will distribute your pins to even more users.
Engagements are a huge factor that Pinterest uses in distributing and ranking pins because Pinterest wants to show users high-quality, relevant pins. The more engagements a pin has, the more it will be shown in other user's feeds.
Plus, engagements can help Pinterest will be able to determine exactly what your pin is about. Then, Pinterest show it to an audience that may be very interested in it.
(For example, if a pin is saved to a board called "Chicken Recipes," Pinterest will know that the pin is likely about chicken recipes and will then show it to users who are interested in that type of recipe, who may have other pins like it, or who may have searched that term in the past.)
Immediate engagements may include things such as:
Pin clicks
Outbound clicks
Saves
Follows
Profile visits
In fact, I have noticed first-hand that when my pins receive some type of engagement shortly after they were published, they gained more impressions, saves, and traction much quicker!
What is the best time of day to pin on Pinterest?
The best time of day to pin on Pinterest can vary. However, studies have shown that users are typically most active from around 8 to 11 p.m. and in the afternoon in their respective time zone.
A study by CoSchedule found that the best pinning times are:
8 to 11 p.m. (with a 9 p.m. peak)
2 to 4 a.m.
2 to 4 p.m.
1 to 3 p.m.
Plus, Fridays and Saturdays generally have the most active users.
But still, this isn't set-in-stone. There can be multiple other factors that play a role, such as…
Where your ideal audience is located
Your niche (and is it seasonal?)
Where your existing audience is located (and patterns of your existing audience)
But, did you know that there are ways to find out the best times to pin on Pinterest for your OWN unique account and audience?
Let me show you how!
How to find the best times of day to pin on Pinterest for your account and audience
Learning when your ideal and existing audiences are most active and pinning at those times can help you to reach a larger range of users.
Remember: It's also important to just experiment to see what works well for your account. (On one of my accounts, I found that pins perform best from 9 to 11 p.m. and around 4 p.m., so I kept doing that and saw good results!)
Here's a great way that you can find the optimal times to pin for your account and audience:
Using Tailwind
One way that you can find out the best pinning times is by using Tailwind's Smart Queue.
You can access this feature using a free Tailwind account, but Tailwind Pro has some pretty helpful features that may help you to scale your Pinterest account. You also try a free 14-day trial to test out some of the pro features!
(I personally use a free Tailwind account because I'm able to see everything I'm looking for. But, if you're looking to get some extra analytics on your Pinterest account, a Tailwind Pro account may be worth considering.)
As Tailwind says in this post, the Tailwind Smart Queue "helps you pin at the best times, so your audience gets content when they're looking for it."
Tailwind says the Smart Queue does this by doing things such as…
Getting recommended times to publish when Pinners are most engaged
Automatically optimizing your pinning schedule over time to maximize your reach
Providing unlimited recurring time slots help keep you on track to ensure you're always pinning at the best times
How to find and use the Tailwind Smart Queue
Once you're in the Tailwind dashboard, click on the "Publisher" tab on the left-hand corner of the screen.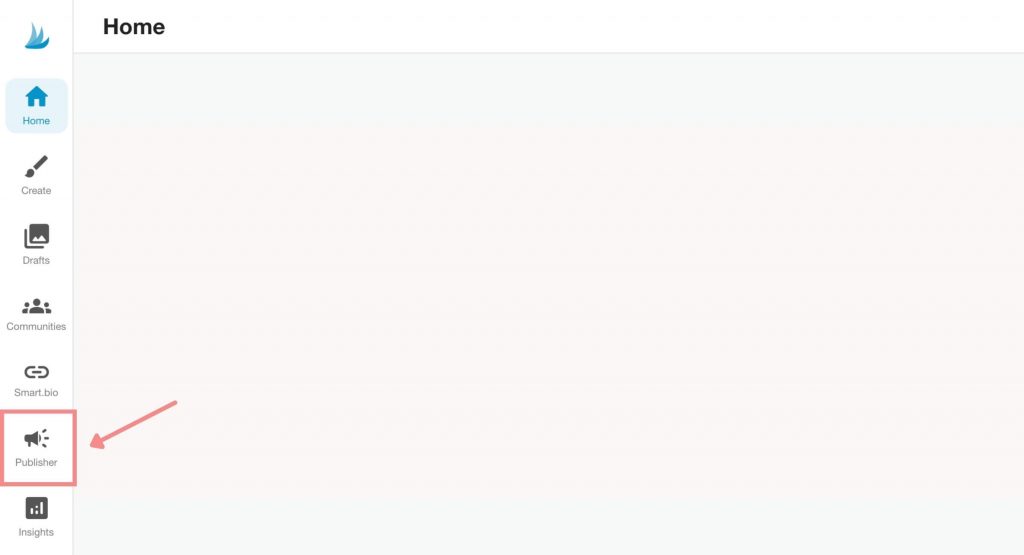 Then, select "Your Schedule" at the top of the screen.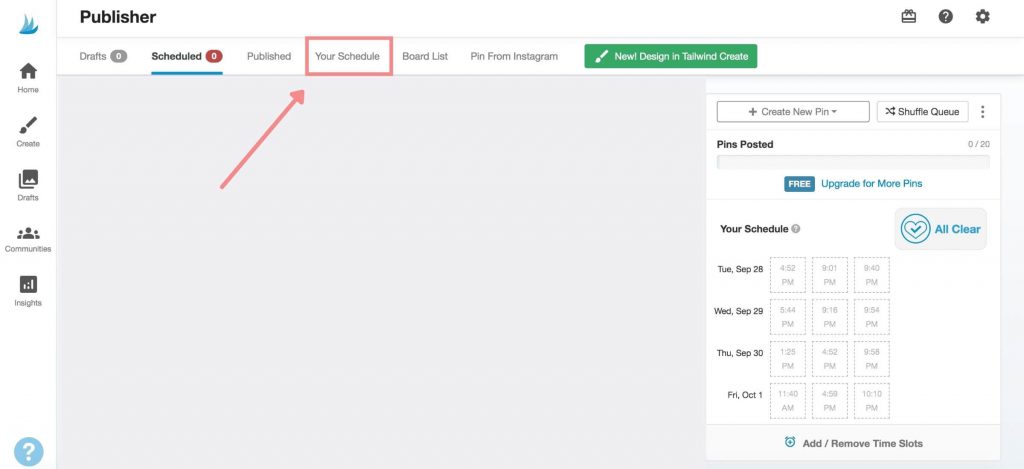 This will bring you to a page called "Your Weekly Pinning Schedule" that looks like this:
This is the Tailwind Smart Queue.
Tailwind explains what each slot on the Smart Queue schedule in this text box on the right side of the screen: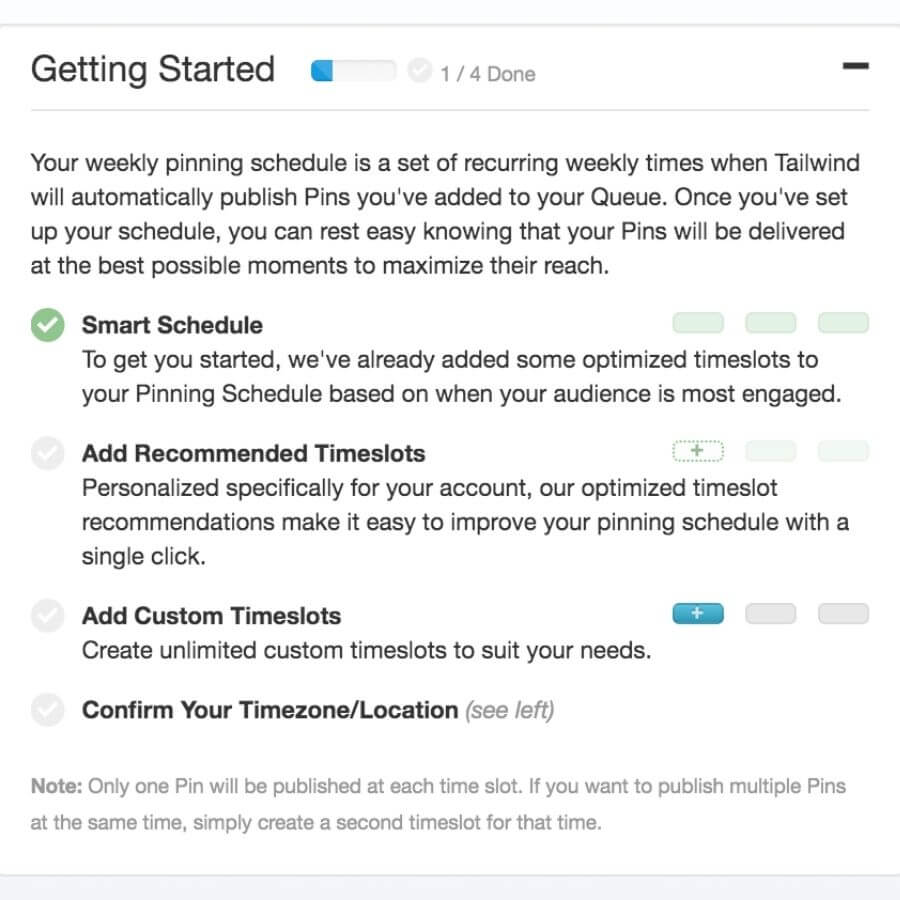 So to reiterate:
Green slot times are optimized times to pin generated based on when your audience is most engaged.

Green outlined slots are recommended timeslots that are personalized specifically for your account.

Note: The more data Tailwind gathers from your Pinterest account, the better and more accurate times it will display!
Do you have to follow this exactly and pin at the exact same times? No!
And should you try to? Nah, it'd probably drive you crazy! (I know it would drive me crazy!)
But, you can use this information to get a general idea of when the best times to pin may be.
Important: Make sure you scroll to the bottom of the page to the "Set Your Timezone" section and set the timezone that you live in. This is VERY important because it tells you when to pin in your own timezone. (If it was set to the wrong timezone and you forgot to change it, you could be pinning at the completely wrong time. 3 p.m. EST is at a very different time than 3.p.m. PST.
What does this mean for your pinning strategy?
When considering the time and frequency that you pin, the frequency is no-doubtedly far more important.
While immediate engagements on newly published pins can definitely be beneficial and can help your pin to perform better, they are NOT the end-all-be-all on Pinterest. In fact, it often takes months for new pins to receive notable traction and be favored in the algorithm.
And that's why if the thought of pinning at certain times stresses you out or throws a curveball your way, it's completely fine to ignore it all together.
What does matter is how much you pin. Think of it this way:
Every single new pin you publish has the opportunity to go viral or perform well.
So, if you pin 2 new pins a day (14 pins a week) verses 2 new pins a week, you are much more likely to bring in more success.
I know, it can seem tedious at times. But it's true — the more you pin, the more results you'll likely receive.
As previously said, consistency is key. Choose a set amount of pins you'll pin per day and stick to it. That's what matters most.
(Don't worry — later in this post I share some of my top tips that make creating and scheduling pins a breeze!)
Should you use a Pinterest scheduler?
Pinterest schedulers are ways to schedule your pins to post at an exact time, even if you're not on Pinterest.
In some cases, this can be very beneficial. (I've even used some in the past!)
However, recently some users have reported negative results using schedulers.
Some users have said that they get better results pinning and publishing pins directly on Pinterest. And some prefer to use the native Pinterest scheduler rather than a third party one.
But, schedulers still work great for some users. So, it's up to you!
Personally, I like to toggle between directly pinning on Pinterest and using the scheduler directly on Pinterest. I've seen some great results doing this!
Whatever you choose, remember to be constantly active ON Pinterest.
Even if you schedule tons of pins, make sure to actually go on Pinterest from time to time. (Don't schedule 100 pins and leave for 2 months!)
What about Tailwind?
Tailwind is one of the most well-known Pinterest scheduling tools, and it's actually an official Pinterest partner.
Users used to rave about Tailwind, but as of recently some do and some don't.
There may be a couple reasons for this:
A large part of Tailwind is Tailwind Communities, which is where you can submit your pins to a group and others can pin it. Each tribe has different rules, but usually, when you submit a pin, you have to pin someone elses. Since Pinterest has been putting an emphasis on publishing fresh content, it is recommended to publish much more of your own content than pinning other's content.
Tailwind used to be able to pin dozens of pins per day using features like the Smart Loop, where it would repin your own pins. Pinterest no longer recommends repinning your own pins — only publishing new pins.
While I believe that Tailwind has some incredible features (some of which I use on my own, such as tracking follower growth), scheduling pins through Tailwind may not be as effective as it used to be.
I personally think it's better to be safe than sorry and just schedule your pins directly on Pinterest. (I'll show you how to easily do this later on!)
Ultimately, it's up to you!
How to schedule pins on Pinterest
Scheduling pins on Pinterest is super easy.
Here's how to do it:
On your Pinterest profile, click on the "Create" tab at the top of the screen. On the dropdown, select "Create Pin."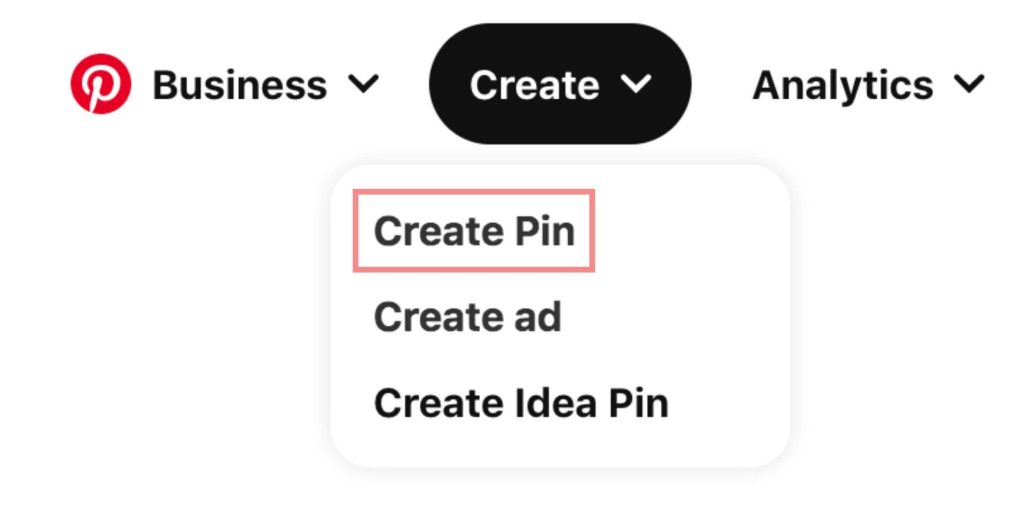 Upload your pin image.
Fill out the rest of your pin information (title, description, alt text, destination URL, and board). For this, you may find my Pinterest SEO checklist helpful!
Beneath the URL destination, select "Publish at a later date."

Choose the date and time you want your pin to publish. (You can schedule Pinterest pins on Pinterest up to about two weeks in advance.)
Above your pin title, click "Publish."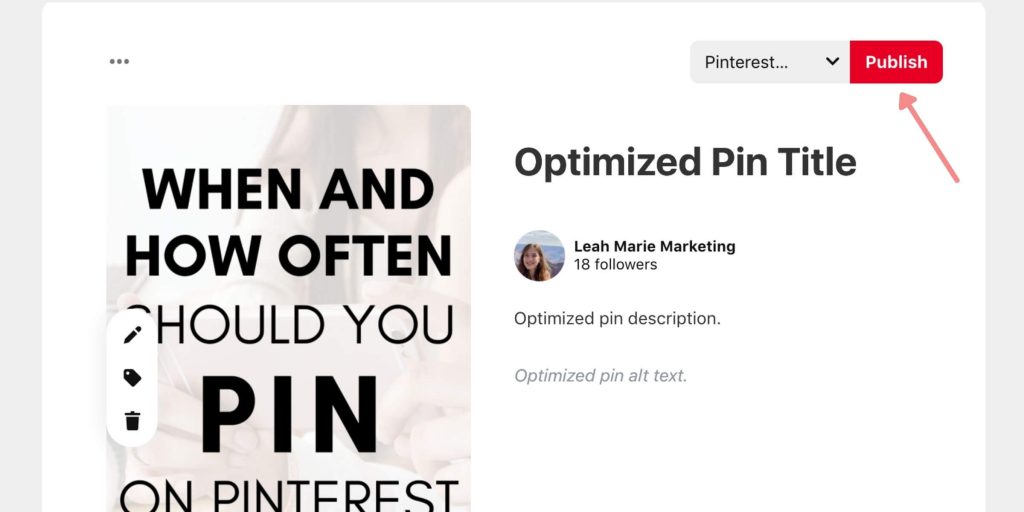 Super easy, right?
You can see your scheduled pins on the "Create" tab of your Pinterest profile. You can even immediately publish them and delete them from there.
When should you pin seasonal content?
As a general rule of thumb, you should aim to pin your seasonal content at least 3 months in advance. It may even be better to pin before that, especially for users with new accounts that Pinterest is still learning to trust.
For example, Christmas pins should start being pinned around September!
You want to make sure you give the algorithm enough time to fully understand your pin and distribute it to the right audience when the time comes around.
Since seasonal content and trends can BOOM on Pinterest, I created the Seasonal Pinterest Content Calendar and Planner to help you plan and post seasonal content and trends far enough in advance to help it take off when seasons and trends peak! This will help you pin seasonal content and plan amazing ideas with ease!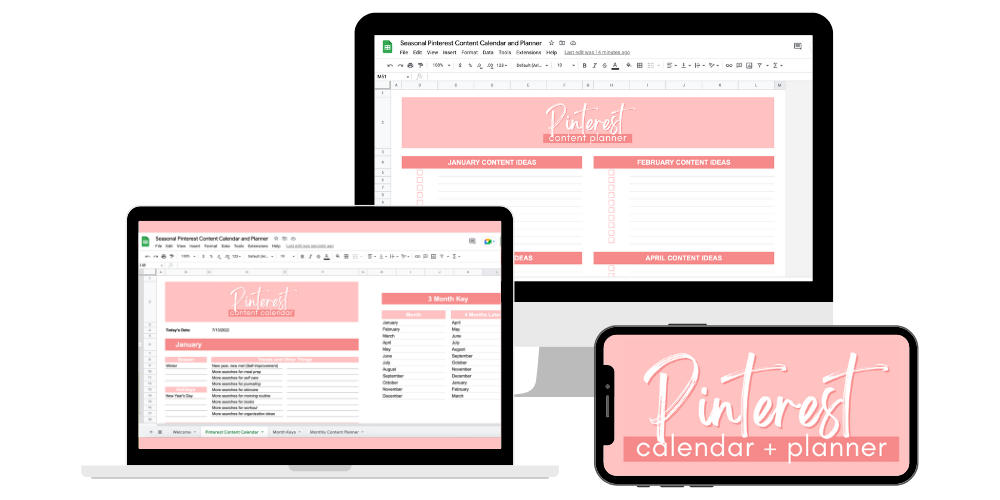 CLICK HERE TO GET THE SEASONAL PINTEREST CONTENT CALENDAR AND PLANNER!
Should you repin your pins?
In most cases, you should not repin your own pins.
In the past, it was actually one of the best practices to repin your pins, especially the best-performing ones.
However, this has changed.
Pinterest now wants users to consistently create new pins and fresh content instead of repinning their existing content.
But, if you do this once in a while it shouldn't harm your account!
Should you pin other people's Pinterest pins?
While Pinterest is promoting creating new pins and fresh content of your own, it's still important to pin other user's content, especially with a new account.
(In fact, with a new account, you should be pinning far more other pins than your own!)
If you have a very established account, a good general rule you could try to follow is the 80/20 rule or 90/10 rule, meaning for every 8 or 9 pins you create and publish, you pin 1 or 2 pins from other users.
Best pinning tips to help you stay consistent
Pinning consistently isn't always easy.
Especially when you're beginning and not seeing lots of immediate success, it can take a lot of willpower and time.
Here are some of my best tips that help me to pin consistently.
Use Pinterest templates
Using Pinterest templates is an easy and affordable (and sometimes FREE) way to quickly publish quality pins.
The great thing about pin templates is that they are fully customizable and can be used over and over again.
You can either purchase templates from others or you can create your own!
Purchasing other templates may be a good idea when you're new to Pinterest and figuring out pin design. However, once you're experienced, you can design your own templates too!
Some of my favorite pin templates are from Carly Campbell's Pinteresting Pins On Autopilot.
Pinteresting Pins On Autopilot is a pin membership. Each month that you subscribe for, 10+ Canva and Picmonkey pin templates are sent straight to your inbox. Carly creates templates that she KNOWS you'll see success with. (In fact, Carly gets over 15,000 pageviews to her blog each month with Pinterest so she really knows how to create GOOD pins!) Check out the membership HERE!
(PS. Carly shares all of her Pinterest tips and how she was able to see such crazy good success in this course!)
Have lots of content to share
This is something I completely ignored when I first started Pinterest.
I was so excited about Pinterest marketing that I would publish a blog post, then I would use so much time promoting it on Pinterest.
And sure, those pins would gain traction. Some did very well. But, if I had more content to market, I would have been able to create even more pins and get traction to even more posts.
The truth is, you need to focus on creating content before you focus on promoting it on Pinterest, or else you'll have nothing to pin.
Successful shops don't promote one product. Successful blogs don't promote one blog post. And the list goes on.
If you want to do Pinterest marketing, you have to make sure you have stuff to market.
Create multiple pins for each piece of content
One of the biggest mistakes you could be making is only making one pin per piece of content.
In reality, you should be making multiple pins for each piece of content.
You can have multiple blog post pins, product photos, outfit photos, food photos — nearly everything.
The more pins you share, the more people will likely see it, the more traction it will gain, and the more of a chance it has to go "viral!"
Bulk create and publish pins
If you struggle to create and publish new pins each day, this tip may save you!
Bulk creating and publishing pins is when you take one day (or hour) to solely focus on creating and scheduling all of your pins for the week (or month).
For example, you could use every Monday morning to design your pins, upload them to Pinterest, fill out the information and optimize for SEO, and schedule them for a certain time.
This could save you lots of time later on in the week, and you don't have to worry about your pins each day!
Conclusion
I hope that this post has provided you some insight on when and how often you should pin!
I'd love to know how many pins YOU pin per day and when you start pinning holiday content! Let me know in the comments below!
If you want more valuable Pinterest information so you can skyrocket your success, read more on my blog or join my email list (I provide some of my MOST VALUABLE INFORMATION to my email list!)
I hope to see you around again soon. Thanks for reading!
Leah Marie
SAVE FOR LATER!