Do you want to post videos on Pinterest?
Pinterest is becoming more and more popular, and videos are a great way to engage your audience.
This post will show you exactly how to create Video Pins on Pinterest step-by-step!
Let's dive in.
Please note: Pinterest is always changing, and while I try my best to update my posts, not all information may be up to date. If you're looking too see the most updated tips, strategies, and information, check out this resource page.
Can you upload videos to Pinterest?
Yes, you can upload videos to Pinterest. Videos can stand alone as Video Pins, or they can be used on Idea Pins and Pinterest Ads.
Luckily, uploading videos to Pinterest is not a difficult process!
What are Video Pins on Pinterest?
Video Pins are simply videos that are or pinned on Pinterest.
Unlike Pinterest's Standard Pins, which is Pinterest's original image pin format, Video Pins are videos!
Video Pins vs. Idea Pins
Video Pins and Idea Pins are two different pin formats on Pinterest.
While these two certainly have their similarities, such as the ability to tag interests and the ability to be "loved" by other pinners, they are also very different.
The main differences between Video Pins and Idea Pins are that Idea Pins are a multi-page format that can include both images and videos, while Video Pins are just a single video.
Related: How To Create Idea Pins On Pinterest (Full Tutorial)
Benefits of using Video Pins
There are a few great benefits to using Video Pins on Pinterest, such as:
Users are attracted to video. This may help you to get more engagements on the platform or attract a larger audience.
You can link to an external URL. For example, you could link to a blog post. This can help you to get more traffic on Pinterest. However, Pinterest doesn't make it very easy for pinners to click through the URL, so that's important to keep in mind.
They may be on the Watch Tab. There is a rumor that Video Pins that are longer than 30 seconds can be featured on the Pinterest Watch Tab – a fullscreen feed of pins that resembles popular content distributors like TikTok, Instagram Reels, or YouTube Shorts. This may help your content to reach more people. However, the Watch Tab tends to be filled mainly with Idea Pins.
Related: The Pinterest Watch Tab: What Is It And How To Get Your Pins On It
What types of video should you upload to Pinterest
Before you upload your video to Pinterest, you need to make sure you're within these specs:
File type: .mp4, .mov or .m4v
File size: Up to 2GB
Video length: 4 seconds to 15 minutes
Aspect ratio: Square (1:1) or vertical (2:3, 4:5, or 9:16)
Most videos that are straight from your phone without edits should fit most of these criteria.
How to upload videos to Pinterest on desktop
Here is how to upload videos to Pinterest on desktop as a Video Pin:
Click the Create dropdown.
Select Create Pin.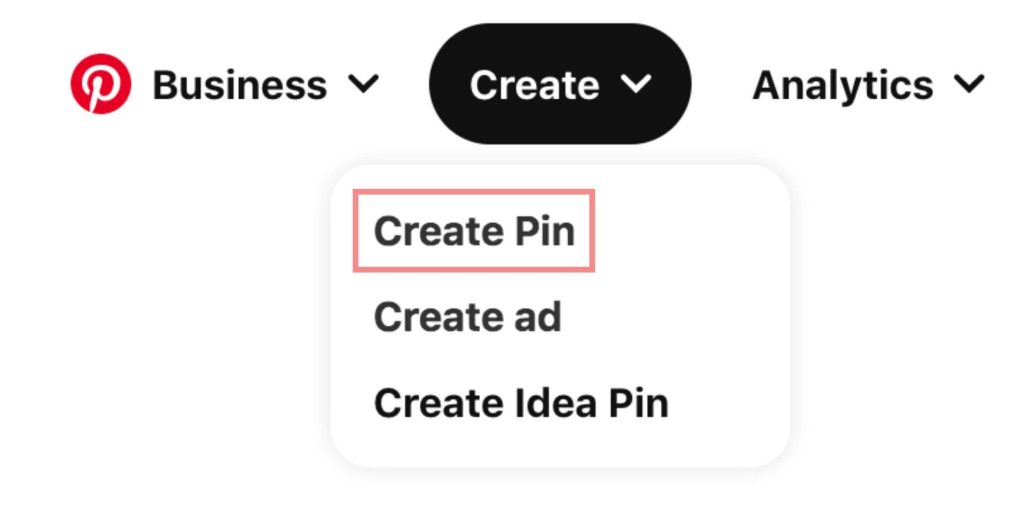 Upload your video file. You can either drag and drop your downloaded file, or you can click on the gray box and find the file saved to your computer.
Fill out the pin details. Be sure to add a pin title, pin description, alt text, tags, and a destination link (if necessary) to optimize for Pinterest SEO.
Publish your pin to the most relevant board. If you want to schedule your pin for a later time, do this by selecting Publish at a later date and changing the settings to when you'd like the pin to publish.

And that's it! It's as easy as that!
Once your pin is published, it will take Pinterest up to 48 hours to approve your Video Pin.
In my experience, it often happens immediately! You will receive a notification in the notification tab once your Video Pin is approved.

How to upload videos to Pinterest on mobile
Uploading a video as a Video Pin on the mobile Pinterest app is just as simple! Here's how to do it:
At the bottom of the screen, click the + sign.
Select Pin.
Find the video you want to pin and click Next. By default, Pinterest will only show you your photos. To find your videos, at the top of the screen, select the All photos dropdown and find your video from a different section of your camera roll.
Drag to select a cover for your video.
Fill out all of the details for your Video Pin.
Save your pin to the most relevant board.
Should you post videos with watermarks on Pinterest?
Pinterest has been very upfront about how they do not want watermarked content on their platform. Pinterest says that content with watermarks may not perform as well and their distribution may be limited.
If your content has a watermark from another platform such as TikTok or Instagram, try your best to remove the watermark before publishing it on Pinterest.
Luckily, you can use platforms like Media.io to remove TikTok watermarks for free.
Conclusion
I hope that this post has helped you to easily upload videos to Pinterest and create Video Pins!
If you have any questions, be sure to leave them in the comments below!
If you want more valuable Pinterest information so you can skyrocket your success, read more on my blog or join my email list (I provide some of my MOST VALUABLE INFORMATION to my email list!)
I hope to see you around again soon. Thanks for reading!
Leah Marie
SAVE FOR LATER