In October 2021, Pinterest announced one of its newest features – the Watch Tab.
Pinterest's Watch Tab is a new way to find pins and discover creators, so this can be a great way to grow your Pinterest as well.
This post will talk all about what the Pinterest Watch Tab is and how you can use it in your Pinterest marketing strategy!
Let's dive in.
Please note: Pinterest is always changing, and while I try my best to update my posts, not all information may be up to date. If you're looking too see the most updated tips, strategies, and information, check out this resource page.
What is the Pinterest Watch Tab?
The Pinterest Watch Tab is a fullscreen feed of Idea Pins for users to find inspiration and ideas. In this feed, Pinterest shows users Idea Pins to users based on their tastes, preferences, and who they follow.
So, to keep pinners engaged, Pinterest shows users personalized Idea Pins based on what each user is predicted to enjoy.
Pins on the Watch Tab look similar to this: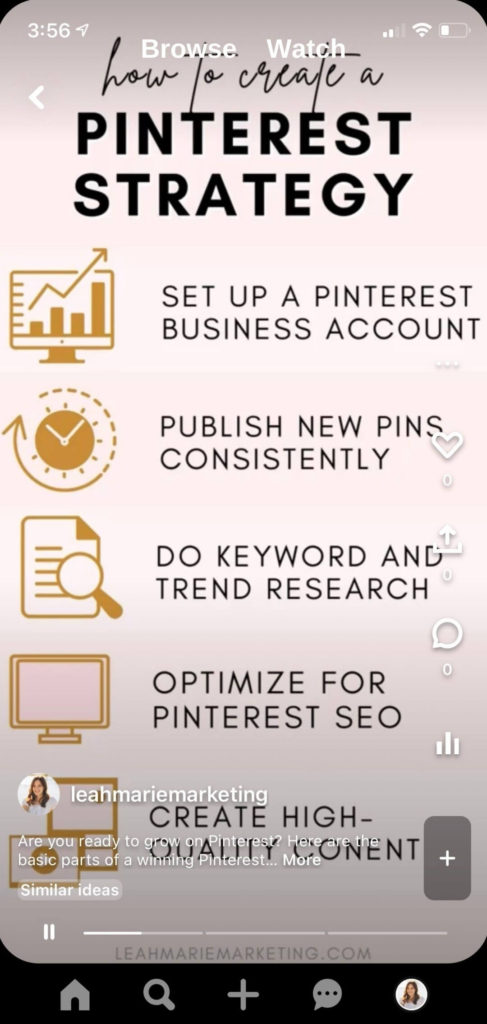 The Watch Tab very much resembles TikTok and Instagram Reels – two very popular places that users go to find content.
However, like all other areas that Pinterest shows content, users have the ability to save Idea Pins right from the stream. Plus, unlike other platforms, Idea Pins in the Watch Tab can have multiple pages of content!
On the Watch Tab, users can also:
Follow the Creator
Like the pin
Share the pin
This can make the Watch Tab a great way to grow your audience and engagement!
Related: How To Create Idea Pins On Pinterest (Full Tutorial)
How do you see the Watch Tab on Pinterest?
Currently, the Watch Tab can only be found on the mobile Pinterest app. Therefore, desktop users can't browse the watch tab.
To view the Watch Tab, go to the Home Feed. This can be done by clicking the home icon at the bottom left of the screen.

Once there, at the top of the screen you should see two tabs: the Browse tab and the Watch tab.

To get to the Pinterest Watch Tab, simply click Watch. This should open up a full screen of Idea Pins.
If you no longer wish to view content via the Watch Tab, you can toggle back to the Browse tab at the top of the screen. This way, you can view content in the way that you wish!
How to get your pins on the Pinterest Watch Tab
The thing is, you don't exactly have to do anything to get your pins on the Pinterest Watch Tab.
After you create an Idea Pin, Pinterest can decide to automatically place it in the Watch Tab for any user they think may be interested. You don't have to submit pins or anything – you just need to create Idea Pins.
However, there are certainly things you can do to get your Idea Pins in front of more users (and on the Watch Tab more), and the main thing is to optimize your pins (and boards) for Pinterest SEO.
Optimizing for Pinterest SEO is so important because this is essentially how you tell Pinterest what your content is about. Once Pinterest knows what your pins are about, the algorithm can better distribute it to users who may be interested.
Optimizing Idea Pins is slightly different from optimizing Standard Pins and Video Pins. To learn some of the best ways to optimize your Idea Pins and create Idea Pins that get great results, check out this post on my top Idea Pin tips!
Plus, don't forget about Pinterest board SEO! Boards can actually play a huge role in helping Pinterest understand what your pins are about, so make sure to optimize them as well. Click here to learn my 3-step process for optimizing Pinterest boards.
Conclusion
I hope that this post has answered your questions about the Pinterest Watch Tab!
If you have any questions, be sure to leave them in the comments below.
If you want more valuable Pinterest information so you can skyrocket your success, read more on my blog or join my email list (I provide some of my MOST VALUABLE INFORMATION to my email list!)
I hope to see you around again soon. Thank you for reading!
Leah Marie
SAVE FOR LATER!