Disclaimer: This post contains affiliate links. If you choose to make a purchase using one of my affiliate links, I will make a commission at no additional cost to you. Thank you for your support!
If you've been on Pinterest lately, you've probably seen Idea Pins.
Idea Pins are one of Pinterest's newest features catered toward helping Pinterest Creators (and Pinterest Influencers) to build an engaged audience and monetize their work.
Idea Pins have huge potential and they are currently very favored by the Pinterest algorithm.
So, how can you use Idea Pins to your advantage?
And how can you get your Idea Pins to go VIRAL?
This post will break down exactly what you need to do to get your Idea Pins seen by thousands of users!
What are Idea Pins?
Pinterest's Idea Pins are a multi-page pin format. Users can add up to 20 pages of images or videos (up to one minute long per page) to share their ideas and tell a story.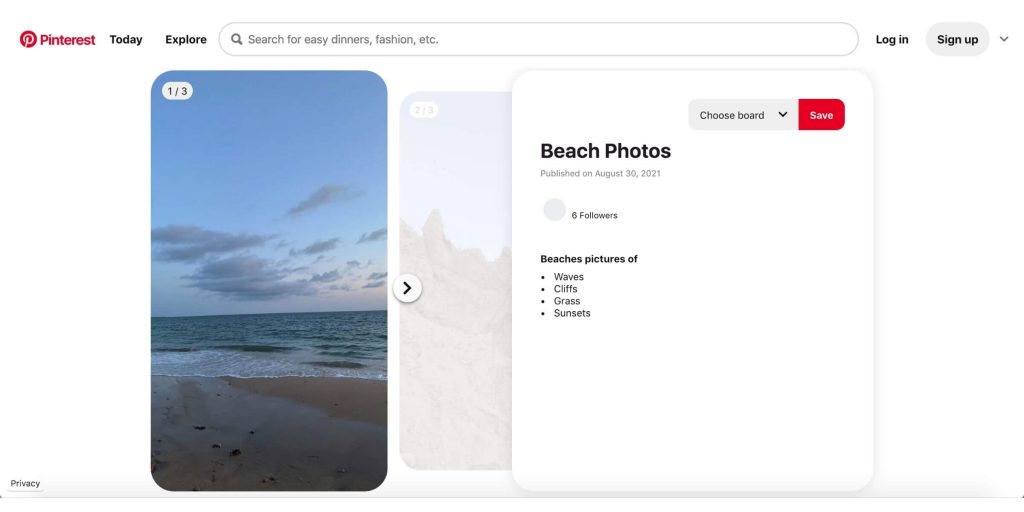 They are aimed at helping Pinterest Creators (AKA Pinterest Influencers or "Pinfluencers") to inspire others, grow a large and engaged audience, and monetize their content.
(Yes — Pinterest is rolling out features to help users to monetize Pinterest pins! I go very in-depth on this in this post.)
Additionally, this pin type is one of Pinterest's newest features that is very favored by the algorithm.
They can be found in multiple places on the Pinterest platform:
Home feed
Search feed
Related pins feed
The top of users' profiles
The top of the home feed (similar to Instagram Stories)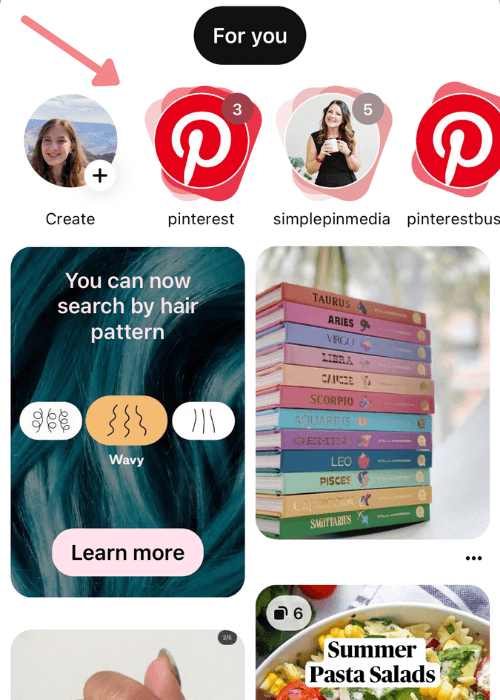 Who can make Idea Pins?
All Pinterest users are now able to create Idea Pins (both personal accounts and business accounts.)
However, having a business account is much better because it is easier to access your Idea Pins and you are able to view your overall Pinterest Analytics.
(You can make a FREE Pinterest business account here!)
Idea Pins are available in many countries. However, there are still some that may not have access. If you'd like to request access to Idea Pins, fill out this form.
Should everyone make Idea Pins?
Although Idea Pins are very favored in the Pinterest algorithm, they aren't great for everyone to use.
Idea Pins can not be linked to URLs, so they aren't very recommended for bloggers.
There are some other reasons for this, which I talk about in my post Should Bloggers Use Idea Pins On Pinterest?
However, Idea Pins can be great for many users such as Creators and influencers.
Benefits of Idea Pins
There are many benefits to using Idea Pins. Here are some of them:
Idea Pins are favored by Pinterest and the algorithm. That means you can get users to see and engage with them much easier. In turn, you can quickly grow an engaged audience.
You get additional analytics. On Idea Pins, you can view the number of profile visits and follows you get. You can use these analytics to create more content that users like and that will help you to grow.
Idea Pins are easy to make. You don't need crazy design skills to create Idea Pins. In fact…it is suggested that you even create Idea Pins right on the Pinterest app! (More on this later.)
Idea Pins last forever. Idea Pins will (literally) last forever! That means you could post it and it could still get engaged with for months and years to come. How awesome, right?
How to create an Idea Pin
Creating Idea Pins is easy! Here's how to do it:
Mobile
On your Pinterest business account, click on the "+" sign in the middle of the navigation bar on the bottom.

Then, select "Idea Pin."
Add or record your content.
Edit your clips. There are many in-app editing tools that you can use.
For example, Pinterest says in this post that "Idea Pin creation now includes:
Video recording and editing for up to 20 pages of content
Voice over recording so creators can add their own personal voice
Music selection by Epidemic Sound
Ghost mode transition tools (perfect for those before-and-afters!)
Detail pages for instructions or ingredients
Interactive elements like people tagging and stickers
Multi-draft save so Creators can publish more ideas
Export options to share content beyond Pinterest
Topic tagging, a publishing feature that helps connect content to relevant interests
The Creator Code – our content policy designed to keep Pinterest a positive and inspiring place"
After, add your title, select a board, tag related topics, add a list, and toggle advanced settings.
Then, click "Publish."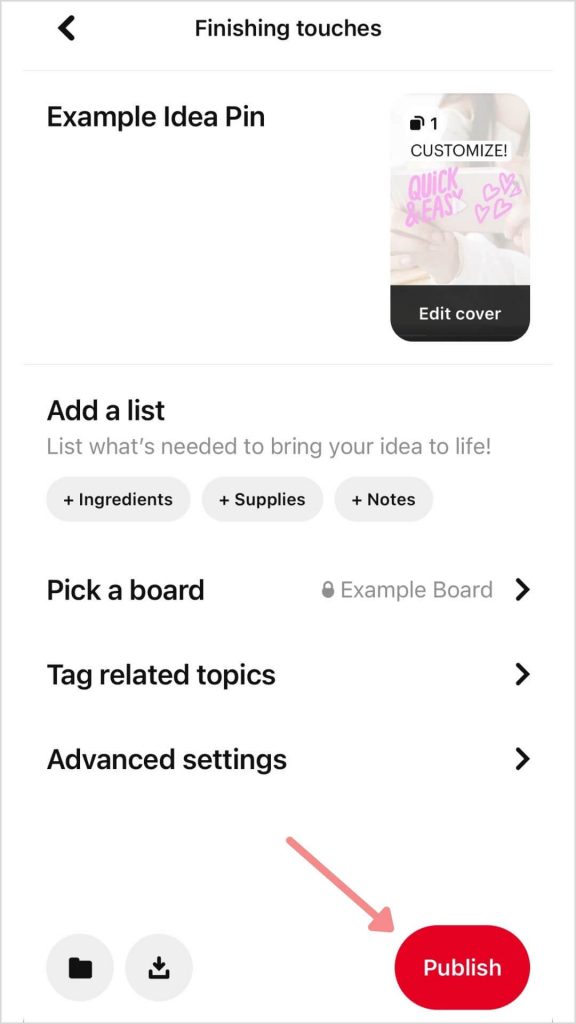 Desktop
As I'll mention later, mobile has many more editing features for Idea Pins than desktop does.
However, you can still use the desktop platform to create and publish Idea Pins.
Here's how:
On your Pinterest business account, click on the "Create" option at the top of the page. In the dropdown, select "Create Idea Pin."

If you're taken to your drafts, click "Create new" if prompted to.
Upload your images and videos (up to 20).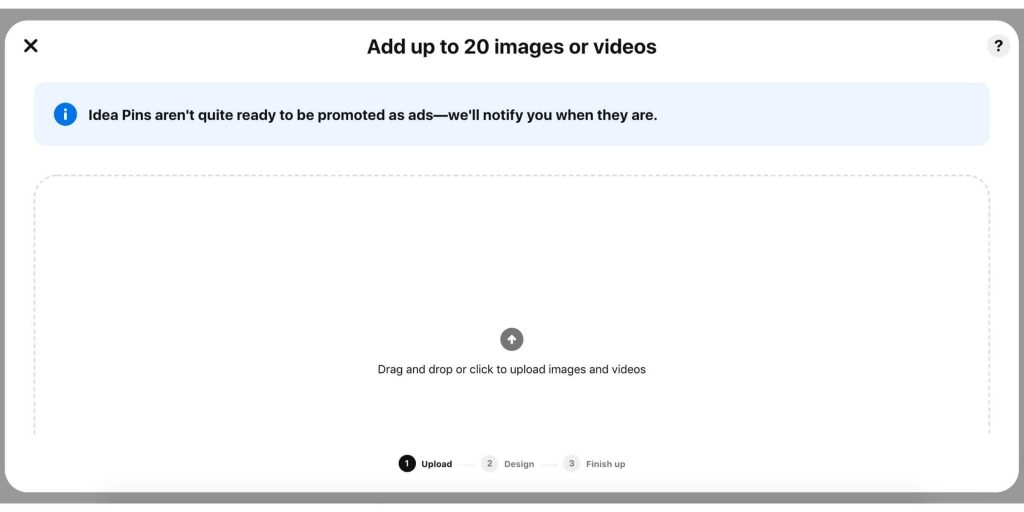 Design your pages. On desktop, the customizations are limited basically to text.
After, add your title, select a board, tag related topics, add a list, and toggle comment settings. Then click "Publish."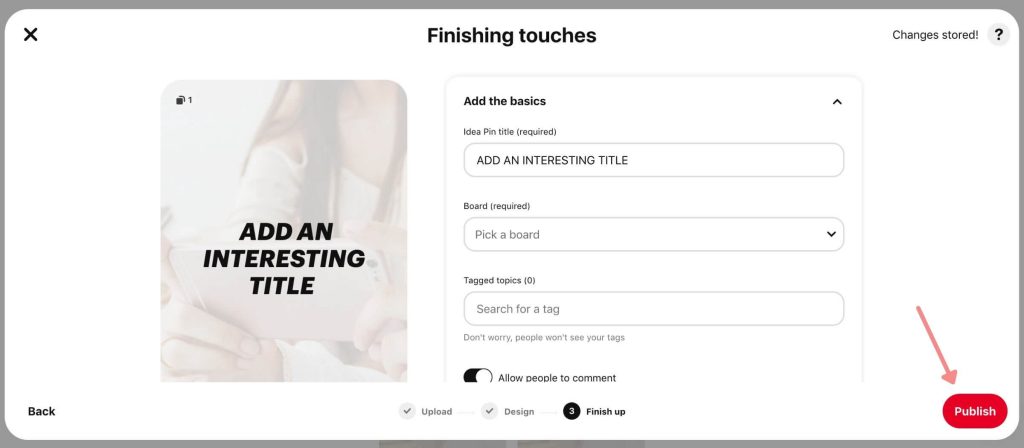 Note: On both mobile and desktop you can turn your Idea Pin into a draft by clicking the "X" in the upper-lefthand corner. You can access these drafts when you go to create an Idea Pin.
Also note: You can only edit the board selection and engagement settings after an Idea Pin is published.
How to get viral Idea Pins on Pinterest
Idea Pins have HUGE potential.
Viral Idea Pins can bring in hundreds or thousands of follows and multiply your audience and engagement.
So, how do you get a viral Idea Pin on Pinterest?
1. Create popular, interesting, searchable, or trending content
If you don't create content that others want to see, you're not going to get viral pins, it's plain simple.
The success of your pins is completely in the hands of your audience.
So, how do you know what content others want to see? What are others looking for? And, how do you know what will perform well?
Here are some great ways to find or create "viral-worthy" content ideas:
Do keyword research (super helpful and important to rank in search results!) I have a complete, in-depth keyword research guide that shows you 8 methods to find the best keywords on Pinterest. Check it out here!
Use Pinterest Trends to view what content is trending (and when)
Use Pinterest Predicts to find potential trending content before it actually trends (the downloadable PDF at the bottom easier to read)
Find out whats trending weekly on the Pinterest Business Community Creator Blog (you will have to log in for this and may have to submit a request, but it's worth it!)
Check out the Creator Monthly Trends and Idea Pins Submission page (you can find this page by joining either the Pinterest Creator Newsletter or joining the Pinterest Creator Community)
Check out The Point to see insights for what's next on Pinterest
Add your own twists to popular content
Create content that inspires others to DO or TRY something, not to entertain users like on other platforms (ex. Instagram or Tiktok)
Before you publish your Idea Pin, ask yourself:
Is this something I would click on?
Do I provide value or inspiration to other users?
Is it high-quality?
2. Use the optimal size
Pinterest says that Idea Pins' aspect ratio is 9:16.
They also recommend using a 1080×1920 pixel size, which is the 9:16 ratio.
3. Use video (especially first)
Video is a great way to capture the attention of other users.
In the feeds, lots of pins are static. So when users scroll by a moving pin, it can really stand out to them.
Pinterest even mentions this in their Creative best practices.
For Idea Pins, Pinterest says:
"Think video first. Video is great for telling a story and helps you connect with your audience. Start with a video on your first page to stand out in people's feeds. Just make sure to add text overlay, since some people watch with sound off."
4. Create Idea Pins in the mobile app
If you are able to, try to create your Idea Pins in the mobile Pinterest app.
The mobile platform has many more in-app editing tools.
This can help to make your Idea Pins more developed and fun, immersive, and engaging for viewers, as well as helping it more in the algorithm. (I'll explain more later.)
The desktop editing features are very restricted and don't allow for much customization.
5. Add multiple panels
Adding multiple panels (or pages) to Idea Pins can be a great thing.
I have heard that it is best to use at least 5 panels.
The more panels you have, the more details and stronger stories you can share with your audience.
More panels commonly means higher quality content, but it isn't completely necessary — you can make Idea Pins with 1 page if you want!
(In fact, one of my most viral Idea Pins was just 2 pages long!)
6. Use in-app editing tools
In a recent Pinterest training, Pinterest representatives said:
"The more tools that you use within the idea pins tool, the more likely you are to get the credit for creating that content."
Meaning…
If you use more tools, you may have better opportunities to rank in search results or be distributed in the algorithm.
So, don't be afraid to use Pinterest's editing tools! They may just help you out.
7. Use in-app text overlay
This tip is very important!
When creating Idea Pins, use the in-app text editor to add your text overlay to your panels.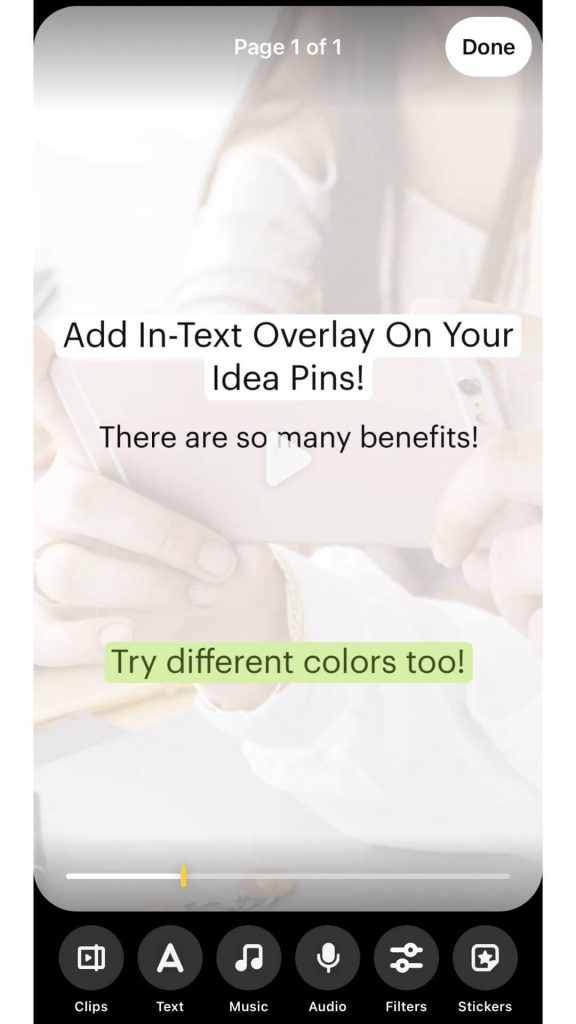 One reason this is good is because it provides a better user experience for users! They can understand exactly what the pin is about!
However, in the same Pinterest training mentioned above, a representative mentioned that the Pinterest algorithm pulls keywords from the native Pinterest text feature!
Pinterest even talks about that in this post, saying:
"Add text overlay to your Pins. The text overlay on your Idea Pins affects how they show up in Pinterest search. It's like SEO on Pinterest: If you pick the right keywords, you'll reach more people. To find the right keywords, you can use the Pinterest Trends tool. Or, search for your topic on Pinterest and see what suggested keywords pop up."
This can help with Pinterest SEO, which helps Pinterest to understand exactly what your content is about. This can also help your pins be distributed and ranked (which can definitely help your pins to go viral).
8. Don't use Instagram Reels or Tiktoks
You may have seen the occasional repurposed Instagram Reel or Tiktok going "viral" on Pinterest.
However, it is strongly encouraged not to post your Instagram Reels or Tiktoks on Pinterest.
Pinterest really wants you to create original content on its platform.
In fact, in a Pinterest training, Pinterest representatives said that having watermarks from Instagram and Tiktok on your pins may harm Idea Pin distribution in the algorithm.
This is especially important if you're looking to become a Pinterest influencer and work with brands.
So, again, create your own unique content on Pinterest itself!
9. Create an appealing first page
When users are scrolling through Pinterest, the only thing they can see is the first page of Idea Pins.
So, the first page of them is the one chance you have to get users to click on it and engage with it!
Here are some tips to create an appealing first page that users will click on:
Add an appealing title that users can't resist clicking on or that provides inspiration or value.
This course has been an absolute game-changer for writing Pinterest pin titles. It teaches you how to write titles that actually CONVERT! Check it out here.
Don't make it too busy. Viewers should know exactly what your pin is about.
Make it stand out in the feed. Use video and bright colors that users can easily read.
10. Add a call to action
CTA's are super great to get more engagement.
(And if you didn't know, engagements are a huge factor in the ranking and distribution of Pinterest pins.)
Call to actions essentially prompt viewers to engage or interact with your pin.
Here are some examples:
Follow for more!
Comment your favorite tip!
Share this with your friends!
Save to come back later!
Visit the link on my page for more information!
There are so many things you could do. Don't skip out on this!
11. Optimize your pin title with keywords
When you're writing your Idea Pin title, be sure to add relevant keywords to give Pinterest a better idea about what the pin is about.
Keywords help your pins to be found by users in multiple places, including the home feed, search results, and related pins feed.
12. Tag as many relevant topics as you can
Tagging relevant topics is another great way to tell Pinterest what your pin is about, which will help Pinterest to show it to the right audience.
You can tag up to 10 topics.
It's best to tag as many relevant topics to your pin as you can.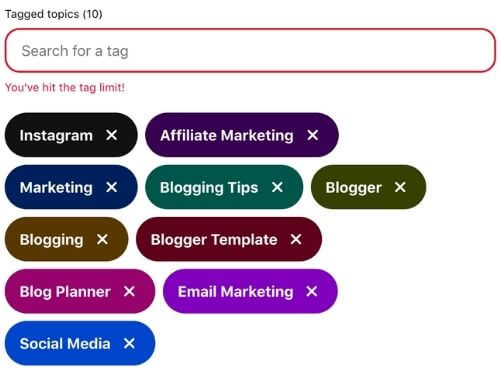 13. Pin to the most relevant board
Make sure you pin each pin to the most relevant (and SEO optimized) board.
When you save a pin to a board, Pinterest establishes a relationship between that pin and all of the other pins on the board.
When you save the pin to a relevant board, Pinterest can better understand what that pin is about.
This is a key part of Pinterest SEO, which is essential to see success on Pinterest.
I have a detailed, step-by-step Pinterest SEO checklist post that will help you to fully optimize your Pinterest account. Check it out here!
14. Always add details
Adding details to your Idea Pins is super helpful for your audience and is a great place to add some keywords (because it may help your SEO).
Three different types of details you can add:
Ingredients (best for recipes)
Supplies (best for crafts)
Notes (best for anything other than crafts or recipes )
All you have to do is click on the type best suited for your Idea Pin and fill it out.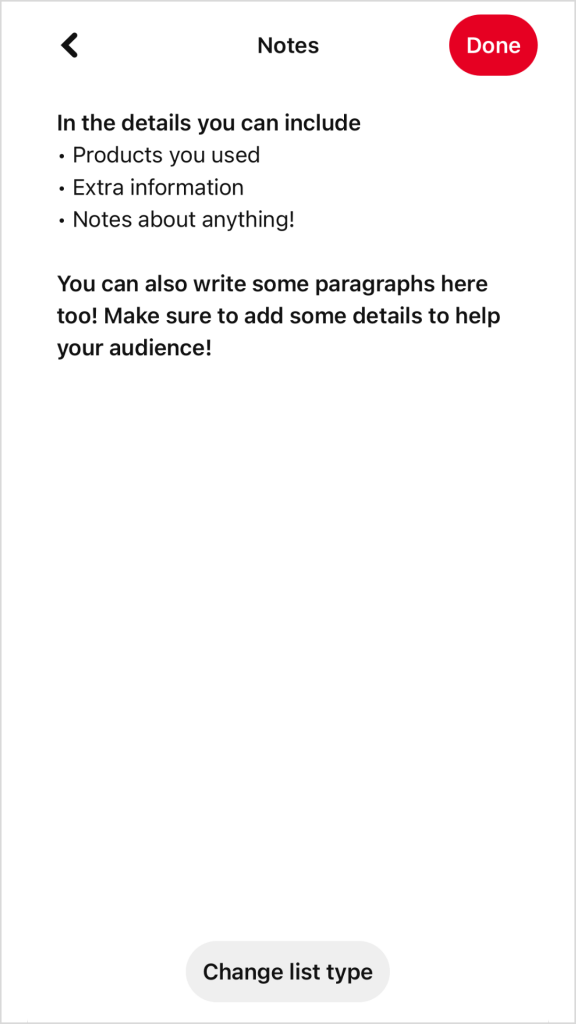 It's important to note that you should NOT include links or URLs in your details. I have heard that Pinterest suppresses those Idea Pins in the algorithm.
Also, do not use hashtags either.
On your Idea Pins, a button will appear at the top that says "Details" (on mobile).
When clicked, the details will slide up so users can read it.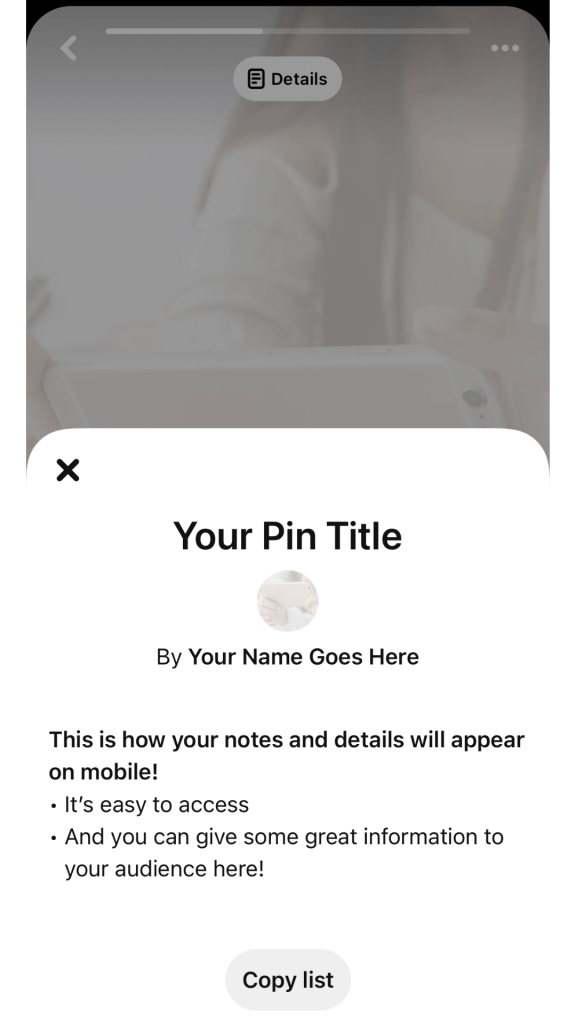 On the desktop, Idea Pin details appear to the right of the pin.
15. Make sure comments are enabled
Double-check that comments are enabled on your Idea Pins.
Comments are a great form of engagement and are a great way to connect with your audience.
On mobile, click on "Advanced settings" on the Finishing touches page.

Then, make sure the "Allow comments" button is toggled on.
16. Engage with your comments
When you get comments, be sure to engage with them!
My favorite thing to do is reply when I can.
Pro tip: Ask a question when you reply to comments. Keep it relevant to the Idea Pin and put some thought into it. That way, they'll come back and leave another comment. This is great for engagement and for building a community. Plus, users are more likely to follow you when you do this! (I've noticed first-hand!)
For example: I'm so glad you liked my list! What is your favorite movie?
17. Submit your pins to be featured on the Today Tab
Want to be featured?
Being featured on Pinterest's Today Tab is a fantastic way to skyrocket your growth and go crazy viral!
To submit your pins to be featured, you have to subscribe to the Pinterest Creator Newsletter or join the Pinterest Creator Community.
The submission form is sent in the weekly emails. You can also find the form in the Creator Community.
Tip: Make sure you follow the prompts! Create high-quality Idea Pins based on the prompts Pinterest gives, and then submit them. You'll have the greatest chance to be featured that way!
18. Create seasonal content in advance
In general, it takes months to see significant results on Pinterest.
It often takes months for Pinterest to really index, rank, and distribute new pins. So, especially for the holiday season, you want to make Idea Pins (and other pins) months in advance.
The best time to start pinning holiday content is around September. (Or even earlier!)
Pinterest has some other great holiday pinning advice on this page.
Paying attention to Pinterest Trends is another way to work with Pinterest and the algorithm to see the best results.
19. Cater to your audience
When you create Idea Pins, it's important to keep your ideal and existing audience in mind.
Ask yourself these questions:
What type of content do they want to see?
What will my audience find valuable?
How can I help them solve their problems?
To learn more about your existing audience, you can view your Audience Insights.
To do this, click on the "Analytics" dropdown at the top of the screen and click "Audience Insights."

Also, pay attention to the content that your audience engages with (both yours and others')!
One way you can do this is by checking out what your top boards and pins are in your Pinterest Analytics.
20. Show your personality
Add a personal touch by showing your face or adding a voiceover so your audience can know you and your personality!
21. Be creative with your ideas
Creativity is the way to succeed on Pinterest.
Users love creativity, and they love to be inspired.
For example, take different angles or takes on popular and trending content!
Be unique and offer something that no one else does!
22. Keep posting and be patient
Not every Idea Pin will go "viral," but don't get discouraged!
Give Pinterest time to understand, index, and distribute your content, it doesn't always happen right away.
23. Quality over quantity
I'm sure you've heard the phrase "quality over quantity" a million times before, but it completely applies here!
Quality content is so important on Pinterest.
That's the kind of content that gets engaged with, and in turn distributed and ranked!
Take time to create great Idea Pins.
How often should you post Idea Pins?
In a recent Pinterest bootcamp, Pinterest representatives suggested creating at least one Idea Pin per week BUT no more than one per day.
Every Idea Pin is a new chance to go viral, so if you can, I'd try to publish 3+ per week!
Note: To be a Pinterest Creator, you must publish at least one Idea Pin per month.
Can you schedule Idea Pins on Pinterest?
No, you can not currently schedule Idea Pinterest. However, some third-party scheduling apps may allow you to.
However, you can save Idea Pins as a draft and post them from your drafts.
That method works well if you want to create them in advance, but you can not schedule them to post at a specific time.
How long do Idea Pins last?
The great thing about Idea Pins is that they last forever!
This means that you can still get engagements on Idea Pins for months and years to come.
However, at the top of the home feed, Idea Pins only stay for one day, similar to Instagram stories.
Conclusion
I hope this post will help you to make your Idea Pins go viral!
We covered a lot in this post, but I'm confident that if you implement these tips, you'll see great results!
Have any other tips? Comment your favorite Idea Pin tips down below (and include your Pinterest username so we can support one another)!
If you want more valuable Pinterest information so you can skyrocket your success, read more on my blog or join my email list (I provide some of my MOST VALUABLE INFORMATION to my email list!)
I hope to see you around again soon. Thanks for reading!
Leah Marie
SAVE FOR LATER!