*Disclaimer: This post contains affiliate links. If you choose to make a purchase using one of my affiliate links, I will make a commission at no additional cost to you. Thank you for your support!
You may have heard that Pinterest can be a great source of traffic for blogs, shops, and more!
However, getting people to click from your pins to your website or shop, which are called outbound clicks on Pinterest, isn't always as easy as it seems.
Luckily, there are a lot of things you can do to effectively increase outbound clicks on Pinterest.
This post will share exactly what outbound clicks are and the strategies and tips you can implement to get more of them on your account.
Let's dive in.
Please note: Pinterest is always changing, and while I try my best to update my posts, not all information may be up to date. If you're looking too see the most updated tips, strategies, and information, check out this resource page.
What are outbound clicks on Pinterest?
Outbound clicks, which were previously called "link clicks," are a very important metric on Pinterest.
Pinterest defines outbound clicks as the number of times people perform actions that lead them to a destination off Pinterest.

When bloggers describe the blog traffic they get from Pinterest, they are basically talking about the outbound clicks they get from Pinterest to their site.
For example, I make pins for my blog posts and link them to different posts!
Users can then click my pin and then click to my blog post from those pins. Each of those clicks counts as one outbound click. So if 5 different users click to read my blog post on one pin, that pin will have 5 outbound clicks.
Sometimes, if you get a "viral" pin, you can even get thousands of outbound clicks on pins!

Related: How To Go Viral On Pinterest (18 Tips)
What is a good outbound click rate for Pinterest?
Pinterest defines the outbound click rate as the total number of clicks to the destination URL associated with your Pin divided by the total number of times your Pins were on screen.
So, if your pin was seen 100 times and had 5 outbound clicks, the outbound click rate would be 5%.
In all honesty, I have never paid attention to my outbound click rate. I have just never felt that it was a metric that was important to pay attention to. I always aim for growth in my number of outbound clicks, but I don't think that this metric is too important to pay attention to.
However, this post by Rachel Waring says that an outbound click rate of 1-2% is pretty standard, but this also depends on your niche.
If your outbound click rate is lower, you may want to take a look at your pins and see how you can optimize them for more clicks (my top tips are below)!
Pin clicks vs. outbound clicks on Pinterest
Although they sound similar, pin clicks and outbound clicks on Pinterest are very different.
Pinterest defines pin clicks as the total number of clicks on your Pin or ad so it opens in closeup.
To put it simply, a pin click is when you click on a pin in your feed to enlarge it on your screen.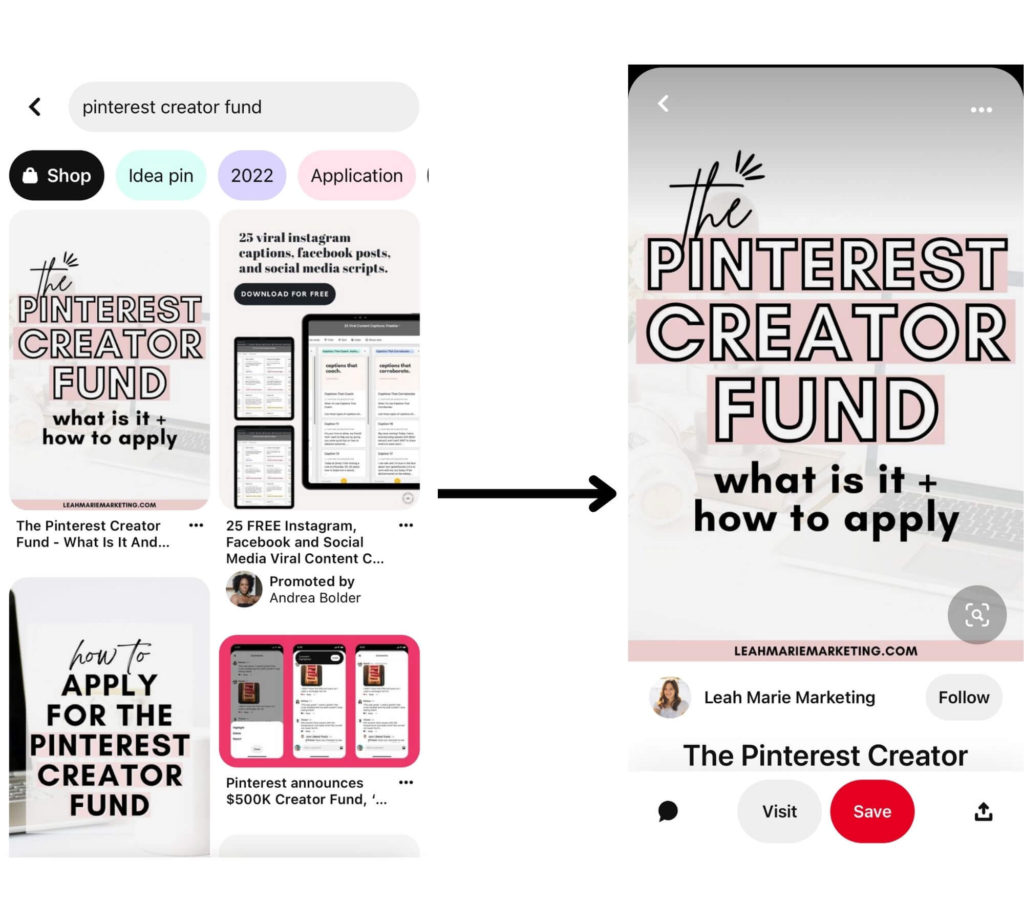 On the other hand, an outbound click is when you click from a pin to the URL linked to it, such as a blog post, YouTube video, shop, etc.
How to see outbound clicks on Pinterest
There are a few different places that you can see outbound clicks on Pinterest.
One place you can see them is when you click on one of the pins you published (or a pin that links to your claimed domain) like this:
(The image above is on desktop.)
Another place you can see outbound clicks is in Pinterest Analytics. Pinterest Analytics can be much easier to navigate on desktop and has more options to toggle with. 
To access Pinterest Analytics on desktop, click on the Analytics dropdown at the top of the screen on your profile and then click Overview.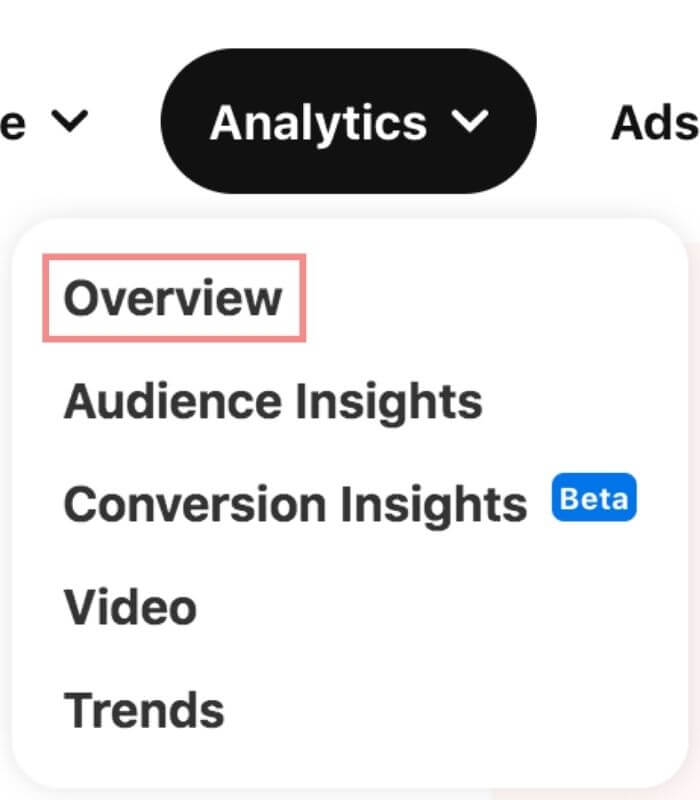 There are so many different ways to view outbound click data (such as for your account as a whole, individual boards, and your top pins), but make sure that you have the dropdown toggled to Outbound clicks rather than the Impressions default.
I suggest playing around with Pinterest Analytics and different settings to see different data!
How to get more outbound clicks on Pinterest
Here are some of my top tips on getting more outbound clicks:
1. Do keyword research and optimize your pins
To get outbound clicks on your pins, you first have to get people to see your pins.
Keyword research is very important for Pinterest. This helps you to find keywords and topics that users are actually searching for and want to see. Since a large part of the Pinterest algorithm is showing the most relevant content to users, when you create content that users are interested in, your content is likely to be seen more.
My in-depth Pinterest keyword research guide outlines over 5 different and effective ways you can find popular keywords and topics on Pinterest!
Once you've found some great keywords and topics, now you need to use those keywords to optimize your content. This is called Pinterest SEO.
Pinterest SEO is essential because it helps to tell Pinterest exactly what your content is about so Pinterest can distribute it to the right audience.
My 29-step Pinterest SEO checklist shows you exactly how to optimize your pins, boards, and profile step-by-step!
2. Create click-worthy pin titles
Believe it or not, pin titles (the words on the pin) can make a HUGE difference in outbound click conversions!
When you create a scroll-stopping, must-click pin title, you are far more likely to get outbound clicks than with a bland title.
For example, what pin title would you want to read more?
8 Healthy Family Dinner Recipes
8 Healthy Dinner Recipes That Your Kids Will Actually LOVE
See what I mean?
There are so many ways (some that you might not even think of) that you can "spice up" your pin titles. That's why I love this affordable ebook by Carly Campbell, a Pinterest expert who uses Pinterest to drive thousands of pageviews to her blog each month.
Carly's pin title hacks are game-changing. She shares exactly how she creates titles that users can't resist clicking, and she really sees the results!
Check out Carly's affordable ebook here!
3. Be careful with text overlay
Text overlay titles are really great on pin images, but you also have to be careful with them. Sometimes they can make or break the pin design.
Here are some things you should always consider when adding your text overlay:
Make your text stand out – Use bold fonts or add blocks behind your words so they don't blend in with the background.
Make your text easy to read – Be careful with script fonts! Although they can look good, they are sometimes very hard to read. You want to make sure that your titles are readable to your viewers so that they'll want to click to see more.
Remember that most users are on mobile – Remember that the vast majority of Pinterest users are on mobile. Those screens are tiny! Make sure that your words are big enough for your viewers to be able to read while they're scrolling through their feed.
4. Create attractive and clickable pins
Let's be honest, are you more likely to click a pin that doesn't stand out in your feed or one that has a beautiful, attention-grabbing design?
Your pin design matters!
Here are some of my top tips when it comes to pin design:
Use an easy design tool – I love using Canva to design all of my pins! It's so easy to create beautiful designs.
Try pin templates – If you're not so confident in your pin design skills, try using pin templates! Pin templates are great because they are easy to customize and make completely your own. Plus, you can use them over and over and over! Here is a really great my favorite pin template subscription.
Use optimal pin sizes – Pinterest suggests that you use at least a 2:3 ratio (such as 1000 pixels x 1500 pixels), but you can also experiment with longer pin sizes!
Use bright, warm colors – It's proven that bright pin designs with warm colors tend to attract the eye more, so experiment with these!
Don't clutter elements – Putting words, elements, images, etc. too close together can make them seem cluttered and hard to read. Always make sure you have good balance and space to make your pins appeal to the eye.
Use bright color accents – This is something I've always done to make my keywords stand out to viewers. I usually either make the color of my main keywords a bright, stand-out color (like pink), or I put a colored block behind those words!
Try using stock photos – I recently invested in paid stock photos and am glad I did! The photos that I now use on my pins suit my brand and style well, and I'm very pleased with how they've improved my pin design.
Experiment with different pin designs – Experimenting with different pin designs can be a great way to see what works well and what doesn't! A great way to find pin types that are performing well is to look at the top pins ranking in search results (these are generally pins with decent engagement) or to actually use Pinterest as your ideal audience and see what stands out to you and what is working for others!
(Tip: On a personal account, create an inspiration board with pin ideas and designs you could incorporate into your own pins! Be sure not to copy others, but you can find inspiration through others!)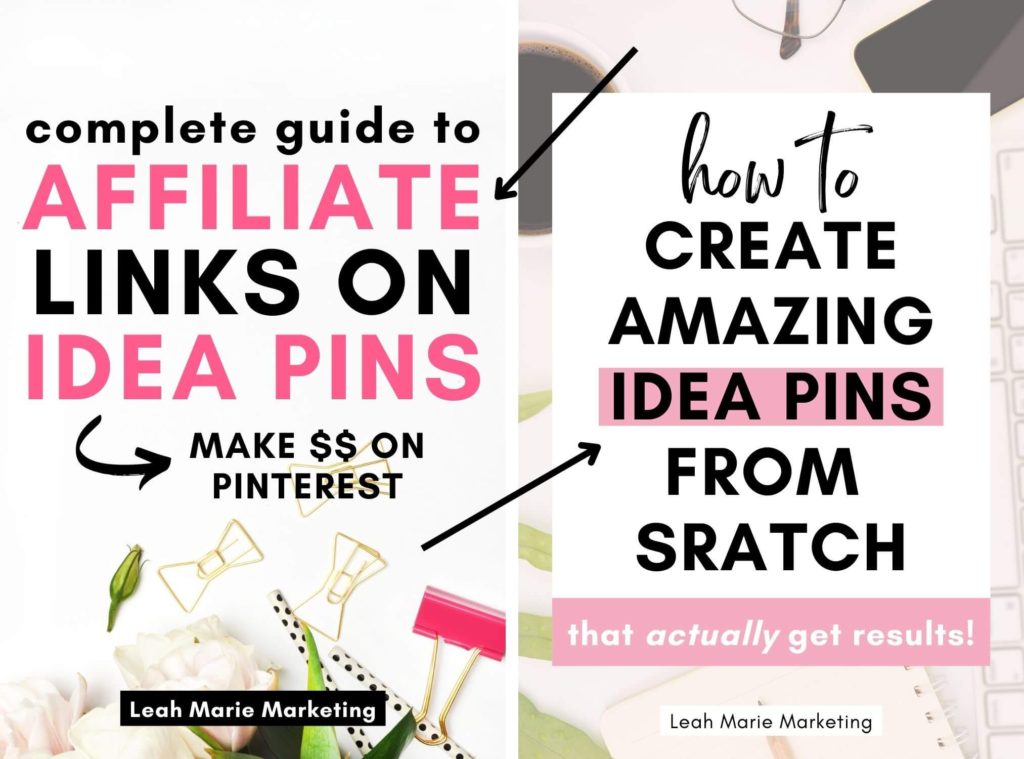 5. Don't give away all of the information on the pin
This Pinterest tip specifically applies to pins such as infographics. Infographics can bring in great amounts of traffic if they gain traction (I've seen this for myself)!
But, there is a way to get even more traffic from them, and that's to not show all of the information and let the viewer know that they can find more information by clicking through to the URL.
Here's an example of how you can do this:
6. Experiment with call to actions
Using call to actions can be a great strategy because they directly encourage users to engage with your content.
Try using subtle call to actions on your pins to persuade users to take action!
Check out my list of 20+ Pinterest call to action ideas for some inspiration.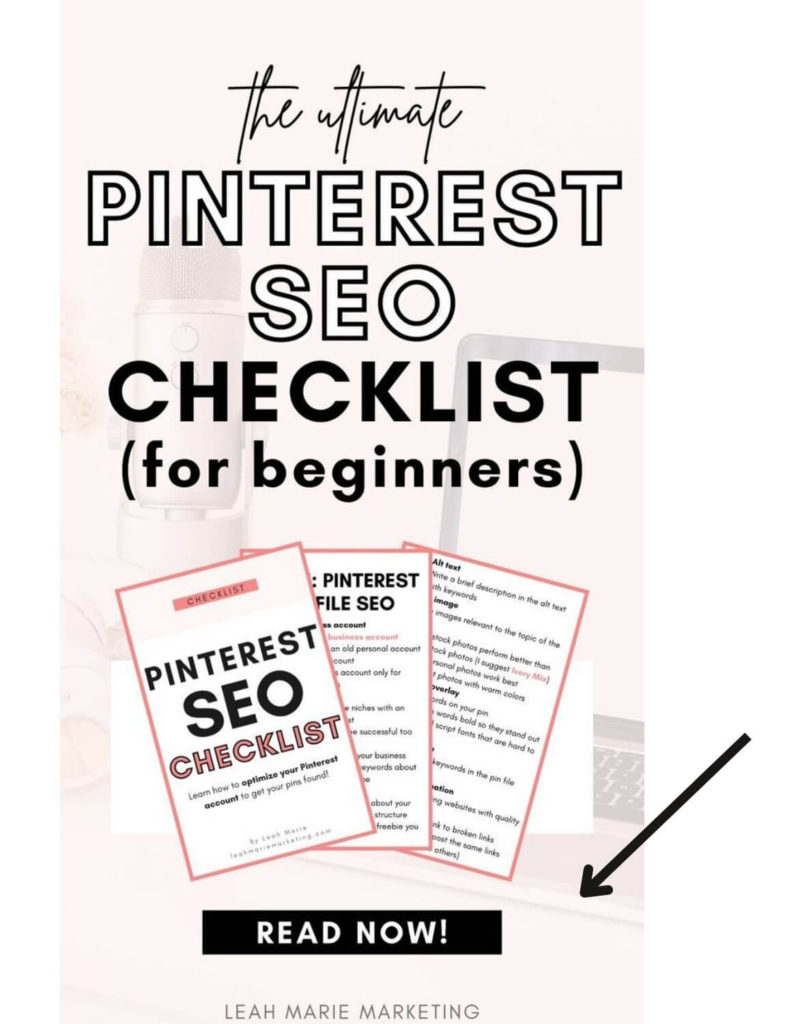 7. Create new pins for old content
I like to think that more pins = more outbound clicks. (Maybe not always, but it creates more opportunities!)
You always want to be creating new pins. Consistently creating new, fresh pins is very important for seeing results on Pinterest. I still create new pins for very old pieces of content!
Related: When And How Often Should You Pin On Pinterest?
8. Do more of what's working
This is another great Pinterest strategy that can help to skyrocket your results. If something is working, do more of it!
To find out what's working, Pinterest Analytics can be great. Find your top pins with outbound clicks and see what elements may be contributing to the success. Then, implement these elements into more of your pins!
9. Write pin descriptions with call to actions
Although pin descriptions may not be read by users every time, it's still important to have good pin descriptions.
While your pin descriptions should certainly have your target keywords, you should also try to tell readers why they should click through and what they will gain from it. You can also include call to actions as well.
10. Don't use outdated strategies
Outdated strategies can really stunt your growth and limit your pin distribution on Pinterest. There are lots of past strategies that Pinterest no longer recommends, so make sure you are always staying up to date on Pinterest best practices.
Here are some strategies that Pinterest no longer recommends:
Do not use hashtags
Don't use group boards as much
Do not repin your own pins
Pin more of your own content
Space out pinning the same URL by at least a few days (or at least 24 hours)
Don't create duplicate pins
Conclusion
I hope that this post has helped you to learn about outbound clicks and how to get more outbound clicks on Pinterest!
If you have any questions or tips, be sure to leave them in the comments below.
If you want more valuable Pinterest information so you can skyrocket your success, read more on my blog or join my email list (I provide some of my MOST VALUABLE INFORMATION to my email list!)
I hope to see you around again soon. Thanks for reading!
Leah Marie
SAVE FOR LATER!