You may have heard of Pinterest impressions and are wondering what are they? How do I get more of them?
Impressions are a very relevant metric on Pinterest. This post will share everything you need to know about impressions on Pinterest and share some tips on how to get more!
Let's dive in.
Please note: Pinterest is always changing, and while I try my best to update my posts, not all information may be up to date. If you're looking too see the most updated tips, strategies, and information, check out this resource page.
What are impressions on Pinterest?
Impressions on Pinterest are one of Pinterest's most used metrics. Pinterest defines impressions as the number of times your Pins were on screen. (Source)
This could even be when a user is scrolling through the Pinterest feed! A user does not have to actively engage with a pin for it to count as an impression.
So if one of your pins was seen on screen 1,000 times on Pinterest, that pin should have 1,000 impressions.
It's also important to note that just because there are 1,000 impressions, that does not mean that 1,000 people saw your pin. If one pinner scrolled over your pin or engaged with it 20 different times, that would count as 20 unique impressions.
Are Pinterest impressions important?
To be quite honest, the importance of impressions depends on your unique Pinterest marketing goals.
For example, impressions matter very little for bloggers because most bloggers focus on outbound click conversions, which is when a user clicks to the URL associated with a pin, in order to get traffic to their site.
Of course, impressions still matter to an extent – you want to make sure that your pins are getting seen! However, most bloggers would prefer to have a pin with 1,000 outbound clicks than 10,000 impressions.
On the other hand, impressions may matter more for Pinterest influencers or Pinterest Creators who want to work with brands. Brands may favor this metric more because it often reflects how many people are seeing your content (but keep in mind that engagements are likely important too).
So, are Pinterest impressions important?
It completely depends on your goals! You can absolutely meet your Pinterest marketing goals without having millions of impressions on Pinterest. Many Pinterest marketers (especially bloggers) choose to just ignore impressions.
How many impressions is good on Pinterest?
Again, this depends on what your Pinterest marketing goals are.
There is also no set number of impressions that you need to reach to have "good impressions." Personally, I feel that it is a case-by-case basis!
Of course, if you have more impressions, this can help others to see you with more authority or expertise, which may help you to continue to grow.
Setting goals can be great, but I'd say you should just aim for growth!
Side note: Impressions naturally fluctuate! This is totally normal, and it's just part of the ebbs and flows of Pinterest. Nearly all Pinterest marketers go through highs and lows, and that's to be expected with any platform!
Where can you find impressions on Pinterest?
There are actually multiple places that you can find impressions on Pinterest. The first is individual pins.
When you click on any pin that you've created (or that is attributed to your account), you should be able to see the number of impressions it has above it.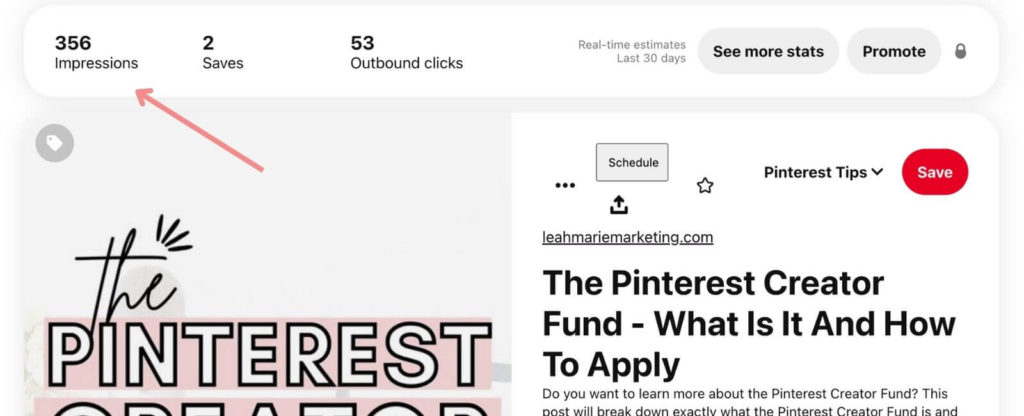 Secondly, you can find impressions in Pinterest Analytics. Pinterest Analytics is an incredible resource that will give you in-depth data on your account, so getting familiar with it can be really great!
One great thing about Pinterest Analytics is that it can give you a variety of data pertaining to impressions on your account.
How to get into Pinterest Analytics
Pinterest Analytics can be accessed in Pinterest on both mobile and desktop. However, I'm going to focus more on the desktop version because I feel that there are many more settings you can play around with.
Important: In order to view Pinterest Analytics, you need to make sure that you have a Pinterest business account. You can create one for free here!
To access Pinterest Analytics, click on the Analytics dropdown towards the top of the screen. In the dropdown, select Overview.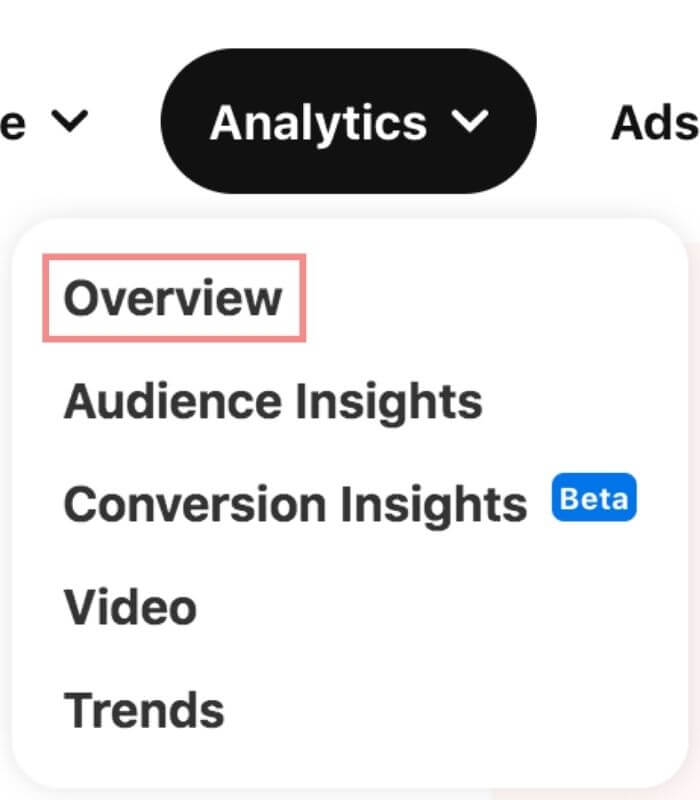 How to see impressions in Pinterest Analytics
Pinterest Analytics can definitely feel overwhelming at first, but I'll try to simplify it here!
When you first get onto Pinterest Analytics, by default you will be on the All Pins tab. This means that on this page you will be viewing the data for all of your pins combined.
If you would rather view the data for a certain type of pin (Standard, Product, Idea, Video), you can just simply toggle to that.

If you scroll down, you will see a graph that says Performance over time. As seen by the dropdown, the graph is set to show impression data by default. This graph shows how many impressions all your pins (since we are on the All pins tab) have gotten in the last 30 days.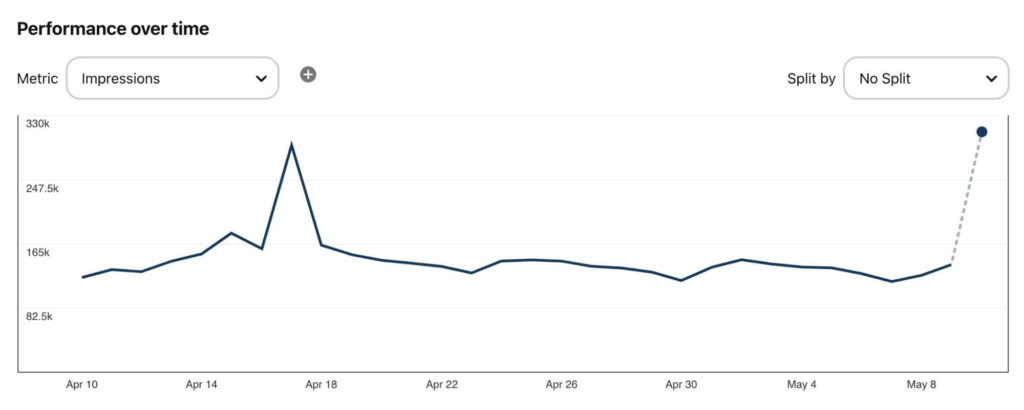 You can also click on this dropdown and click on a different metric to show that data on the graph.
Beneath the graph, you can see a table that shows Total Impressions.
You can also change the time window of the graph in the left-hand side of the screen! For example, if you'd like to see daily impressions over a 180-day period, you can click that. You can also select custom dates by clicking on the calendar icons.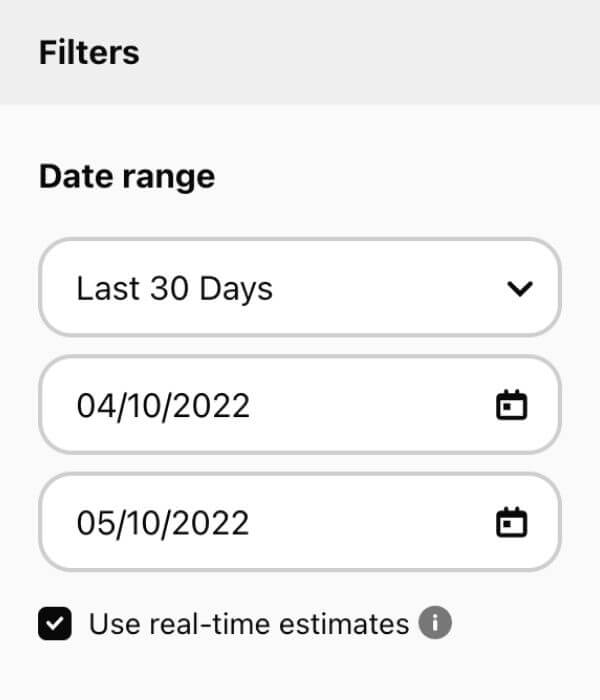 Beneath the dates, there are other things you can experiment with. For instance, you could view impressions by device, age, gender, and more!
Lastly, did you know that you can compare data on the graph? There are two ways you can do this:
SPLIT: If you click on the Split by dropdown, you can select a way to divide impressions, such as by device, as seen below: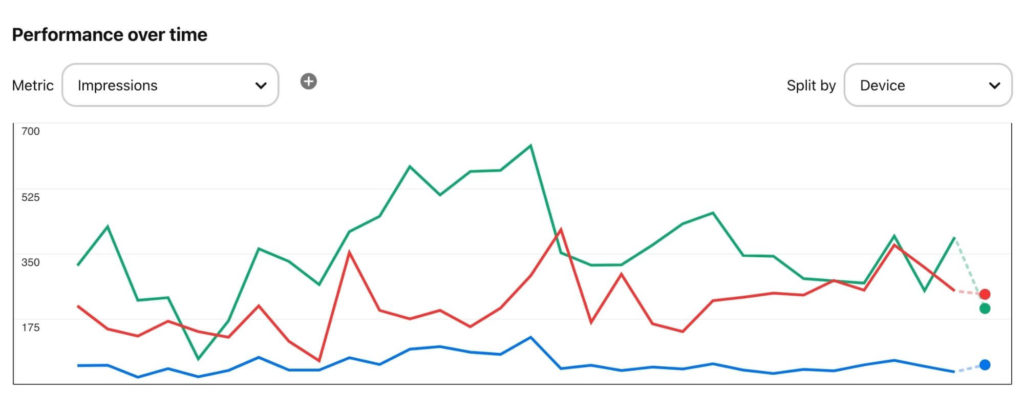 MULTIPLE METRICS: Next to the dropdown, you can click the "+" sign and add another metric! You can currently compare two different metrics. Below you can see that I'm comparing impressions and engagements.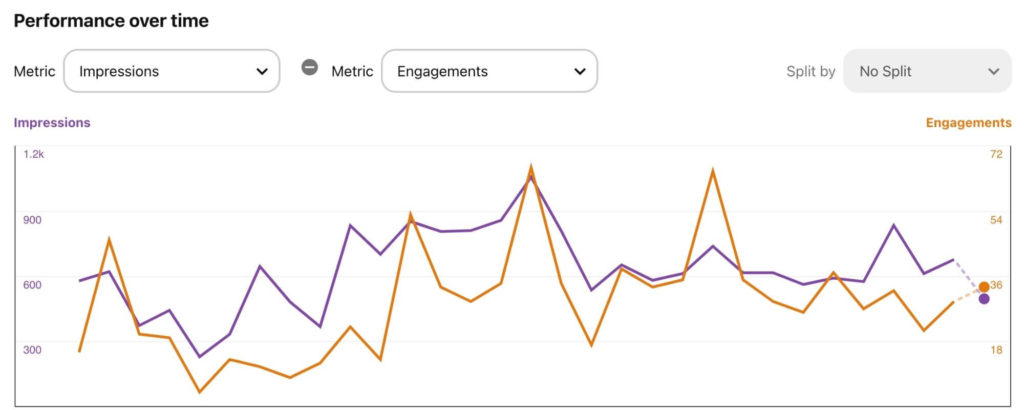 If you scroll down, you can now view your top boards (again, by default, it will be by impressions).
If you hover over the boards with your cursor, you can see additional details about the board and its metrics!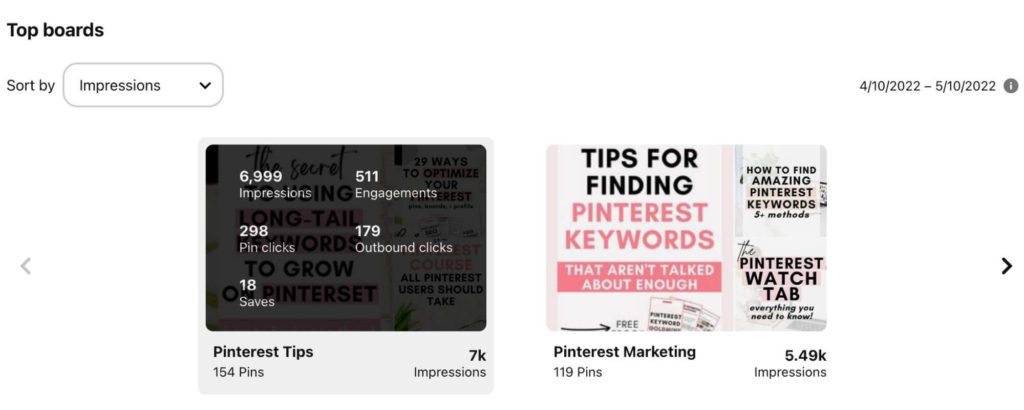 Lastly, if you scroll down even more, you can see your top pins (once again, ranked by impressions by default)!
In the column to the right, you can see the number of impressions that pin has. Sometimes there can be slight discrepancies.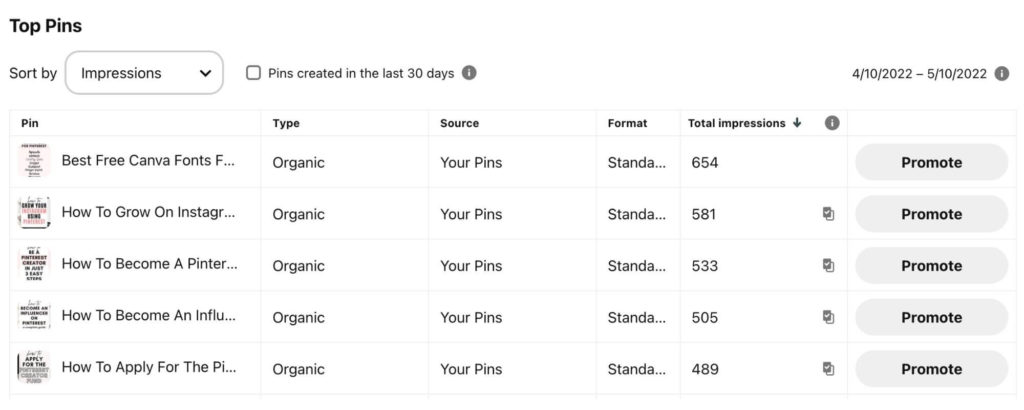 What are monthly views on Pinterest?
Monthly views are another Pinterest metric very similar to impressions.
Pinterest defines monthly views as the number of times your published Pins and Pins saved from your claimed domain or accounts were on screen in the last 30 days. (Source)
Monthly views is the number that is displayed on your account for anyone to see.

Many Pinterest marketers see this number as a vanity metric because it doesn't always accurately reflect the performance of your account in regards to your goals.
For instance, an account with 4 million monthly views could have less outbound clicks than an account with 1 million monthly views.
However, when the number is larger, it could definitely give others a good impression of your account!
How to get more impressions on Pinterest
There are many things you can do to increase your impressions on Pinterest. Here are some tips:
Optimize your content with keywords
Pinterest SEO is essential for helping to get pins seen. This is the process of optimizing your content with keywords to help Pinterest understand what your content i about, when then helps Pinterest to distribute it accordingly.
My free 20+ step Pinterest SEO checklist will help you learn how to fully optimize pins, boards, and your profile.
Also, don't forget Pinterest board SEO! It can be easily overlooked, but it definitely plays a huge role in your over all SEO for Pinterest.
Do keyword and trend research
Keyword and trend research helps you to find content ideas that Pinterest users are actually looking for.
When you create popular content, that content is bound to get more impressions because users actually have a demand for it and want to see it!
My Pinterest keyword research guide will show you over 5 unique ways to find great keywords on Pinterest.
You can also check out my free ebook to learn how to determine which Pinterest keywords are actually most likely to bring you results!
Create engage-worthy content
Engaging content is very important because Pinterest uses engagements to help determine how valuable a pin is.
When pins get engagements, oftentimes it gets pushed in the algorithm, causing it to get more impressions.
A part of my Pinterest strategy is to always try to include some engage-worthy pins. Infographics are always a great option because users love to save these!
Consistently create new content
I'm a firm believer that the more pieces of content you have, the more chances you have to get your content seen.
I highly recommend keeping a consistent posting schedule for Pinterest. I generally aim to publish new pins every single day!
This can help you to increase your monthly views number as well.
Related: When And How Often Should You Pin On Pinterest?
Link pins to a claimed URL
Many Pinterest marketers believe that pins linking to your claimed domain receive much better distribution than pins linking to non-claimed domains.
To learn how to claim your domain URL on Pinterest, check out this tutorial.
If you can, try to link all of your pins back to a page or post on your claimed URL.
Do more of what's working
Above, I demonstrated how you can use Pinterest Analytics to obtain information about what pins are performing well and getting lots of traction!
One very effective strategy is to find out what's working and create more of it.
It may be a certain color, type of pin, pin design, title, etc. Whatever it is, try to implement those elements into even more of your content!
Why are my Pinterest impressions going down?
As mentioned earlier, it is completely normal (and natural) for your Pinterest stats to fluctuate.
Nearly all Pinterest marketers have experienced downs — including myself!
Before you freak out (which I tend to do a lot), remind yourself that this could just be the ebbs and flows of the platform. All platforms experience this.
It could be seasonal, holiday-related, or just an off time.
Whatever it is, I suggest giving yourself a bit of time to see if it naturally recovers before changing up your strategy.
If your impressions and stats continue to go down, it could be one of the following:
A Pinterest algorithm update
You've been flagged by the Pinterest spam filter
Your strategy is outdated and needs to be updated
One of your niches has been suppressed by Pinterest (Ex. Weightloss)
A viral pin is no longer going viral
A ranking shift
You are doing things that Pinterest no longer recommends (Ex. Using hashtags, repinning, group boards, etc.)
Of course, it could be a reason other than that! Keep track of your stats and just try to analyze any year-by-year trends and other things!
Suggested: Does Pinterest Traffic Go Down During The Summer?
How to go viral on Pinterest
Everyone wants to know the secrets to going viral on Pinterest, right?
In this post, I outline my top tips that helped me to see viral results on Pinterest! These tips can be game-changing and have definitely brought in results for me!
Similar: How To Get Viral Idea Pins On Pinterest In 2022 (23 Tips)
Conclusion
I hope that this post has helped to clarify what impressions are on Pinterest and how to get more!
If you have any questions, be sure to leave them in the comments below.
If you want more valuable Pinterest information so you can skyrocket your success, read more on my blog or join my email list (I provide some of my MOST VALUABLE INFORMATION to my email list!)
I hope to see you around again soon. Thanks for reading!
Leah Marie
SAVE FOR LATER!