*Disclaimer: This post contains affiliate links. If you choose to make a purchase using one of my affiliate links, I will make a commission at no additional cost to you. Thank you for your support!
Pinterest is a very powerful platform that gives anyone the opportunity to share their content with the world.
However, seeing results on Pinterest is beyond just "luck." This post is going to share a variety of tips that have helped me to see incredible results on Pinterest (and some may even call them "viral" results)!
These are the tips that helped me to get:
Over 1 MILLION IMPRESSIONS on a single pin
Over 10,000 SAVES on a single pin
5 MILLION + MONTHLY IMPRESSIONS on my account
And more!
Although Pinterest is constantly changing and the algorithm is different than it was in the past, it is still possible to see your pins go viral!
Let's dive in.
Please note: Pinterest is always changing, and while I try my best to update my posts, not all information may be up to date. If you're looking too see the most updated tips, strategies, and information, check out this resource page.
*I want to make a quick disclaimer that these are tips that helped ME so see results like this. Of course, I can't guarantee "viral" results to anyone. 🙂 However, I think your Pinterest results will improve if you implement some of these tips!
What is Pinterest?
Pinterest is a platform that describes itself as a "visual discovery engine" (Source).
On the platform, users create and publish pins, which are images and videos, and the Pinterest algorithm then distributes these pins to users' home feeds or ranks them in search results where they are most relevant.
Users can save pins that they find interesting to Pinterest boards, which are a collection of pins put together by pinners.
Overall, Pinterest's mission is to help others create a life they love by giving them inspiration to take action!
Related: Is Pinterest A Social Media? The Answer Might Surprise You
What can you use Pinterest for?
Pinterest is a great platform for personal use. However, Pinterest is also a really great platform for content marketing.
So many pinners see great results using Pinterest marketing to grow their blog or business!
For instance, you can use Pinterest to:
Grow blog traffic – Pinterest has been a great source of traffic for many bloggers. Although the platform has changed over time, you can still see great results using Pinterest for blogging! Pinterest expert Carly Campbell (who usually gets around 100,000 blog pageviews per month from Pinterest) recently did case study with a brand new niche site. In about a year, Carly was able to grow this blog to over 30,000 pageviews in one month from Pinterest! You can learn exactly how she did this in her amazing in-depth niche site deep dive. Pinterest can bring in enough traffic to join a premium ad network such as Mediavine or even AdThrive!
Grow your email list – Did you know that Pinterest is a great way to grow your email list? For a long time, pinners have saved pins linking to their email opt-in landing page and have been able to grow their email list from this! There are many other ways to grow your email list using Pinterest if you get strategic!
Promote products – Since Pinterest has been recently focusing on e-commerce, Pinterest is a great place to promote your own products (or other products, even with affiliate links). Pinners can now upload their product catalogs to Pinterest, become part of the Verified Merchant program, and have their shop right on Pinterest! Plus, on Idea Pins, users can even tag products or even tag affiliate links.
Grow brand awareness – Pinterest can be a great platform to increase brand awareness. On Pinterest, you don't need to be a "big name" brand to see results. It's totally possible to get your content in front of a completely new audience!
Become an influencer – Did you know what you can become an influencer on Pinterest? Yes – you can work with brands, promote products, and make money on Pinterest! I have a complete guide to help you get started as a Pinterest influencer!
Promote other social medias – Another great way to use Pinterest is to grow social media platforms such as Instagram, TikTok, or YouTube. Cross-promoting your social media content can help you to increase your following and audience on multiple platforms!
Related: 5+ Easy Ways To Grow Your Instagram Using Pinterest
Why should you use Pinterest?
Pinterest is very different from a lot of other platforms, and these differences can be really helpful to you!
Here's why:
Pinterest is a search and discovery engine – Pinterest recommends content to users that they know they are interested in by analyzing their recent searches and pins that they engage with! This means that Pinterest can be better for conversions.
A positive platform – Social media can be tough. However, Pinterest is dedicated to making its platform a positive corner of the internet, such as through the Creator Code.
Content lasts forever – Pinterest content doesn't disappear after 24 hours. It doesn't get buried down in the feed either. Pinterest content lasts forever! This means that pins can take off months or years down the road!
You don't need a high DA to see results – If you're familiar with Google SEO, you may know that domain authority can be a ranking factor. (Sites with a higher domain authority are often more likely to rank higher than sites with a lower domain authority.) However, on Pinterest, this doesn't matter! You can have 100 followers and rank for a keyword, or you can have 100,000 followers and rank for a keyword! Of course, having an older account is better, but not necessary.
How does the Pinterest algorithm work?
In a nutshell, the Pinterest algorithm aims to show users the most high quality and relevant content in order to keep them on the platform.
To tell which content is the high quality, Pinterest looks at the engagements a pin has. If a pin has a high engagement rate, Pinterest assumes that pinners enjoy the content, and therefore they will push it out to more pinners.
To understand what Pinterest content is about, Pinterest looks at a series of factors. One of the most important things that helps Pinterest to understand what a pin is about are the keywords. This can be keywords in the pin title, pin description, the board it is saved to, and even the words on the pin image! There are many places that you can squeeze in relevant keywords.
While it's not the only way Pinterest understands what content is about, it is definitely a key factor.
Once Pinterest is able to determine what a pin is about, Pinterest is able to rank it accordingly and distribute it to an audience that may be interested in it.
Later on in this post, I'll talk about how to use what we know about the Pinterest algorithm to (hopefully!) increase the visibility of your pins and get them seen!
What does it mean to go "viral" on Pinterest?
Truthfully, going "viral" is whatever you define it as!
To me, that could be a pin with 1,000 outbound clicks. To you, it could be 100 saves.
There is no way to measure "virality." Most commonly, "going viral" usually means seeing results that are above the norm (or just really good results in general)!
Benefits of going "viral" on Pinterest
One of the best things about going "viral" on Pinterest is that it can build up momentum for your Pinterest account.
For example, take a look below at my pin stats after I had a crazy viral pin. (It had more than 1 million impressions in a single day! It was a New Years quote, and I think it got insane traction right around New Years.)
PS – This is an account that minimal effort has been put into for the past few months, and you can see that even though stats are slightly decreasing, it is still seeing over 100,000 impressions per day!)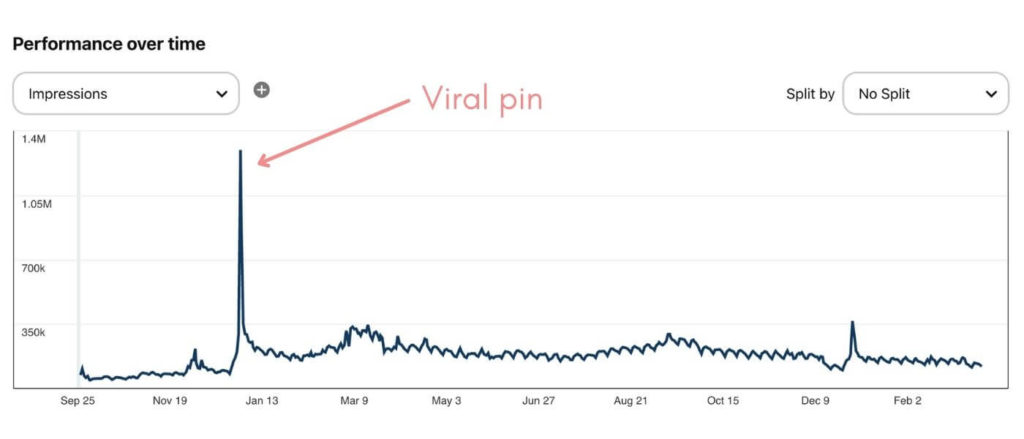 As you can see in the image, after that pin went viral, my Pinterest stats never went down to what they were before. Instead, they remained higher! I absolutely believe that this helped my account to gain the momentum to keep growing.
(PS – The huge spike in the image above is because of my seasonal content, which can be a goldmine for success. Making sure you create and publish seasonal content far enough in advance is so important to see results during of seasonal booms, and that's exactly why I designed the Seasonal Pinterest Content Calendar and Planner. This calendar and planner is designed to help you plan and know exactly when to post content so it takes off later on!)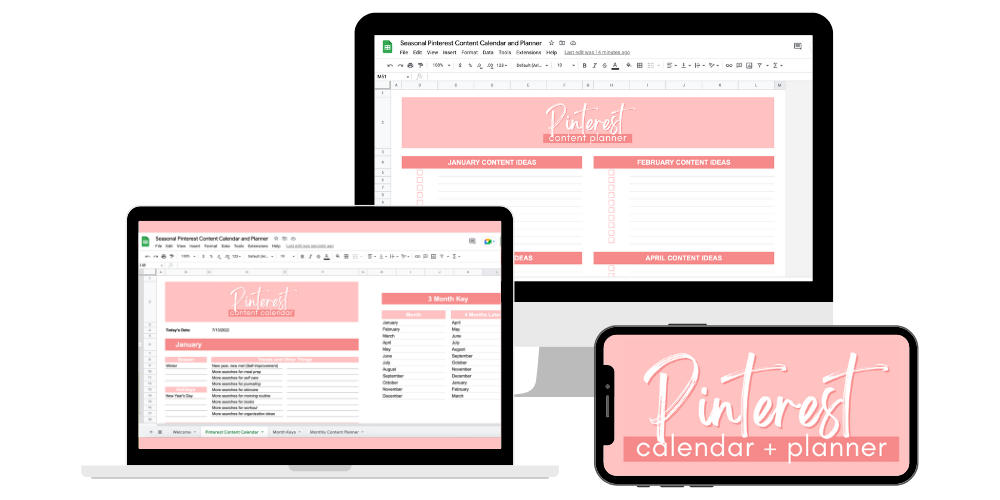 CLICK HERE TO GET THE SEASONAL PINTEREST CONTENT CALENDAR AND PLANNER!
Tips on how to go viral on Pinterest
Without further ado, here are some of the top tips I have that have helped me to get my pins seen on Pinterest and to get great results!
1. Have a Pinterest business account
Now, you may be wondering how this helps you to get viral Pinterest pins, but it can!
When you have a business account on Pinterest, you get access to exclusive features that are not available on search results. For instance, one of these features is Pinterest Analytics, which gives you in-depth statistics on your account and your best performing pins and boards.
There are more exclusive features, but I think Pinterest analytics is one of the most important. As you'll learn later on, using your Pinterest Analytics can help you to find your best content and to create a strategy around it!
While it isn't 100% necessary, there are many more reasons why I highly suggest having a Pinterest business account, which I talk about in this post.
If you want to start a Pinterest business account, you can do so for free here!
2. Claim your website if you have one
If you have a website, especially one that you frequently link your content to, be sure to claim it on Pinterest!
Many Pinterest marketers believe that Pinterest gives better distribution to pins linked to a claimed website versus one without it.
When you claim your website, Pinterest knows that it is your website, which makes it more legit!
Claiming your website is not too hard and doesn't require many techy skills. If you have a website you're ready to claim, I think this step-by-step tutorial will help you!
When your website is claimed, it will appear on Pinterest like this:

3. Do keyword and trend research
Personally, I think that doing keyword and trend research is so important to see results.
As previously mentioned, the Pinterest algorithm is highly focused on providing relevance. In order to provide relevant pins, Pinterest needs to first understand what content is about. Keywords are essential for this.
There are so many different ways to find keywords on Pinterest, and I have a complete Pinterest keyword research guide that will walk you through over 7 different ways to easily find Pinterest keywords.
I also have a post on 3 different tools you can use to find keywords for Pinterest!
However, here are some of my personal favorites:
1. The Pinterest search bar
If you go to the Pinterest search bar and start typing in a keyword, the Pinterest search recommendations will auto-populate related keywords and more specific long-tail keywords.
(These are usually called long-tail keywords, and although they are more specific, ranking for them can be much easier! Read my in-depth guide on long-tail keywords to find out how I use them to see really great results!)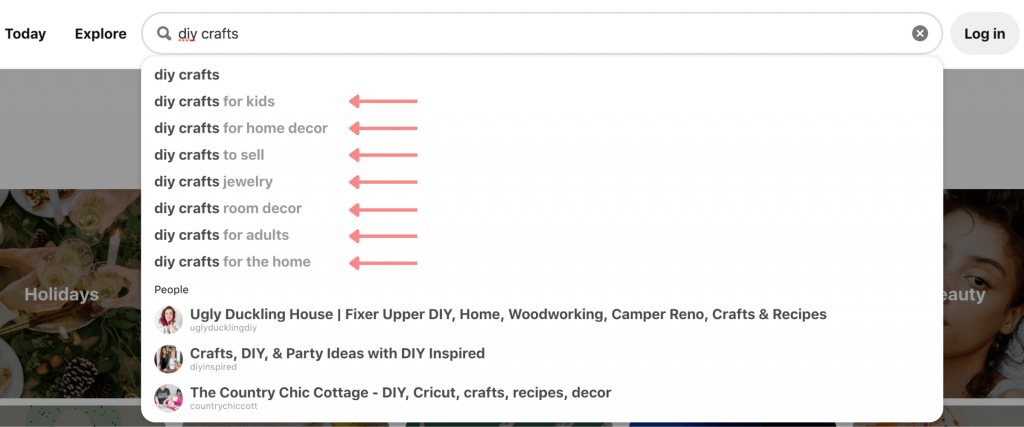 These recommendations are based on frequent searches by other pinners! This makes them great Pinterest keywords to target because you know users are actually searching for them.
2. Pinterest keyword bubbles
If you've been on Pinterest for a while, you may know we have quite a history with Pinterest keyword bubbles. We had them, and then they disappeared for a while (and users begged for them back!), and they finally just reappeared (let's hope for good)!
If you are able to see these keyword bubbles, definitely take advantage of them!
When you type in a keyword and search, the bubbles will appear towards the top of the screen like this: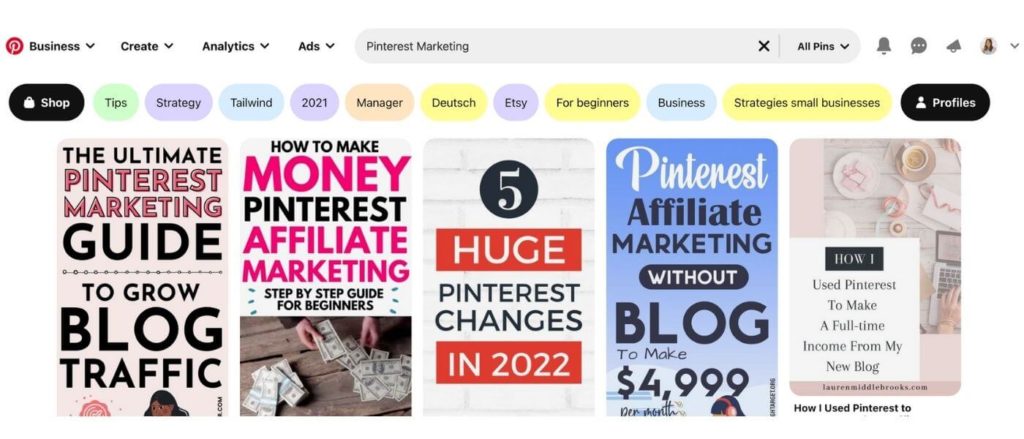 Each of these colorful bubbles is a keyword idea!
Tip: You can also click on these bubbles to get even more specific, and more bubbles will likely appear.
3. Pinterest Trends
Pinterest Trends is a Pinterest tool that helps you to see when certain topics are trending on Pinterest and how popular certain topics are in comparison to one another!
This can be a really great tool because to create viral content you have to create content that others want to see.
To use Pinterest trends, you can input one or more topics and see when that topic is most popular, and how popular other topics are (and when) compared to one another!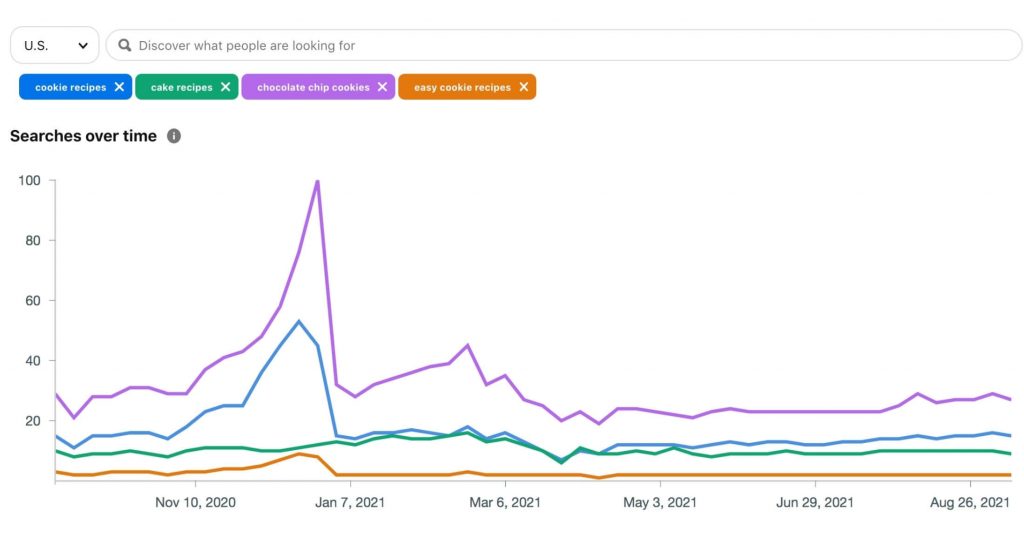 Again, for a more in-depth tutorial on each of these Pinterest keyword research methods, be sure to check out my full guide here.
4. Optimize for Pinterest SEO
So you've done your keyword research, now this is where you use your keywords to tell Pinterest what your content is about!
(And as mentioned earlier, this is important for the Pinterest algorithm.)
Pinterest SEO sounds super technical, but it's really not.
My free in-depth Pinterest SEO checklist will walk you through all the places you should optimize your Pinterest step-by-step. (You can also download the checklist below!)
5. Optimize your Pinterest boards
This sort of falls in line with the last point, but I had to mention this again because Pinterest boards SEO is so important and often overlooked!
Pinterest has admitted that they also look at the board that a pin is saved to when determining what your pin is about.
There are 3 main steps to Pinterest board SEO:
Board title
Board description
Pins saved to the board
I outline exactly how to use these 3 steps to fully optimize your Pinterest boards in my Pinterest board SEO guide.
6. Save your pin to the most relevant board
This is so important!
When you save a new pin, make sure you save it to the most relevant board.
Pinterest no longer wants repinning content, so that means each pin should be saved to one board and one board only. You want to make sure that this is the most relevant board.
Pinterest establishes a relationship between the pins on each board. You want to make sure that all of the pins are related and relevant (a part of Pinterest board SEO) so Pinterest can better rank and distribute your content.
7. Experiment different pin types
There are a variety of different pin types that you can use on Pinterest. Each one has different capabilities and advantages and disadvantages, but experimenting with them can help you discover which ones are best for your business and your goals!
The most common pin types used among the average pinner are:
Standard Pins – Standard Pins are static images that can link to an external URL. This is the basic/original pin type.
Video Pins – Video Pins are images that can link to an external URL, but pinners have to take multiple steps to get to that URL, making those conversions often minimal. However, video pins generally see pretty good engagement and seem to be favored in the Pinterest algorithm.
Idea Pins – Idea Pins are a multi-page pin format that can contain both images and videos. Idea Pins can NOT link to external URLs. However, you do have the ability to tag Pinterest users and products (including affiliate links).
I will say, I often do not suggest that bloggers use Idea Pins (read why here). However, I am looking to experiment with this more in order to get and provide more insight.
Ultimately, you should aim to use the pin type that you see the best results with and that helps you to reach your Pinterest marketing goals.
Related: How To Get Viral Idea Pins On Pinterest (20+ Tips)
8. Focus on pin design
Did you know that your pin design can make a huge difference in the number of engagements you get on your pin (and therefore how pushed it is on Pinterest)?
Canva is my absolute favorite platform for designing pins! I make essentially all of my graphics with Canva, and I personally am using the free version.
(However, the paid version offers many more features including stock photos, brand kits, and organization help, so this may be worth it if you are looking for those types of things!)
Here are some pin design tips you should consider:
Use light backgrounds and bright, contrasting fonts
Use optimal pin sizes (Vertical sizes definitely work best! Pinterest recommends at least 1000×1500 pixels.)
Analyze search results to see what type of content/designs are performing well
Experiment with different pin designs
Make your fonts bold so they can stand out (Pinterest can also "read" the words on your pin image!)
Be careful with script fonts (They can sometimes be difficult to read!)
Don't overcrowd your pin with text (Pinners might gloss over it)
Make your text large
Try stock photos if they're in your budget (Many Pinterest marketers believe that using paid stock photos can help to increase your reach on Pinterest)
Try pin templates if you need help designing pins (I like this pin template membership, but you can also find sets by others or on Etsy!)
It's important to remember that a majority of Pinterest users use the mobile Pinterest app, so the screens are tiny! You need to make sure your pins stand out even on a small screen.
Recommended: 20+ Best Stand-Out Canva Fonts For Pinterest Pins
9. Focus on pin titles
Okay…real talk. I had no idea how important pin titles were until I read this ebook by Pinterest expert Carly Campbell.
(I'm talking about the pin titles on the pin image, not the pin title that you fill out before you publish a pin!)
Your Pinterest titles can make a HUGE difference in how users engage (or don't engage with your pins).
Think about it…a pinner will likely click on your pin only if it grabs their attention and will provide value.
So that's what you need to do with your pin titles:
Grab users attention
Show value
Make them convert
For example, don't say: 10 Easy Breakfast Recipes
Instead, say: 10 5-Minute Breakfast Recipes Your Kids Will Actually Eat
Which one would you click on?
If you need help with this, I highly recommend reading Carly's ebook. Carly has so many amazing tips that I never would have thought of, and I can't recommend her affordable ebook enough!
(This has helped Carly to repeatedly get over 100,000 pageviews per month to her blog per month using Pinterest!)
If you want to learn how to create SCROLL-STOPPING pin titles that actually CONVERT, this ebook is a must-have!
10. Use call to actions to encourage engagement
Using call to actions is a great marketing tactic for Pinterest because they encourage users to take action on your content.
As mentioned before, this helps to increase your engagement rate, which can help Pinterest to push your pins in the algorithm.
There are a wide variety of call to actions you can use to accomplish so many different things
Check out my list of 20+ Pinterest call to action ideas for some inspiration!
11. Utilize Pinterest Analytics
I love Pinterest Analytics, and I think it is so great because it shows you your best performing content.
So basically, it tells you what content of yours your audience likes to see most.
One of my top Pinterest tips is to create more of what your audience loves.
When you do this, you can supercharge your results! Of course, still make room for experimenting and trying new things.
Look for:
Pin types that perform well
Pin designs that perform well
Your top performing posts (create more content for them)
Your top performing boards (pin more to them)
There are so many different ways you can analyze your Pinterest Analytics and use them to improve your Pinterest strategy!
12. Create new content frequently and consistently
In my opinion, the more quality content, the better!
Since Pinterest content lasts forever on the platform, the more content you make, the more chances you have of your content being seen in the future.
Personally, I aim to publish 2-5 new pins per day.
Important: Pinterest no longer favors repins! Instead, Pinterest wants you creating entirely new pins each day.
Staying consistent with this can sometimes be tough.
Here are some top tips I have for staying consistent:
Batch content – Sometimes it's best to just sit down and design a ton of pins at once. That way, down the road, you can just choose a pin to post that you previously designed instead of having to design new pins.
Use pin templates – Pin templates can make the pin design process a lot quicker and easier. Instead of having to come up with entirely new designs, you can simply alter pre-made designs and add your content. Many people love this pin membership, but you can also find templates on Etsy or from others.
Consider a scheduler – Let's face it. We don't have all the time in the world. Pinterest schedulers can save a lot of time because you can schedule out your content in advance and not have to worry about it. Pinterest has its own native scheduler where you can schedule content up to 2 weeks in advance. However, there are other schedulers like Tailwind where you can schedule content for months in advance!
13. Post your pins at optimal times
Although this matters less now because Pinterest is more of a long-term game, posting your pins at optimal times can still help you to see great results.
This means publishing your pins when your audience is most active on Pinterest.
Why is this important?
When your audience is most active on Pinterest, that means that you have a higher chance of them engaging with your content right after it is published.
This will likely skyrocket your engagement rate and lead Pinterest to share your content even more!
If you want to learn how to find out when your audience is most active on Pinterest, read this post.
Like I said, Pinterest is definitely a long-term game now. Pinners used to see instant results when pins were published, but now it can take months and months for pins to gain traction. Many Pinterest marketers say it can take new accounts 3-8 months minimum to see significant results.
So, this isn't crucial to your strategy. Do I focus lots of time and energy on this? No.
However, if you can do it, I personally think it can only help!
14. Don't use outdated advice
Outdated advice can get you in a lot of trouble on Pinterest. More often than not, this advice can hurt your account more than help it.
Some old Pinterest advice is now seen as spammy and can get you caught in the Pinterest spam filter. (And believe me, that is NOT fun!)
When you're looking at Pinterest advice, make sure it's up to date. If you're reading a blog post that was published in 2015 and not edited since, there's a very good chance that some of the tips are no longer relevant.
One of the best places to find relevant content is Pinterest itself. If you scroll down to the "Resources from Pinterest" on my Pinterest resources page, you can find a lot of great resources directly from Pinterest.
I also like to stay up to date by joining Facebook groups and joining email lists of trusted Pinterest markers.
It's very common that you'll hear conflicting advice. And it is definitely confusing, too. For me, I always try to look for evidence or data to back up claims so I know they are legit.
Some frequent topics that I often hear outdated advice on are hashtags, repinning, and group boards. (However, there are definitely more.)
Here is what Pinterest currently recommends as of March 2022:
Hashtags – You should not use hashtags on Pinterest anymore. Not only do users not use them, but many spammers used them so Pinterest no longer recommends using them.
Repinning – Pinterest no longer wants you to repin the same pin to multiple boards or create duplicate content. Instead, Pinterest wants fresh pins and new content.
Group boards – Group boards are no longer as effective as they once were. While you can occasionally find good group boards that bring in some good results, I recommend focusing on your own Pinterest boards as I think they are often better for optimizing for Pinterest SEO.
Failing to follow updated Pinterest advice can absolutely hinder the results of your Pinterest account. Make sure you are staying up to date and are continuously doing research!
15. Create multiple pins per piece of content
Creating multiple pins per piece of content is so important for Pinterest marketing!
I still create new pins for old pieces of content.
One thing I have also noticed is that when one pin seems to be performing well for a piece of content, it seems to help other pins that are also linking to the content.
So make sure you don't overlook this step!
Just be careful not to pin the URL too many times in a short time period. There is a lot of conflicting advice on how long you should wait to pin the same URL on Pinterest. Some pinners will say you can pin the same URL after 24 hours, while some say you should wait a week or longer.
I personally try to wait a minimum of 2-3 days before pinning to the same URL. However, do what you feel is best. If you want to be as safe as possible, you may want to wait a bit longer!
Tip: I recommend writing your business name or URL or adding your logo to your pin design so people know it's your pin. This will also (hopefully) make it less likely for others to steal your pins and use them as their own. (For example, on my pins I always include leahmariemarketing.com somewhere on them!)
16. Give promoted pins a try
I will be the first to admit that I am not a promoted pins expert. Honest, half the time I have no idea what I'm doing when I try Pinterest ads!
However, if you do the research and use them correctly, Pinterest Ads can be a great way to promote your content.
I'd recommend giving them a try if you're interested!
17. Don't be afraid to invest
Investing can be scary. However, it can also be really effective.
Courses and ebooks can help you to see what has worked really well for other Pinterest users and how you can implement what works well for them into your Pinterest strategy.
They can really help you with the Pinterest learning curve. Instead of spending hours and hours and hours of research trying to figure out how to use Pinterest, one course can tell you nearly all you need to know!
My absolute favorite Pinterest course that I would recommend to anyone is Pinteresting Strategies by Carly Campbell. In this course, Carly details her exact strategy on how she was able to repeatedly get over 100,000 pageviews per month to her blog using Pinterest! Her course is incredibly in-depth, and I believe it goes over basically everything a Pinterest marketer needs to know about Pinterest and how to use it effectively.
(I don't think I will ever create a course like Carly's because I love hers so much and I don't think anything would ever beat it!)
Plus, don't know if it's still relevant? It is! Carly recently re-tested her strategies with a case study on her new niche site. Using her tried and true Pinterest strategies, she was able to grow a new niche site to over 30,000 pageviews in one month in under a year, and she details exactly how she did this in her niche site deep dive!
You can learn more about Pinteresting Strategies here or read my in-depth review of it first!
PS – Pinteresting Strategies is now a BUNDLE and includes one of my other favorite products, Pinterest Title Traffic Hacks For Bloggers! (However, I think anyone will benefit from this bundle, not just bloggers.)
18. Be patient
Ahhh…everyone's favorite tip.
However, it's true.
Viral pins often do not happen overnight.
As I mentioned earlier, Pinterest is much more of a long-term game now. It can take months or years for a pin to take off!
If you're waiting for your first viral pin, keep hope. They can come at random times and even on the pins that you least expect.
Keep creating new content and waiting for those great results to hopefully come in!
Many Pinterest marketers say it takes at least 3 months to start seeing results on pins. However, it can often take more. That's why it's important to plan your seasonal and holiday content months in advance – Pinterest needs time to understand and distribute it. My Seasonal Pinterest Content Calendar and Planner will help you plan when to post your content in advance so it will hopefully BOOM during trends and seasons!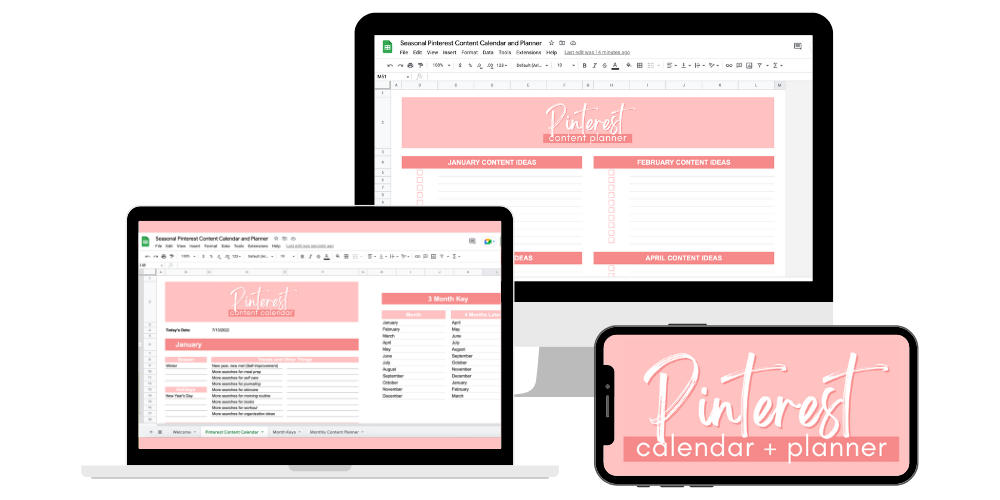 What to do if you go viral on Pinterest
If you have gotten the "viral" results you've been waiting for, congrats!
Now, you may be wondering, Now what?
One of my top Pinterest tips is to capitalize on your success.
Create more content and link it to that URL. Create similar pin images as you now know that users are engaging with it. Create similar content.
Viral content helps to show you what pinners like and what they want to see. You can now use this information to improve your Pinterest strategy!
Conclusion
I really hope that this post has given you some tips on how you can improve your Pinterest strategy to hopefully go "viral" on Pinterest!
If you have any questions or advice, be sure to add a comment below!
If you want more valuable Pinterest information so you can skyrocket your success, read more on my blog or join my email list (I provide some of my MOST VALUABLE INFORMATION to my email list!)
I hope to see you around again soon. Thanks for reading!
Leah Marie
SAVE FOR LATER!