*Disclaimer: This post contains affiliate links. If you choose to make a purchase using one of my affiliate links, I will make a commission at no additional cost to you. Thank you for your support!
Pinterest marketing can be a great way to skyrocket your business, blog, or online presence!
However, there are certain niches that perform much better than others.
Some Pinterest niches have "viral potential," and some you may hear crickets with.
Pinterest marketing takes time, and you definitely don't want to waste your time on Pinterest just to realize that it's not the best marketing platform for you!
So, what niches perform the best on Pinterest? What are Pinterest's most successful and popular niches? Will a niche be successful for you? And how do you know if a niche has potential?
This post is a deep dive into some of the best niches for Pinterest!
Please note: Pinterest is always changing, and while I try my best to update my posts, not all information may be up to date. If you're looking too see the most updated tips, strategies, and information, check out this resource page.
What is a Pinterest niche?
Before dive in, what even is a Pinterest niche?
A Pinterest niche is the topic that your Pinterest account revolves around. It is a specialized area that you teach or provide content and value about.
Niches can be more broad (such as a "beauty" niche) or more specific (such as a "skincare" niche).
There can also be multi-niche accounts or lifestyle niches, which combine a variety of different topics.
Do you need a Pinterest niche?
There are many benefits to sticking to one niche on Pinterest, but that doesn't mean you need one.
I always suggest having a niche because it can help with your engagement, and growing a loyal audience, and becoming an expert or authority in your topic — all of which can help you to see better results on Pinterest.
BUT, I have seen positive results with lifestyle and multi-niche Pinterest accounts as well.
And, as you'll see later on in this post, there are plenty of Pinterest users who have seen huge success with lifestyle niches or multiple niches.
While sticking to a niche can really benefit your Pinterest account, the real key to Pinterest success is solid Pinterest keyword research and Pinterest SEO.
How to tell if a Pinterest niche will be successful
In this post will share some of the top niches for Pinterest. However, if your niche isn't on that list, does that mean you can't be successful on Pinterest? Nope!
There are a variety of factors that contribute to a "good" niche on Pinterest.
A niche is generally successful on Pinterest if that niche has an audience on Pinterest and a user intent that aligns with your goals.
In other words, success on Pinterest is based on the Pinterest users.
Even if you have amazing outstanding content but Pinterest users aren't interested in or or searching or fit, you likely won't see results.
So, if you want to see success on Pinterest, ask yourself this key question: Is my ideal audience on Pinterest?
Let's take a closer look at the Pinterest audience:
Understanding Pinterest demographics
Analyzing the Pinterest audience and demographics can help you to see if your ideal audience is on Pinterest.
Luckily, Pinterest shows us exactly what type of users are on the platform (and even what their interests are!) You can find this information in Pinterest Audience Insights.
To view Audience Insights, click on the "Analytics" dropdown on your Pinterest profile. Then, select "Audience Insights."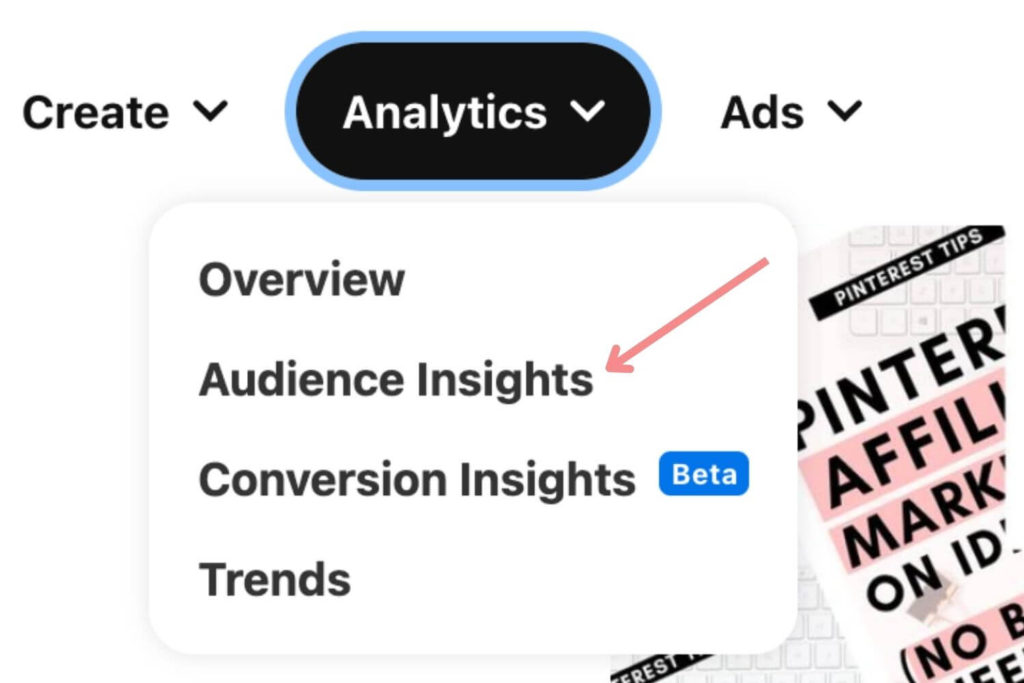 Once you're in the Audience Insights, you can see a wide variety of information about the users on Pinterest.
Looking at the "Categories and interests" may be helpful, but keep in mind that there are MANY popular niches and topics not listed there.
What I find particularly helpful is the "Age" and "Gender" demographics. Here's what they look like:

What can you tell from these graphs?
Many Pinterest users are female (about 70%).
A majority of Pinterest users are between 18-44 years old. There are also many younger users.
Also, take a look at this data that Pinterest has collected about its users (Source).
Women make up more than 60% of our global audience.
Male Pinners and Gen Z Pinners are up 40% year over year.
US Millennial Pinners are up 35% year over year.
45% of people in the US with a household income over $100K are on Pinterest.
Using the information about Pinterest's overall audience, you may be able to get a better feel to if your ideal audience is on Pinterest.
Tip: The best way to tell if your audience is on Pinterest or if users will like your content is to simply do some searches! Using Pinterest keyword research methods can help with this.
User search intent
It's also important to analyze the search intent of users in your niche, because this can definitely be a ranking factor (as I talk about in my free ebook Pinterest Keyword Goldmine). This may impact your Pinterest marketing strategy and whether or not you can find success in a specific niche.
Since Pinterest aims to provide users the most relevant pins to their search queries, you can understand the search intent simply by doing a simple search.
For instance, let's use the "vehicles" niche. Look at the search results for the search "range rovers":
All of these results show just an image of the car with no words on it.
So if you were a blogger and wrote a blog post such as The Top Trucks Of 2022, there is very little chance a blog post pin would rank for this search query because your intent (getting blog readers) it doesn't align with the user search intent (finding images of range rovers).
After analyzing the results, it's clear that many users that search vehicles are looking for PICTURES of vehicles or SHOPPING for them — not looking for articles.
So if you're a blogger, your ideal audience may not be on Pinterest for this niche.
Understanding the search intent for various keywords in your niche is very important to seeing pins rank.
The best Pinterest niches
Here are some of the best and most popular Pinterest niche and topic ideas:
Holidays
Animals
Architecture
Art
Design
DIY And Crafts
Education
Event Planning
Finance
Beauty (Skincare, makeup, etc.)
Food And Drink (Recipes)
Lawn And Garden
Home Decor
Men's Fashion
Quotes
Travel
Weddings
Women's Fashion
Parenting
Blogging
Children's Fashion
Health and Fitness
Self-care
Books
Photography
Social Media
Marketing
Holidays (Christmas, Halloween, Thanksgiving, etc.)
Relationships
Personal Development
Gift Ideas
Sewing
Flowers
Yoga
Poetry
Music
Please note: There are more great niches not mentioned on this list, and whether or not a niche will work for you depends on your Pinterest marketing goals and if that aligns with the user intent (as mentioned above)!
What are the most profitable Pinterest niches?
Luckily, many Pinterest niches can be profitable with a good marketing and monetization strategy!
There are many different ways to make money through, such as:
Display ads on a website or YouTube channel
Affiliate marketing
Selling products
Giving services
Brand collaborations or sponsorships
(This post by Kinsta lists a variety of GREAT ways to monetize your blog or niche.)
You can use Pinterest marketing to support your monetization strategy and make some money!
Whether it's driving traffic to shops, blogs, product sales pages, services, YouTube videos, or more, there are so many ways that you can use Pinterest to monetize your business!
For example:
A lifestyle blogger or YouTuber could make money from display ads on a blog or YouTube advertisements by linking their pins to their blog or YouTube.
A beauty blogger could make affiliate sales and earn a commission by promoting their favorite products on their blog (and getting blog traffic from Pinterest).
A jewelry company could promote their jewelry and make sales from Pinterest.
A social media manager could get new clients by promoting their services and growing brand awareness on Pinterest.
A fashion Pinterest Creator could do a paid Pinterest brand partnership with a fashion brand.
And now, you can even make money on Pinterest such as with Pinterest Creator Rewards and affiliate links on Idea Pins.
This being said, some niches can definitely be more profitable simply because some have larger audiences and more shopping user intent.
However, if you monetize based on your audience's needs and their user intent, many Pinterest niches can be profitable. Forming a good Pinterest strategy with strong keyword research can help you with this.
Niches that Pinterest loves
As a Pinterest marketer, I spend a lot of time on Pinterest, and due to this, I can absolutely say that there are some niches that Pinterest loves to share content from (especially in the Today's Inspiration tab)!
Some recurring niches that I see featured include:
Food and drink
Fashion
Travel
Home decor/interior design
Craft and DIY
Beauty
Personal development
While this absolutely does not mean you need to be in one of these niches, it may be something to keep in mind!
Pinterest also directly tells us what some of the most popular topics and niches are, such as on the Pinterest Idea Page. (You can view this page by searching www.pinterest.com/ideas/ in an incognito window.)
It looks like this: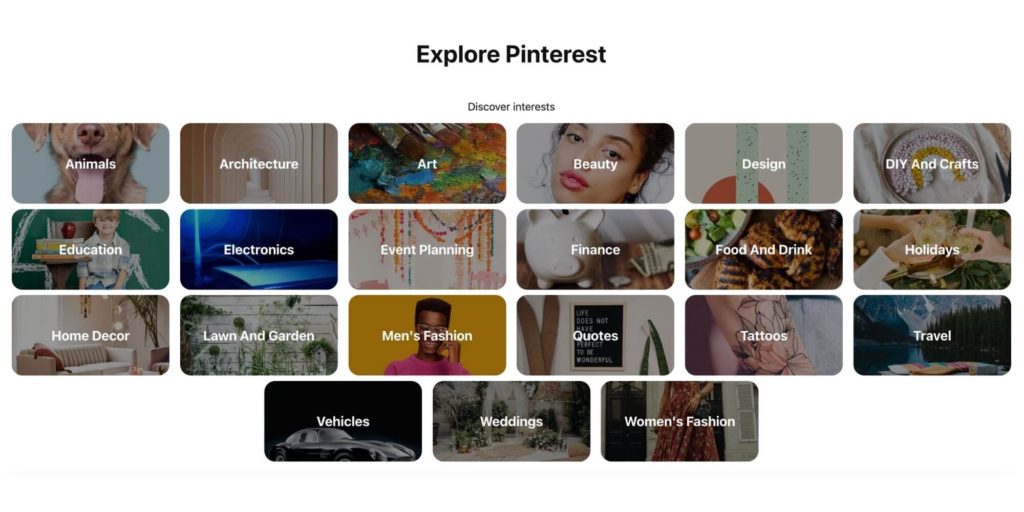 The categories on Pinterest's explore page include the following:
Holidays
Animals
Architecture
Art
Beauty
Design
DIY And Crafts
Education
Electronics
Event Planning
Finance
Food And Drink
Lawn And Garden
Home Decor
Men's Fashion
Quotes
Tattoos
Travel
Vehicles
Weddings
Women's Fashion
Keep in mind, some of these topics may change depending on the season. For example, when the holiday season approaches, Thanksgiving, Halloween, Christmas, New Years, and other holiday categories may replace some others.)
Also, when you sign up for a new Pinterest account, Pinterest gives you an even longer list of topics and niches on Pinterest that users are very interested in. Here's what they give: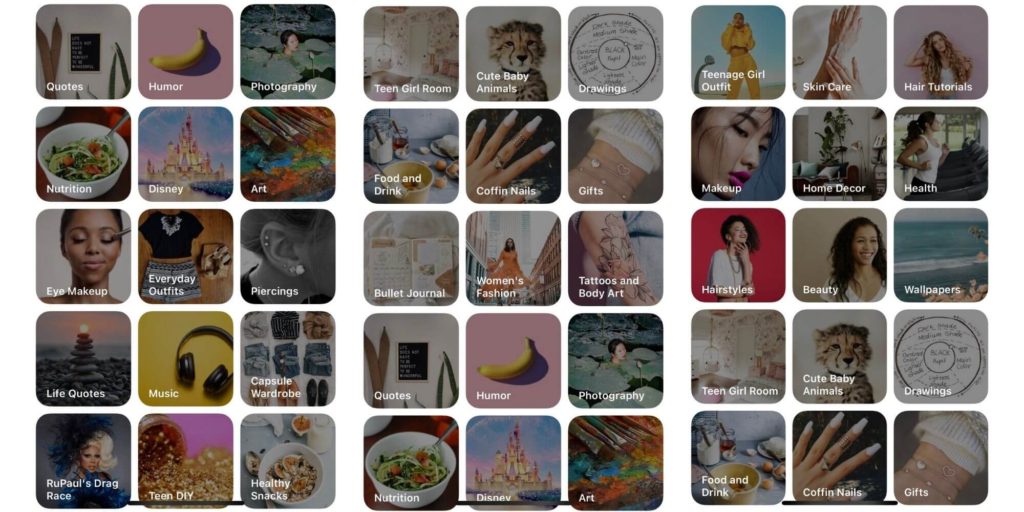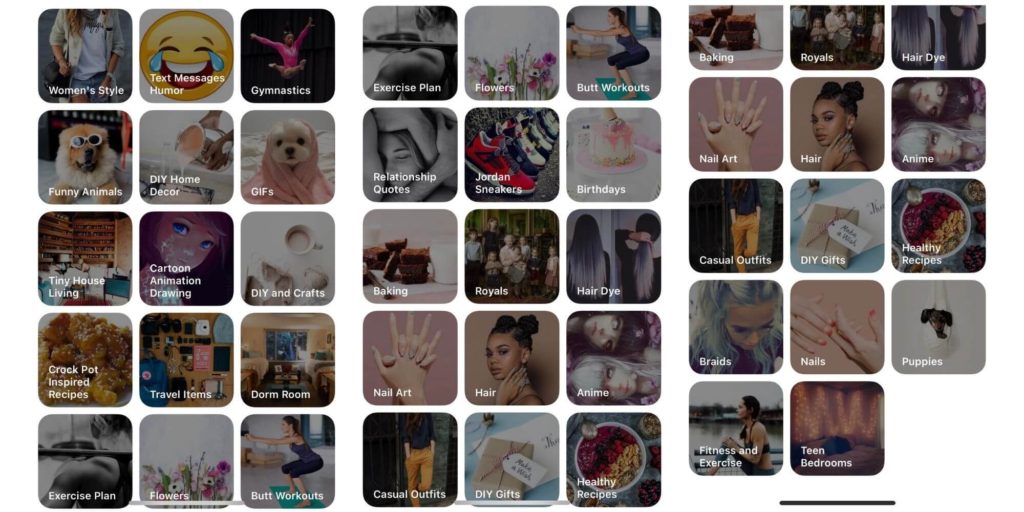 On top of this, if you take a look at Pinterest's Today Tab, MANY of the featured pins, creators, and articles, are in one of the categories listed above.
This tells us not only that these niches certainly are popular and searched for, but they may receive a little more exposure and push in the Pinterest algorithm.
So, what does this mean for you?
By no means does this mean you need a niche in one of these categories.
You can be extremely successful in niches that aren't on Pinterest's explore page, such as the "parenting" niche.
While they do have generally large audience, you don't have to limit yourself to those niches.
What if a niche just isn't for Pinterest?
What if a niche isn't good for Pinterest marketing? This is a legitimate question because some niches simply don't perform well on Pinterest.
So, what should you do if a niche isn't meant for Pinterest?
Shifting your primary focus to other areas, such as Instagram, TikTok or SEO, may be way more beneficial for you than spending time but getting little ROI (return on investment) from Pinterest.
I highly recommend working on Google SEO if you have a website. Not only is Google SEO very reliable, but it works for so many niches. If your niche isn't great for Pinterest, there is a good chance it'd be good for Google SEO.
One of the largest misconceptions about SEO is that it's really hard. That's what I thought at first too. However, this course changed my mind and made SEO so simple.
Stupid Simple SEO is one of the most popular SEO courses out there…and for a good reason. After taking this course, I was able to implement what I learned and see results within a few months.
As a complete beginner to SEO, I can say that I am confident in my SEO strategy as it is bringing me consistent results — all of which I learned from the course. Mike will teach you exactly how to set your site up for success on Google!
If you want to learn more about Stupid Simple SEO, click here!
Should you "niche down" on Pinterest?
"Niching down" is taking a broad niche (such as "recipes") and making it more narrow and specific (such as "keto diet recipes" or "vegan recipes").
The decision of whether to niche down or not is completely up to you.
While there are benefits to having a broad niche, going a little more specific also has its own benefits.
Some pros of a broad niche include:
A wide variety of potential content
A larger audience
Some pros of a narrow niche include:
A more specific and targeted audience
Easier to become a well-known authority
Pinterest may better understand your content (may help with Pinterest SEO)
Does a niche need to be popular to be successful on Pinterest?
You don't need to limit yourself to popular niches.
If you think a niche has potential (meaning that users would be interested and engaged with it and that it is searched for), I'd say go for it!
If you're one of a few creators making content in a specific and less-popular niche that users enjoy, you are far more likely to become an authority in that niche and get insane reach, growth, and therefore success!
For example, I made a Roblox niche Pinterest account to promote something for my sister's Roblox account.
And although that niche may not be huge on the app, I grew a small but very engaged following and had high engagements, saves, link clicks, and impressions on the few pins I published. (I definitely see it as a success, and it shows that if you are one of a few creators in a niche with an audience, you can see it pay off!)
Of course, taking this route may be riskier. And of course, it may not work as you hope, but it's always worth a try. (However, I suggest focusing on other marketing forms as well to diversify!)
It's all about knowing if your ideal audience is on Pinterest.
How do you find your niche on Pinterest?
Some people will tell you to just pick a profitable and popular Pinterest niche so you can bring in the big bucks on Pinterest. However, I'm here to tell you (as someone who failed at blogging two times because I followed that advice) that the best way to find your niche is to figure out what you're passionate about.
Original content is the backbone of success on Pinterest (especially at a time where Pinterest promotes fresh pins and creators). Whether you're a blogger, a brand, a shop, or an influencer, you will never build a following, get traffic, or increase sales or clients if you don't have something unique to offer.
Creating consistent content and Pinterest pins is essential to Pinterest success, and nothing is more painful than having to create content and pins about something you have absolutely no interest or expertise in (at least in my opinion 🙂 ).
What is something you'd never get tired of learning about or creating content about? (AKA, what is something you truly love?)
As previously mentioned, you can find success in most niches as long as there's an audience for it on Pinterest and you create a good monetization strategy based on user intent.
Can you have multiple niches?
Some Pinterest users have more than one niche, such as "travel" and "beauty" or "fitness" and "diet."
Some users are also in the lifestyle niche, which isn't about specific topics, rather a wide variety of them such as skincare, meals, workouts, makeup products, favorite products, and more.
So, can you have multiple niches? And do you need to have a niche?
Of course you can. However, I believe that Pinterest accounts perform better when they are based on one topic because it may help Pinterest to understand exactly what the account and content is about.
When Pinterest fully understands the niche of an account and pins, Pinterest will better distribute that content to their engaged or ideal audience.
It's also important to note that when a user engages with your content, Pinterest will show them more of your content. If your content is all in one niche, they may be more likely to engage with your other content as well.
This is all a part of Pinterest SEO.
There are many benefits to sticking to a niche. This post goes very in-depth on why having a niche can be beneficial and help you in the Pinterest algorithm.
However, despite this, there are still many successful multi-niche and lifestyle Pinterest users.
Here's a list of a few successful multi-niche and lifestyle Pinterest accounts:
Ultimately, the choice is yours. While sticking to one niche may have some added benefits for SEO, success is still very possible with multiple or no niches. I have experienced success in both areas.
If you choose to have multiple niches or no niches, focusing on Pinterest SEO (Pinterest board SEO, pin SEO, profile SEO, etc.) is crucial to success.
How to market your niche for success
Every brand, business, blog, and influencer will have a different marketing strategy — and that's good. You need a marketing strategy that is tailored to your audience and what they want.
Here are some questions to answer when you are forming a marketing strategy:
Who is my ideal audience?
Where is my audience from?
When is my audience active?
How can I monetize from my audience?
Is my niche seasonal?
What are keywords in my niche?
What type of content performs well in my niche?
What type of pin (standard, video, idea, etc.) performs well in my niche?
Use this to help you form your Pinterest content and marketing strategy!
Can you change your Pinterest niche?
If you're thinking about changing your Pinterest niche, I personally think it would be better to just start a new Pinterest business account.
I think it would be much easier to optimize for a different niche on a new account versus an old and established account.
Of course, you could still try it on an existing account and see how it goes!
Conclusion
Choosing a Pinterest niche is the backbone of your Pinterest account and will impact your entire marketing strategy.
I hope that this post has shown you some of the most popular Pinterest niches and how you can tell if a niche will work well for you and your goals!
If you have any questions or other niche ideas, please write them in the comments below!
If you want more valuable Pinterest information so you can skyrocket your success, read more on my blog or join my email list (I provide some of my MOST VALUABLE INFORMATION to my email list!)
I hope to see you around again soon. Thanks for reading!
Leah Marie
SAVE FOR LATER!