Do you have an Etsy shop and want to make more sales? Pinterest can be a great platform to promote and drive traffic to your products!
There are so many ways that you can use Pinterest to share your Etsy shop. One tip that you may have heard is to claim your Etsy shop on Pinterest.
What does it mean to claim your shop on Etsy? Can you even do this anymore? How do you go about promoting your Etsy shop on Pinterest?
This post will share the top things you need to know about claiming your Etsy on Pinterest.
Let's dive in.
Please note: Pinterest is always changing, and while I try my best to update my posts, not all information may be up to date. If you're looking too see the most updated tips, strategies, and information, check out this resource page.
Can you claim your Etsy store on Pinterest?
In the past, you were able to claim your Etsy shop on Pinterest. However, you can no longer do this. The option to claim your Etsy shop, along with your Instagram account and YouTube channel, no longer exists.
These options used to be available in Pinterest account settings under Claim.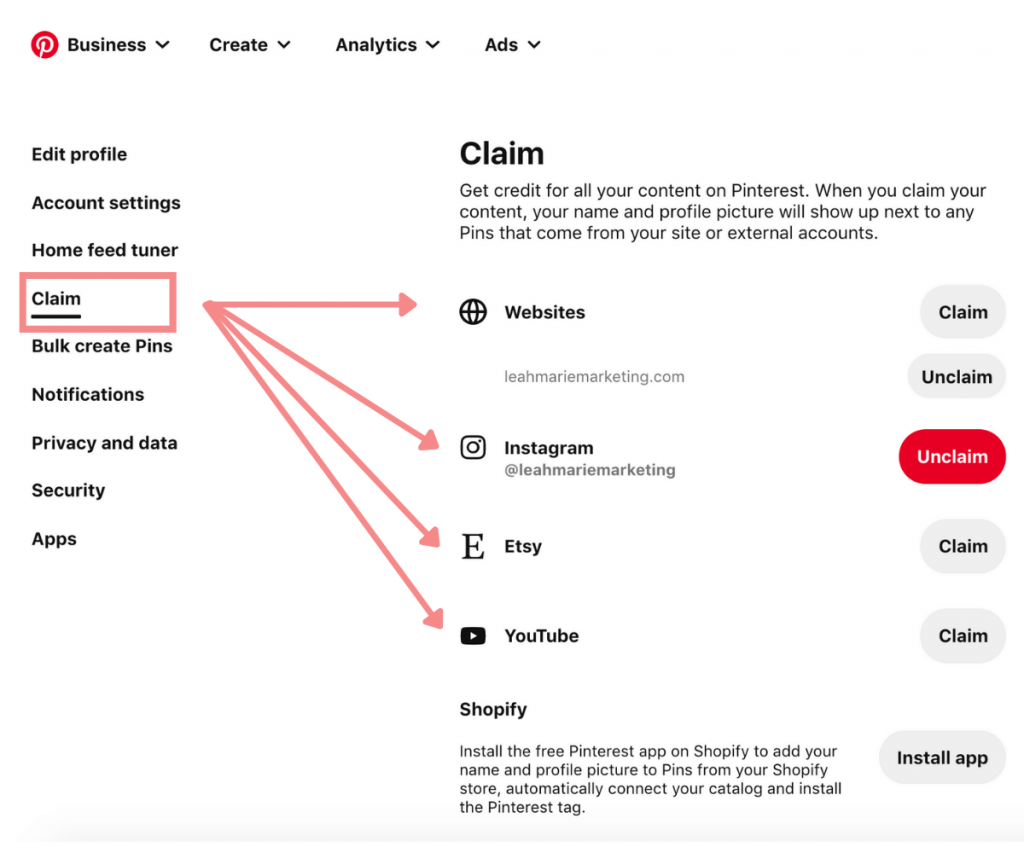 But, as Pinterest has shifted its focus to e-commerce and building an audience directly on Pinterest (versus using Pinterest just to grow on other platforms), Pinterest took these options away.
Now, Pinterest only gives you the option to claim your website and Shopify. If you're a merchant and have a shop, there are other e-commerce platforms you can connect to Pinterest as well (learn more here).
Can you still promote your Etsy shop on Pinterest?
Without the ability to claim your Etsy shop on Pinterest, you may be wondering if you can still promote your Etsy on Pinterest at all. Thankfully, you still can!
You can still create pins for your Etsy listings and link them directly to your Etsy products so users will go to your listing when they click through your pin's URLs.
And, you can tag your Etsy products on Idea Pins (using the steps outlined in this post) to make it easy for users to click on and learn more about them!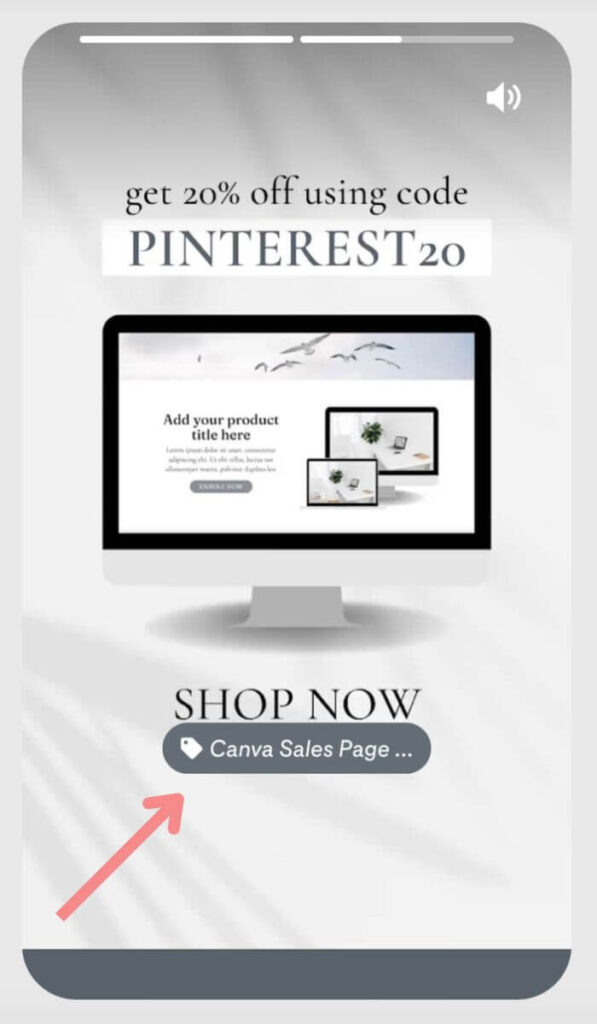 Even though you can't claim your Etsy on Pinterest, you can still promote your products as you'd like.
How do I get Pinterest traffic to Etsy?
Getting Pinterest traffic to your Etsy shop is essentially the same as getting Pinterest traffic to a blog.
This involves doing keyword research to find popular and searchable keywords that users are looking for, Pinterest SEO to help your pins get distributed where they are most relevant, increasing impressions by getting your pins in front of more users, and focus on creating quality products that the Pinterest audience wants.
When promoting your products, outbound clicks will be a metric you'll want to keep an eye on because this will indicate how many times users have clicked from your pin to your Etsy shop.
Related: What Are Outbound Clicks On Pinterest (And 10 Tips To Get More)
How to track Pinterest traffic to Etsy products
Since you can no longer claim your Etsy shop on Pinterest, you can't track how many outbound clicks go to your Etsy listings in Pinterest Analytics (unless your Pinterest account links only to your Etsy products).
However, you can see how many outbound clicks go to your listings on individual pins.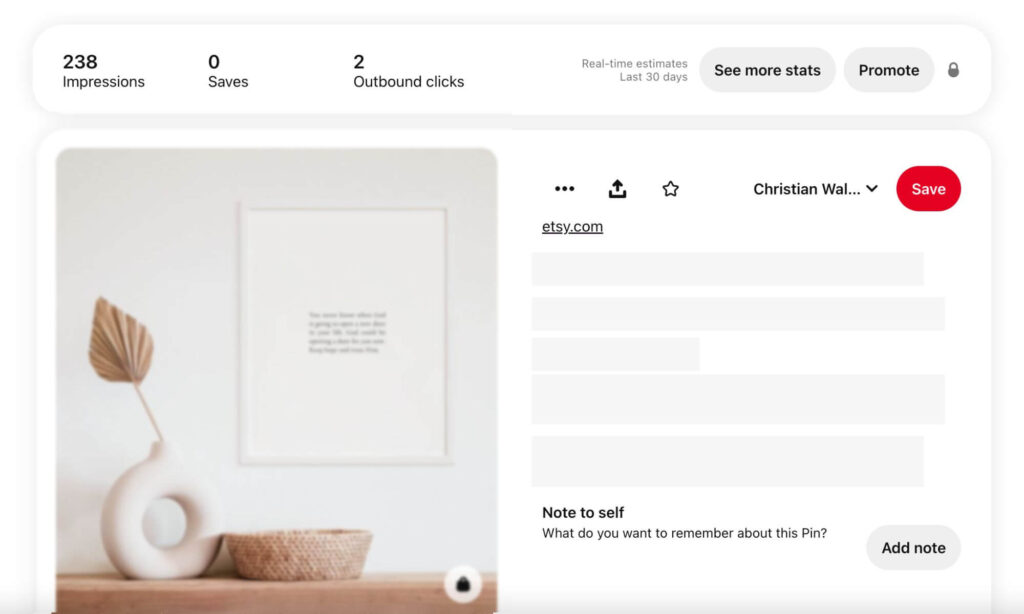 An easier way to track of Pinterest traffic to your Etsy shop is on Etsy itself!
To do this, go to Shop Manager > Stats > Social media.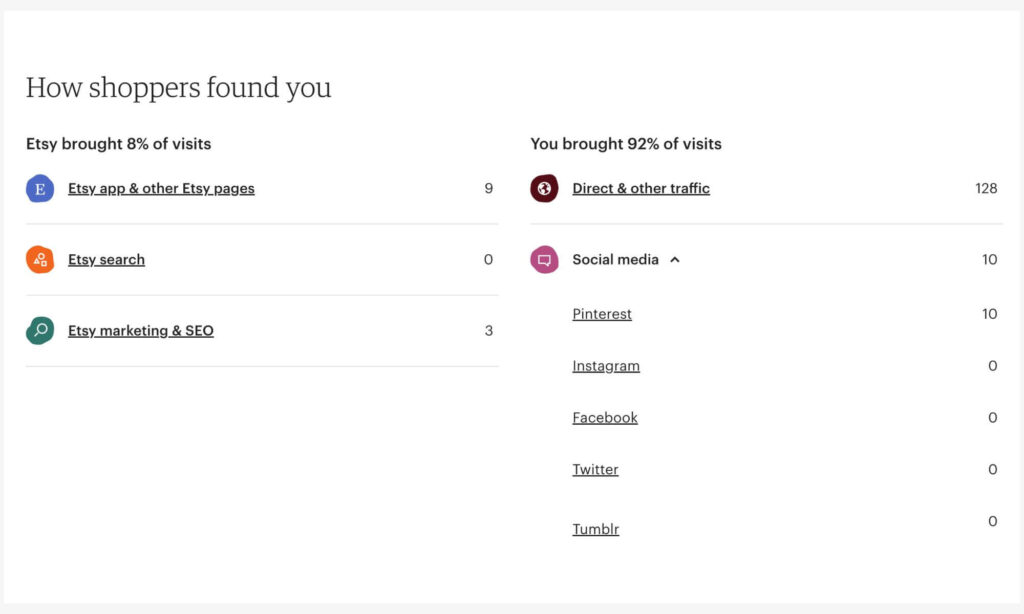 Here, you can see how many visits your listings have got from Pinterest.
You can also click on the Pinterest button to see more detailed stats on traffic coming from Pinterest.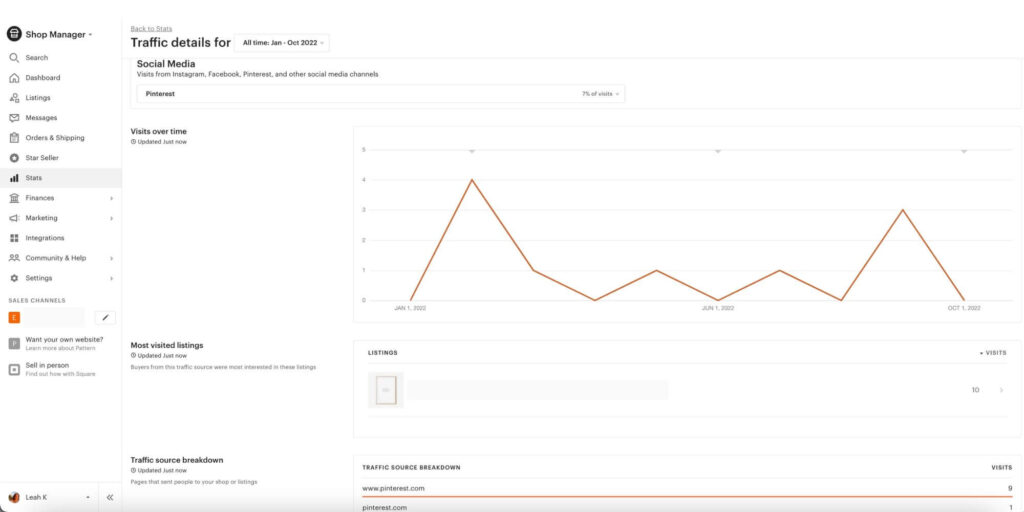 Conclusion
I hope that this post has helped to clarify your questions regarding claiming your Etsy shop on Pinterest!
If you have any questions, be sure to leave them in the comments below.
If you want more valuable Pinterest information so you can skyrocket your success, read more on my blog or join my email list (I provide some of my MOST VALUABLE INFORMATION to my email list!)
I hope to see you around again soon. Thanks for reading!
Leah Marie
SAVE FOR LATER!