*Disclaimer: This post contains affiliate links. If you choose to make a purchase using one of my affiliate links, I will make a commission at no additional cost to you!
If you're a blogger, you may have heard that Pinterest is a great way to get traffic to your site.
For years, Pinterest has often been one of the top traffic-drivers for many blogs. However, over the years, Pinterest has certainly changed, and these changes have very much impacted bloggers.
So, where does Pinterest stand today? Is it still good for bloggers? Can you still get significant blog traffic from the platform? And, how does it even work in the first place?
This post will explore how Pinterest can be used for blogging even after all of its changes.
Let's dive in.
Please note: Pinterest is always changing, and while I try my best to update my posts, not all information may be up to date. If you're looking too see the most updated tips, strategies, and information, check out this resource page.
Is Pinterest good for blog traffic?
Even after all of its changes, yes, Pinterest can be good for blog traffic.
However, there are a lot of factors that go into how beneficial Pinterest can be for blog traffic. One of these factors is the niche of your blog.
Certain Pinterest niches generally perform far better than others. And, for some niches, I'd suggest that you don't even waste your time on Pinterest and put your efforts somewhere else.
It's important to remember who the Pinterest audience is. The Pinterest audience is predominantly female young to middle-aged adults, so this has an impact on what topics are usually more popular than others.
For example, the skincare niche is far more popular than the video games niche.
Before you decide whether or not to dive into Pinterest for your blog traffic, it's best to first analyze if it will be beneficial for you or if it's better to focus your efforts on another traffic source.
Related: 35+ Best And Most Popular Pinterest Niches
Is Pinterest still good for bloggers?
Although Pinterest has changed over the years, Pinterest can still be a really great source of traffic for bloggers.
Some bloggers still see fantastic results with Pinterest. In fact, some bloggers still consistently get 50,000+ or 100,000+ pageviews per month from Pinterest, which is enough to qualify for premium ad networks like Mediavine or AdThrive alone!
In fact, Carly Campbell, a Pinterest expert, started a niche site and grew significant traffic to it from Pinterest and documented her entire journey in this incredibly in-depth case study. She was able to do this even after many of the Pinterest updates that negatively impacted many bloggers.
While it used to be easier to get traffic from Pinterest, it still is very possible to see results.
How much traffic can you get from Pinterest?
As mentioned above, you can get significant traffic with Pinterest.
How much traffic you get is dependent on so many factors such as your strategy, niche, pins, and more.
While the possibilities are nearly endless, you can still get thousands of pageviews from outbound on Pinterest traffic monthly.
Related: What Are Outbound Clicks On Pinterest (And 9+ Tips To Get More)
Why should you use Pinterest for blogging?
There are many benefits to using Pinterest to drive traffic to your blog.
It's one of the best platforms for driving mass traffic
Pinterest is one of the best platforms to use to drive large amounts of traffic to your blog. The reason for this is because pinners have the ability to click from a pin directly to your site.
Sure, you can use other platforms to help. However, it is much harder to get significant traffic from platforms like Instagram, Facebook, or others.
When people start blogging, lots of people will suggest focusing on two things for traffic: Pinterest and SEO. This is great advice because you don't want to put "all of your eggs in one basket," and these are also platforms that can bring significant traffic.
Doesn't take much time or effort
Once you understand Pinterest, running a Pinterest account can actually be quite simple and easy. You can create and publish pins in less than 15 minutes a day!
For that little time and effort, you can see insane results that can really catapult your business to success.
You can get traffic from one pin for months or years
One of the best things about Pinterest marketing is that you can get traffic from one pin for months or years down the road. How awesome is that?
Sometimes all it takes is just one viral pin.
I have one Pinterest account that gets millions of impressions a month even though I barely work on it. (Of course, I wouldn't suggest that you neglect your account like this, but it just comes to show that your work can have long-term results even if it doesn't seem like it up-front!)
This makes Pinterest a somewhat passive platform. You can even schedule pins for months in advance with schedulers like Tailwind or a couple weeks in advance with the native Pinterest scheduler. 
Pinterest results are more long-term, which is unlike many other platforms like Instagram or Facebook where your content disappears quickly. Pins can be found for years.
How long does it take to get blog traffic from Pinterest?
While this of course varies, many Pinterest experts say it takes at least 3 to 4 months to begin seeing results and 8 to 9 months to see significant results on Pinterest.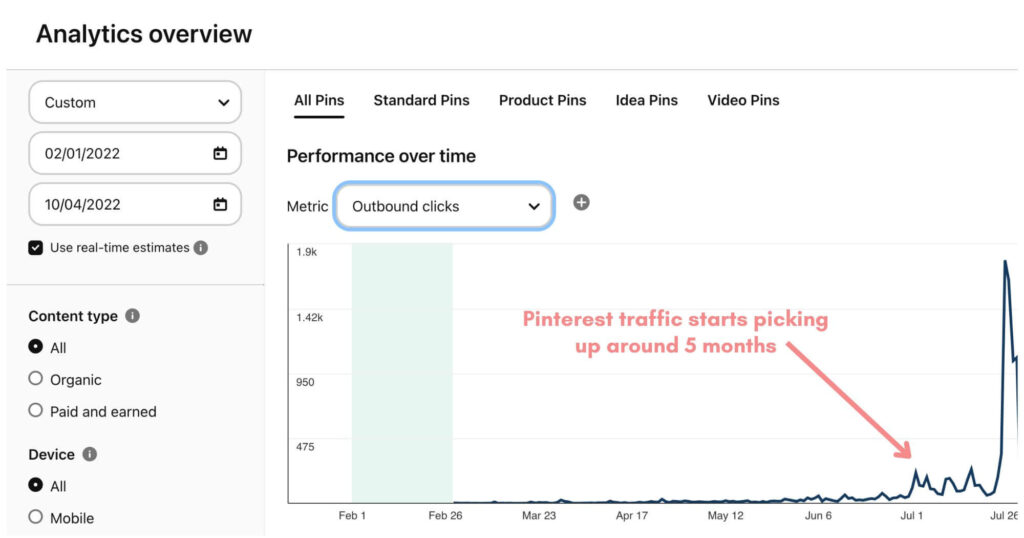 While Pinterest used to be a platform where you could publish a pin and immediately get traffic, it's more of a long-term game now. Pins take much longer to get indexed, ranked, and distributed. However, once they do, you can see great results!
How to get blog traffic using Pinterest
Here are some of the top tips to getting blog traffic using Pinterest:
1. Create a Pinterest business account
Having a Pinterest business account is important for many reasons.
Not only does having a business account help you to be seen as more credible, but having a Pinterest account gives you access to in-depth analytics, the ability to run ads, and much more.
As you'll read later on, you can use your analytics to help you evolve your Pinterest strategy to see better results – the data is important!
You can create a free Pinterest business account here.
Related: Should You Have A Personal Or Business Pinterest Account?
2. Claim your website
Claiming your website helps Pinterest and other pinners to know that your website is legit and that you're the owner of it.
When you claim your website, a special symbol will appear next to it on your profile.

Claiming your website is helpful for a few reasons. First of all, when your website is claimed and someone saves a pin from your website, that pin will be attributed to you and your Pinterest account.
Secondly, some Pinterest marketers strongly believe that pins linking to a claimed website perform better than pins linking to a non-claimed website. So, if you're able to claim your website, it can only help you!
Not all websites can be claimed on Pinterest. For example, platforms such as Instagram, Etsy, and YouTube can no longer be claimed.
Some platforms, like WordPress.com and Wix also have the ability to claim your website on Pinterest, even with a free domain. (For example, if my website was on a free WordPress.com website, my domain would be leahmariemarketing.wordpress.com.)
However, the best long-term option is to have a self-hosted WordPress.org website. This is what most serious bloggers have, and it gives you the most flexibility to build the website and business that you want. This is also more SEO friendly, which is another important thing to note since Google can also be a huge source of blog traffic.
Plus, users will likely think that the website leahmariemarketing.com is more credible than a site like leahmariemarketing.wordpress.com.
Once you have a website that is ready to claim, this simple tutorial will show you how to easily claim your website on Pinterest step-by-step.
3. Create boards that relate to your content
The boards you create are extremely important for your Pinterest account and serve as a large factor in Pinterest SEO.
Your boards essentially categorize your pins, and while doing this, they also help Pinterest to better understand your content.
Pinterest establishes a relationship between all of the pins on a board.
For example, if you have a board called cookie recipes, Pinterest understands that all of the pins on the board have to do with cookie recipes and recognizes that all the pins on the board are related to each other because they (should all be) cookie recipes. This why it's important to save only relevant pins to each board.
There's a lot of conflicting advice as to how many Pinterest boards you should create and now specific they should be.
However, here is my top advice:
Only create as many boards as you can consistently pin to
You want to build up and nurture your boards. I believe that having strong boards is important on Pinterest.
To create strong boards, you want to have boards that you can consistently pin to. If you're starting out, creating 20 Pinterest boards may be way too many because it can be a lot of work to consistently pin to 20 boards and it requires a lot of content.
Start with only a few boards
I suggest starting with only 3 to 5 boards on Pinterest. Of course, you can add more as you go, but if you start off with just a few, you can really focus on establishing them and making those boards strong. Plus, it is way easier to consistently pin to them.
When I started my Pinterest account for my blog, I started with 3 boards: Pinterest tips, Pinterest marketing, and Pinterest SEO. These boards were general enough that I could consistently pin different blog posts to them, but also unique enough where it was better to create separate boards for them.
Be specific, but not too specific
You don't want your boards to be too general, but you also don't want them to be too specific. How specific your boards are can also vary.
For instance, if you're in the food niche, a recipes board may be too broad, but a gluten free red velvet cake board may be too specific.
However, a middle-ground may be something like:
Cake recipes
Valentine's Day cookies
Dessert recipes
Even a board like red velvet cake may be too specific unless you have multiple pieces of content that you could pin to it regularly.
Your boards can overlap
Your boards can and should slightly overlap. It's important that you diversify the boards that you pin a URL to, so having multiple boards that you can pin a single piece of content to is a good idea.
For example, you could pin a post on Christmas cookie recipes to different boards like:
Christmas cookies
Cookie recipes
Dessert recipes
Christmas desserts
While each is slightly different, they do have some overlap.
Similar: Pinterest Board SEO: Complete Board Optimization Guide
4. Link pins to your blog posts, NOT your home page
When you create pins, it's incredibly important that you link them to your blog post and not your home page.
For example, I should not link any of my pins to leahmariemarketing.com (my home page).
The reason for this is that Pinterest can't distinguish a difference between this and any other page on my website. This can cause Pinterest to mark your account as spam, which is like a shadowban on your account.
The effects of this can be detrimental – it can de-index your pins from search results, cause your pins to essentially stop being seen, and it can take months to recover from it.
Related: The Pinterest Spam Filter (What Is It + What To Do If You Get Caught)
5. Do keyword research
Keyword research is very important on Pinterest because it helps you to understand what users are looking for and create content to satisfy their interests.
Keyword research will help you identify trends, popular search queries, and find relevant keywords that you can use with your content strategy and on pins to help your content get seen more. And the more your pins are seen, the more traffic you'll likely get from them!
My Pinterest keyword research guide will show you over 5 ways to easily find Pinterest keywords right on Pinterest!
6. Optimize for Pinterest SEO
Pinterest SEO is the process of optimizing your Pinterest pins, boards, and profile with keywords to help Pinterest better understand what your content is about.
When Pinterest understands what your content is about, the algorithm will better distribute your content where it is most relevant, such as the home feed, search, and more!
Once you find keywords, now it's time to optimize your content with them. This 20+ step checklist will show you how to optimize your pins, boards, and profile with ease.
Needless to say, this step is pretty crucial if you want to see great results on Pinterest!
7. Publish fresh new pins consistently
Pinterest has been placing a huge emphasis on creating fresh pins. Fresh pins are pins that have a completely unique pin image, description, and title. I believe the most important part of this is the pin image because titles and descriptions can sometimes be reused.
Pinterest also wants users publishing pins rather consistently. Pinterest wants you active on their platform, not posting a ton of pins at once and disappearing for a few weeks.
You don't need to publish 10 brand new pins per day to see results on Pinterest. In fact, I usually try to publish 1 to 3 fresh pins per day. And, make sure you are constantly creating new pins for old blog posts!
This doesn't require too much of an effort – maybe 15 to 20 minutes daily. But, the return on investment can be huge!
You can also use scheduling tools such as Pinterest's native scheduler or third-party schedulers like Tailwind. With these, you can schedule pins far in advance. However, it's still important to occasionally go on Pinterest and engage on the platform!
Similar: When And How Often Should You Pin On Pinterest?
8. Focus on pin image titles
I did not realize how important the titles on your pin can be until I read this ebook by Pinterest expert Carly Campbell!
Carly is a blogger who uses Pinterest to consistently get over 100,000 pageviews per month to her blog from Pinterest. She is also the creator of the incredibly popular Pinterest marketing course, Pinteresting Strategies (which you can read my full review of here).
When I talk about titles on pin images, I'm talking about the words on your pin image, not the title that you fill out before you publish a pin.
Your pin image titles can make a huge difference in how users engage with your pins, and engagements are very important!
Your pin is the chance you have to convince readers why they need to read your post! Create a scroll-stopping title that makes them feel like they need to read your blog post.
For example, don't say: My Favorite Skincare Products
Instead, say: 7 Affordable Skincare Products That Basically Cleared My Skin
Which one would you click on?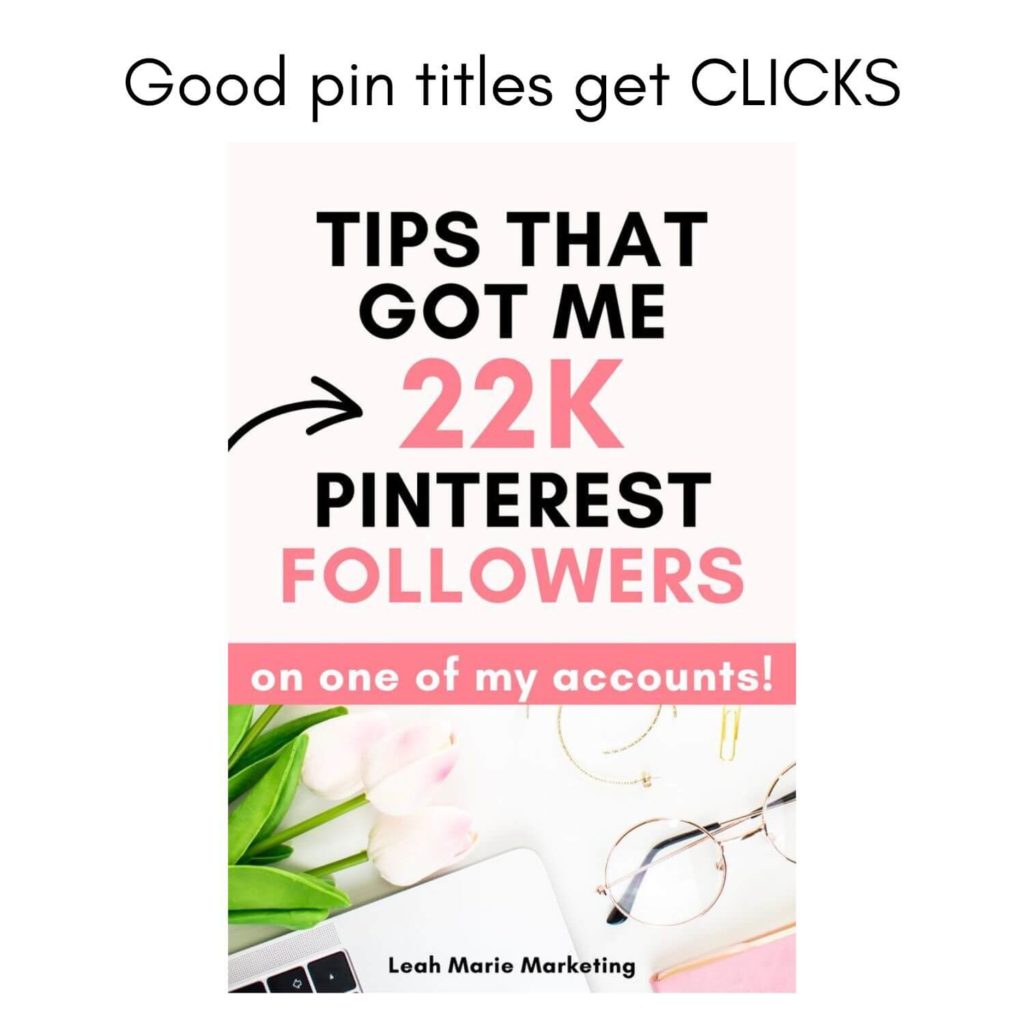 Carly's advice on how to create scroll-stopping pins clearly works given her amazing results. If you want to read Carly's genius tips on creating pin titles that convert, I couldn't recommend this affordable ebook enough! 
Tip: The words on your pin image do NOT have to match the words in your pin title. In fact, I suggest that you change them! I suggest making the words on your pin attention-grabbing, and making the pin title keyword rich for the Pinterest algorithm.
9. Focus on pin design
Since Pinterest is a visual platform, pin design of course plays a role in the performance of your account.
While I strongly believe in experimenting with different pin designs and analyzing popular pins to see what tends to work well, there are a few pin design tips generally perform better:
Create vertical pin images because these perform the best on the platform. (Pinterest says to use at least a 2:3 ratio such as 1000×1500 pixels, but you can experiment with longer pins too!)
Pins with bright background images tend to perform better. Pinners like engaging with light pin images rather than darker ones.
Warm colors (like pink) tend to perform better on Pinterest. However, if you want your pins to match your branding and your brand happens to use cool colors, pins with cooler tones can still perform well!
Make sure your fonts are bold and stand out. Remember that the vast majority of pinners use the mobile app, so they need to be able to read the words on your pin while scrolling on a small screen.
Be careful with the fonts you use! While script fonts can be nice, make sure that all of your fonts are easily legible for viewers. If they can't read the words on your pin, they'll likely just scroll by it rather than clicking to read more!
Related: 20+ Best Stand-Out Canva Fonts For Pinterest Pins
10. Experiment with pins
Experimenting with pins is one of the best ways to see what works and what doesn't!
Here are some things I suggest playing around with so you can get a better feel of what your audience likes engaging with:
Pin size
Pin designs
Pin titles (on pin image)
Call to actions
Type of pin (ex. infographics)
Use Pinterest Analytics to view the data of your pins and see if there are any similarities among your top pins. Then, use this data to add more of this to your pins!
11. Know what pins are best for conversions
There are a few different types of pins on Pinterest – Standard Pins, Video Pins, Idea Pins, and more.
As a blogger, it's important to know what type of pins can help you to best reach your goal – outbound clicks for traffic.
Not all pin types are great for getting traffic. It is hard for users to click from Pinterest to external links on Video Pins, and Idea Pins do not have the ability to include links other than to products (although, Pinterest seems to be testing that feature now with some accounts, so this may change!)
Standard Pins seem to be the best pin type to get traffic from. Of course, this could change over time.
It's important to think about this with your Pinterest strategy. If your goal is to ultimately get more blog traffic from Pinterest, you may want to focus mainly on Standard Pins.
12. Add pin images to your blog posts
Adding pin images to your blog posts is a great practice in case a pinner wants to save your blog post while they're on it. And, with a claimed website, any pins saved from your website will be attributed to you and your account.
For this, I usually add a section to the bottom of my blog posts that says SAVE FOR LATER with two pin images that I created for that post beneath it.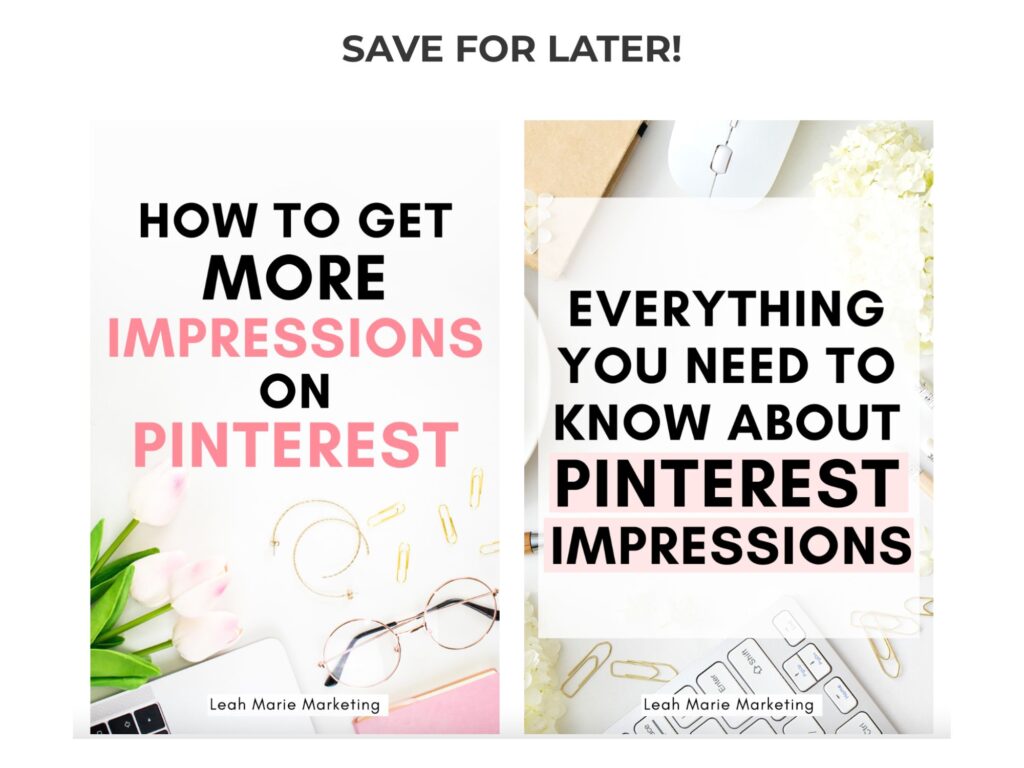 However, lot's of bloggers like to include a pin image towards the top of their post. It's all about personal preference.
You can also add plugins to your website to add a Save button to your pin images to make the process easier for viewers. Some popular ones are Tasty Pins and Grow Social by Mediavine.
13. Use your analytics
Pinterest Analytics can be your best friend for your Pinterest strategy. You can find some really valuable data here that can help you better develop or evolve your strategy.
I recommend looking at Pinterest Analytics on desktop because you get more in-depth data.
To get to Pinterest Analytics, click on the Analytics dropdown at the top of the screen and then Overview.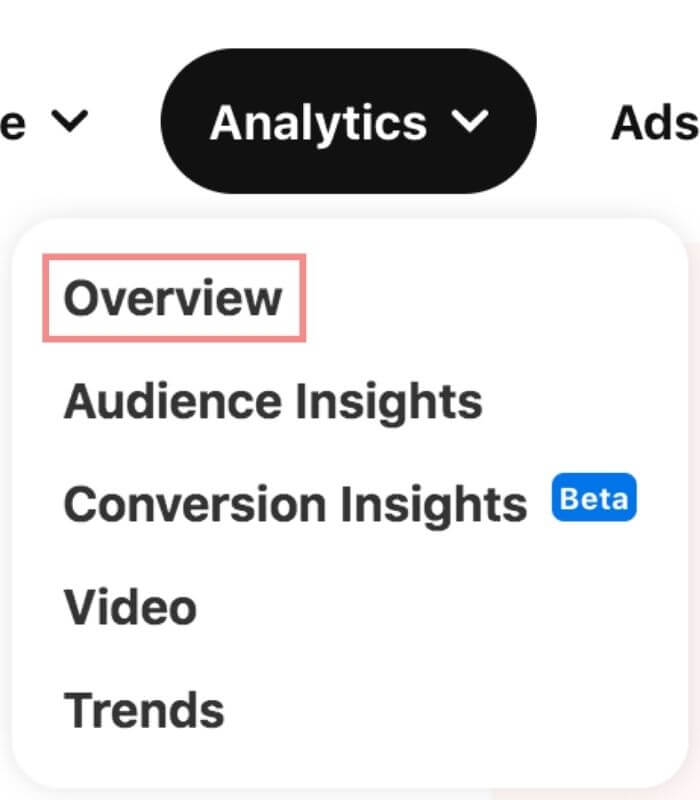 When looking at your analytics, I highly recommend especially looking at your outbound clicks data and what pins get the most outbound clicks. This will help you to see what pins are driving you the most traffic.
From this, you may be able to see if it's a certain pin type, design, title, or something else! One of the best things you can do is to make more of what's working to optimize your growth. This is something I have done many times and time and time again it works so well!
To view data on outbound clicks, make sure you toggle analytic dropdowns to Outbound clicks.

14. Be patient
Of course, this tip needs to be included!
Getting traffic on Pinterest takes time. In lots of cases, it can take months to start seeing significant results. This can be discouraging, but don't give up! Pinterest can be a goldmine of traffic, and you don't want to miss out on that!
How many pins should each blog post have?
As mentioned before, you should always be creating new pins for old blog posts. You want to have a diversity in the URLs you are pinning.
There is no specific answer to how many pins each blog post should have, but they should each have many pins linked to them. Aim to just keep creating new pins!
As I always say, the more pins you publish, the more chances you have to get your pins (and blog posts) seen.
Plus, this can help you to rank and get your pins circling on the platform for months or years.
Conclusion
I hope that this post helps you to understand how you can use Pinterest to get traffic to your blog.
If you have any questions, be sure to leave them in the comments below!
If you want more valuable Pinterest information so you can skyrocket your success, read more on my blog or join my email list (I provide some of my MOST VALUABLE INFORMATION to my email list!)
I hope to see you around again soon. Thanks for reading!
Leah Marie
SAVE FOR LATER