*Disclaimer: This post contains affiliate links. If you choose to make a purchase using one of my affiliate links, I will receive a commission at no additional cost to you. Thank you for your support!
Over the years, there's been a debate over whether Pinterest followers really matter or not.
It's understandable to assume that more followers always equals more success, but that's not always the case on Pinterest.
But, do Pinterest followers really play a big role for your account and pins? Are they anything more than just a number on your profile? And, do Pinterest followers even matter?
This post dives deep into the topic of Pinterest followers and the role they truly play on Pinterest. Hopefully this post will answer some of your most burning questions!
Let's dive in.
Overview of Pinterest followers
Before we dive deep into everything about Pinterest followers, let's take a minute to review what they are and what they do.
What are Pinterest followers?
Pinterest followers are users that follow another user's account. Pinterest users may also follow specific boards.
You gain followers when a Pinterest user discovers your pins, your board, or your profile, then decides to follow your account so they can see more of your content in their feed.
How do you see how many Pinterest followers you have?
The number of Pinterest followers you have is displayed on your Pinterest profile under your profile description.
(Example is from my faith-based Pinterest account.)

If you have no followers, you may not see this. Instead, you will only see the number of people you follow.
If you have over 1,000 followers, the number of followers you have is typically rounded.
To see the exact number of Pinterest followers you have, click on the rounded number of followers on your profile, and it will appear at the top. (You can also see who follows you here.)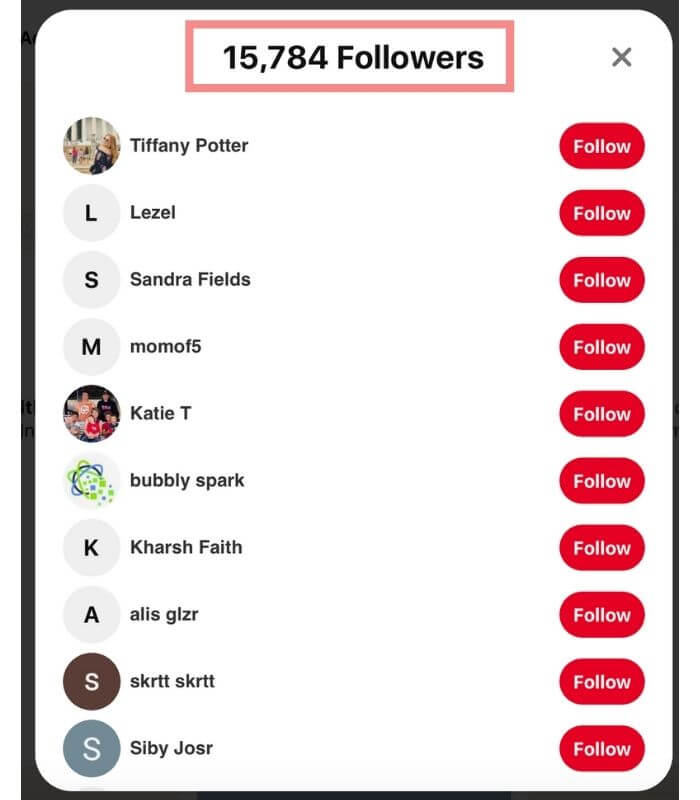 You can also see how many followers other accounts have on their profile.
What role do followers play?
A portion of your home feed is dedicated to the users you follow.
So, when someone follows you, they are essentially signing up to see more of your content.
When you publish new pins, most of the time they are first distributed to your followers. Your followers can then interact and engage with them as they wish.
(As you'll see later, having engaging followers can really help your account.)
Do you need a lot of Pinterest followers to be successful?
You do not need a lot of Pinterest followers to see success on Pinterest.
Anyone can go "viral" on Pinterest with or without a lot of followers. That's the beauty of Pinterest!
The number of Pinterest followers you have does not automatically make you likely to be more or less successful.
In fact, it's entirely possible for an account with 1,000 followers to perform just as well (or better) than an account with 10,000 followers!
(Truthfully, it all has to do with how optimized your pins are for the Pinterest algorithm and for Pinterest users.)
The key to getting well-performing pins on Pinterest is having good Pinterest SEO (keywords), attractive pin designs, and an audience for your pins. (Of course there are more factors, but in my opinion, those are the basics!)
No matter the follower count any brand, business, blog, shop, influencer, etc. has, they have the opportunity to gain massive traction if they create optimized content on Pinterest.
However, just because having lots of followers isn't essential for success doesn't mean they can't benefit your account.
In some cases, having a high follower count can definitely help you and your account to be more successful. (I'll explain why later on.)
Why it matters who follows you
Who follows you on Pinterest plays a much larger role than the number of people who follow you on Pinterest.
An engaged and targeted following can help you see more success on Pinterest than a following that does not care about your content.
Having targeted and engaged followers that are interested in your content is important for a few reasons:
They are more likely to consistently engage with your content. This will help to boost your pins in the algorithm (especially when they are first published, because your pins are first shown to your followers) and will help your content to get discovered by other users. (Which will help you to continue to build an organic following.)
Engagements (such as saves, close-ups, link clicks, etc.) play a large role in the distribution and ranking of pins. This is because Pinterest's primary goal is to provide other users the most relevant, high-quality, valuable, and interesting content.
So when Pinterest sees that other users are having positive interactions with your pins, they are more likely to recommend your pins to others.
You are more likely to build trust or a connection with your audience. And as any business owner would tell you — this is key to success. This may help your followers to become email subscribers, followers on other platforms, clients, sales, etc.
(If you want to build a connection with your audience, branding your Pinterest pins is a good way to help with brand recognition and to stand out.)
It all comes down to this: Having 500 followers that are all very interested in and find value in what you have to offer is much more beneficial than having 10,000 followers who scroll by your pins every single time, whether you're:
A blogger looking for pageviews, email subscribers, affiliate sales, or selling products
A shop looking for product sales
A manager or service looking for clients
An influencer looking to grow on other platforms, promote brands, or do sponsorships
Why?
Engaged followers help your account to grow!
Sure, your followers don't carry too much weight such as when it comes to getting your Pinterest pins going "viral" (because there are more important factors like Pinterest SEO, pin design, and your audience).
However, having an engaged and targeted following can bring some bonus benefits that can help your account (and business) to grow.
('ll share my top tips on how to build a targeted and engaged following later on in this post!)
Related: How To Get Viral Idea Pins On Pinterest In 2021 (23 Tips)
Does it matter how many Pinterest followers you have?
For the most part, the number of Pinterest followers you have does not matter — you can be successful both with and without a lot of followers. However, there is one group of Pinterest users where the number of followers they have may matter: Pinterest Creators (who are essentially the influencers of Pinterest).
Pinterest is focusing on Creators
Pinterest has been putting a focus and highlight on its Creators.
Pinterest Creators are Pinterest users who create and share original content, specifically Idea Pins. (If you are interested in becoming a Pinterest Creator, I recommend checking out this Pinterest page.)
In fact, Pinterest is so focused on Creators, that they've released multiple new features just for them.
One of these new features is Idea Pins.
Idea pins are a multi-page pin format used to share ideas and to help Creators to build and expand their audience and following.
Related: Should Bloggers Use Idea Pins On Pinterest? (2021)
These pins, are currently being very pushed in the algorithm and can appear in search feeds, home feeds, the Today tab, and at the top of the home page (similar to Instagram Stories).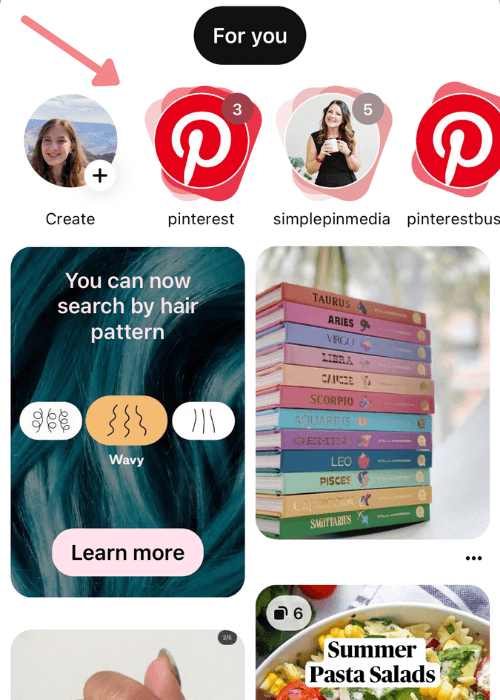 In the Pinterest Newsroom, Evan Sharp (the Co-Founder, Chief Design and Creative Officer of Pinterest) said "With Idea Pins, creators are empowered to share their passions and inspire and grow their audiences."
And you can see this with the special features for Idea pins and Creators:
Idea pins have a metric that counts how many new followers you get with each Idea pin (which Standard Pins and Video Pins do not have).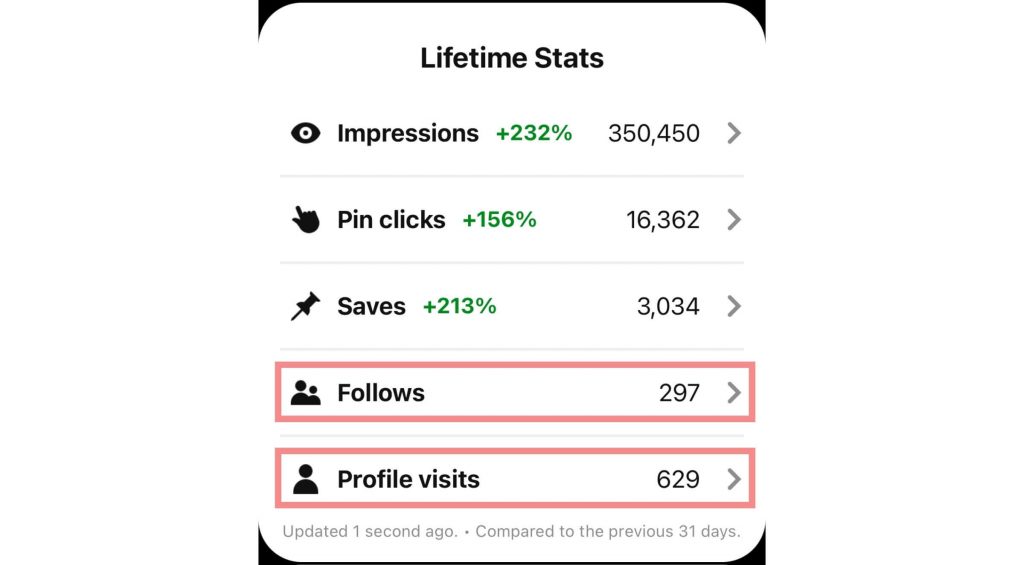 Idea pins are often featured at the top of Pinterest profiles and often the top of Pinterest searches.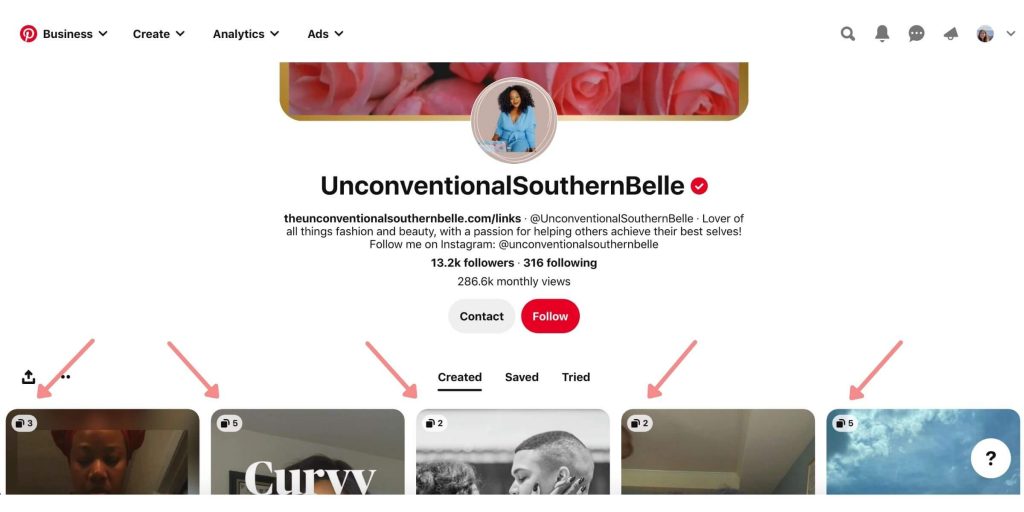 (UnconventionalSouthernBelle's Pinterest.)
In general, Pinterest is helping Creators and influencers to grow in many other ways…
Sometimes a "Discover creators" option is shown alongside Idea Pins on the home feed.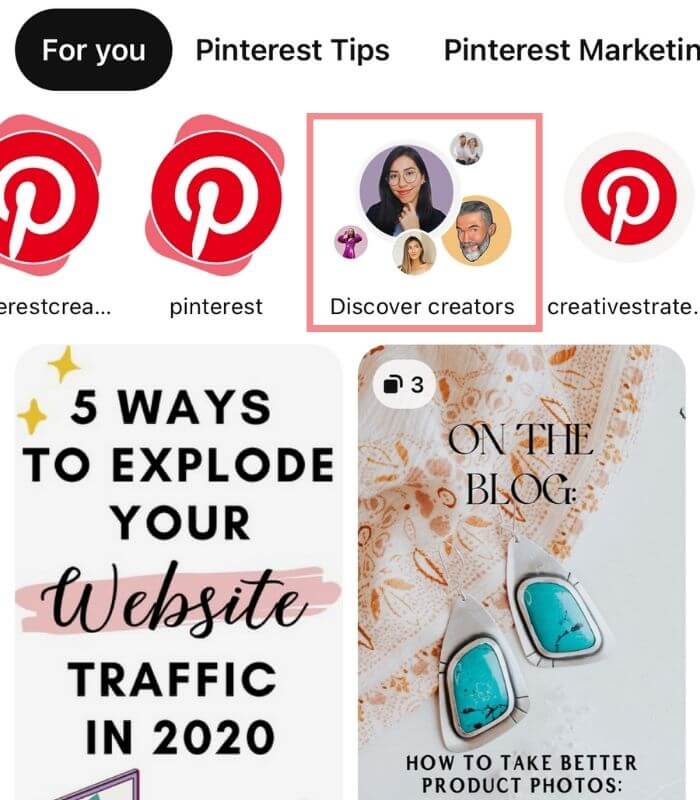 Then it shows some Creators Pinterest thinks you'd like: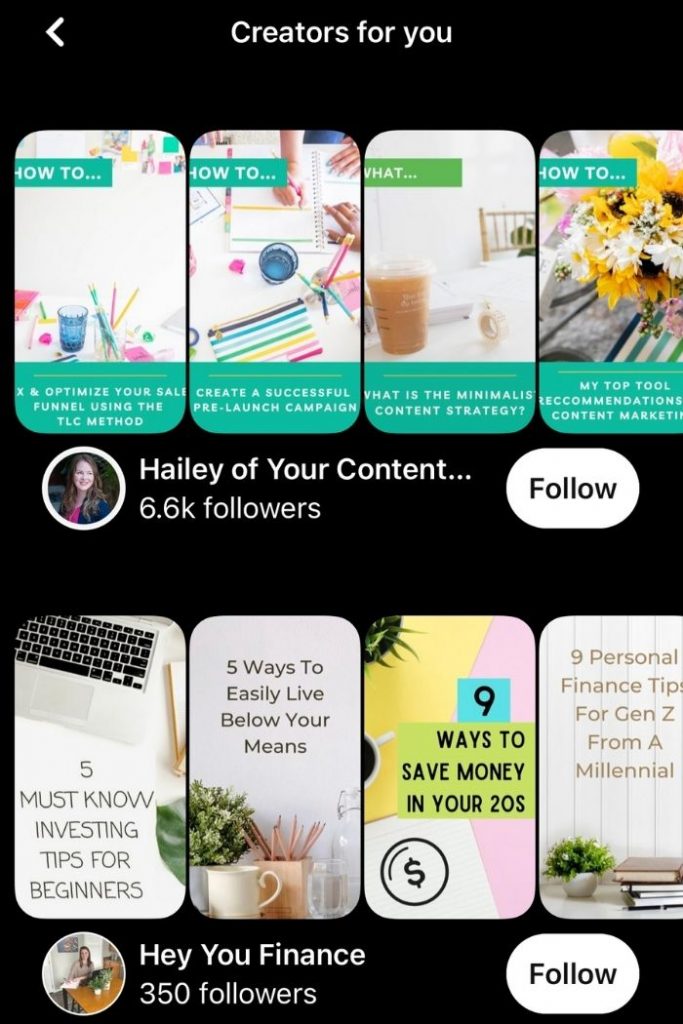 Pinterest sometimes notifies users when a Creator has published a new Idea Pin.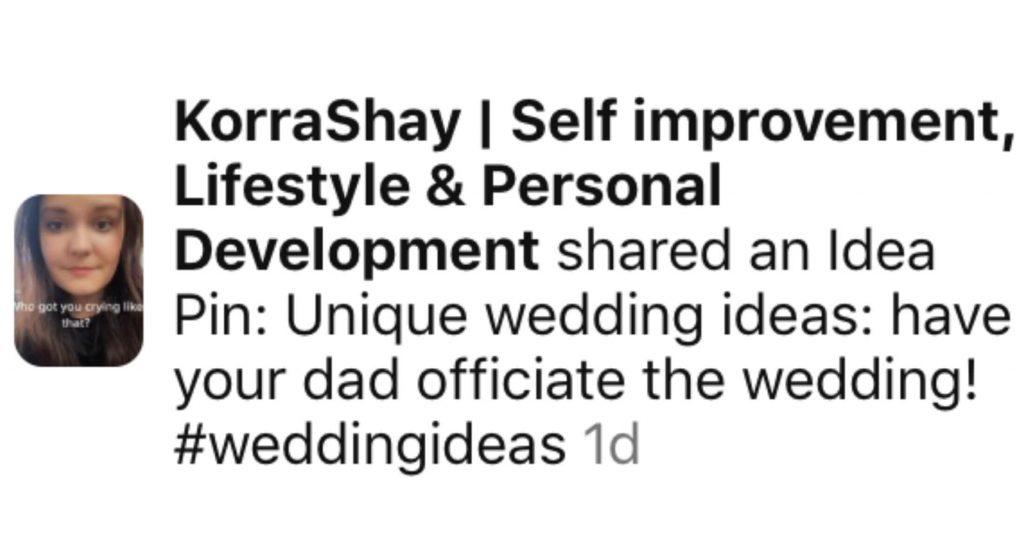 (KorraShay's Pinterest account.)
Also, the Today tab is dedicated to distributing high-quality Idea pins and highlighting Creators!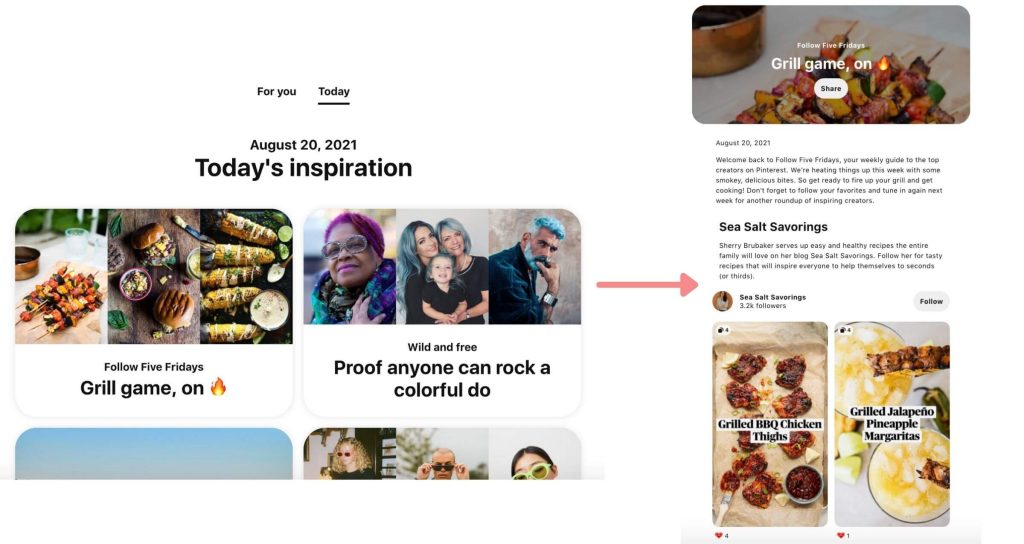 That's not it — there's also:
It's very clear that Pinterest is making a push for Creators to build an audience and a following.
All of this makes it seems like followers are becoming more significant and important for them, right?
But…why? And what does this mean for all Pinterest users?
Why follower count may matter for Creators
Why might follower count matter for Pinterest Creators?
I think I have the answer…or at least part of it.
The first thing to note is that Pinterest's ideal Creator is not just some average user who creates Idea Pins. Pinterest Creators are sort of like the "Instagram influencers" of Pinterest.
In fact, that's the direction I think Pinterest sort of wants to go in with these Creators.
In Pinterest's post about Idea pins, they said this:
"We know many creators are focused on growing their business, as they grow their audience. That's why we introduced our first-ever Creator Fund last month and have started testing creator and brand collaborations with a select number of creators including Domonique Panton, Peter Som, and GrossyPelosi. We're also testing product tagging within Idea Pins so creators can make their content shoppable. We're still exploring where creators can monetize their work in meaningful and scalable ways, while reaching the audiences that are most significant for them."
Pinterest is looking for Creators to work with brands and sell products so that Creators can make money on Pinterest. (Just like an "influencer" would on Instagram, TikTok, etc.)
Pinterest users can now monetize their account with affiliate links and do paid brand partnerships! (Learn more in this post from Pinterest.)
Here's an example of a shoppable Idea Pin with affiliate links:
In addition, there are now opportunities for brand partnerships! You can see some of them here:
However, it's not just super popular users who are getting these brand deals.
Pinterest is actively working on matching together brands and normal Creators (like you and I) for partnerships. (And yes, they exclusively say this in their Creator Newsletter. Click here to join the newsletter.)
And yes, all subscribers of the Creator Newsletter have the opportunity to partner with brands if they fill out a simple form (yes — even you)!
What this means for Creators and their follower count
It sort of makes sense why Pinterest may be promoting building an audience: Pinterest wants users to be able to successfully monetize their accounts.
It is likely that brands might not want to work with Creators with small followings, little engagement, or sub-par Idea Pins. Brands want to work with Creators that they believe they can profit from, and that often means having a targeted and engaged audience of a reasonable size.
Also, Pinterest users may not benefit much through affiliate links if they have no audience.
So, that is why I believe Pinterest is encouraging growing a following, and why it may be important for Pinterest Creators and influencers.
Related: How To Become A Pinterest Influencer In 2021 (26 Tips)
What this means for us users
Despite everything mentioned about Creators, I can assure you this: despite a focus on Creators to grow a following and audience, everything else remains the same — you can see success on Pinterest without having a lot of followers (for blogs, brands, shops, managers, influencers, etc.).
I strongly believe that Pinterest wants Creators to get more followers for a specific reason, and that reason is so they can better monetize your accounts.
If you consider yourself (or hope to be) a Pinterest influencer (or a "Pinfluencer") and build an online presence or work with brands, the number of followers you have may be a bit important. (But, I also don't think it's anything to stress about. Growing a following on Pinterest isn't usually as difficult as other platforms.)
Keep in mind that the content you produce is also very important.
Your content needs to be high-quality and relevant, and you'll need a mix of Standard Pins and Idea Pins (and Video Pins, Product Pins, and Ads if you choose).
If you do this, you will naturally attract followers.
Regardless, followers on Pinterest are NOT the end-all-be-all.
Although Pinterest seems to be slowly shifting from more of a search engine to a social media platform, the great thing about the platform is that anyone can see great results no matter their following or audience size.
Can you get paid for having Pinterest followers?
You can make money from Pinterest, but not necessarily for having a lot of followers. Pinterest will not directly pay you for having followers. However, having followers may help you to monetize your Pinterest account in other ways.
Here are a few ways you can make money on Pinterest:
Affiliate marketing (mentioned above)
The Creator Fund (subscribe to the Creator Newsletter to be notified when applications open)
Brand Partnerships (mentioned above)
Driving Pinterest users into blog traffic, clients, sales, YouTube views, etc.
How to get more (engaged and targeted) Pinterest followers
There's a few tips I have that are really important for building an engaged and targeted audience. Here they are:
Understand and use Pinterest SEO
Pinterest SEO is essential for getting your pins and profile found in the home feed and search results, which will help you get more followers. If you want to scale your business, you need to understand and use Pinterest SEO wherever possible.
Luckily, I have a Pinterest SEO checklist that outlines each necessary step to take for perfect profile, board, and pin SEO!
Use keywords that target your ideal audience
Use keywords that your audience is interested in and will take action with.
Good keyword research is essential to success on Pinterest.
It helps you to create content that your users want to see, and keywords xhelp your pins to be found.
I have an in-depth post on keyword research that outlines 5+ great ways to find Pinterest keywords.
I also have a FREE e-book that shows you exactly how to find the best Pinterest keywords for your blog or business. Check it out here or below!
Produce quality content
Users like unique and valuable content! No one will follow you if the content you create provides no value to them.
As I'm sure you've heard before, quality over quantity!
Engage with others on Pinterest
If you engage with others, they're more likely to engage with you.
Plus, it's the perfect way to create some genuine connections.
A great way to do this is by commenting on other's pins and replying to comments you get. Also, follow other users in your niche(s).
Consider Idea Pins
I definitely don't recommend Idea Pins for everyone. (I explain why in this post.)
However, if you feel that they're fitting for your account and what your goal is, they're worth a shot.
If you create Idea Pins, you should read my 23 tips on how to get viral Idea Pins!
Tip: Include call-to-actions on your Idea Pins to invite users to save, follow you, comment, etc.
How to track your Pinterest followers
I personally use Tailwind to track my Pinterest followers.
Tailwind shows you how many followers you get both:
Per day
Per week
It also allows you to compare your follower growth to the previous week.
To find this data on Tailwind, click on the "Weekly Summary" tab on the left-hand side of the dashboard.
Once you're on the weekly dashboard, click "See Follower Trends."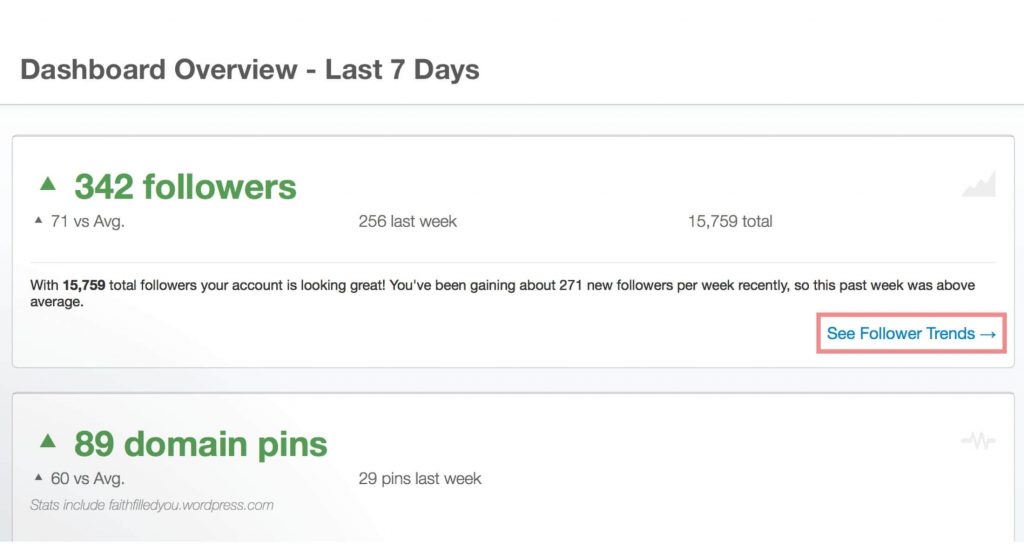 Here's an example of what my daily and weekly growth looks like for one of my Pinterest accounts: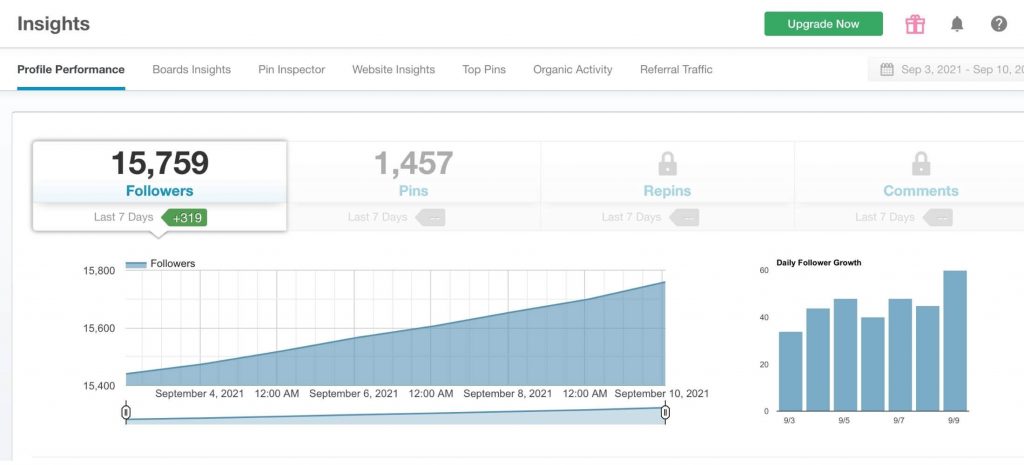 You can see this information with a free Tailwind account (that's what I personally use), but, if you're interested, a Tailwind Pro account provides you SO many more useful statistics (and other features) such as:
Your Pinterest account virality score (how much your pins are being repinned)
Your engagement score
The engagement rate of your profile
The virality score and engagement score of your boards
And more!
Conclusion
Throughout this post, we've looked at the importance of Pinterest followers.
In the beginning of this post, we asked the question: Do Pinterest followers really matter?
The answer is: It depends. If you're a Pinterest Creator or influencer hoping to monetize your Pinterest account, having followers may be more important. However, anyone can go "viral" and see great results on Pinterest without a large following!
What are your top Pinterest goals? I'd love to hear in the comments below!
If you want more valuable Pinterest information so you can skyrocket your success, read more on my blog or join my email list (I provide some of my MOST VALUABLE INFORMATION to my email list!)
I hope to see you around again soon. Thanks for reading!
Leah Marie
SAVE FOR LATER!