IMPORTANT UPDATE: As of November 30, 2022, the Pinterest Creator Rewards program ended. If you are looking for other ways to make money using Pinterest, check out this post.
During Pinterest's 2021 Creators Festival, Pinterest announced a new way for Pinterest Creators to make money on the platform – Creator Rewards.
If you're here, I'm going to guess that you want to learn more about this program and how to join.
This program is still very new, and it's still in its testing phase. Due to this, we still have a lot to learn about exactly what Creator Rewards is and how it works.
However, this post is going to break down what we know about the Pinterest Creator Rewards program and how you can hopefully join and start making money!
Let's dive in.
Please note: Pinterest is always changing, and while I try my best to update my posts, not all information may be up to date. If you're looking too see the most updated tips, strategies, and information, check out this resource page.
What is the Pinterest Creator Rewards Program?
The Pinterest Creator Rewards program essentially pays Pinterest Creators for creating content.
The Pinterest Business website says:
"Creator Rewards is a new Pinterest program that will pay creators for inspiring, actionable content. We'll publish new editorial prompts on a regular basis in the creator hub. Every prompt will outline specific engagement goals, like getting a certain number of clicks, reactions or takes on your Idea Pin. When you meet the engagement goals, you'll see rewards in your bank account the following month."
Additionally, in his October 20, 2021 letter to Creators, Pinterest CEO Ben Silbermann said:
"Today we're announcing Creator Rewards, a new program that will pay creators based on community engagement. We'll put out regular calls for fresh content, and creators who meet the editorial and engagement requirements will get paid."
To summarize, the Creator Rewards program gives Pinterest Creators content prompts, goals, and criteria. Pinterest says they will post new goals monthly and that each goal will have a description, the payout amounts and the requirements.
Creators who are eligible can then submit their pins, and if the pin reaches the goals and fits the criteria, pinners may receive a payment!
Sounds cool, right?
Related: How To Become A Pinterest Creator (Easy Tutorial)
Who can become part of the Pinterest Creator Rewards Program?
Hopefully all Creators will be able to participate in Pinterest's Creator Rewards program.
However, in the terms and conditions for the program, Pinterest says:
"Participation is currently limited to individuals living in the United States, but we reserve the right to open Creator Rewards to other countries at any time."
Therefore, as of now, participation in the Creator Rewards program is mainly limited to the United States.
Additionally, not everyone has access to the program yet. The Creator Rewards program is still in testing with a small group of Pinterest Creators.
But, don't lose hope!
Pinterest says that they will slowly add new participants on a rolling basis, which is great news for us!
Also, in the terms and conditions for the program, Pinterest says that to become a part of the Creator Rewards program:
You may apply to participate in Creator Rewards only if (i) you are an individual and a legal resident of the 50 United States or the District of Columbia; (ii) you are at least 18 years of age or at least the minimum age of majority in your state of residence, whichever is older; and (iii) you can legally form a binding contract with Pinterest.
There are also additional criteria for participation in the program, which will be outlined below.
Does Pinterest pay content creators?
There are a variety of ways to make money through Pinterest.
For instance, there's:
Affiliate links on Idea Pins (read a tutorial here)
Brand partnerships
Selling products
Blogging
Promotive your services
Increasing traffic to other platforms such as Instagram or YouTube
However, with each of these methods, Pinterest is not the company actually paying the Creators. (It's more of a traffic source for these income streams.)
But, with the Pinterest Creator Rewards program, Pinterest says:
All payments will be made by Pinterest's third-party payment provider ("Processor")
So, you earn the money through Pinterest, but are paid by their third-party payment provider called Ayden.
For more information on how Pinterest will conduct these payments, visit this page.
How To Join Pinterest Creator Rewards
Access to Creator Rewards can be found on your Pinterest profile in the Pinterest Creator Hub.
Currently, you need to officially be a Pinterest Creator (learn more in this post). You must have a free Pinterest business account (create one here) and create Idea Pins.
Related: How To Get Viral Idea Pins On Pinterest (23 Tips)
If you are eligible to apply for Creator Rewards, you will see a tab at the top of the top of the hub page that says "Earn."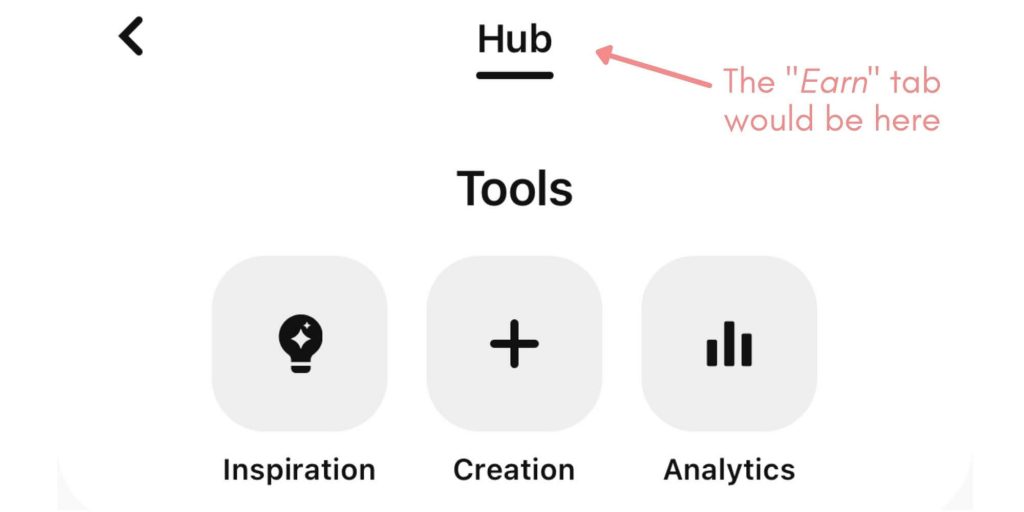 As you can see in the screenshot above from one of my accounts, I do not yet have access to Creator Rewards.
Criteria for Pinterest Creator Rewards
In the Creator Rewards terms and conditions and Creator Rewards help page, Pinterest outlines lots of criteria for participating in the program.
However, not all Creators can participate. First, your account must meet certain criteria:
Have a Pinterest business account in good standing
Use the Pinterest mobile app
Being 18+ years old
Bing a legal resident of, and located in, the 50 United States or the District of Columbia
Have a valid email address associated with your account
Agree to the Creator Code (seen below)
Published at least 3 Idea Pins in the last 30 days
Have at least 250 valid Pinterest followers
Have 150 saves of your published Pins in the last 30 days
Create original content
Tip: One of the easiest ways to grow your following on Pinterest is to create Idea Pins that users want to see (AKA popular, interesting, searchable, or trending content). I talk more about how to find out what's popular on Pinterest in this post and in my Pinterest keyword research guide.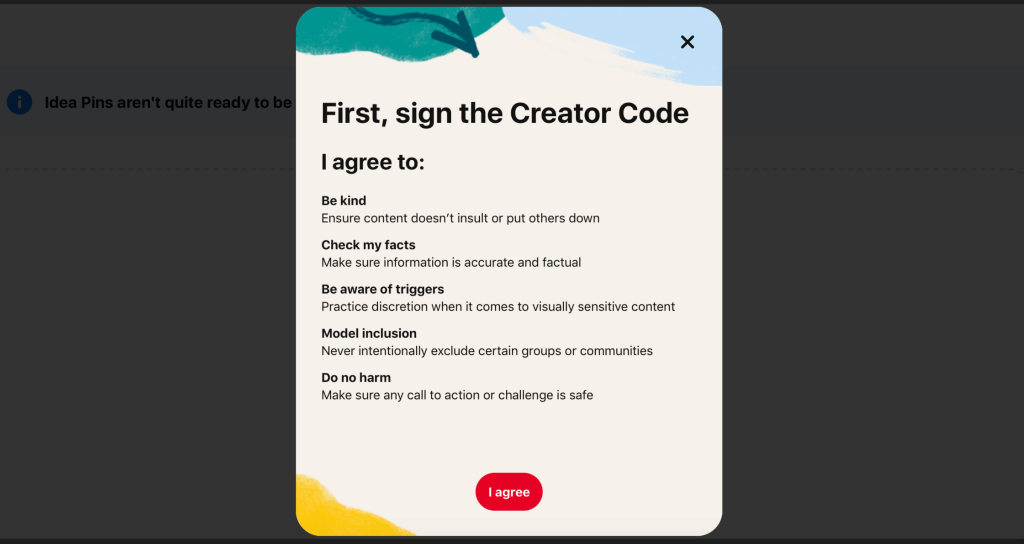 What content do you have to publish for Creator Rewards?
Right now, Creator Rewards seems to solely focus on Idea Pins – a new, multi-page pin format that is catered to content creators (Pinterest Creators).
It was mentioned earlier in this post that Pinterest will essentially give you prompts for your Idea Pins.
However, it's important to understand that you must follow Pinterest's content guidelines in order to be potentially paid.
In the terms and conditions, Pinterest says that eligible Idea Pins submitted to the Creator Rewards program must be:
Wholly original
Must not have been published elsewhere and must not have been submitted for any other program/promotion (likely meaning that
Must comply with their best practices
Needs to meet all goal criteria
Clearly and "conspicuously" disclosed if you endorse Pinterest
Comply with Community Guidelines
You must have all third party rights (including copyrights of music and lyrics, trademarks, rights of publicity, and more) that are necessary. (Tip: Use the music in Pinterest's native music library to avoid copyright!)
Content can not be paid, sponsored, or promoted content and can't be "manually boosted"
If you want to learn more about the content that Pinterest wants, you can find more on this page in the "Posting Content" section.
How much money can you make with Pinterest Creator Rewards?
Since the Creator Rewards program is very new and not available to the general public, how much money you can actually make with the program is uncertain.
In their promotional video on this page, Pinterest shows Creators in the program making upwards of $200! However, I can't verify how accurate this is.
Despite this, in Pinterest's announcement of Creator Rewards, Pinterest says that they are "investing $20 million for Creator Rewards and other initiatives to support creators."
I will try my best to update this post when we know more information about the program.
Conclusion
I hope that this post has given you more insight into the Creator Rewards program and hopefully helps you to get into it and see success.
If you have any questions about the Pinterest Creator Rewards program, be sure to leave them in the comments below!
If you want more valuable Pinterest information so you can skyrocket your success, read more on my blog or join my email list (I provide some of my MOST VALUABLE INFORMATION to my email list!)
I hope to see you around again soon. Thanks for reading!
Leah Marie
SAVE FOR LATER