*Disclaimer: This post may contain affiliate links. If you choose to make a purchase using one of my affiliate links, I will receive a commission at no additional cost to you. Thank you for your support!
On Pinterest, you may have seen that the platform is favoring a new group of people: Pinterest Creators.
Being a Pinterest Creator comes with many benefits. You can see more analytics, work with brands, and make money directly on the Pinterest platform!
Thankfully, it's very easy to become a Pinterest Creator.
This post will break down exactly how to become a Pinterest Creator and how to grow your audience and hopefully see great results!
Let's dive in.
What is a Pinterest Creator?
Pinterest Creators are like the influencers of Pinterest.
They share inspiring content with others to help them grow an audience and a following, which can even help them to monetize too.
(And yes, you can monetize your Pinterest content such as through paid partnerships, affiliate link product tagging, or Creator Rewards and the Creator Fund. You can learn more in this post on shoppable Idea Pins and branded content or this post on product tagging and Creator Rewards from Pinterest.)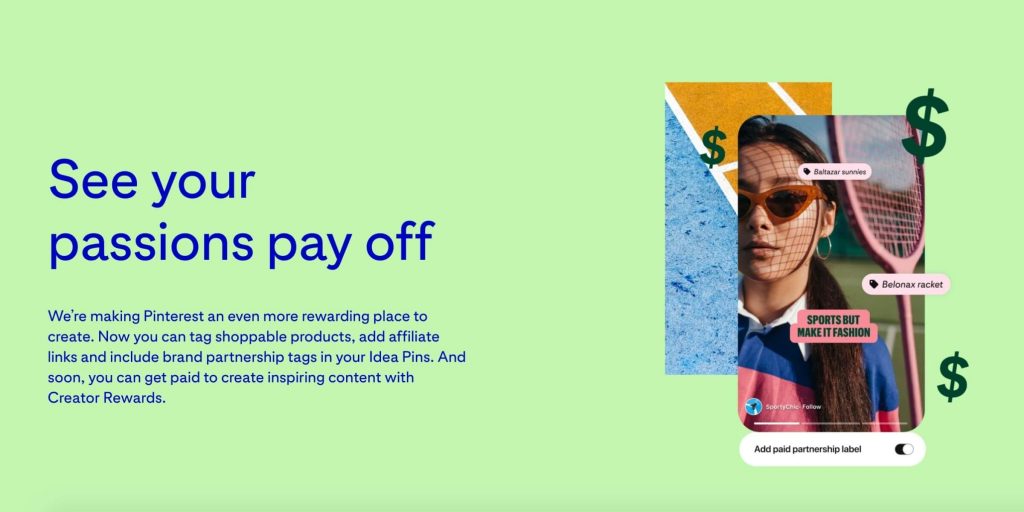 (Screenshot from this page.)
"By helping people on Pinterest spark creativity, try new things, build confidence, and be themselves, we believe creators are truly helping with our mission of bringing inspiration to create a life you love."
Related: How To Become A Pinterest Influencer (26 Steps)
(Ps – Want to see results as a Pinterest Creator? I designed the Seasonal Pinterest Content Calendar and Planner for Pinterest to help content creators plan and pin seasonal content and trends far enough in advance for it to TAKE OFF when seasons and trends peak! Plan out amazing content ideas and know when to post them ease with this helpful calendar and planner!)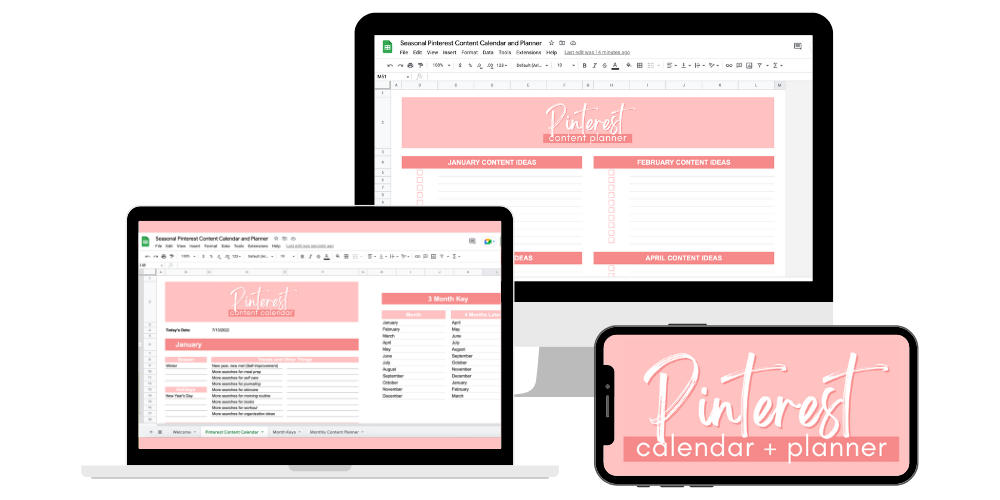 LEARN MORE ABOUT THE SEASONAL PINTEREST CONTENT CALENDAR AND PLANNER!
How do you become a Pinterest Creator?
Believe it or not, you can technically become a Pinterest Creator with a few simple steps.
Here's how:
1. Create and set up a Pinterest business account
This step is important.
You need to create a Pinterest business account in order to be a Pinterest Creator. (If you haven't yet, you can create a business account here.)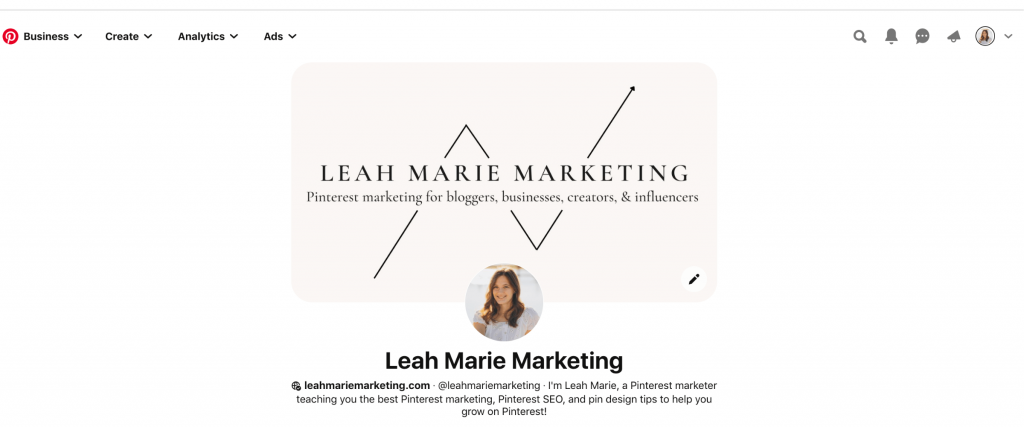 Note: You do not need to have a business to have a business account. A business account allows you to gain access to Pinterest Analytics and some other useful features.
If you already have a Pinterest account, this article will show you how to create a business account that is linked to your personal account. (One thing you do NOT want to do is convert a personal account to a business account.)
After you create your business account, you need to set it up and optimize it.
My Pinterest SEO checklist shows you everything you need to do to properly set up and optimize your Pinterest profile to help other users find you in their feed.
2. Create an Idea Pin
To be a Pinterest Creator you need to create Idea Pins.
Idea Pins are a multi-page pin format that lasts forever on the Pinterest platform.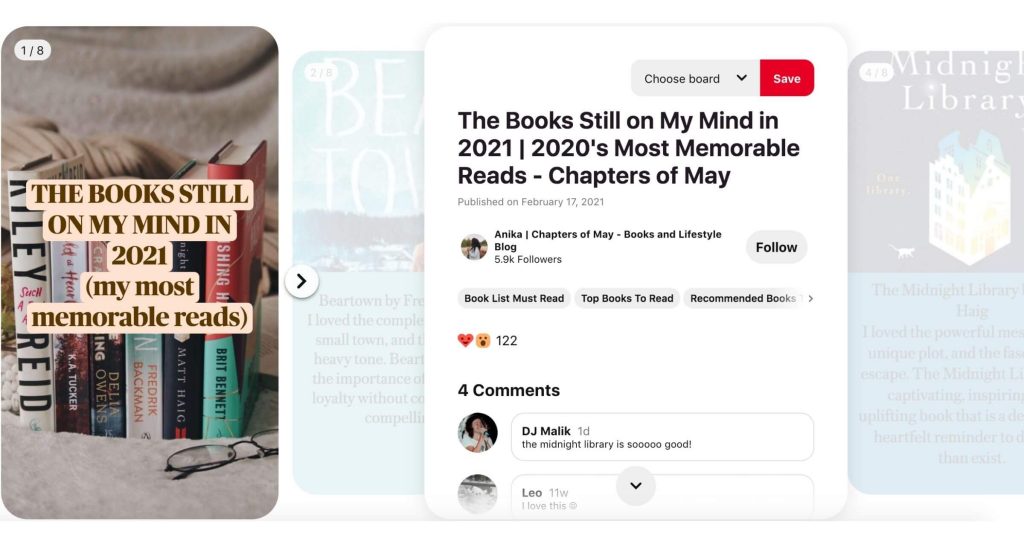 (Pin by Anika at Chapters of May.)
In this Pinterest article, Pinterest says that "you can use Idea Pins to:
Create a step-by-step guide, project or recipe
Upload multiple short videos with additional descriptive text or text overlay
Customize the colors and fonts in your Pin
Improve your targeting with topic tagging
Curate a collection of products
Tell a story in a brand new way"
Pinterest recommends that you create Idea Pins on the mobile Pinterest app because there are many more customization features features on the app versus desktop.
To create an Idea Pin, click on the "+" sign at the bottom of the screen.

Then, select "Idea Pin."
Then, create your Idea Pin and hit publish!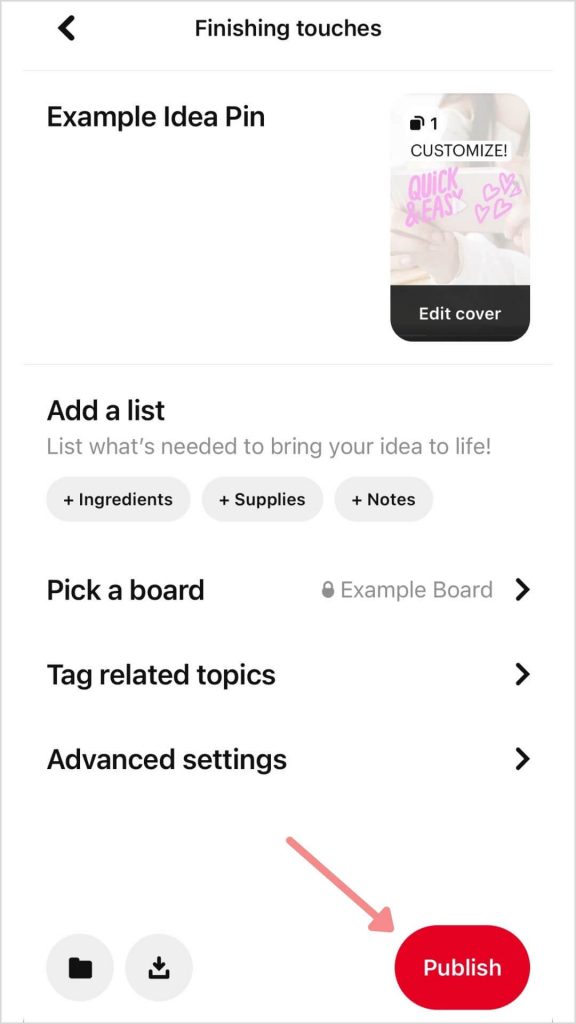 Idea Pins are currently very favored by the Pinterest algorithm, so be sure to optimize your pins to increase its chances of being seen!
(If you don't know where to start, my post on how to get viral Idea Pins will give you 23 great tips.)
3. Sign the Creator Code
When you go to create your first Idea Pin, you'll be prompted to sign the Creator Code.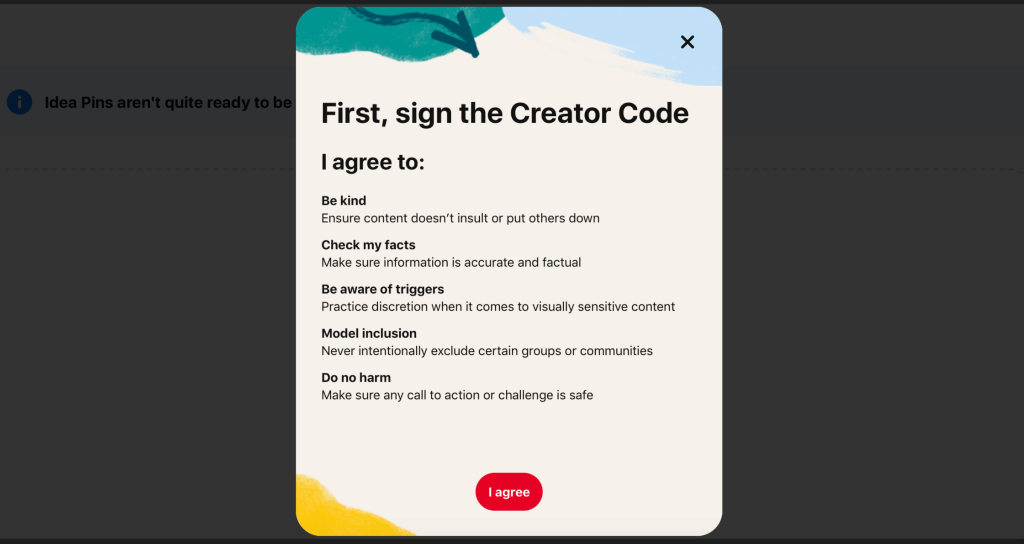 The Creator Code is Pinterest's Creator pledge to follow Pinterest's Community Guidelines and ensure a positive environment on the Pinterest platform.
On their Creator Code page, Pinterest says:
"Pinterest is building a positive online space for creators. That's why we launched the Creator Code: our commitment to kindness for all creators to sign."
Unlike some other social platforms, Pinterest is committed to having a positive and inspiring environment and audience. This code is one of their steps to make sure that happens.
Pinterest takes this very seriously — on this page, Pinterest even says:
"If an Idea Pin violates our guidelines, you may lose access to Idea Pins."
The Creator Code only needs to be accepted once.
You're a Creator!
If you do these things, you are now officially a Pinterest Creator!
Read on to learn how to grow as a Creator and find some great resources.
Does Pinterest have a Creator Fund?
Yes, Pinterest has a Creator Fund.
Only a few select group of pinners get accepted into the fund, but it doesn't hurt to try!
If you want to apply for the fund, you can do so here.
If applications are closed, you can find out when they open again by subscribing to the Creator Newsletter.
Can Pinterest Creators make money?
Yes, Pinterest Creators can make money, and Pinterest has been releasing new features to help Creators make money as well.
Here are some of the main ways Creators can make money on Pinterest:
Paid partnerships with brands (learn more here)
The Creator Fund
Creator Rewards (learn more here)
Affiliate links and product tagging on Idea Pins (learn more here)
I talk more about some of these ways to make money on Pinterest in this post on becoming a Pinterest influencer.
Do you need a lot of followers to be a successful Pinterest Creator?
You do not need a lot of followers to see success on Pinterest.
That's one of the beauties of Pinterest!
Of course, having an active and dedicated audience can help. However, Pinterest is great because almost anyone can have a pin go viral (no matter the size of their account)!
And, if you have pins go viral that, for example, have affiliate links, you can absolutely see great results with a small following!
How to be a successful Pinterest Creator
There are lots of ways to see positive results on Pinterest.
Here are some of my best tips to see success:
Post quality Idea Pins whenever possible (ideally at least once per week).
Focus on optimizing your content.
Stay consistent and present on the platform. Even if you use a third-party scheduling app, be sure to go on Pinterest every so often! (This post outlines when and how often you should pin on Pinterest to see the best results.)
Be patient. It can take months for Pinterest to index and distribute your pins and for you to see results!
Be authentic and not too sale-sy. Focus on building an authentic audience. Your audience will follow you for you and doesn't want to hear you promote products in every single pin!
Stay up to date with the best Pinterest practices and marketing methods. Outdated strategies can harm your reach and results!
Engage with your audience and other users.
Remember, seasonal content and trends can help your account to take off as well! My Seasonal Pinterest Content Calendar and Planner will help you plan and post content for trends in advance so you can reap the benefits when they peak!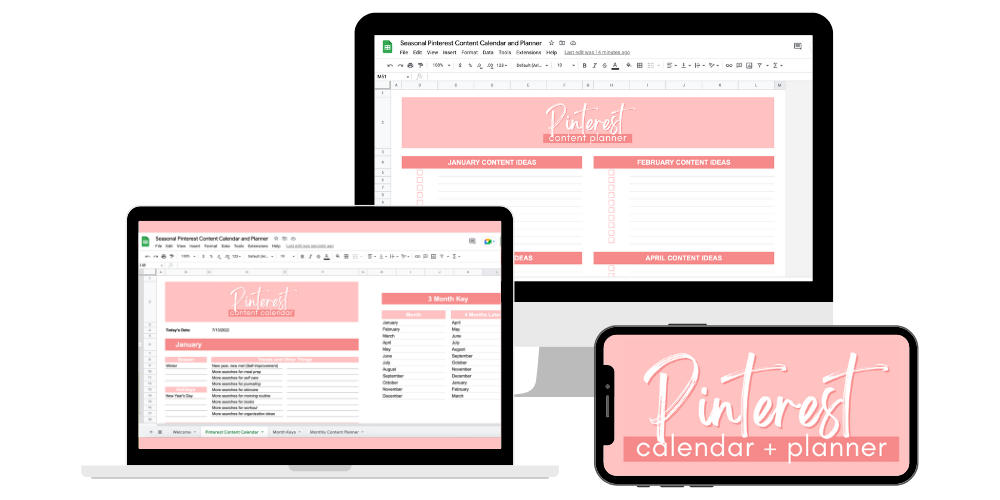 CLICK HERE TO GET THE SEASONAL PINTEREST CONTENT CALENDAR AND PLANNER!
Resources to help Creators grow
Here are some great resources to help Creators grow:
Pinterest articles
Pinterest resources
Follow Pinterest Creators to stay up to date
Follow the official Pinterest Creators page on different social media platforms to stay up to date with the latest Creator news!
Pinterest marketing blog posts
Conclusion
I hope that this post helps you to officially become a Pinterest Creator.
As mentioned in this post, there are so many pluses to being a Creator on Pinterest.
Are you a Pinterest Creator? Drop your Pinterest handle in the comments below so we can support one another!
If you want more valuable Pinterest information so you can skyrocket your success, read more on my blog or join my email list (I provide some of my MOST VALUABLE INFORMATION to my email list!)
I hope to see you around again soon. Thanks for reading!
Leah Marie
SAVE FOR LATER!