Growing your following on Pinterest can come with many benefits.
Like other platforms such as Instagram or TikTok, growing your audience can definitely take time.
However, there are absolutely some things you can do that can supercharge your growth!
In this post, I'm going to share some of my top tips on how to get more followers on Pinterest. These tips helped me to grow one of my accounts to over 20,000 followers!
Let's dive in.
Please note: Pinterest is always changing, and while I try my best to update my posts, not all information may be up to date. If you're looking too see the most updated tips, strategies, and information, check out this resource page.
What are followers on Pinterest?
Pinterest followers are other Pinterest users that follow your account on Pinterest.
Maybe they like your style or the pins you save or post! When a user follows you on Pinterest, this means that more of your pins will appear in their home feed. Additionally, your followers may receive a notification if you publish a new Idea Pin.
How to see how many Pinterest followers you have
You can see the number of Pinterest followers you have on your profile.

To see the individual users who follow you on Pinterest, you can click this number and view the full list.
Additionally, accounts with very large followings may see rounded numbers on their profile. You can also see the exact number of followers by clicking the number on your profile.
Why is having a following important on Pinterest?
Is having Pinterest followers essential to see success on Pinterest? Not at all. (And that's one of the reasons I love the platform.)
But, having followers can certainly help. And in some cases, they may be necessary.
Especially nowadays when Pinterest is releasing new programs such as the Pinterest Creator Fund and Pinterest Creator Rewards, having Pinterest followers is not just suggested, but a requirement.
Note: The "golden number" of Pinterest followers that you need for these programs is 1,000 followers. (For the Pinterest Creator Fund, you also need less than 10,000 followers.)
There are a variety of other reasons why having Pinterest followers can also be helpful:
You become a more trustable authority – Who would you see as more of a trustable authority — a person with 100 followers, or a person with 10,000 followers? Having a following can help you to continue growing your following as it helps other users to see you more of a leader.
You can make money – Having a loyal following can help you to make more money on Pinterest! For example, did you know you can add affiliate links to Idea Pins? If you have a loyal audience, this may help you to make more money with your suggestions.
More conversions – On top of making more income, you can also get more conversions! You can also use Pinterest to grow an email list, grow on Instagram, and more. Having a following can help you convert more of your followers into email subscribers, followers on other platforms, and even more.
How to get more followers on Pinterest
Luckily, there are many ways that you can grow your following on Pinterest. Here are some of my top tips!
1. Post content consistently
I'm a firm believer that the more content you post, the more chances you have to get seen. And the more you get seen, the more people that will likely follow you.
Pinterest favors fresh, original content. Plus, Pinterest wants you to be active and consistent.
For instance, Pinterest suggests that Creators publish new pins at least once per week (Source).
Currently I recommend publishing at least one new pin per day (whether it's a Standard Pin, Video Pin, Idea Pin, etc.). With my current strategy, I aim to publish 2-6 new pins per day!
It's far better to publish new pins daily versus publishing 40 at the beginning of the month and not publishing more for the rest of it.
Being consistent can be tough because our time is often limited (and valuable)!
To help with this, here are some tips:
Batch content in advance
Use pin templates to speed up the pin creation process
Use a scheduler like Pinterest's native scheduler or Tailwind
Related: When And How Often Should You Pin On Pinterest?
2. Use call to actions
Call to actions can be an effective marketing tactic because they encourage users to take action on your content, and in this case, follow you!
You could add a simple "Follow more more" line in a pin description or pin image, or you could even get more creative and give them a reason to follow you.
Remember, people want some sort of value. So tell them what you can offer!
For example, you could say:
Follow me on Pinterest for exclusive tips
Follow me for more of my top secrets
Follow me if you want to see more ideas like this
Or add a twist unique to your content:
Follow me to learn how to become a baking pro!
Follow me to learn exactly how I grew my business to $30K a month
Follow me for behind-the-scenes photography tips
Follow me to learn how to travel for CHEAP
When you encourage users to follow you and tell them what you can offer, I think they'll be much more likely to follow you!
Related: 20+ Call To Actions That Will Grow Your Business On Pinterest
3. Experiment with Idea Pins
Idea Pins are one of Pinterest's newest pin formats that are tailored towards helping Pinterest Creators grow an audience on Pinterest.
This makes them great for growing a following!
Idea Pins even have exclusive analytics that show you how many followers (and profile visits) you get from each Idea Pin.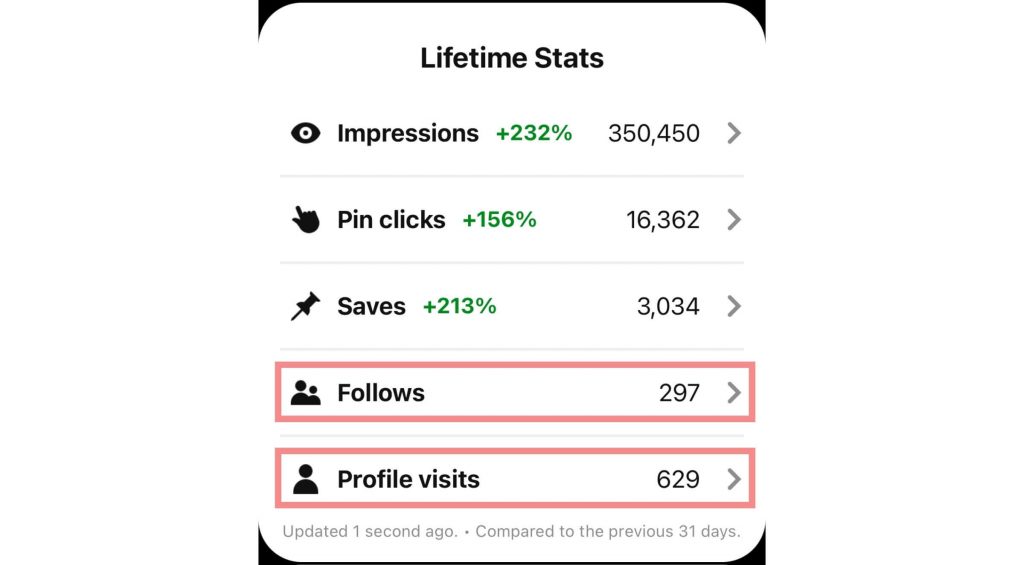 Plus, at the end of an Idea Pin, Pinterest gives users the option to follow users or visit their profile!
Even on the Pinterest Watch Tab, which mainly showcases Idea Pins, pinners can easily follow users.
While I do not currently suggest Idea Pins for everyone, especially bloggers (read why here), I do think that Idea Pins can work great for users hoping to grow their audience and following!
Learn how to create Idea Pins that perform well with my 20+ top Idea Pin tips that continuously work and bring in great results!
4. Create popular or trending content
Of course, if you create content that users want to see, how could you not get more followers?
Thankfully, there are many ways that you can find out what is popular or trending on Pinterest.
Keyword research is a great way to find out what is popular on Pinterest. By analyzing popular keywords that users are searching for, you can create content to target those keywords and hopefully get your pins in front of the users who are interested.
I have an in-depth Pinterest keyword research guide with over 8 unique methods to help you learn how to find the best keywords on Pinterest. If you want to learn how to find Pinterest keywords, I highly recommend checking out this post.
Two of my favorite methods include using the (1) Pinterest guided search bar and…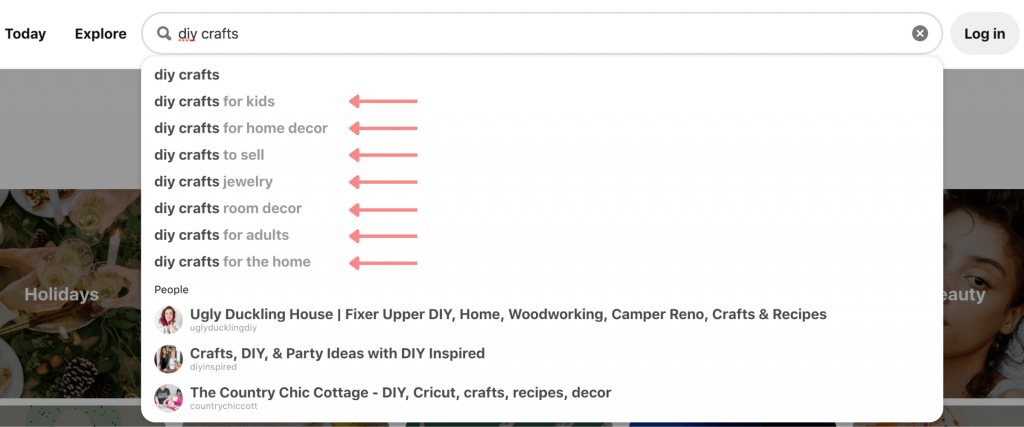 (2) the Pinterest keyword bubbles!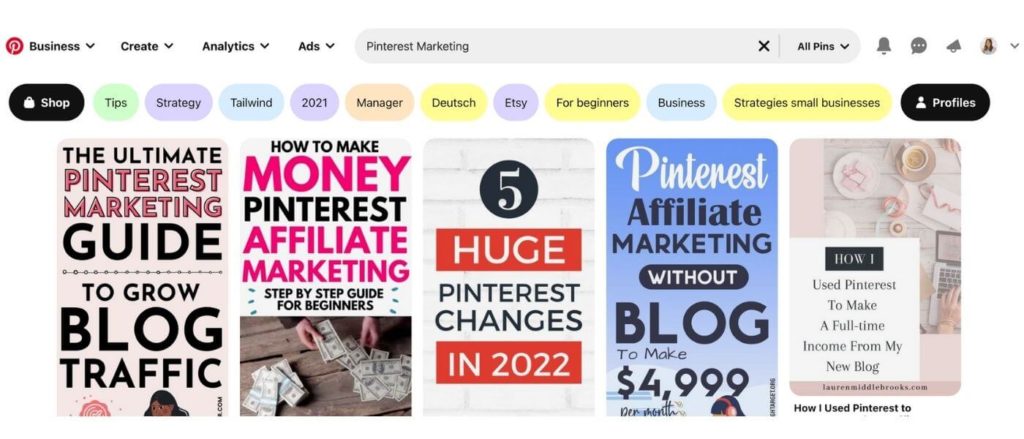 Additionally, trend research on Pinterest (which I include in my keyword research guide) can be very useful for targeting popular trends that can get you a lot of reach and engagement.
(For example, a few years back I created an infographic pin on DIY hydro flask water bottle stickers, which was when these were insanely popular! That pin had thousands of outbound clicks and saves!)
My free ebook Pinterest Keyword Goldmine goes over exactly how to find the best Pinterest keywords for your blog or business to help you reach your Pinterest marketing goals. (Spoiler alert, not all popular keywords are the best to target!) Learn more about this free ebook here or sign up below!
5. Engage with others and respond to all comments
Engaging with users is a great way to connect with them and get them to follow you.
It's especially important to respond to all comments. In my own experience, I've noticed that when I respond to comments on my pins, those users are far more likely to follow me!
This doesn't just go for your pins. Engaging on others' pins can also help you to reach other pinners. If you find something valuable, let them know!
6. Provide value
Why would someone follow you? What sort of value will they get from following you?
Tips, advice, life hacks, tutorials, education, inspiration?
If you can offer your audience some sort of value, it will be much more of a reason for them to follow you.
And as mentioned above, you can directly tell them what sort of value they can get from following you by using call to actions!
Remember that Pinterest is a visual discovery engine that inspires users to take action. It is not about the most recent news, entertainment, or keeping up with family. Pinners come to the platform to find valuable content that satisfies their interest or search queries.
So when you're creating your Pinterest content, keep in mind who the Pinterest audience is and what they are looking for.
7. Optimize pins, boards, profile for SEO to get found
A common question that I hear is "How do I get seen on Pinterest?"
One of the best ways to get your content seen on Pinterest is by doing Pinterest SEO.
Pinterest SEO is when you optimize pins, boards, and profiles with keywords to tell the Pinterest algorithm what your content is about. Pinterest can then use these keywords to distribute and rank your pins accordingly.
Since the Pinterest algorithm aims to show users the most high quality and relevant content to keep them on the platform, doing Pinterest SEO can help to get your pins in front of users who may be interested.
I have a complete 25+ step Pinterest SEO checklist that will show you exactly how to optimize your pins, boards, and profiles on Pinterest step-by-step. Plus, check out my Pinterest board SEO guide to learn how to optimize your Pinterest boards — an overlooked but very important part of Pinterest SEO!
8. Have a niche
Is a niche completely necessary on Pinterest? No.
There are plenty of lifestyle and multi-niche Pinterest users that see great results.
However, having a niche can certainly be extremely beneficial for a few reasons.
You can become an authority and expert in your topic, which can lead people to follow you.
Pinterest may better understand your content, which can help it to get distributed more.
You can build more of a loyal and engaged following (which can also help with monetization and conversions). When your content is all about one niche and users follow you for that reason, they may be more likely to engage with your future content as well!
So while a niche isn't necessary, I do suggest having one.
When choosing your niche, it's important to understand who the Pinterest audience is and what they like.
When analyzing the Audience Insights on Pinterest, you can see that a majority of Pinterest users are female and 18 (or less) to 44 years old.

There are also certain topics that generally perform very well on Pinterest. On the Explore Pinterest page (which you can find by searching www.pinterest.com/ideas/ in an incognito window), you can see some of the most popular topics on Pinterest, including:
Animals
Architecture
Art
Beauty
Design
DIY and Crafts
Education
Electronics
Event Planning
And more!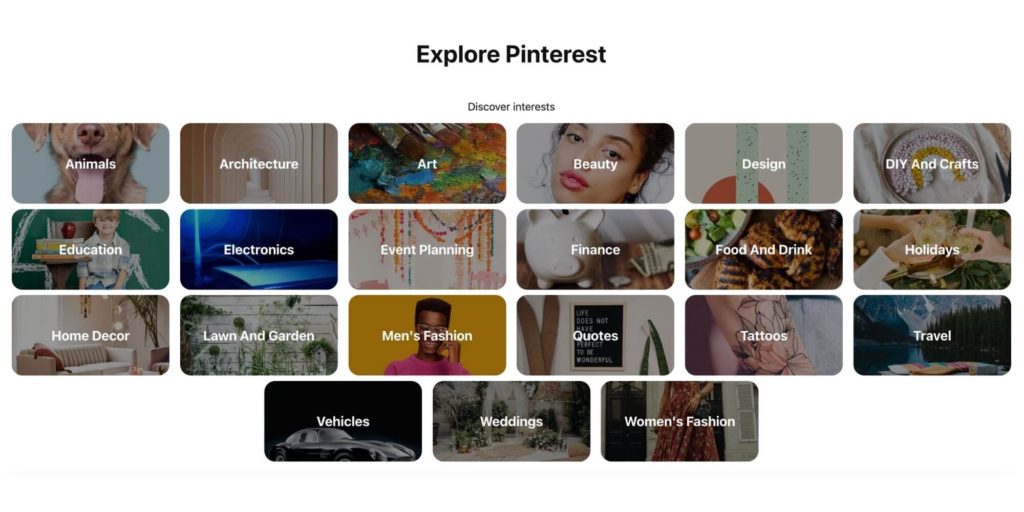 However, you don't need a niche in one of those topics! For instance, my niche is Pinterest marketing, and I've also done the faith niche too, which performed very well.
To find out if your niche and content would perform well on Pinterest, you can simply do some keyword and trend research.
9. Promote your Pinterest profile elsewhere
You don't just have to use Pinterest to grow your Pinterest account…you can also cross-promote your Pinterest account on other platforms!
For example, you could promote your Pinterest account on:
Instagram
YouTube
TikTok
A blog
And more!
A while back, I used TikTok to promote one of my Pinterest profiles and it definitely brought in some followers!
10. Claim your website
If you have a website, claiming it on Pinterest is a great way to seem more legit and trustworthy.
Plus, many Pinterest marketers believe that linking your pins to a claimed domain will give you much better distribution in the Pinterest algorithm than a non-claimed domain.
Once you claim your website on Pinterest it will appear like this:

Pinterest also says that when you claim your website "your profile picture will show up next to any Pins that come from your site as well as a Follow button for your Pinterest account" (Source).
If you want to learn how to claim your site, check out this step-by-step tutorial.
Please note: You are not able to claim all websites on Pinterest. I highly suggest having your own domain to claim, but I have also claimed free WordPress.com websites. You may have to do more research to see if you are able to claim your site.
11. Get creative
Get creative with your strategy!
For example, you could try doing a multi-part series like "30 days of hairstyles" or "top fonts to use" and do a part 1, part 2, etc.
That way, when users come across your content, they can see that you have more of that content or will make more of it (and then they might follow you)!
There are so many unique things you could do!
12. Follow people in your niche(s)
Following people in your niche(s) can be good because they will sometimes follow you back because Pinterest often sends users notifications when someone follows them.
Now, I'm not saying to follow 100 or 1,000 people all at once because you could trip a spam block for that (or follow and unfollow users…don't do that!), but following a few users a day that makes content related to yours can be a great way to slowly increase your following.
Plus, when users from your own niche follow you, they may be more likely to save your content (and saves are great for the Pinterest algorithm).
13. Try different strategies and designs to see what works
In my opinion, experimenting on Pinterest is essential in a Pinterest strategy.
For instance, try out different pin formats, different pin designs, different call to actions, and more!
Then, analyze the results with Pinterest Analytics and create more of what is working.
This is something I have always done and seen incredible results with!
14. Track Pinterest followers to see growth trends
Tracking your Pinterest followers can be a great way to see how your account is performing and if there are any specific trends you should capitalize on.
Since you can't really track your followers directly on Pinterest, I have a complete tutorial on how to track followers on Pinterest easily!
This will help you to see how many Pinterest followers you're getting per day and per week.
15. Create more engage-worthy content
Creating more content that users will engage with is important because users will not only be more apt to follow you, but content with more engagement is generally more distributed in the Pinterest algorithm, which will help even more users to see it!
Saves are one of the most important engagement forms on Pinterest. So, try to create pins that will get more saves!
This could include infographics, regular photos, and more!
Remember to also optimize these pins to help them be seen on Pinterest.
16. Consider branding
Branding on Pinterest has always been a slightly controversial subject. Some pinners will tell you you should, while others will tell you not to bother.
Personally, I think it depends on your goals.
I have always suggested that bloggers don't focus too much on branding because their main goal is to get outbound clicks on their pins, so they need to create designs that convert rather than focusing on cohesivity.
However, if you're trying to build a brand, especially a personal brand, I do think it's something to consider.
For example, you could utilize consistent pin designs, filters/presets, stickers, fonts, etc.
Ultimately, branding is not necessary. But, it is something that could make you stand out and make your brand more memorable.
The choice is completely yours!
17. Create holiday content and give content a holiday edge
This Pinterest tip can be a game-changer for any Pinterest account.
Holiday content performs extremely well on Pinterest, and holiday seasons are usually the time of year when Pinterest is booming with activity.
So, you want to capitalize on that window to get users to see your content!
Here's an example of what I mean.
On one of my Pinterest accounts, I published quote pins. One year, I decided that I wanted to create more pins directed to the holidays. So, I published a New Year's quote.
This quote brought in over 1 MILLION impressions in a day and HUNDREDS of followers!
You can even see this mega-viral pin spike in my Pinterest analytics.

So, even if your niche isn't holiday related, you can still create holiday content!
For example:
A makeup artist could do holiday inspired makeup
A baker could do holiday inspired treats
A craft/DIY person could create holiday inspired crafts
See how you can incorporate seasons and holidays into your content!
Another thing you can do is give existing content a holiday edge.
This is an amazing hack that has worked well for others!
For instance, say you have an old blog post about 10 delicious and easy cookie recipes.
You could make a new pin and add a seasonal edge to that by naming the pin 10 delicious and easy cookies perfect for Christmas.
See how I took a normal title and added a seasonal twist to it?
There are so many ways you can do this and optimize old content for the holiday season!
18. Focus on pin design
Design is a huge part of Pinterest, especially since Pinterest is a visual discovery engine.
Due to this, I highly suggest that you are intentional with your pin design.
Think of your target audience and what they would like to see! Research popular pin designs for your niche on Pinterest. You could even create an account and have an inspiration board (I've done this!) to see what other users in your niche like to pin!
I absolutely love using Canva to design all of my pins. The free version has nearly everything I need to create my designs, and I love how simple and user-friendly it is.
19. Think of your target/ideal audience
When creating content, think of who your ideal audience is and the type of content they would like to see and engage with!
You can use this to help you form your content strategy and to attract your ideal followers.
20. Be patient
Of course, I have to include this tip! 🙂
Patience is key on Pinterest. It can take months for your content to be distributed. However, the good thing about Pinterest is that content lasts forever. Pins that were created months or years in the past can resurface and take off, and pins can perform well for weeks or months at a time!
While you're waiting for your content to take off, don't get discouraged!
Instead, continue to consistently create content. As I mentioned previously, I am a firm believer that the more pins you have, the greater chance you have to get seen, especially if you optimize them.
No one likes to be patient, but unfortunately, it's a part of Pinterest marketing. Pinterest is more of a long-term game now, but success is still very possible on the platform!
What NOT to do to get followers on Pinterest
Although there are many ways to grow your following on Pinterest, there are also some things you should NOT do to get more Pinterest followers.
1. Buy followers
Like any other platform, buying followers is not encouraged.
On Pinterest, having authentic followers is even more important because real followers are far more likely to engage with your content (which is important for the Pinterest algorithm).
Also, you definitely don't want to accidentally trigger any sort of spam block on your account. From personal experience, I can tell you that this is an absolute pain and can have detrimental effects on your account!
In the Pinterest Community Guidelines, Pinterest also states that "buying or selling engagement" is a spam-like practice.
2. Follow and unfollow
This is a technique that users will often do to get more followers. However, once again, it usually doesn't bring truly authentic followers to your account.
Following and unfollowing users can also be spammy. It may accidentally flip a spam filter or may even get your account banned or reported. It's not worth the risk!
3. Scam or spam-like practices
There are many things that Pinterest views as scam or spam-like activity, even if it's not intentional. I encourage you to read the Spam section of the Pinterest Community Guidelines to see what Pinterest specifically classifies as spam.
4. Use bad or outdated practices
Using bad or outdated practices can both harm your account and limit your distribution. It's important to always stay up-to-date with Pinterest best practices in order to know what works best on the platform now.
Some bad or outdated practices that Pinterest no longer recommends includes:
Using group boards (some pinners still use them, but many don't)
Repinning pins
Using hashtags
Deleting old pins
Why am I not getting followers on Pinterest?
If you're not getting Pinterest followers, it may be time to take a step back and review your strategy.
Make sure that you are optimizing your pins and boards, that you're pinning consistently, providing value, and using call to actions.
Also remember that growing on Pinterest takes time! It can take months to see significant results.
Be sure to review the tips above to see how you can create a better Pinterest strategy to grow your followers!
Why am I losing followers on Pinterest?
Losing followers on Pinterest can happen for a few reasons.
Some of your followers are simply unfollowing you. Generally, this doesn't happen in mass amounts, but it can be possible that users may just not be interested in your content anymore (and that's okay)!
A Pinterest glitch. Sometimes Pinterest has glitches where it appears that hundreds or even thousands of followers have unfollowed you. If you experience something like this, I recommend checking Facebook groups to see if other pinners are experiencing the same!
Pinterest has removed accounts. Pinterest has a very active spam filter, and accounts are constantly getting deactivated by it. Sometimes spammers will follow you, and they'll eventually get caught by Pinterest and their account will be removed. If you notice your follower count goes down by a few, it could be because of this.
Conclusion
I hope that this post has helped you to improve your Pinterest strategy to get more Pinterest followers!
If you have any questions or tips, be sure to leave them in the comments below.
If you want more valuable Pinterest information so you can skyrocket your success, read more on my blog or join my email list (I provide some of my MOST VALUABLE INFORMATION to my email list!)
I hope to see you around again soon. Thanks for reading!
Leah Marie
SAVE FOR LATER!