*Disclaimer: This post contains affiliate links. If you choose to make a purchase using one of my affiliate links, I will make a commission at no additional cost to you. Thank you for your support!
Followers are a metric that people love to look at on social media.
This is likely because follower counts can often indicate how "healthy" a social media account is, or if it's heading in the right direction.
This is no different on Pinterest.
So, how do you track your Pinterest follower growth to see if your account is doing well? This post will outline a very simple method.
Let's dive in.
Please note: Pinterest is always changing, and while I try my best to update my posts, not all information may be up to date. If you're looking too see the most updated tips, strategies, and information, check out this resource page.
Are Pinterest followers important?
Are Pinterest followers important? The truth is, it depends.
The importance of Pinterest followers is really dependent on your goals.
First, it's important to note that anyone can see results on Pinterest regardless of the amount of followers they have, especially if they focus on good Pinterest SEO and keyword research.
So, Pinterest don't really matter as much for users who are looking to get outbound clicks and such (like bloggers).
Sure, having an audience can help, but having Pinterest followers doesn't even ensure that they will see your pins, especially since Pinterest has removed the following tab.
On the other hand, Pinterest followers can matter a bit more to Pinterest Creators (who are like the "influencers" of Pinterest).
For instance, brands may want to work with Creators who have a certain following, and there is even a following requirement (1,000 followers) to join the Pinterest Creator Rewards Program (where Creators can make money pinning).
I go way more in depth on how important Pinterest followers are (and who they are most important for) in this post.
Related: How To Become A Pinterest Influencer (20+ Tips)
How do you see how many Pinterest followers you have?
Seeing the number of followers you have on Pinterest is quite simple.
To do so, go to your Pinterest profile.
Underneath your profile bio, you can see how many users are following you and how many users you are following. It looks like this:
(This example is from my faith-based Pinterest account.)

Once you reach 1000 Pinterest followers, this number is often rounded.
To see the exact number of followers you have, click on the rounded number of followers.
You can then see how many total followers you have and each individual follower.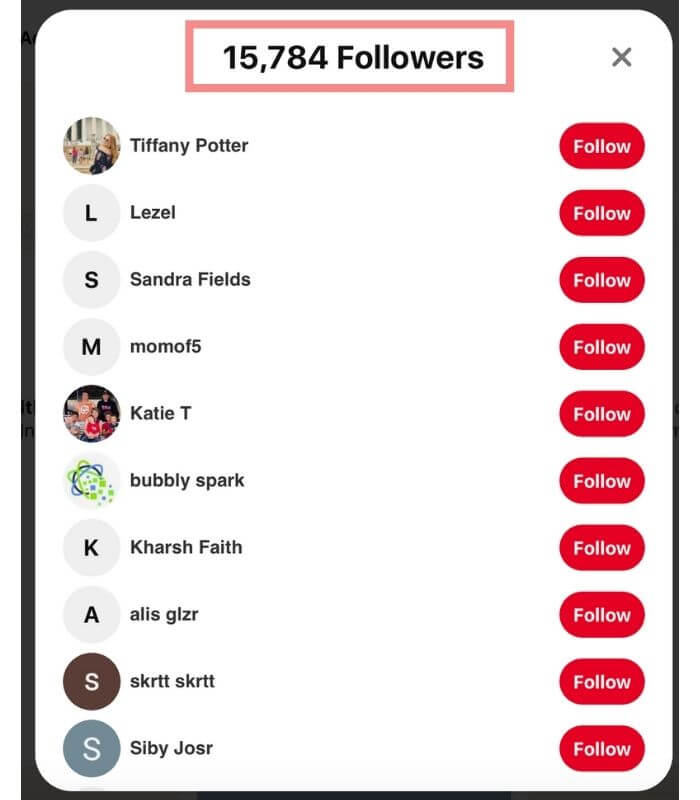 How to track your follower growth on Pinterest
How can you track your Pinterest follower growth to see how your account is performing?
Currently, there is no way to do this directly on Pinterest (although I wouldn't be surprised if they added this in the future since they added a "Follows" metric to Idea Pins).
My favorite way to track my Pinterest follower growth is with Tailwind. Tailwind is a great platform because it is an approved Pinterest Partner.
To see your follower growth, you can use the free version of Tailwind (which I currently use). However, Tailwind Pro will give you access to many additional Pinterest account insights such as your virality score, engagement score, engagement rate, and more.
Please note: With Tailwind, you can only see your growth over the most recent week and compared to the previous week. If you are interested in tracking your follower growth over a longer period of time, I will mention something you can do later in this post!
Here is how to use Tailwind to see your Pinterest follower growth:
First, navigate to the "Insights" tab on Tailwind. This is located on the left-hand side of the screen.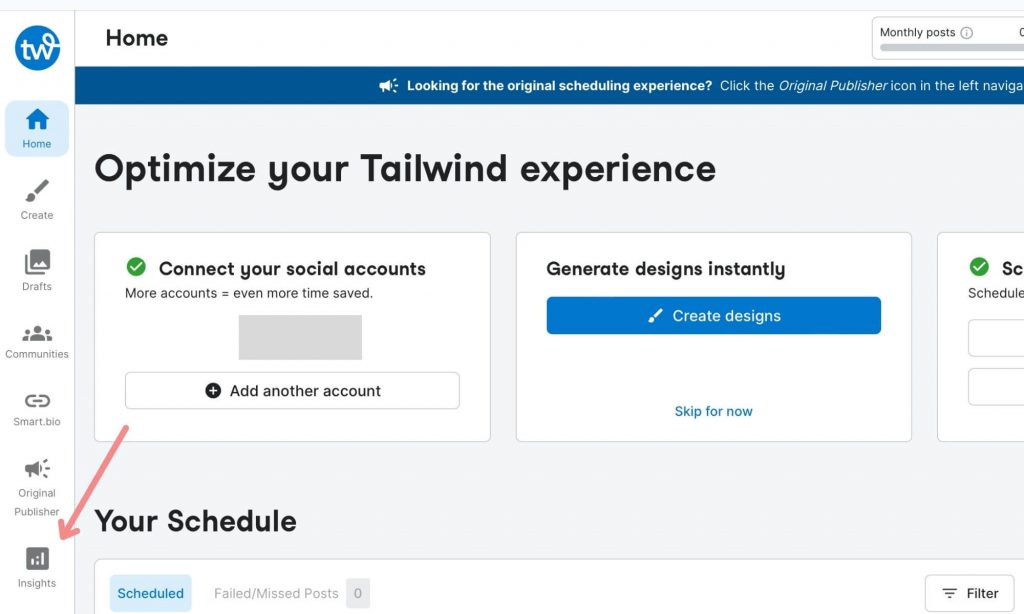 The screen will then look like this: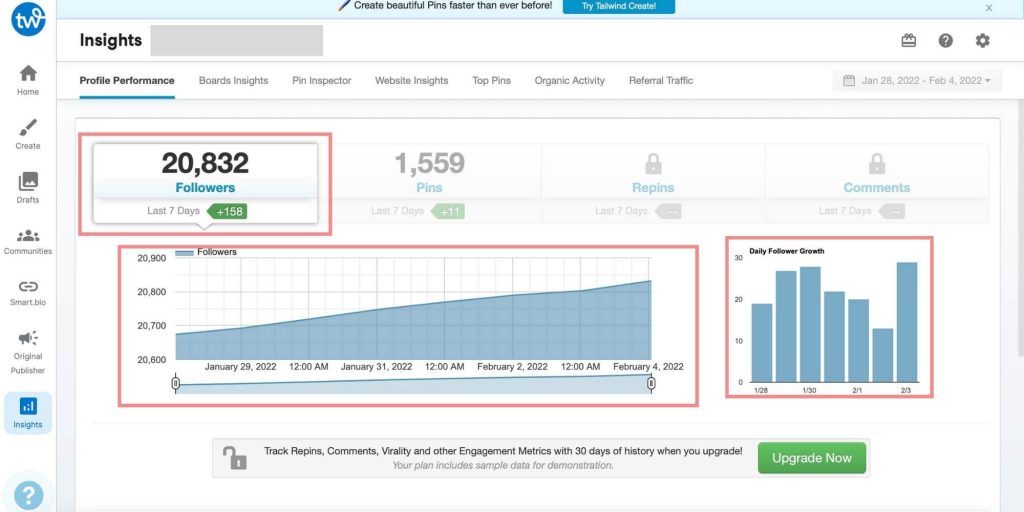 Then, look at the stats.
On Tailwind you can see three things:
1. Your daily follower growth each day (over the past week)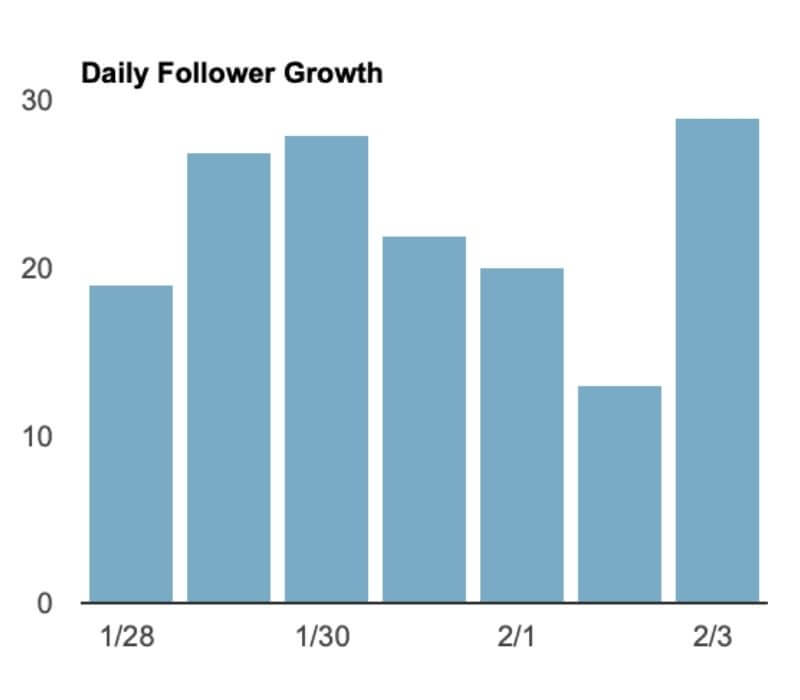 2. Your total follower growth (over the past week)

3. Your total followers and how many you've gained in the past week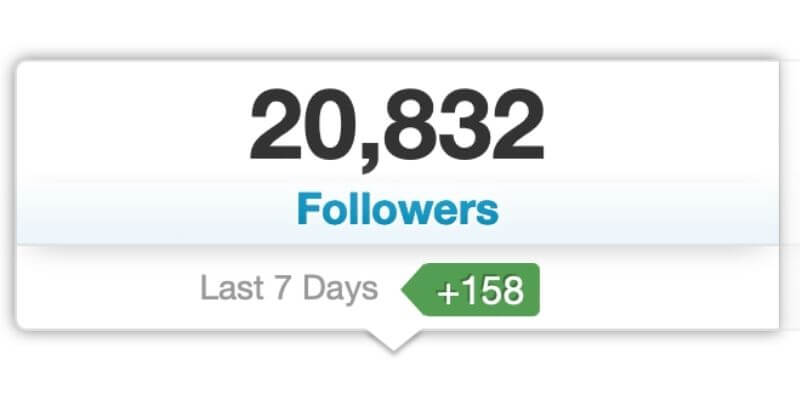 Note: Tailwind will also send you weekly summaries to your email where you can compare your growth from that week to the week before.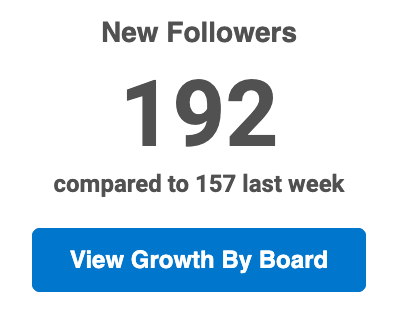 These three data points can give you insightful information into how your account is performing week over week!
How to see your long-term Pinterest follower growth
You can only understand and analyze so much by looking at such a small window of data.
So, what if you want to track your long-term Pinterest follower growth?
One way you could do this is with Google Sheets.
I use Google Sheets all the time for my business, and it is a great way to keep things organized! (Plus, it's completely FREE!)
You could set up a Google Sheet and track either daily or weekly Pinterest follower growth. You could then update this daily or weekly using data from Tailwind or Pinterest!
If you update this over a long period of time, you could get even better insights into your Pinterest follower growth trends and better track your Pinterest followers.
Can you see who unfollows you on Pinterest?
To my knowledge, there is not a way to track who unfollows you on Pinterest or how many people unfollow you.
However, don't get caught up in unfollows!
I actually think it's often a GOOD thing when someone unfollows you on Pinterest.
Why?
Engagement is a factor for seeing results on Pinterest. So if someone doesn't want to see your content, it's better for them to just not see it so your engagement rate doesn't decrease!
Pinterest is also constantly removing spam accounts, and some users will do the old follow-unfollow trick just trying to get some followers back. Plus, people will just naturally unfollow you sometimes, and that happens on all platforms.
Conclusion
I hope that this post has helped you learn how to tract your Pinterest followers!
If you have any questions, be sure to leave them in the comments below.
If you want more valuable Pinterest information so you can skyrocket your success, read more on my blog or join my email list (I provide some of my MOST VALUABLE INFORMATION to my email list!)
I hope to see you around again soon. Thanks for reading!
Leah Marie
SAVE FOR LATER