Idea Pins are one of Pinterest's newest pin formats that allows users to publish up to 20 pages of content.
Idea Pins are very different from the other pin types, such as Standard Pins and Video Pins.
After Idea Pins were introduced, many people have asked the same question: Can you add links to Idea Pins?
This post is going to break it all down for you!
Let's dive in.
Please note: Pinterest is always changing, and while I try my best to update my posts, not all information may be up to date. If you're looking too see the most updated tips, strategies, and information, check out this resource page.
What are Idea Pins?
Idea Pins are a multi-page pin format that allows pinners to add up to 20 pages of content.
Idea Pins were especially created with the intent of helping Pinterest Creators (sort of like the "influencers" of Pinterest) to grow their audience and following.
These pins have unique customization tools and features, such as adding music, tagging other users, adding stickers, adding text, and more!
Idea Pins also receive a unique distribution.
Not only are they currently favored in the algorithm, but they can also be found in pretty exclusive spots such as the Today Tab, the Watch Tab, and the top of Pinterest profiles.
Related: How To Become A Pinterest Creator (Easy Tutorial)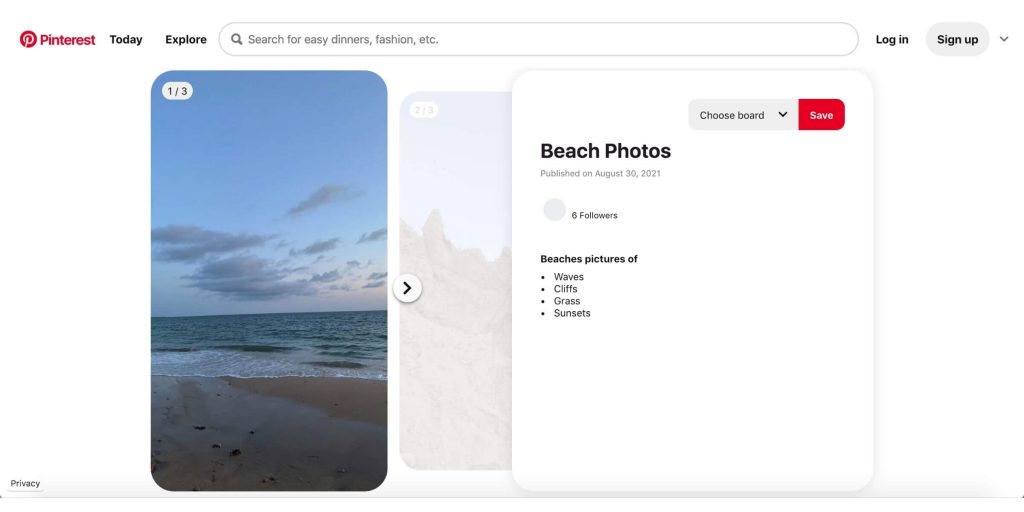 Who can use Idea Pins?
Pinterest users with personal accounts and business accounts can create Idea Pins.
Nearly all Pinterest users have access to this feature. If for some reason you don't have access to Idea Pins, you can try to request access here.
Who are Idea Pins good for?
Idea Pins were built with the intention of helping creators to grow on Pinterest.
You can clearly see this through:
Exclusive "follows" and "profile visits" metrics on Idea Pins
The Watch tab and Today tab, which are dedicated to showing Idea Pins to users
The push that Idea Pins receive in the algorithm
And it's not just Idea Pins.
Pinterest itself has been transitioning to more of a social platform that highlights creators. Idea Pins are just a part of it.
For this reason, Pinterest users who want to grow their audience on Pinterest may greatly benefit from using Idea Pins.
Also, I believe that these pins may also work well for small businesses!
Can you add links to Idea Pins?
Update December 2022: Pinterest recently announced that it will be rolling out the ability for users to include URLs on their Idea Pins just as other pin types can (like Standard Pins and Video Pins). Previously, pinners could only include links to products (including affiliate links), but with this new feature, pinners will be able to link to any URL.
Are Idea Pins good for blog traffic?
Update December 2022 (continued): Since Pinterest is just releasing the ability to add links to URLs, we can not quite determine how this impacts blog traffic yet. The following was written while links to blog posts on Idea Pins were not available:
Many bloggers use Pinterest to grow their blog traffic. However, are Idea Pins good for bloggers who want to grow their blog traffic?
I personally think not. (And I fully explain my reasoning in this post.)
The main reason for this is that Idea Pins do not link to regular URLS (like to blog posts), so posting Idea Pins would likely not bring you much more traffic.
Additionally, some pinners believe that posting Idea Pins suppresses your other pins (Standard and Video) – the pins that can actually link to your URL!
Although it's just a theory, I am slightly inclined to believe it.
I mean, look at my own pin stats after I deleted all of my Idea Pins on one of my Pinterest accounts:
On the other hand, some pinners have reported that posting Idea Pins CAN help your blog traffic.
For example, Megan from lovefamilyhealth.com says that her Pinterest traffic has dramatically increased since creating Idea Pins!
So, you could even try it out and see if that works for you.
Affiliate links and product links on Idea Pins
As mentioned previously, you can add both product links and affiliate product links to Idea Pins.
This means that Pinterest Creators can now make money on Pinterest through affiliate commissions!
Pinterest introduced this feature a while back to help pinners find products and to help Pinterest Creators make some money.
If you want to learn how to use affiliate links with Idea Pins, my in-depth tutorial on how to add affiliate links to Idea Pins will help you!
Should you put URLs in Idea Pin descriptions?
I've seen people add a URL into the notes and details section of Idea Pins.
Should you do this?
Well, I have heard that Pinterest may limit the distribution of Idea Pins that have URLS on them.
On Pinterest's creative best practices page, Pinterest even says:
"Idea Pins are for your original content—so there's no need to add links or content from other sites."
So, I personally wouldn't do this.
If you want to get pinners to your website, try using some call to actions to encourage them to visit.
Related: 20+ Call To Actions That Will Grow Your Business On Pinterest
Idea Pin Tips
Think that Idea Pins will work well for you and your business goals?
That's great!
Here are some tips that should help you to create Idea Pins that actually get seen and perform well:
Create popular, interesting, searchable, or trending content
To find out what's popular or trending on Pinterest, be sure to do keyword research!
Use video (especially first)
Using video can help you to get users' attention when scrolling!
Use the mobile app
The mobile Pinterest app has many more customization features than on desktop!
Use in-app tools
Pinterest wants pinners using their in-app tools! Try and take advantage of them.
Add call to actions
Call to actions can be great to encourage users to take action on your pin or your profile (such as to save, follow, visit your website, comment, and more!)
Want more tips? Read 20+ more Idea Pin tips here.
Conclusion
I hope that this post has given you some clarity as to if you can add links to Idea Pins, who Idea Pins may be best suited for, and how to utilize Idea Pins without using links.
If you have any questions be sure to leave them in the comments below!
If you want more valuable Pinterest information so you can skyrocket your success, read more on my blog or join my email list (I provide some of my MOST VALUABLE INFORMATION to my email list!)
I hope to see you around again soon. Thanks for reading!
Leah Marie
SAVE FOR LATER!