*Disclaimer: This post contains affiliate links. If you choose to make a purchase using one of my affiliate links, I will receive a commission at no additional cost to you. Thank you for your support!
Are you considering starting a Pinterest business account?
Pinterest is a great place to promote your content, brand awareness, and products as well as grow an audience.
If you're starting a Pinterest business account, you may be wondering: Do I need to have a website?
This post will break it down for you and share my top recommendations!
Let's dive in.
Please note: Pinterest is always changing, and while I try my best to update my posts, not all information may be up to date. If you're looking too see the most updated tips, strategies, and information, check out this resource page.
What is a Pinterest business account?
First of all, what even is a Pinterest business account?
There are two types of Pinterest accounts: personal accounts and business accounts.
A personal account is better suited for someone who casually uses Pinterest.
A business account is better suited for someone who wants to promote or market something, whether it be a blog, products, content, or even themselves! (Pinterest has been prioritizing Pinterest Creators a lot!)
Pinterest business accounts have exclusive features that personal accounts do not have.
For instance, Pinterest business accounts have…
Pinterest analytics to track your performance.
The ability to create ads or promoted pins.
The Pinterest Creator Hub
And more!
Related: Should You Have A Personal Or Business Pinterest Account?
Who should have a Pinterest business account?
Here are some groups that may benefit most from a Pinterest business account:
Brands
Businesses
Bloggers
Pinterest marketers
Advertisers
Who can create a Pinterest business account?
Anyone can create a Pinterest business account!
Plus, the best part is that it's free!
If you would like to create a free Pinterest business account, you can do so here or learn more first!
Do you need a website for a Pinterest business account?
Long answer short – no, you do not need to have a website to use Pinterest or to have a Pinterest business account!
In an FAQ section on this Pinterest page, Pinterest writes:
"I don't have my own website. Can I still use Pinterest?
Absolutely! You don't need your own website to publish content on Pinterest. All you need is a Pinterest business account to get started. You can upload assets, create Idea Pins and more right in the Pinterest app. You can also connect your accounts from social networks to Pinterest so it's easier to share content across platforms."
So if you're someone like a Pinterest Creator or Pinterest influencer and are just hoping to grow an audience on Pinterest, you don't need to have a website to see good results!
And don't worry – you can still make money on Pinterest without a website or blog too!
Suggested posts:
How To Add Affiliate Links To Idea Pins on Pinterest
What Is The Pinterest Creator Fund? (And How To Apply)
How To Join The Pinterest Creator Rewards Program
What to do if you don't have a website
Since Pinterest has a place to include a website, you don't want to put that space to waste!
Including some sort of link can be a great way to help your Pinterest audience find you on other platforms or lead them to something you would like them to see.
For instance, I've seen a lot of users include their Instagram URL or YouTube URL on their Pinterest business account to cross-promote their platforms! (And users can certainly see good results with this!)
Other than a website, here are some examples of links that you could put on your Pinterest business profile instead:
Instagram URL
YouTube URL
Facebook URL
Linktree
Like To Know It
An email opt-in product landing page
Note: If you're looking to grow a platform such as Instagram using Pinterest, I highly suggest putting your Instagram URL in your bio but NOT linking it to your pins. Pinterest tends to suppress pins that link to Instagram, which I talk more about in this post. If you want to learn more ways to grow your Instagram using Pinterest, click here!
Benefits to having a website on Pinterest
Here's the thing.
While having a website on Pinterest is not required, there can be benefits to having one.
One of the main benefits is having a claimed website.
When you claim your website on Pinterest, a symbol will appear next to it to let users know that your website is legit.

You can't claim websites like Instagram or YouTube on Pinterest. You must have your own website.
If you're on a tight budget, you can even create a free website by using a platform such as WordPress.com. (You can claim a free WordPress.com website on Pinterest. I have done this and have seen great results with the account!)
Sure, this may not be the most desirable because a free WordPress.com website will require you to have ".wordpress.com" in your domain.
For instance, if my website was on a free WordPress.com website, my domain would be leahmariemarketing.wordpress.com.
However, at least it's something. (If you want to be more professional, I recommend starting a self-hosted WordPress.org website!)
If you want to learn how to claim your website on Pinterest, I recommend checking out this tutorial!
Why should you claim your website on Pinterest
There are many benefits to having a claimed website on Pinterest. Some of these benefits include:
Analytics for your claimed domain – Pinterest allows you to see the analytics for the pins linked to your claimed domain! This is especially useful when you are trying to drive traffic to a blog or website.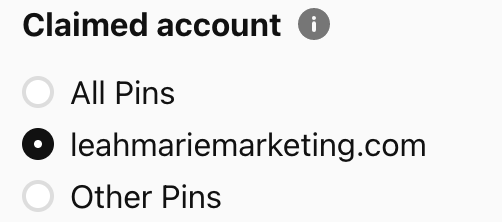 Additional "trust" in Pinterest's eyes – Claiming your website on Pinterest may make it seem more trustworthy, which may help with the performance of your pins.
Rich pins – Rich pins is an incredibly useful feature that can help your Pinterest pins! When you enable rich pins on Pinterest, the pin's metadata is shown right on the pin. Additionally, these pins look slightly different in the feed and provide more information to the user. There are 4 types of rich pins. To learn more about rich pins, click here or check out this tutorial!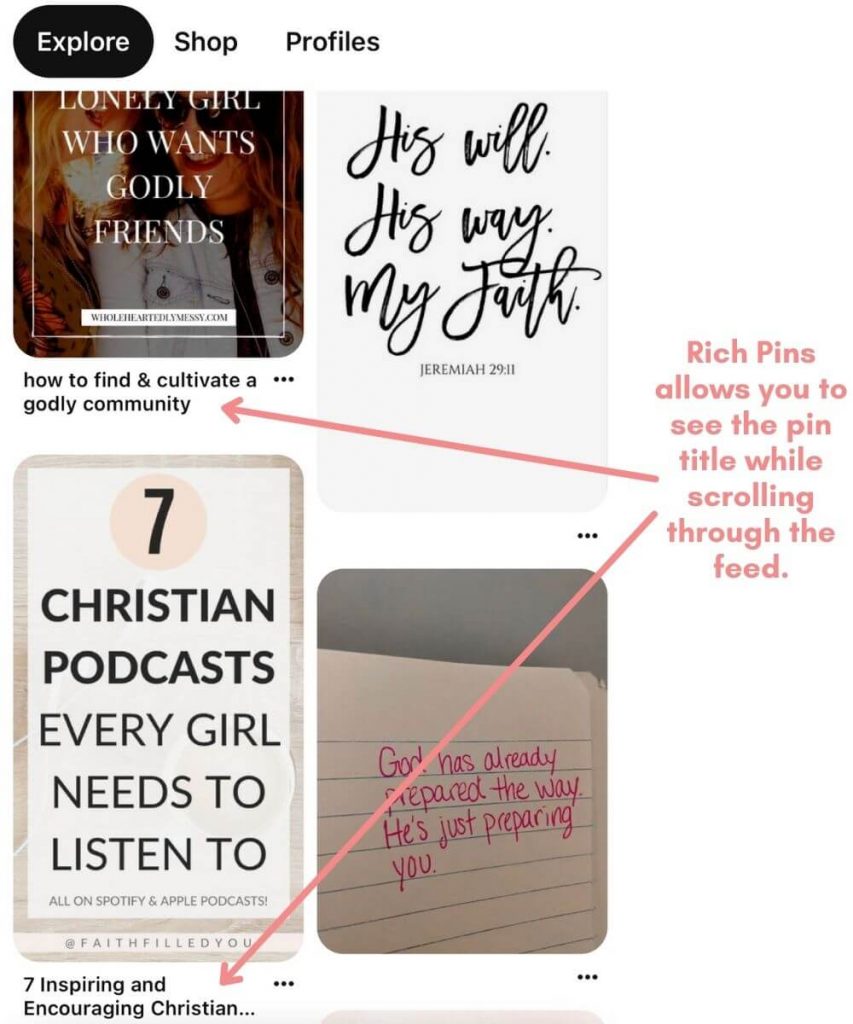 Every pin saved from your site will be attributed to you – If someone else saves a pin from your website, your Pinterest profile picture and account will still show up on the pin! Pinterest makes sure to let users know that it is YOUR content.
You seem more legitimate to your audience – When your website is claimed on Pinterest, it essentially tells pinners that it is your site and that it is legit. This can be important when trying to draw users to your website or grow awareness! (I know I'd personally rather click on a claimed website than a non-claimed one. However, I think it's still important to note that largely popular sites like Instagram and YouTube will still seem legitimate even if they don't have that claimed symbol.)
How to use Pinterest without a website
As mentioned above, you can include so many different links on Pinterest pins (both profile and pins). Other than using Pinterest for blog traffic, you can use Pinterest to do so many things such as:
Growing on other platforms (ex. Instagram and YouTube)
Growing an email list
Affiliate marketing
Growing an audience (and getting opportunities such as working with brands)
Selling products
Regardless of if you have a website or not, marketing on Pinterest still works the same:
Define your target audience
Outline your goals
Develop a Pinterest strategy to reach those goals
The strategy part is important. You will not want to use the same strategy for all types of goals.
For example, if you want to become an influencer on Pinterest, your Pinterest strategy is likely going to look very different than if you're trying to grow an email list!
No matter how you use Pinterest, you should still aim to follow Pinterest's best practices.
There are also some tips that I always recommend for users looking to grow on Pinterest:
Post new pins consistently
Pinterest favors fresh pins over repins, meaning that Pinterest wants you to create NEW pins versus pinning OLD ones.
Currently, I am trying to post 2-4 new pins per day. (I always like to think that the more pins you post, the more people will see your pins and the better results you'll likely have!)
Creating new pins consistently can be tough. If you are struggling with this, I recommend purchasing some pin template sets that you can quickly and easily adjust to make new pins!
Carly Campbell has an amazing monthly pin template membership where she will send you 10 Canva pin templates and 10 PicMonkey pin templates monthly!
When you purchase her pin templates, you also get access to her exclusive Facebook Group that talks about all things Pinterest – strategies, updates, trainings, and more, which you can learn more about here! (I personally think the price is worth it JUST for this group!)
Related: When And How Often Should You Pin On Pinterest?
Optimize your content
Optimizing your content is essential for letting Pinterest know what your content is about.
When Pinterest understands what your content is about, it can better rank and distribute your content to get it in front of the right audience.
My free Pinterest SEO checklist will show you over 20 ways to optimize your Pinterest pins, boards, and profile!
Additionally, I have an in-depth post entirely dedicated to Pinterest board SEO – a part of Pinterest SEO that I think can NOT be overlooked! 
Create searchable, popular, and trending content
If you want to see results on Pinterest, you have to make content that others want to see.
A good way to see what users are searching for or what is popular and trending is by doing keyword research.
My free Pinterest keyword research guide will walk you through over 7 different methods to find great Pinterest keywords step-by-step!
Be patient
Sometimes it takes some time for Pinterest to understand what your content is about. (This is why Pinterest SEO and Pinterest board SEO are crucial!)
Many Pinterest experts now say it takes months (3-8 months) to start seeing traction on Pinterest.
So don't give up too soon! Stick with your pinning strategy and evaluate as you go on!
Conclusion
I really hope that this post has helped to clarify whether or not you need to have a website to use Pinterest for business!
If you have any questions, be sure to leave them in the comments below.
If you want more valuable Pinterest information so you can skyrocket your success, read more on my blog or join my email list (I provide some of my MOST VALUABLE INFORMATION to my email list!)
I hope to see you around again soon. Thanks for reading!
Leah Marie
SAVE FOR LATER!