*Disclaimer: This post contains affiliate links. If you choose to make a purchase using one of my affiliate links, I will make a commission at no additional cost to you. Thank you for your support!
Affiliate marketing can be a great way to make money sharing products that you use and love.
Luckily, you can do affiliate marketing right on Pinterest! Many users have made money on Pinterest by promoting their affiliate links for free, and this guide will show you how to do just that.
This comprehensive guide will teach you exactly how to share affiliate links on Pinterest with AND without a blog and how to set your account and strategy up for success.
Make sure you read this post until the end so you know everything you need to know about how to start Pinterest affiliate marketing.
Let's dive in.
Please note: Pinterest is always changing, and while I try my best to update my posts, not all information may be up to date. If you're looking too see the most updated tips, strategies, and information, check out this resource page.
Are affiliate links allowed on Pinterest?
Yes, affiliate links are allowed on Pinterest. Pinterest wants its content creators to be able to make an income with their content, so sharing affiliate links is completely within the Pinterest guidelines.
Do you need a blog to do affiliate marketing on Pinterest?
Nope! You do not need a blog to promote affiliate links on Pinterest.
There are a variety of ways that you can promote affiliate products with Pinterest. You can either share affiliate links right on Pinterest or drive traffic somewhere else (like a blog, email opt-in page, or YouTube channel) and promote your affiliate links there. You can even try a mix!
Either are fine, and this post will show you how to do both.
Why is Pinterest good for affiliate marketing?
You may be wondering, Is affiliate marketing on Pinterest even profitable? Why should I promote my affiliate links on Pinterest?
Pinterest says that about 80% of its weekly pinners have discovered a new brand or product on Pinterest.
Pinterest also shares that Pinterest shoppers spend about 2x more per month than people on other platforms, weekly Pinners are 7x more likely to say that Pinterest is the most influential platform for a purchase, compared to social media platforms, and more!
How to do affiliate marketing on Pinterest
To do affiliate marketing on Pinterest, you need to:
Find affiliate programs and networks with products you want to promote
Create pins and add your affiliate links
Add proper disclosures and publish your pins
But, it's a bit more complex than that. Let's break it all down.
Pinterest affiliate guidelines and rules
Before you start sharing your affiliate links, it's important to have a firm understanding of Pinterest's rules and guidelines around affiliate marketing.
Some important affiliate rules for Pinterest include:
Do not use URL shorteners like bit.ly to "mask" your affiliate link. You need to be transparent about affiliate links.
Only operate one Pinterest account in which you promote your affiliate links.
You must disclose an affiliate link when one is used (more on this later in the post).
Do not create affiliate pins "repetitively or in large volumes" as this may appear like spam
Understanding and following Pinterest's affiliate guidelines is essential. If you fail to comply with Pinterest's rules, your account may be suspended or deactivated.
For more information on Pinterest's affiliate rules and guidelines, check out these resources straight from Pinterest:
Preparing your account
Before you start your affiliate marketing, first you want to prep your account for success. Here's how:
Create a free Pinterest business account
The first thing you want to do is make sure that you have a Pinterest business account. If you don't you can make one for free here.
Having a business account is great for many reasons. Not only does it make your account appear more professional and legitimate, it also gives you access to in-depth analytics on your account, pins, and boards, which are really important for adjusting your Pinterest strategy and seeing what's working.
Optimize your boards for Pinterest SEO
Pinterest SEO is really important for getting your pins seen. It helps Pinterest to understand what your content is about and to distribute and rank it where it is most relevant.
Pinterest board SEO is an essential part of Pinterest SEO. Pinterest utilizes data from board titles, board descriptions, and the pins saved to a board to help better understand your content.
My comprehensive Pinterest board SEO guide will show you my simple 3-step process to fully optimize Pinterest boards!
Create a professional-looking profile
Pinners may be more likely to listen to your product recommendations when you seem real, legit, and professional. That's why it's important to do things such as including a descriptive bio, a high-quality logo or headshot profile picture, and more.
I outline a lot of great tips to optimize your Pinterest profile in my in-depth Pinterest SEO checklist.
Claim your website
If you are promoting your affiliate links with a blog, you'll definitely want to claim your website. Claiming your website can come with benefits for your pins and Pinterest account, such as having all pins linking to your claimed domain attributed to you and your account.
If you need help claiming your website, check out this easy tutorial.
Finding affiliates
The next step is to find some affiliate products to promote!
When finding products, it's important to think about who your audience is (this is why having a Pinterest niche can be important), who the Pinterest audience is, popular Pinterest topics, trends, and keywords, and things that users will actually find helpful or will want to buy.
For example, you may be more successful promoting clothing or makeup on Pinterest than fish food or baseball bats.
When searching for affiliate programs, it's also helpful to note how well-known a brand is and how high the affiliate commission is. Digital products tend to have very high commission rates (often 20% or higher). Another great thing about digital products is that they often have a sales page, which can help to do the "selling" part for you.
However, while networks like Amazon can have pretty low commission rates, it's also much more likely that someone will purchase a product from a place like Amazon (a household name) versus a random store on the internet. Considering these things can be really important.
Some very popular affiliate networks include:
Important note: While Amazon affiliate links are allowed on Idea Pins, you may need to double-check their terms and conditions depending on what country you are from to see if you can use Amazon affiliate links on Standard and Video Pins.
I highly recommend organizing your affiliate links somewhere. I personally like to do this in a Google Sheets spreadsheet. This makes it super easy to grab and use your affiliate links!
If there is a product that you wish to promote that you can't find an affiliate program or network for, you can always reach out to them via email and see if they have a program!
Important: You must read or double-check each program's details and terms and conditions to make sure that they allow you to promote their affiliate links on Pinterest. There are some programs and networks that MAY NOT allow you to promote their links on Pinterest and doing so may get you in trouble. For example, Etsy's affiliate program does not allow users to share affiliate links on Pinterest (read here).
Creating pins
Pinterest has three main pin formats that you can use to share affiliate links: Standard Pins, Video Pins, and Idea Pins. While Standard and Video Pins are relatively similar, Idea Pins are drastically different from the two.
Each pin type has a different purpose. Standard Pins are the "original" pin format that can be great for driving traffic. Video Pins are very similar but are often harder to click through for pinners.
Idea Pins, one of Pinterest's newest pin formats, are really great for reaching new people, especially since they are pretty favored by the algorithm. They help Pinterest Creators and Pinterest influencers to grow and connect with their audience and are relatively similar to Instagram Stories.
Certain pin types may be better for promoting certain products. For instance, Standard Pins and Video Pins may be better for promoting a digital course you took, and Idea Pins may be better for promoting new makeup products that you love.
Standard Pins and Video Pins are generally image or video graphics like the pin below. They can also be regular images and videos or infographics.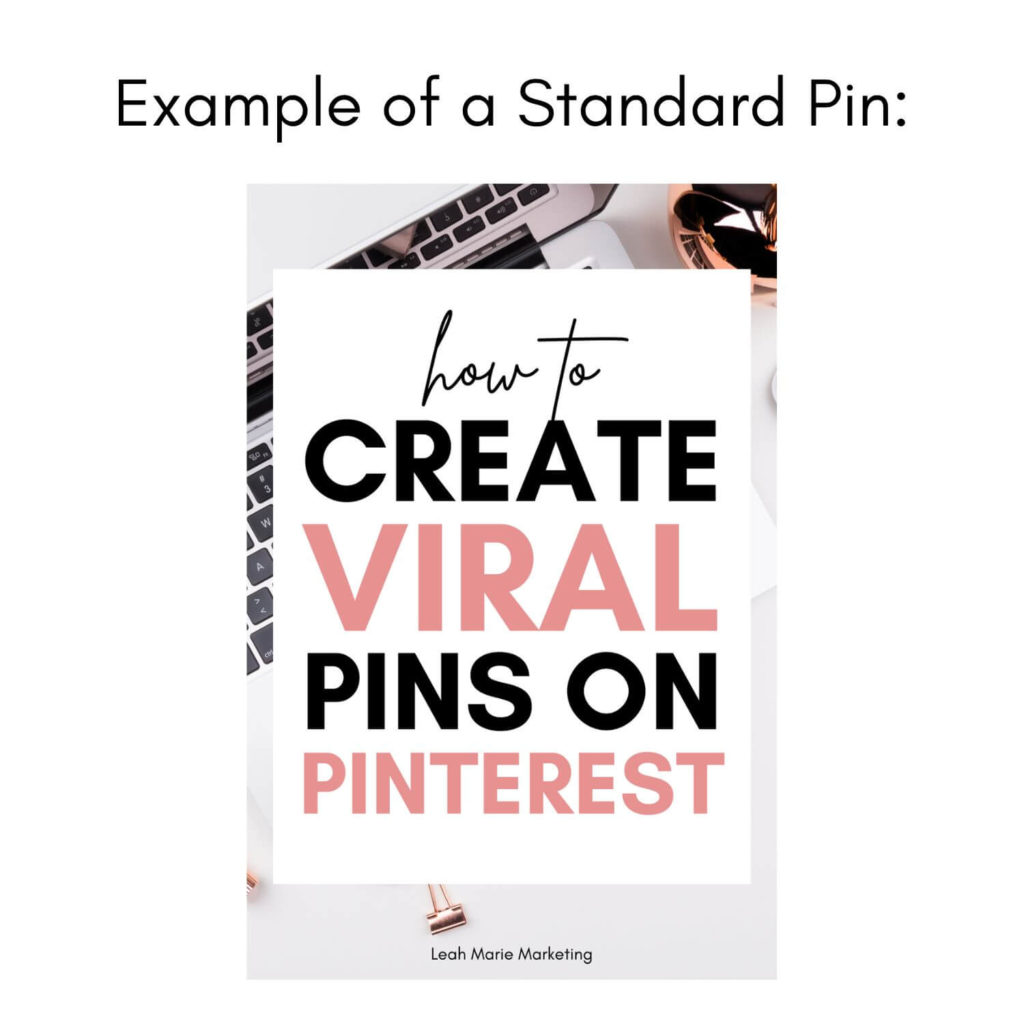 Canva is one of the best design platforms out there, and I personally use it to create nearly all of my pins – both image and video! If you need help creating pins, you can try using pin templates to help you with the design process.
When you're designing pins, make sure you design them to convert and that follow Pinterest's best practices. One of the best ways to create scroll-stopping pins that users can't resist clicking through is to focus on pin titles. This ebook was an absolute game-changer for me, and it showed me the power of pin titles and how you can drastically increase conversions just by changing a few words!
For example, the pin below got pretty good engagement right away compared to my other pins because of its compelling title!
Suggested: What Are Outbound Clicks On Pinterest (And 10 Tips To Get More)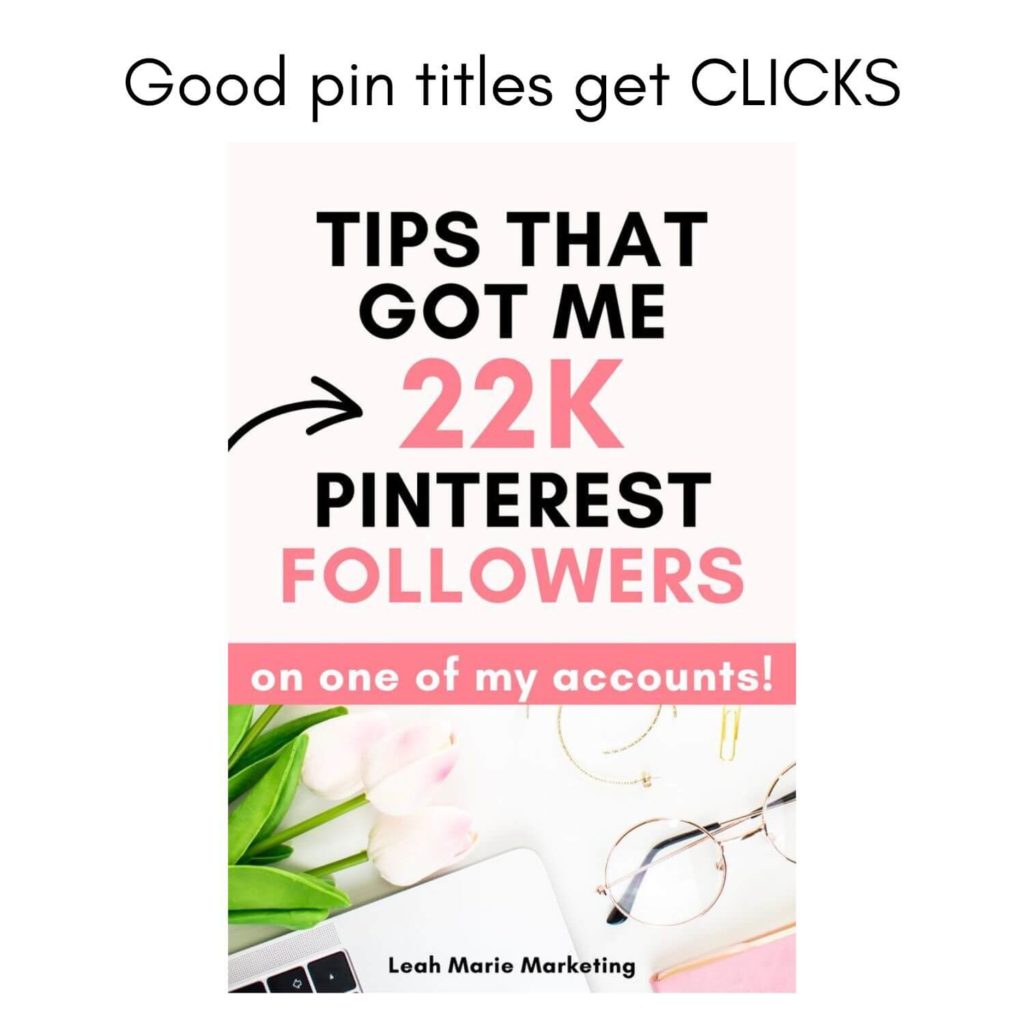 Pin titles can make a difference – this ebook will change the way you think about them!
Idea Pins are a multi-page pin format that can use images and videos. You can also create slides for Idea Pins in Canva, but you can also film videos of yourself or the product you are using on Pinterest!
While creating graphics can be good, showing your face or yourself using the product you are promoting can help your audience to connect to you, trust you, and be more enticed to try the product for themselves.
Related: How To Get Viral Idea Pins On Pinterest In 2022 (23 Tips)
How to add affiliate links to pins
Once you have your affiliate links and your pins, it's now time to add your affiliate links to the pins.
I generally find that it is easier to create and add links to Standard Pins and Video Pins on desktop. However, for Idea Pins, you currently need to use the mobile Pinterest app. You will need a way to access your affiliate links from your phone to connect them to Idea Pins.
For Standard Pins and Video Pins, once your pin image or video is uploaded, your screen should look similar to this:
Where it says "Add a destination link," here you can copy and paste your affiliate link. If you are promoting your affiliate links through a blog post, you can insert a link to your blog post here instead.

To add affiliate links to Idea Pins, you will need to first go to the slide that you want to insert the link into.
At the bottom of the page, click the "Stickers" button.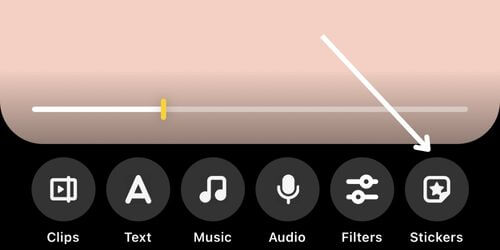 A sticker page will show up on your screen. Here, click the "Product" option.

To use your custom affiliate link, click "Use a link."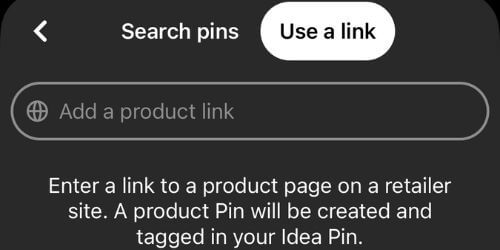 Copy and paste your affiliate link into the bar and search. The product that you are trying to add an affiliate link for should pop up if it's successful. Select the product by clicking it, then click "Create" in the upper right-hand corner to add the link to your Idea Pin.
Idea Pins only allow affiliate links from select places such as Amazon Associates, Rakuten Advertising, and ShopStyle Collective. You can try links from other places, but they may not work yet. If your link doesn't work, an image won't show up or you may receive an error message.
Very important: Make sure that you toggle on the button that says "This is an affiliate link or sponsored product." This is very important for Pinterest to make sure you disclose your link and follow FTC guidelines.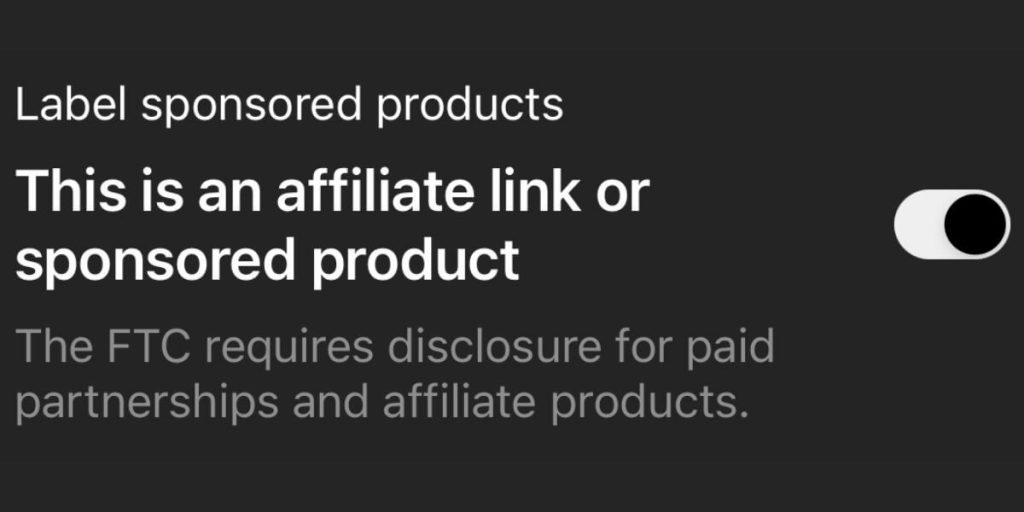 From there, you can customize your product tag and publish the pin when it's ready!
Currently, you can only add product links to Idea Pins – not links to blog posts. If you are promoting affiliate links on a blog post, it is likely best to primarily focus on Standard and Video Pins.
For an in-depth guide on how to add affiliate links to Idea Pins, read my full post here.
Adding disclosures
Disclosures are absolutely essential when you share affiliate links on Pinterest.
In the Pinterest Community Guidelines, Pinterest says:
All applicable disclosures required to indicate the commercial nature of your content (such as the use of #ad to indicate that your content is a Paid Partnership).
Although Pinterest no longer recommends using hashtags, this seems to be an exception. You need to state that your content contains an affiliate link, and doing #ad should be just fine.
For Standard Pins and Video Pins, this should be in the description.
For Idea Pins, I would add this to the notes section (even though your link should already be marked as an affiliate).
If you don't do this, your Pinterest account can get in trouble, so make sure you don't forget this step.
Publish your pins
Once you've added your affiliate link and optimized your pins, it's time to publish!
When you publish your pins, make sure you save them to the most relevant board to help with Pinterest SEO.
Seeing results can definitely take time. However, keep consistently publishing new pins to Pinterest and the results should hopefully start rolling in.
Pinterest affiliate marketing tips
Here are some tips to hopefully help you see better results affiliate marketing on Pinterest:
1. Create multiple pins for each piece of content
Creating multiple pins for each affiliate link, blog post, etc. is a really great strategy. You should always be creating new pins for old links and old pieces of content. The more pins you have per piece of content, the more chances it may have to get clicked and viewed.
2. Optimize pins for Pinterest SEO
Pinterest SEO is very important for getting your pins seen. It helps Pinterest to understand your content and then distribute it accordingly.
Luckily, Pinterest SEO isn't difficult when you understand what you're doing. That's why I created my free 29-step Pinterest SEO checklist which outlines step-by-step how to optimize your profile, boards, and pins!
3. Be intentional with what products you promote
When choosing what products to promote, consider your audience, the Pinterest audience, popular topics on Pinterest, popular trends, and popular keywords.
If you don't promote products that users will actually want to buy, it will likely be difficult to make sales.
Learn 5+ easy ways to find keywords and trends on Pinterest in this keyword research guide or my free ebook Pinterest Keyword Goldmine. You can even use super helpful tools like Pin Inspector.
4. Experiment and create more of what's working
One really great Pinterest strategy is to experiment with new things (pin types, pin designs, types of titles, colors, etc.) and see what works best for you. (Remember that it can take a while to see results on Pinterest!)
Then, see what's working and create more of it! Incorporate elements that are working into more of your pins.
This has been a strategy that has personally helped me to skyrocket my Pinterest growth.
To see what content is working, I highly recommend that you use Pinterest analytics. Using Pinterest Analytics on desktop will be much easier to view data.
I talk more about how to use Pinterest Analytics and toggle the settings to see helpful data in this post. You'll especially want to see what pins have the highest click throughs (outbound clicks).
5. Respond to questions and comments about the product
Responding to Pinterest comments is a great practice for any content creator, but this may be especially helpful when you are trying to make sales. Sometimes users will have questions about a product or even share their own experience, and responding to these comments is a great way to build their trust and further promote the product.
On desktop, you can see all of your recent comments on any pin in the upper right-hand corner of your profile. The symbol looks like this: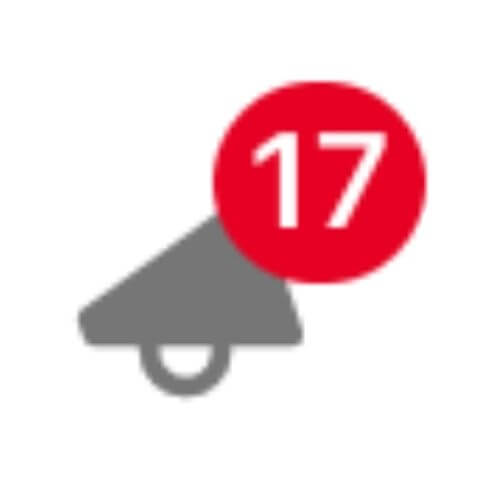 6. Consider promoting high-performing pins
Pinterest ads can bring in really good results and conversions if you know what you're doing.
If you have a pin that is already getting good clicks, engagements, or conversions, consider running a campaign to get that pin in front of even more pinners! The return on these ads can be great.
7. Publish new pins consistently
An important part of any pinning strategy is to publish new pins consistently.
I generally aim to publish at least one new fresh pin per day, but some Pinterest marketers suggest even more.
The more that you create pins to promote your affiliate links, the more chances you have to get your pins seen and get some conversions and commissions!
Related: When And How Often Should You Pin On Pinterest?
8. Don't pin the same URL (or affiliate link) too often
Pinning the same URL too often can be seen as spammy by Pinterest and can get your account caught in the spam filter (which you definitely don't want). The spam filter is essentially a shadowban on your Pinterest account.
It is suggested that you wait at least 24 hours to pin the same URL on Pinterest. However, I highly suggest waiting a few days just to stay on the safe side.
9. Don't follow bad or outdated Pinterest practices
Following bad or outdated Pinterest practices can stunt your growth on Pinterest or even get your account in trouble.
Some of these practices include:
Don't use hashtags
Don't use group boards (they aren't as effective as they used to be)
Try not to repin as much content – posting your own pins is more important
Only create new, fresh pins and no duplicate pins
Try not to keyword stuff. Place your keywords naturally
It's important to always stay up-to-date with Pinterest practices and strategies to be sure that what you're doing will help your Pinterest account!
Can you make money on Pinterest?
Yes, you can make money on Pinterest! If you make affiliate sales through Pinterest, you don't get paid by Pinterest – you will get paid through the affiliate network or program.
However, there are some ways that you can get paid by Pinterest. You can get paid through Pinterest Creator Rewards, which is where content creators create pins with certain criteria and goals, or the Pinterest Creator Fund, which gives very select creators cash grants to help with content creation.
There are some other ways that you can make money with the help of Pinterest but not get paid by Pinterest.
For example, you could make money blogging by getting traffic from Pinterest, promoting your products on Pinterest, promoting a YouTube channel, growing other social platforms and monetizing on those platforms, and more!
Conclusion
I hope that this post has helped you learn about affiliate marketing on Pinterest and how you can get started to hopefully make some money!
If you have any questions, be sure to leave them in the comments below.
If you want more valuable Pinterest information so you can skyrocket your success, read more on my blog or join my email list (I provide some of my MOST VALUABLE INFORMATION to my email list!)
I hope to see you around again soon. Thanks for reading!
Leah Marie
SAVE FOR LATER!